Whistleblowing for Change. Exposing Systems of Power & Injustice, edited by Tatiana Bazzichelli, from the Disruption Network Lab.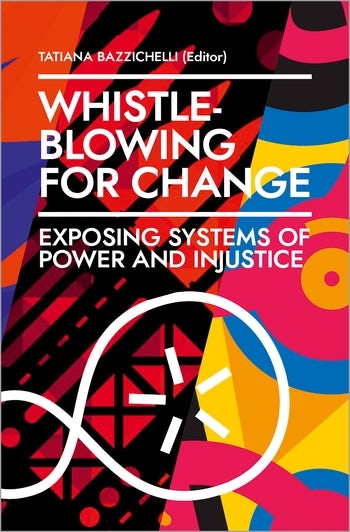 Publisher Transcript Verlag writes: The courageous acts of whistleblowing that inspired the world over the past few years have changed our perception of surveillance and control in today's information society. But what are the wider effects of whistleblowing as an act of dissent on politics, society, and the arts? How does it contribute to new courses of action, digital tools, and contents? This urgent intervention based on the work of Berlin's Disruption Network Lab examines this growing phenomenon, offering interdisciplinary pathways to empower the public by investigating whistleblowing as a developing political practice that has the ability to provoke change from within.
Over the past few years, Tatianna Bazzichelli and her Disruption Network Lab team have patiently knitted together a community of individuals who put their professional and personal life at risk in order to expose injustices and wrongdoings. Some of them are whistleblowers. Others are hackers, human rights activists, artists, journalists or thinkers.
This book, as well as the many discussions, film screenings and performances organised by the DNL amplifies their voices. It also fleshes out Bazzichelli's research in how disruptions can be generated from within politically closed systems and how, from there, they can produce a change.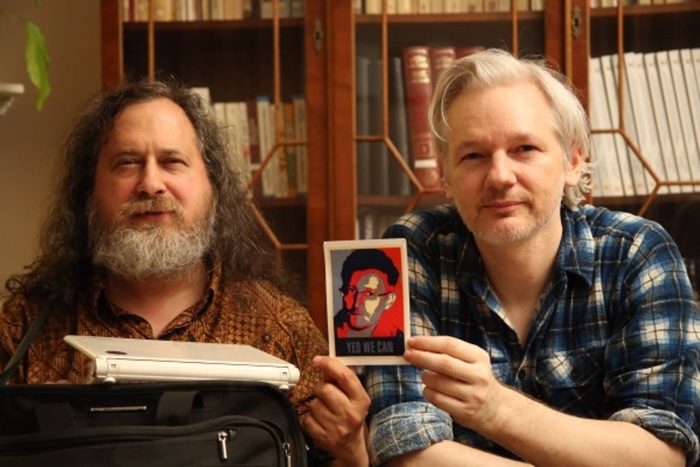 Julian Assange with Richard Stallman, holding a picture of Edward Snowden, at the Ecuadorian Embassy, 2013
The topic of whistle-blowing might look disheartening. Award-winning journalist and publisher Julian Assange is facing an unfair US extradition as well as criminal prosecution under the Espionage Act. Contributors to the book have been similarly threatened, bullied, censored and sometimes even imprisoned for denouncing state or corporate wrongdoings:
Daniel Hale, a former US intelligence analyst, is serving a 45-month sentence in federal prison for leaking information about the US drone program and the US human rights violations in Afghanistan. Documentary maker and journalist Laura Poitras was placed on a government terrorist watchlist for making a documentary about the occupation of Iraq. In the book, Billie Jean Winner-Davis narrates the harrowing experience of Reality Winner, her daughter and a former contractor at the NSA, who was charged under the Espionage Act for leaking a top-secret document to alert the public about the Russian meddling in US elections via social media campaigns. Brandon Bryant, the first drone operator to publicly speak out about the realities of the US Air Force Predator program which was responsible for several drone strikes and attacks overseas suffered from post-traumatic stress disorder. Annie Machon, a former intelligence officer for the UK's Security Service MI5, who helped blow the whistle on the crimes and incompetence of the British spy agencies, denounces her government's prosecution of whistleblowers, while perpetrators of corruption and wrongdoing often get away scot-free. Daryl Davis, a musician and author but also a Black American who has befriended members of the Ku Klux Klan and other White supremacists, and convinced them to leave their racist groups, exposes the informal Blue Code of Silence shared among police officers to protect colleagues' misconduct, including lethal violence against Black people.
John Kiriakou, a former CIA officer who internally objected to then revealed information about the US intelligence's use of waterboarding and other torture techniques on al-Qaeda prisoners -with the approval of the U.S. President- explains how most whistleblowers never make a personal, professional or financial comeback after their revelations. Still, he adds, "it is extremely rare for a whistleblower to say that he or she would choose to not blow the whistle in retrospect."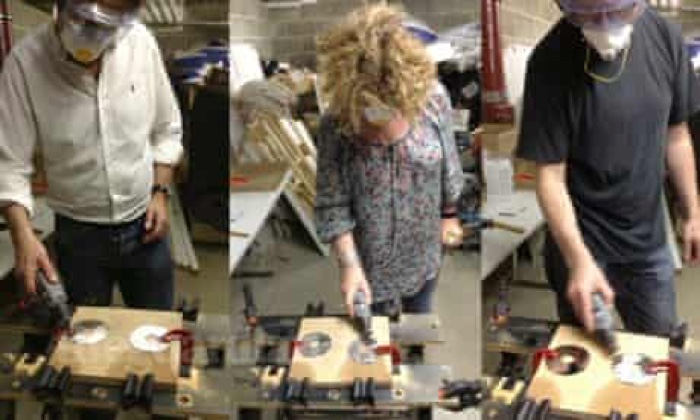 The hard drives used to store documents leaked by Edward Snowden are destroyed in the basement of the Guardian's London offices. Photograph: Guardian
Even the world of journalism is not left unscathed. Süddeutsche Zeitung investigative journalists Frederik Obermaier and Bastian Obermayer, who were part of the team that examined the Paradise Papers, saw how their work had a direct impact on politics, with the resignation of Austria's vice-chancellor as well as massive demonstrations in several countries affected by the reporting. However, other journalists who covered the Panama Papers experienced threats, mobbing, persecution and sometimes death, as in the case of Daphne Caruana Galizia in Malta and Ján Kuciak in Slovakia. Pelin Ünker, a Turkish journalist writes how she found herself accused by the government of "insulting public officials" and became the only journalist who risked being sent to jail for the Paradise Papers stories.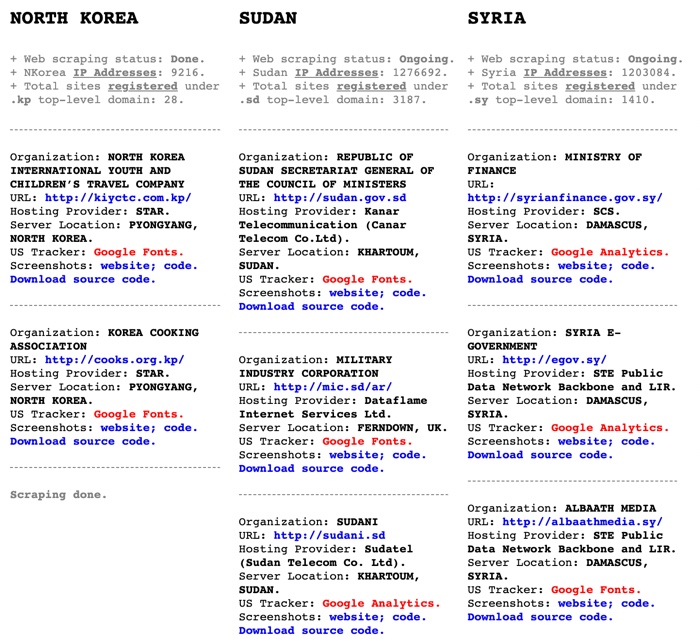 Joana Moll, Algorithms Allowed (detail), 2017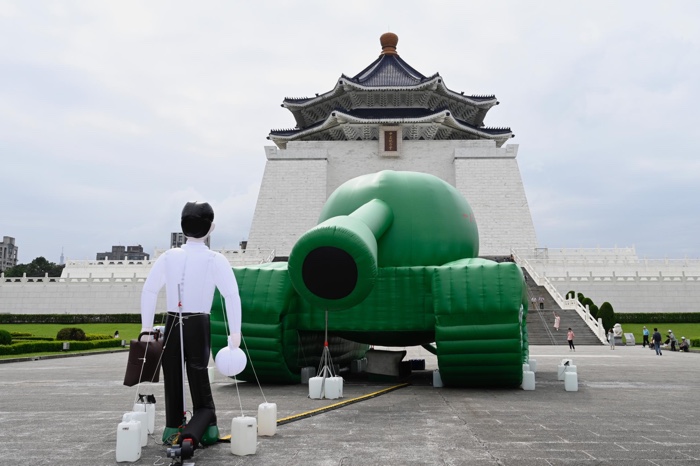 Shake, Tank Man, installed in front of Chiang Kai-shek Memorial Hall, 2019. Credit: SAM YEH/AFP/AFP/Getty Images, via
And yet, although exposing injustice and abuses of authority is risky, the book reminds us that whistleblowing has the power to disrupt from within and thus bring change. And that change is getting increasingly (and reassuringly) tangible:
Legislation is slooooowly reacting. This month, member states the European Union will have to implement new laws that protect whistleblowers (the move only seems to concern private companies of more than 250 employees though.)
The story of 15MPARATO, a group of political activists who gathered evidence about systemic corruption and fraud in the banking sector, is an undeniable success story. Simona Levi, a theatre director, technopolitical strategist and a founder of 15MPARATO, explains in the book how the evidence that her group had gathered led to the imprisonment of a former Minister of Economy and IMF President, along with 15 other bankers. Furthermore, the Court decided that the small savers who had been forced to invest would be able to recover the money they had lost in the scam: over 2 billion euros.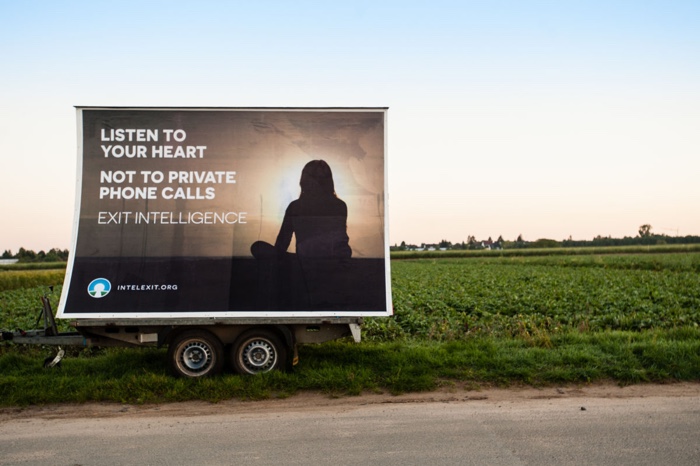 Peng!, Intelexit, 2015
Perhaps the most interesting aspect of the anthology (and of Bazzichelli's research) for me is its exploration of the practice of whistleblowing in relation to cultural and artistic creation. The concept of Art as Evidence, suggested by Laura Poitras, describes artistic and hacktivist practices able to bring to the attention of a broad public as series of shocking facts and hidden wrongdoings. Whistleblowers already do that of course but artists UBERMORGEN, Forensic Architecture, !Mediengruppe Bitnik, Joana Moll and their peers add other layers of meaning and engagement: they conceptualise new tactics of criticism within a context of freedom of expression, they challenge the concept of evidence itself and they manage to further involve the audience by tapping into their emotions, curiosity and critical judgment.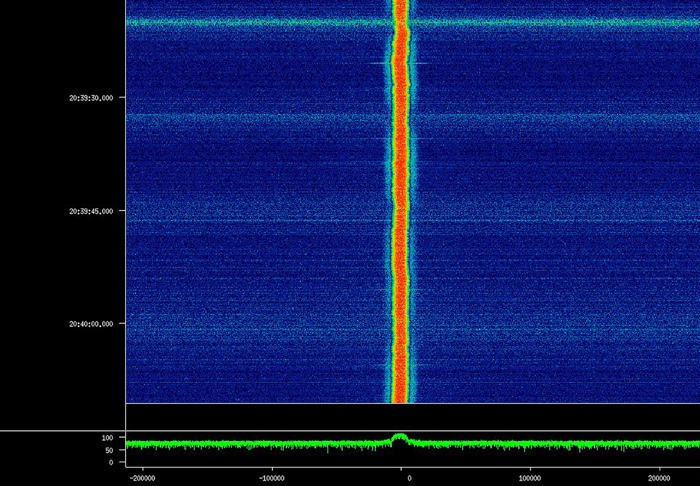 Laura Poitras, ANARCHIST: Straightened Doppler Track from a Satellite (Intercepted August 4, 2009), 2016
I'm glad that my last book review of 2021 is Whistleblowing for Change. Exposing Systems of Power & Injustice because I needed to close the year on a publication that gives me faith in humanity. Besides, I don't think I'll ever talk enough about what the Disruption Network Lab is doing to facilitate a public debate on the importance (and dangers) of truth-telling and whistleblowing, and to celebrate the civic consciousness of individuals for whom ethics is more important than personal interests.
Previously: Networked Disruption. An interview with Tatiana Bazzichelli, Book review: Hacker States, The Influencers: Former MI5 spy Annie Machon on why we live in a dystopia that even Orwell couldn't have envisioned, Politics and Practices of Secrecy (part 2), What would you say to the NSA if you could send them an anonymous message?, A screaming comes across the sky. Drones, mass surveillance and invisible wars, etc.