Global Activism: Art and Conflict in the 21st Century, edited by Peter Weibel.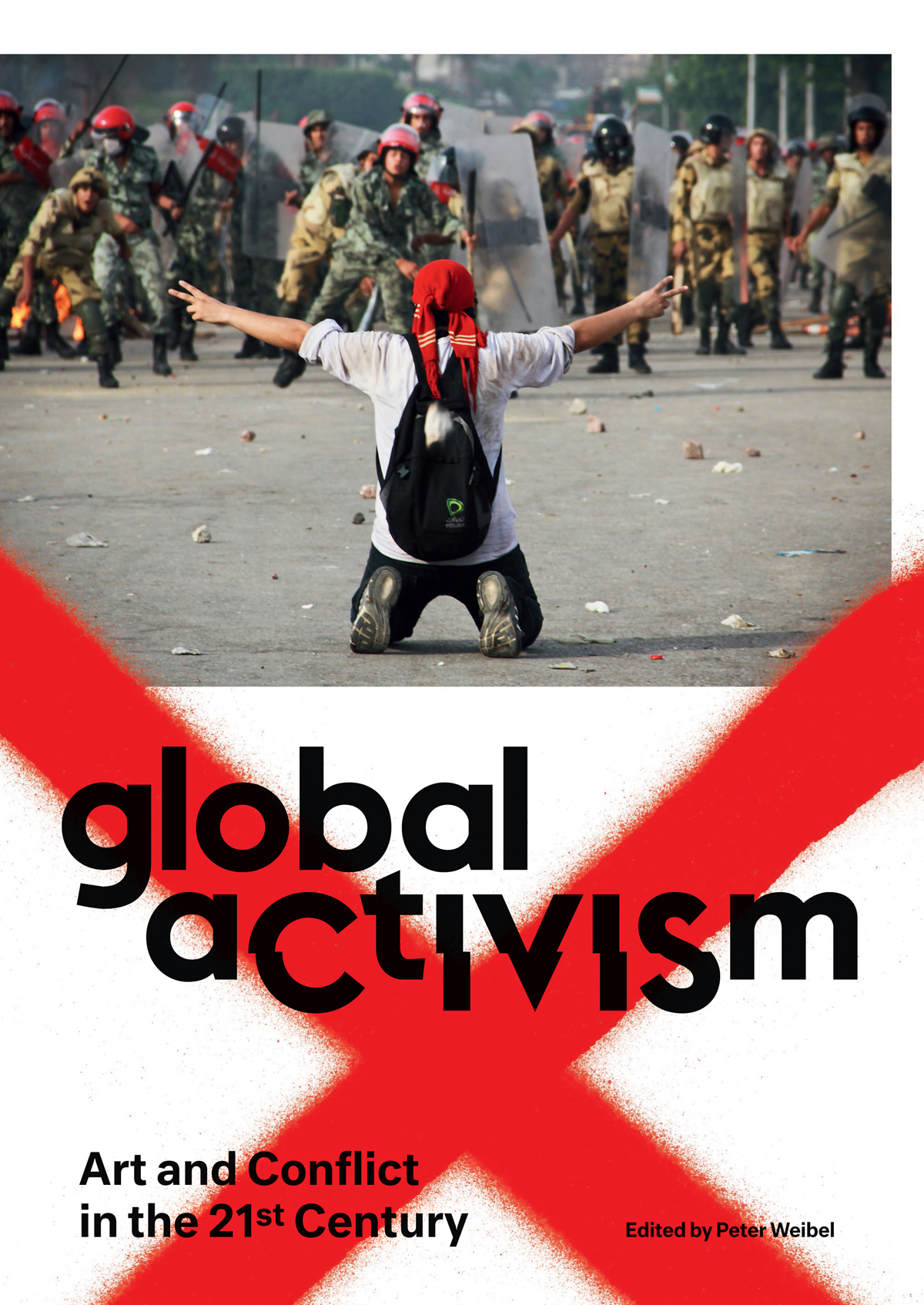 It's on amazon USA and UK
.
Publisher MIT Press writes: Today political protest often takes the form of spontaneous, noninstitutional, mass action. Mass protests during the Arab Spring showed that established systems of power—in that case, the reciprocal support among Arab dictators and Western democracies—can be interrupted, at least for a short moment in history. These new activist movements often use online media to spread their message. Mass demonstrations from Tahrir Square in Cairo to Taksim Square in Istanbul show the power of networked communication to fuel "performative democracy"—at the center of which stands the global citizen. Art is emerging as a public space in which the individual can claim the promises of constitutional and state democracy. Activism may be the first new art form of the twenty-first century.
global aCtIVISm (the capitalized letters form the Latin word civis, emphasizing the power of citizens) describes and documents politically inspired art—global art practices that draw attention to grievances and demand the transformation of existing conditions through actions, demonstrations, and performances in public space. Essays by leading thinkers—including Noam Chomsky, Antonio Negri, Peter Sloterdijk, and Slavoj Žižek—consider the emerging role of the citizen in the new performative democracy. The essays are followed by images of art objects, illustrations, documents, and other material (first shown in an exhibition at ZKM Center for Art and Media, Karlsruhe) as well as case studies by artists and activists.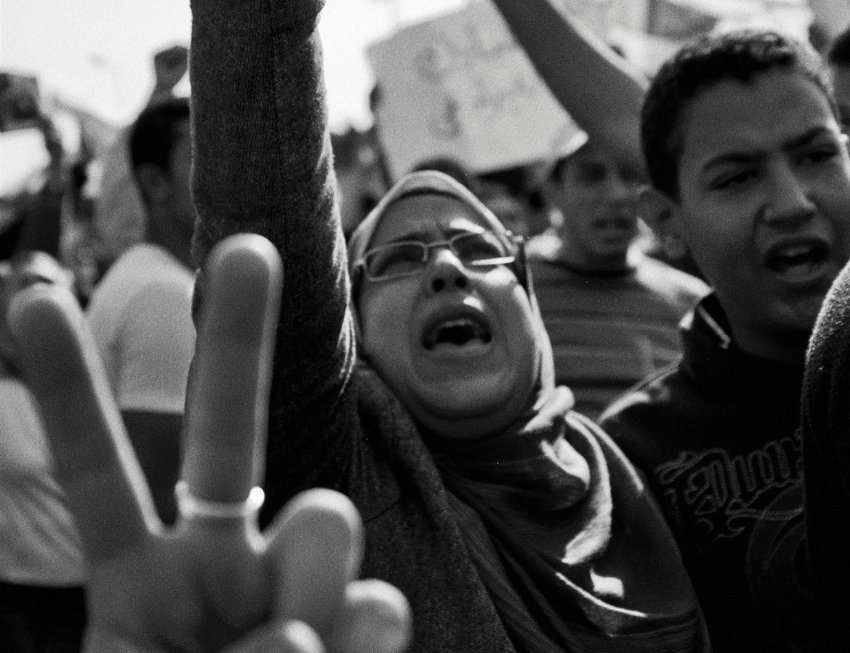 Arnold Fuad, Pro Mubarak Demonstration, Abdel Monem Ryad Street, Cairo, Egypt, January 01, 2011


Black Mask, Wall Street protest against capitalism, New York, 1967. Photo
I'm surprised i'm even writing this but Global Activism: Art and Conflict in the 21st Century has brought back my faith in the perceptivity of the art world. I feel like i've been reading books and visiting exhibition about art and activism almost every week over these past few years. It reminds me a bit of 2008 when suddenly most art institutions were organizing exhibitions and conferences about ecology while printing magnificent catalogues and shipping installations, artists and critics at huge (ecological) costs. Nowadays it's activism, artivism and hacktivism everywhere you look. There is a lot of genuinely intelligent and meaningful 'artivism' works. But there are even more works that fall into the -consciously or not- opportunistic trap. If you're an artist or even a designer then you want to produce some 'socially-engaged' works. It is hip, comfortably subversive and almost bound to earn you all kinds of accolades: a mention at art festivals, the attention of journalists and bloggers (myself included) and the approval of your peers. It doesn't matter whether or not anyone outside of the art institutions actually gets to experience your work or whether it efficiently challenges any of the issues you're trying to raise. You're preaching to your own choir and that's the good enough for the art world.
Global Activism breaks the mold of art's self-complacency and pretend solicitude for the miseries of the world. The publication not only looks at creative interventions that have had a real impact on consciences, media and political status quo, it also gives equal credits to the 'man on the street' and to the artist for the way they challenge established power systems and express their dissatisfaction with the way governments handle immigration, climate change, corruption, growing social inequality, access to health care and other ongoing issues.
Another outstanding quality of the book is the way it brings together and without any hierarchy the usual art suspects (The Yes Men, Pussy Riot, The Surveillance Camera Players, Adbusters or Oliver Ressler, for example), the big NGOs (Amnesty International or Greenpeace) but also actors who are not so well-known internationally such as Ed Hall and his magnificent protest banners as well as many artists and citizen initiatives from Russia, Ukraine and the Middle East. The African continent remains, as often, under represented though.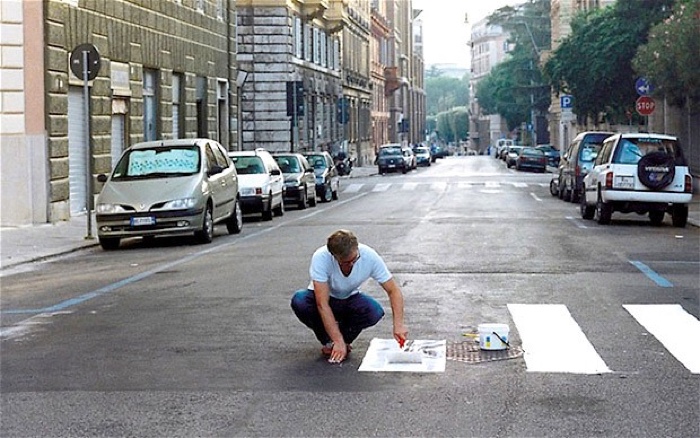 Partizaning: a Partizaning activist paints a guerrilla crossing. Photo: Didier Courbot
The book alternates between essays by the likes of Bruno Latour and Peter Sloterdijk and presentation of interventions, performances and online resources created by citizens and artists who are disenchanted with democracy and its enslavement to capitalism. Here's a quick tour of some of the examples of global activism encountered in the book:
From the chapter Activism and the Citizen which explores the state of the res publica and new forms of participative democracy:
Marc Silver and Gael García Bernal, Who Is Dayani Cristal? (full documentary over here)
Who Is Dayani Cristal? tells the story of a migrant who found himself in the deadly stretch of desert known as "the corridor of death" and shows how one life becomes testimony to the tragic results of the U.S. war on immigration.
Nadir Bouhmouch, Trailer for the film 475 When Marriage Becomes Punishment (this way for the full documentary on vimeo)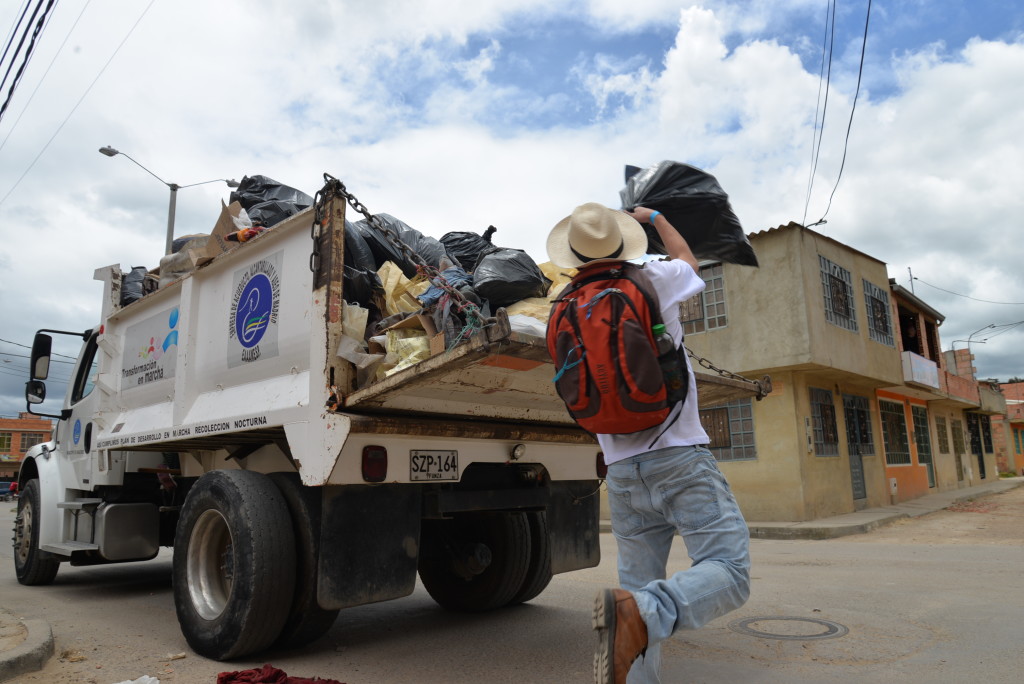 Let's Do It! World, cleanup in Colombia, 2014
Born in Estonia in 2008, Let's Do It! World is a global civic movement that invites people to map and then clean up illegal waste in their own neighbourhood, region or country.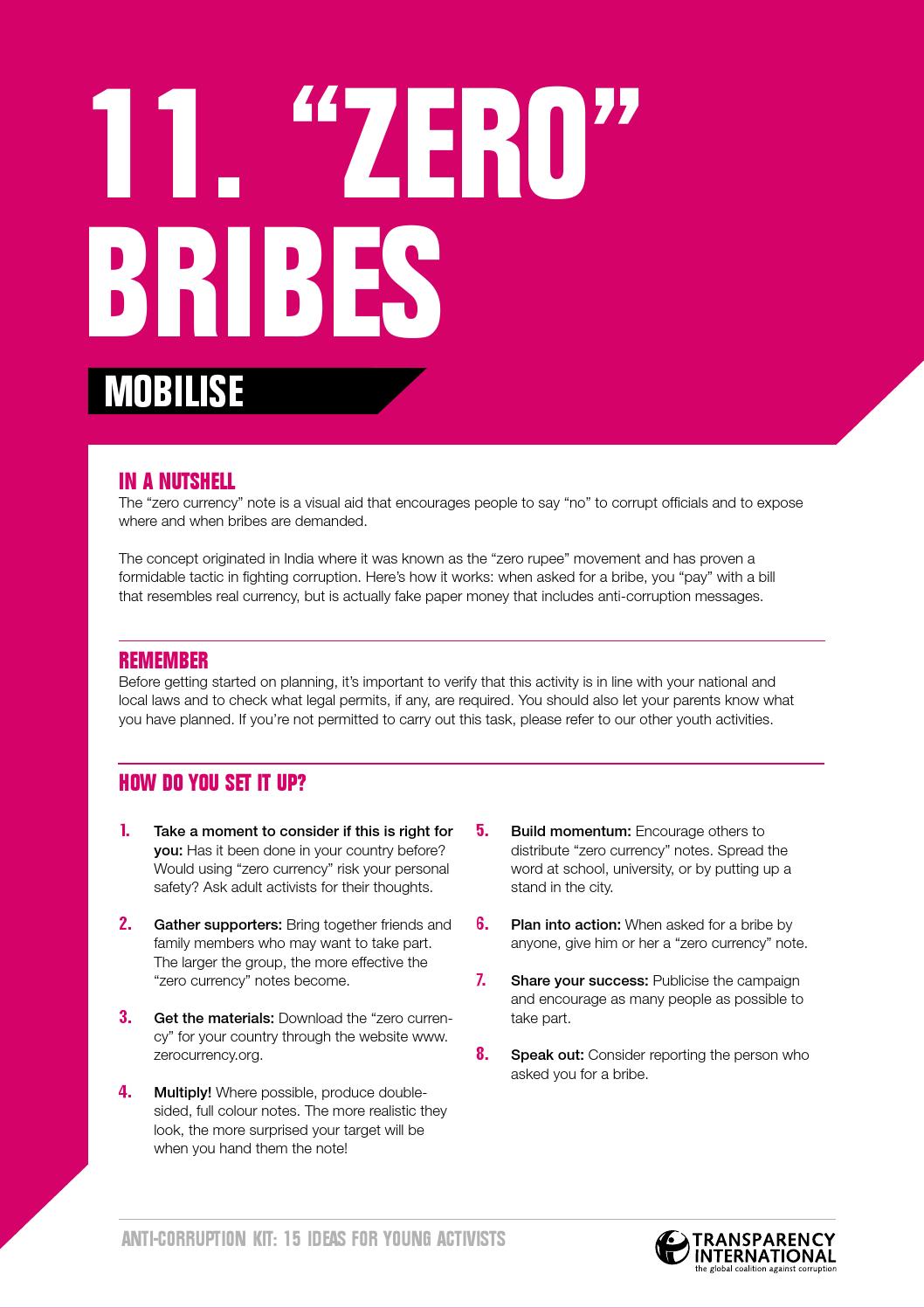 One page from Transparency International's Anti-corruption kit for young activists
From chapter 2 which investigates the blurring between the Public and Private Sphere and how individuals are now eager to articulate their global interests and concerns: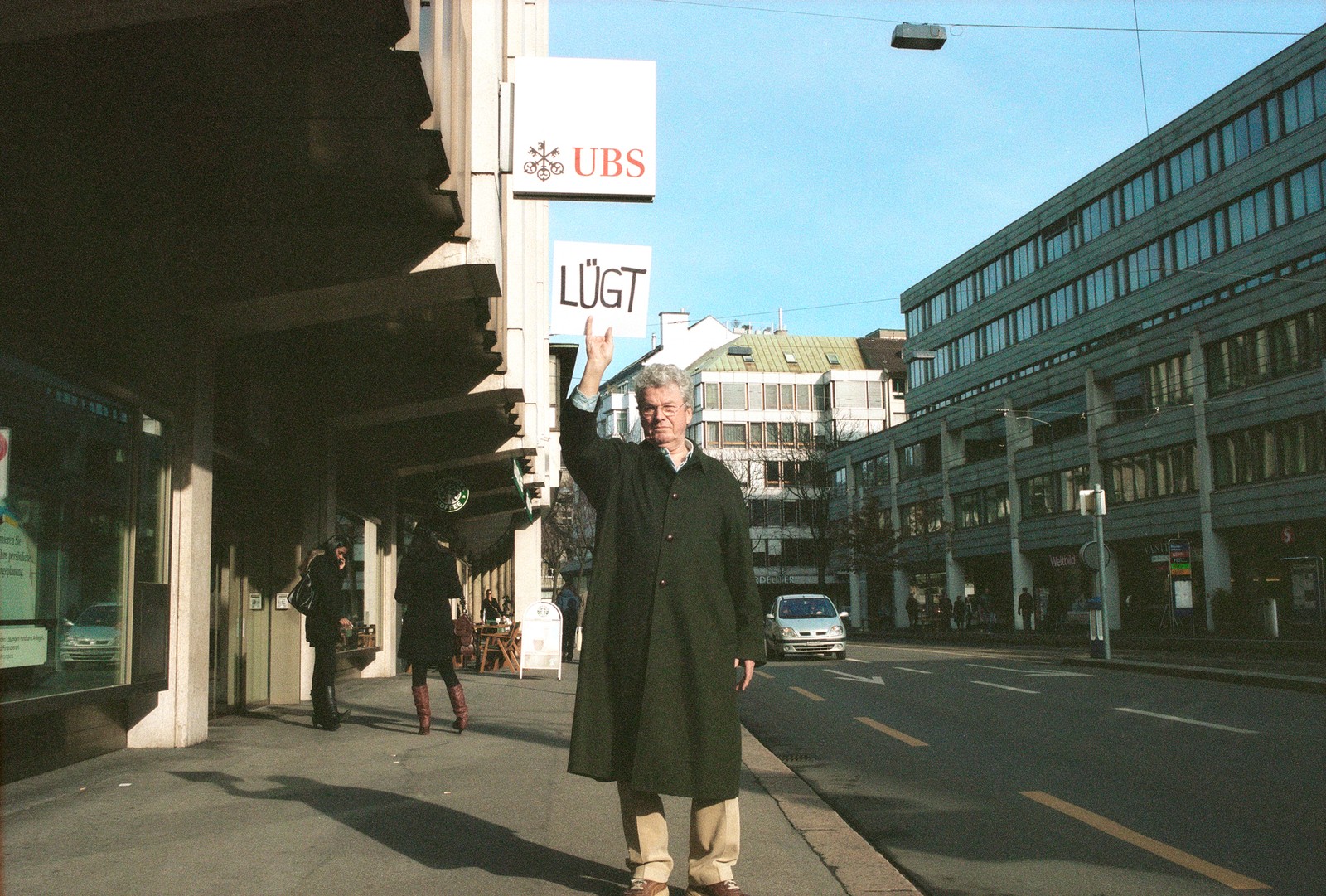 !Mediengruppe Bitnik, UBS Lies, Zurich, 2009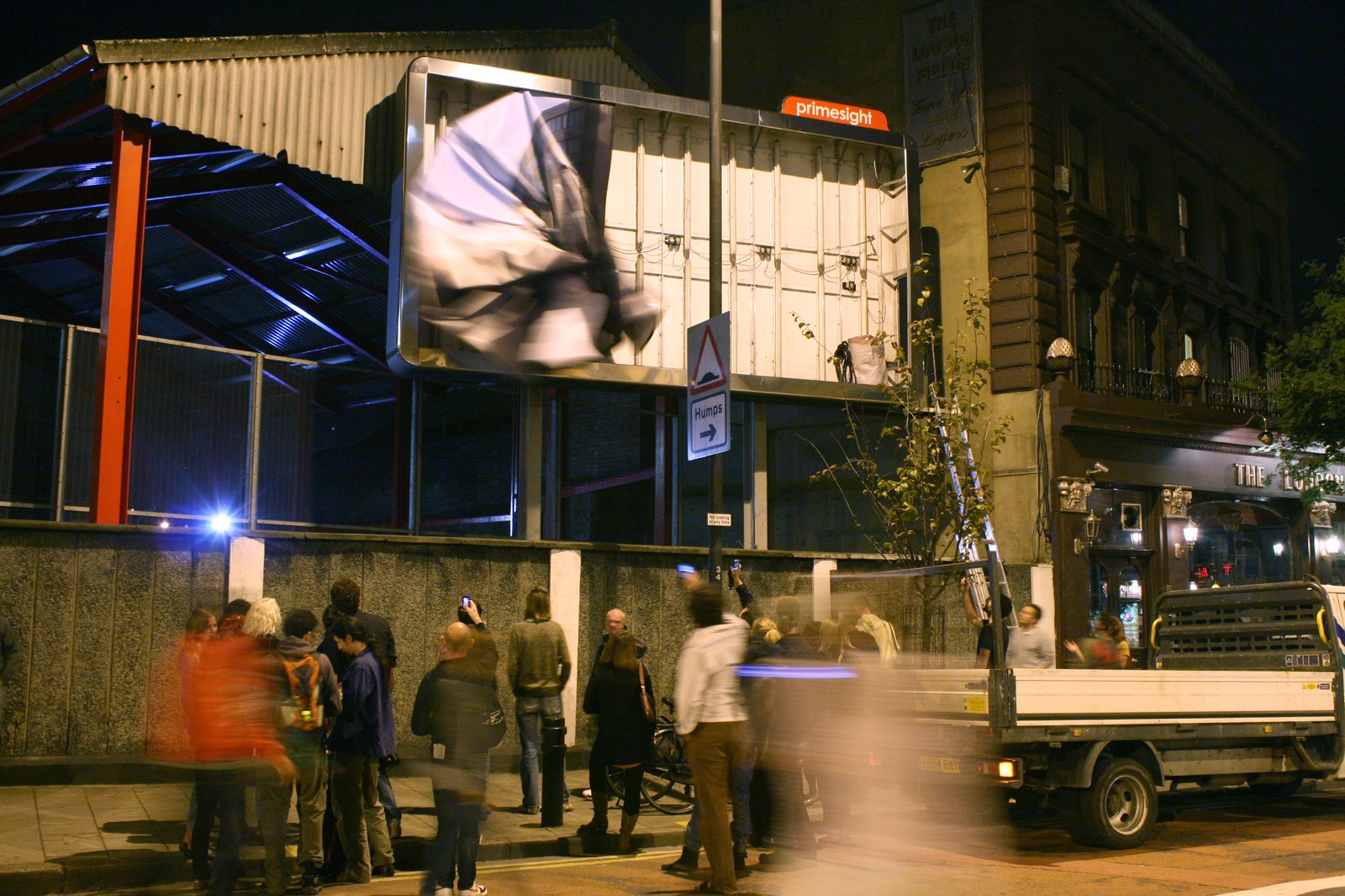 !Mediengruppe Bitnik, UBS Lies, London, 2010
UBS Lies is !Mediengruppe Bitnik's re-enactment of Police Lies, a 1971 work in which Peter Weibel protested the abuses of state power by holding a sign bearing the word "lügt" [lie(s)] under the illuminated 'Polizei' sign of a police station.
An investment banker who happened to walk by accepted to participate to !Mediengruppe Bitnik's shooting. The work, which quietly commented on the financial crisis, didn't amuse the bank. Its legal department had the image removed from a public billboard in 2010. In the case of further use or publication of the image UBS threatened to sue for libel.
From chapter 3, How to Do Activism which examines creative forms of protests and non-violent resistance: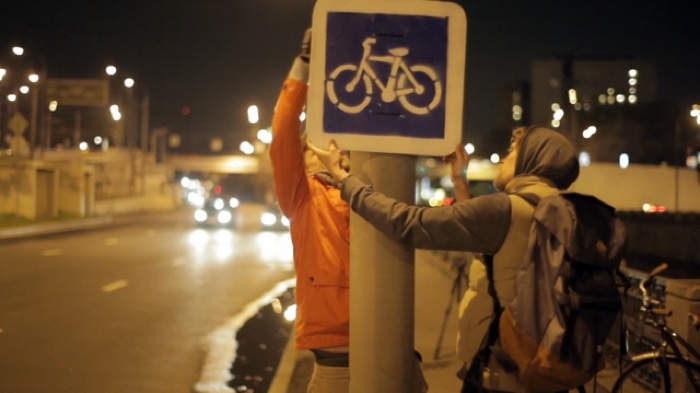 Partizaning: creating bike lanes in the city (via culture 360)
Partizaning aims to demonstrate citizens that they can improve their own urban environment without the need of any official help from planners or authorities. They paint zebra crossings, road signs, and cycle routes where pedestrians need them, develop and diffuse widely games about urban tactics and install benches or mailboxes for citizens to post their suggestions about how to make their neighbourhood more pleasant.
From Tactical, Social, and Global Media, the chapter focusing on the role of communication technology and social networks in protests: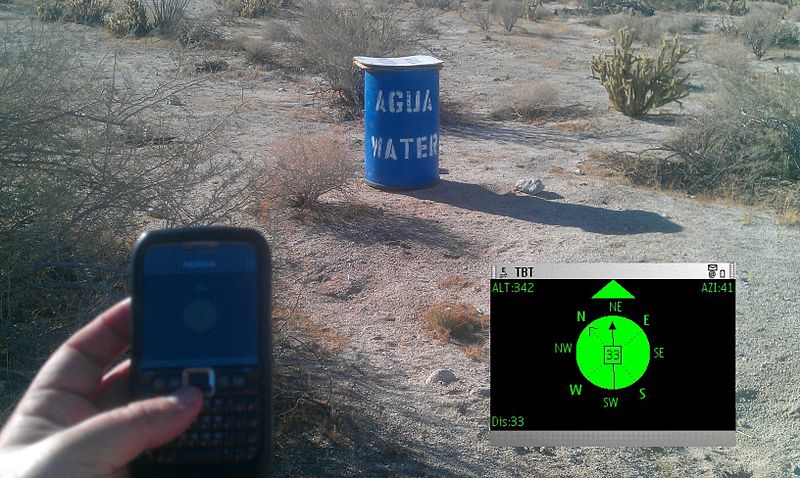 The Electronic Disturbance Theater 2.0/b.a.n.g. lab, Transborder Immigrant Tool, 2007
Developed in 1998, The Transborder Immigrant Tool used mobile phones to provide emergency personal navigation and help for immigrants attempting to cross the Mexico-U.S. border by guiding them water sites established by activists.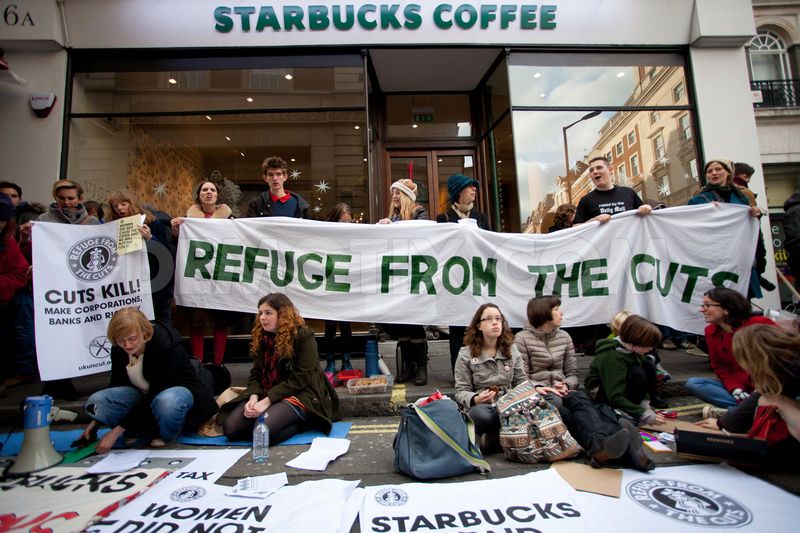 UK Uncut. Photo via A Level Politics
UK Uncut is a network of United Kingdom-based protest groups established in October 2010 to oppose tax avoidance and austerity measures, in particular the drastic cuts to public services.
From chapter 5 which addresses 'Artivism', the use of artistic means to intervene in socially relevant processes:
Renzo Martens, Episode 3. Enjoy Poverty
A few years ago, Renzo Martens went to the Democratic Republic of Congo to launch a two-year project that examined the exploitation of one of Africa's major exports: images of poverty, violence and suffering. The artist traveled with a blue neon billboard that read ENJOY POVERTY and worked with Congolese photographers, teaching them how to sell images of suffering to Western media and aid agencies.
Ahmad Sherif (aka Aalam Wassef), Egyptian Postcard 1-Brutality in Egypt/Mubarak
Starting in 2006, Aalam Wassef used various pseudonyms to post on youtube short clips critical of the Mubarak regime. I liked another of his actions a lot: back in 2007, the artist bought advertising space from Google and asked other Egyptians for their suggestions on what to say to the then-president of the country. Each Thursday, whenever someone searched for words such as "Mubarak," "Egypt" or "Nile cruise," a message to Egyptian ruler would appear in the advertising space on the right side of the screen. One of the messages relayed to Mubarak read: "You have wasted our lives and our future. Things are going downhill in Egypt because of you."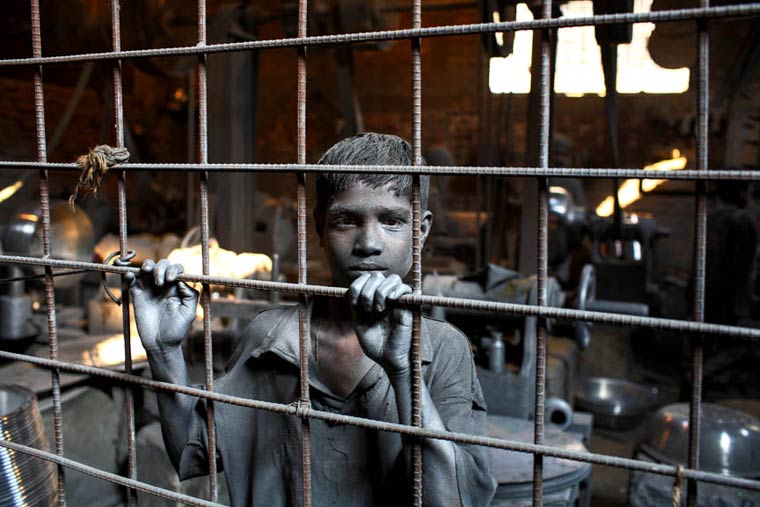 GMB Akash, Angels in Hell, 2002-2012
GMB Akash spent 10 years documenting child labor in Bangladesh and neighbouring countries in his photo series Angels in Hell. A proportion of the proceeds from the related book and exhibitions is dedicated to tracing the children he had portrayed many years ago and support them to set up their own small businesses.
The Floating Lab Collective, Scream at the Economy
The Floating Lab Collective explore the frontiers of individual agency and collective empowerment. FLC's artists explore issues involving housing, the environment, migration, labor and urban mobility.
Itamar Rose and Yossi Atia, Wash Checkpoint
Image on the homepage: Floating Lab Collective, Scream at the Economy, Washington DC.
Related stories: Interview with the Center for Creative Activism, Now is always a good time to protest, Survival Kit Festival in Umeå, Politika. Art, social justice and activism and Graphic design for social change.
Related book reviews: Obfuscation. A User's Guide for Privacy and Protest, Art & Activism in the Age of Globalization and Visual Impact. Creative Dissent in the 21st Century, A People's Art History of the United States. 250 Years of Activist Art and Artists Working in Social Justice Movements.