Sorry for being so slow with the updates on the blog this week. This morning i left London unimpressed by the Frieze art fair and took the train to Manchester. The lady at the hotel reception manages to wear two sets of fake eyelashes on top of each other, the weather is lovely and i'm following Creative Tourist's recommendation to embark on a Manchester Weekender, three days of celebration of art, literature, music and performances.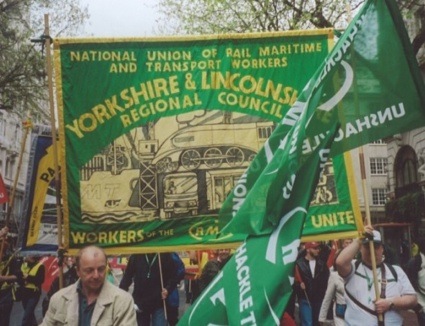 May Day march, London, 2008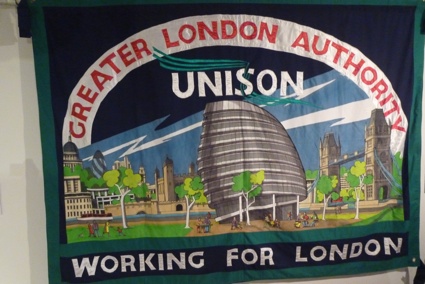 Greater London Authority UNISON banner, 2009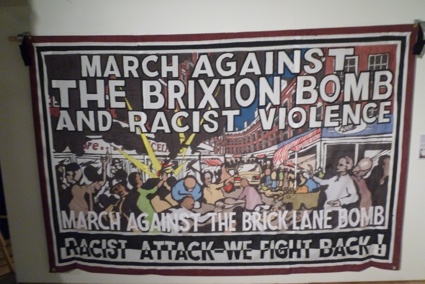 Brixton Bomb Banner, 1999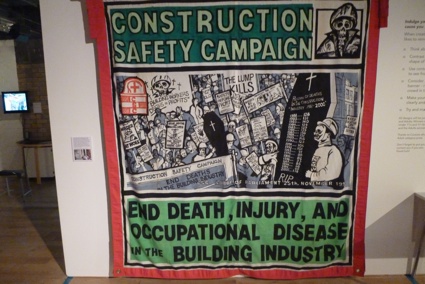 Construction Safety Campaign banner, 1993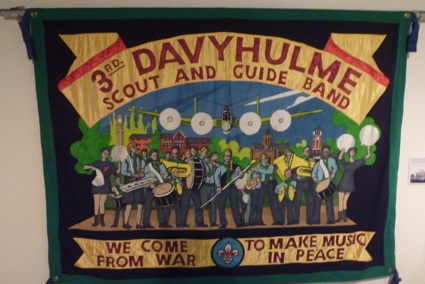 3rd Davyhume Scout and Guide band, 2009
One of the exhibitions i was most eager to visit was On The March – An Exhibition of banners Made by Ed Hall at the People's History Museum.
Ed Hall makes the most amazing, colourful handcrafted banners i've ever seen. Before discovering his work at an exhibition curated by Jeremy Deller for the Palais de Tokyo in Paris a few years ago, I had no idea you could still commission someone to design, paint, embroider and stitch protest banners.
Hall used to be an architect but he was also a trade union rep when Thatcher came into power. In the '80s, he started drawing banners and posters to support Lambeth Council's protest campaign against government restrictions on the amount of tax councils could charge. That was his first foray into protest art. Nowadays, he's the UK's foremost trade union and campaign banner artist.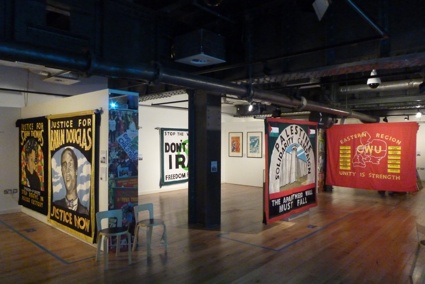 General view of the exhibition space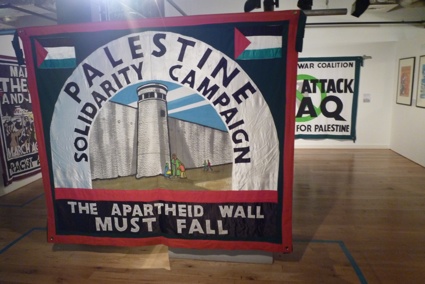 Palestine Solidarity Campaign (PSC) banner, 2004
Hall works mostly for trade union organizations but as years passed he's been increasingly involved in protest raised by grassroot organizations that fight against climate change, violence against women or that defend the rights of the Palestinians and other causes the artist personally believes in. But his first non trade union banners were stitched for Brian Douglas who died in police custody in May 1995. During his arrest in South London, Douglas was hit on the head with a baton. Police claimed that they had acted in self-defense. He was not taken to hospital until 12 hours after injury, where he later died.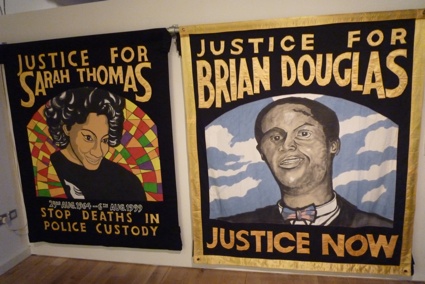 Justice for Sarah Thomas banner, 2000 and Justice for Brian Douglas banner, 1997
333 people died in police custody between the years 1998 and 2010 and Hall's banners are often part of the annual remembrance marches to Downing Street, to inquests and funeral. The banner below was made in memory of Sarah Thomas, a 34 year old student who died on August 1999 in Stoke Newington Police station after being arrested for a public order offence.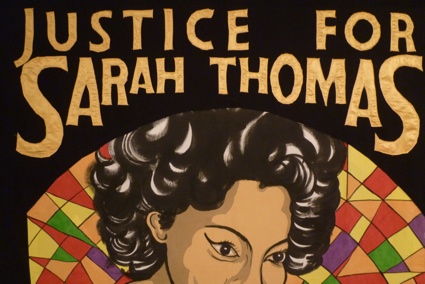 Finally, the exhibition also devoted some space to Ed Hall's collaboration with Jeremy Deller, in particular Procession, a mass gathering orchestrated by the artist for the Manchester International Festival two years ago.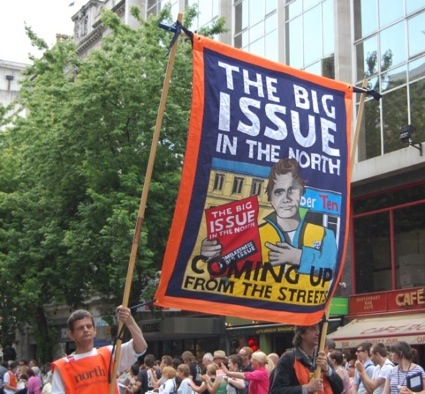 Procession, Deansgate's Manchester, 5th July 2009. Organised by Jeremy Deller for the Manchester International Festival. The Big Issue magazine is sold by homeless people to help them earn a legitimate income
Find more about his work in the film made by Platform Films:
On the March – An Exhibition of Banners by Ed Hall remains open at the People's History Museum in Manchester through 30 October 2011.