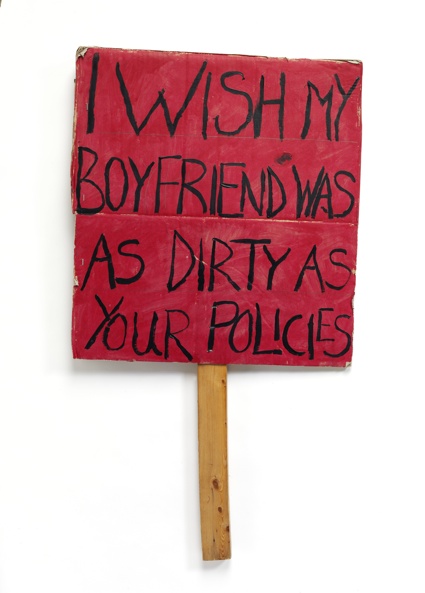 Coral Stoakes, I wish my boyfriend was as dirty as your policies, 2011. Photo Victoria and Albert Museum, London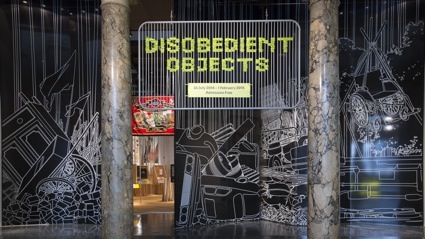 Installation Image, Disobedient Objects, Victoria and Albert Museum, London
The Victoria and Albert Museum in London has recently opened an exhibition that "examines the powerful role of objects in movements for social change." It is called Disobedient Objects. That's the kind of title that chic and cheerful designers would use to describe how their work is 'subversive' but, thankfully, this is probably the most un-designy show the V&A has ever organised (except for the whole communication and setting which was orchestrated by the studio of Jonathan Barnbrook.) Disobedient Objects is not one of those fashionable activist art exhibitions either. This is a show about activism with a capital A, a show inhabited by artefacts that had never graced the venerable rooms of a museum or art gallery until now.
Many of the items exhibited are often mundane objects that were either given a new purpose or modified in haste in answer to an emergency situation. As modest as they might seem, these artifacts show the resourcefulness and ingenuity of people. They testify of their courage as well. Confronted with the sophisticated (except maybe in London where our good Mayor favours cut-price water cannons that are being phased out in Germany amid concerns about their safety) and potentially harmful equipment used by security forces, these artefacts look almost pitiful. But that doesn't make them less efficient.
Disobedient Objects focuses on the period from the late 1970s to now, a time that has brought new technologies and political challenges. The items displayed range from the very rudimentary to the sophisticated, from a slingshot made from a Palestinian child's shoe to mobile phone-powered drones for filming demonstrations or the police, from textiles sewn by women to communicate the atrocities they have experienced under the Pinochet regime in Chile, in particular the 'disappearance of their children to a robot that spray paint slogans on the pavement.
I entered the show ready to sneer at V&A's grand attempts to glamourize popular protests and turn evidences of genuine and at times violent dissent into food for cool hunters. My fighting mood quickly vanished. Disobedient Objects is a show that invites visitors to get out and raise their heads, to be inspired and fight for their rights. And that's what matters to me.
As the curators wrote: "Peaceful disobedience only works when protesters have cultural visibility and the government acknowledges their right to protest. Without this, struggles for freedom can sometimes take other forms."
Here's a very small overview of the stories you can discover in this ridiculously crammed with visitors but invigorating exhibition: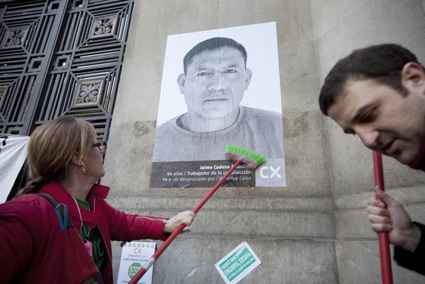 TAF!, Enmedio and Plataforma de Artefactos por la Hipoteca, We Are Not Numbers
As usual, I bow (me saco el sombrero?) to Spanish wittiness. No one does protests as eloquently and astutely as they do these days. TAF! and Enmedio worked with Plataforma de Artefactos por la Hipoteca (a platform for mortgage debt victims) against dehumanizing media representations of people affected by Spain's mortgage crisis. The group pasted portraits of evicted homeowners on the facades of banks responsible, showing evicted people, not statistics.
Inflatable cobblestone, action of Eclectic Electric Collective in cooperation with Enmedio collective during the General Strike in Barcelona 2012. © Oriana Eliçabe/Enmedio.info
The inflatable cobblestones were rolled across the streets in Berlin and Barcelona to confuse police and generate sympathetic media attention.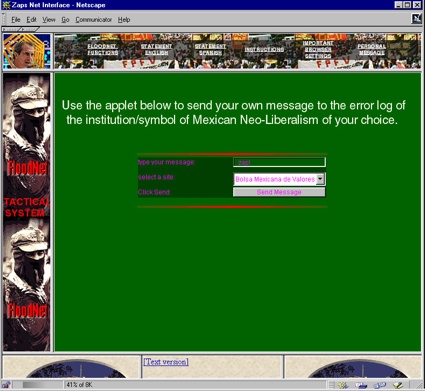 Electronic Disturbance Theatre 1.0, FloodNet, 1998
When many people run the program FloodNet (1998) together, they can target and overload websites. The Java applet was created in response to the massacre of 45 peaceful supporters of the Zapatistas in Mexico. Ten thousand protestors disturbed the website of the Mexican presidency and the Pentagon. FloodNet has since been adopted by many groups and movements.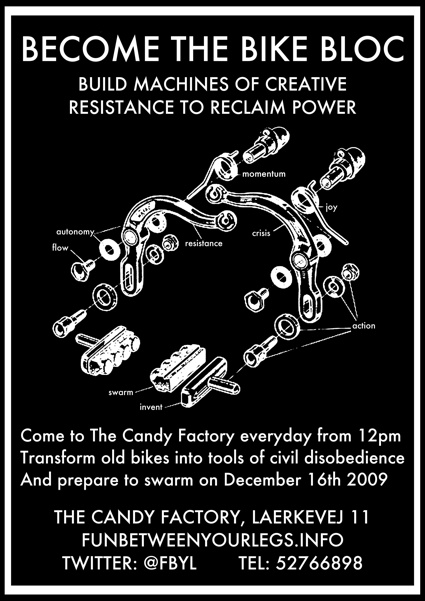 Bike Bloc Graphic Poster. Anonymous. Photo Victoria and Albert Musem, London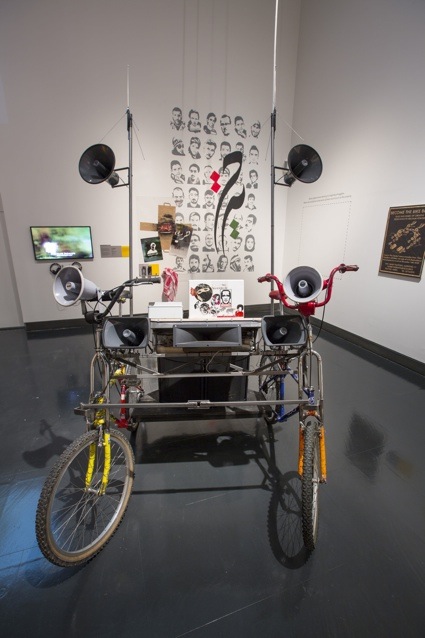 Installation Image, Disobedient Objects, Victoria and Albert Museum, London
The first Bike Bloc was part of the mass civil disobedience organised during the 2009 Climate Summit in Copenhagen. Moving in swarms, bikes helped protesters breach the summit's security cordon and hold an alternative People's Assembly. The leading bike carried a sound system and pirate radio antennae. It broadcasted via other bikes around it with independent speakers, each on a separate channel. The sound could jump between bikes inside the crowd, and change in tone to respond to different situations.
Sound Swarm (of the Bike Bloc) @ the Climate Summit. Shot and edited by Leah Temper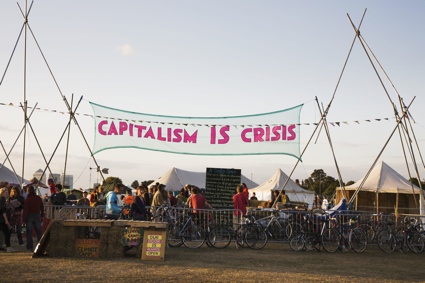 Occupy London Stock Exchange, Capitalism is Crisis banner. Used 2009-12. Credit: Immo Klink
The banner was made for the 2009 Climate Camp at Blackheath, London. It identified capitalism as the source of climate chaos and as an ongoing crisis of inequality and injustice.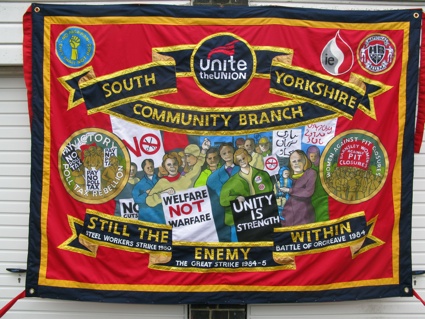 Ed Hall, Banner for UNITE the union at the march in support of the NHS in Manchester, 29th September 2013. Courtesy of Ed Hall
One of the banners hanging over the exhibition space was designed and hand-stitched by Ed Hall (whose name appears in almost every single post i've written about Jeremy Deller's work.) Hall has been making banners used by union groups for over 30 years. This one was used in a protest march in support of the NHS in Manchester in 2013. It features the Thatcher quote 'Still the enemy within', which is surrounded by iconography referencing the miners' strike, poll tax rebellion and welfare cuts.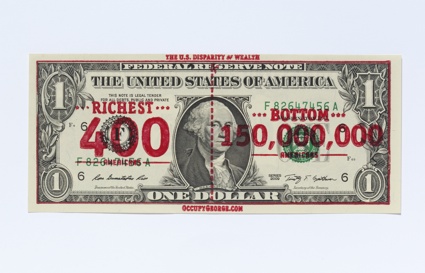 Andy Dao and Ivan Cash, Occupy George overprinted dollar bill, 2011. Courtesy of Andy Dao and Ivan Cash
Andy Dao and Ivan Cash circulated dollar bills stamped with fact-based infographics that communicate the widening economic disparity in the U.S.A. The designs were also released on the Internet enabling anyone to participate.
Occupy Liz, defaced currency for the Occupy movement. Photograph: Ivan Cash and Andy Dao
The artists/advertising experts were commissioned by the museum to design stamps about the UK's wealth disparity on the £5 note: in 2011, 1% of the UK population earned £922,433 while 90% earned £12,933. Any visitor can use the stamp to make their money a bit more riotous.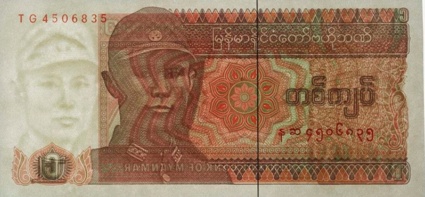 Middle Burmese 1 kyat "democracy note," 1989-90, private collection
There is a long, long tradition of bank notes used for protest. The show also reminded that in 1990, a Burmese currency designer very subtly painted the face of Aung San Suu Kyi onto a new note after she had been democratically elected then placed under house arrest by the military junta. The designer softened the features of Gen. Aung San (the father of Aung San Suu Kyi) so that his face resembles the one of his daughter. People could thus hold up their bank notes to the light and see a hidden portrait of the opposition leader.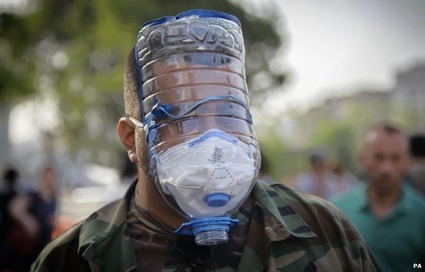 Faced with police tear-gas, protesters in Turkey made their own gas masks
In 2013, the Turkish government used record amounts of tear gas against people protesting against the redevelopment of the Gezi Park in Istanbul. Protesters devised their own makeshift gas mask using plastic bottle, surgical face mask, foam and rubber bands.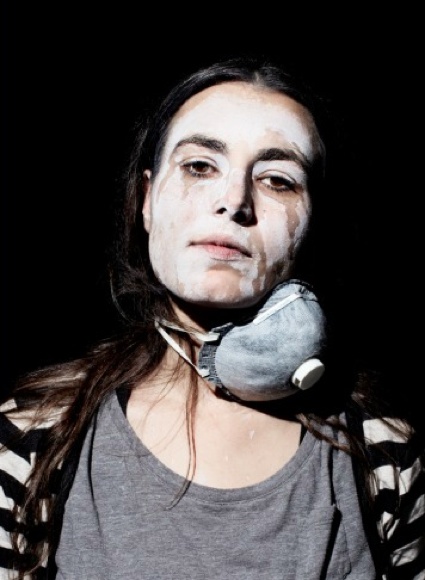 Greek protester Katerina Patrikarakou covers her face in a Maalox mixture to counter the effects of tear gas. Photo Peter Hapak for Time
Greek protesters adopted an equally cunning strategy. People resisting government austerity discovered that a solution of antacid and water sprayed onto the face offered relief from the burn of tear gas. However, it left a white residue that market protesters out.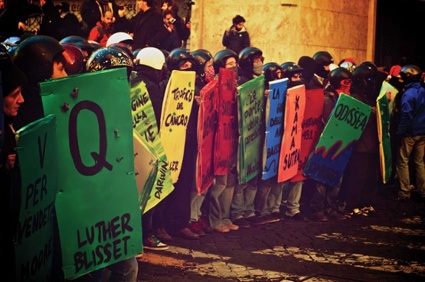 Book Bloc activists in Rome in 2010. Photograph: Vittorio Giannitelli/SonarProject
The protest shields painted to look like books were first made in Italy, in November 2010. Students were protesting against the drastic cuts to the public university system. The oversize books were held up at the front of demonstrations so that when the police hit the students with sticks, it looked as if they were attacking literature.
Students in London produced their own book shields after they saw videos of the actions online. The tactic quickly spread to other parts of the world.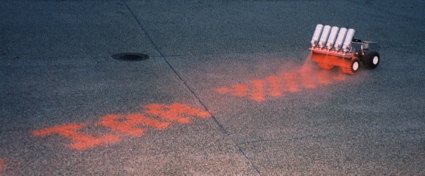 Institute for Applied Autonomy, Graffiti Writer (Robot for writing street graffiti), 1998. Courtesy of Institute for Applied Autonomy
A couple of artworks did sneak into the exhibition. I guess that the Graffiti Writer doesn't need any introduction….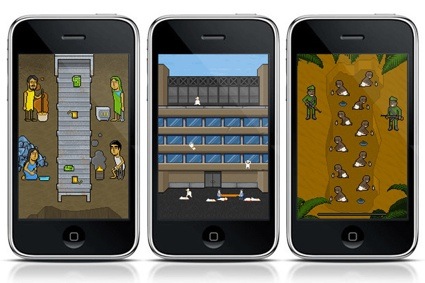 Molleindustria, Phone Story, 2011
The gallery also featured Molleindustria's Phone Story, a free game app that players win by forcing children to mine coltan in the Congo, preventing worker protest-suicide in China, managing rabid consumers in the West and disposing of electronic waste unsafely in Pakistan. The game was banned from Apple's iTunes store four days after its release.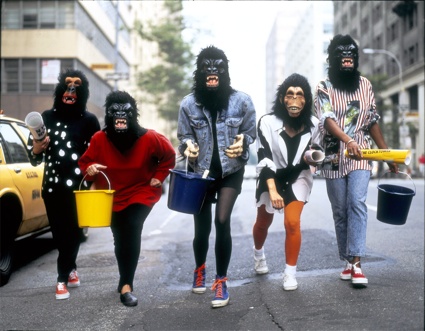 Guerrilla Girls. Image George Lange
The Guerrilla Girls was formed in 1985 to protest against the ridiculously low number of works by female artists in the most prestigious galleries and museums of New York. Their fight is as relevant as ever today (and not just in NYc obviously.)
More images from the show: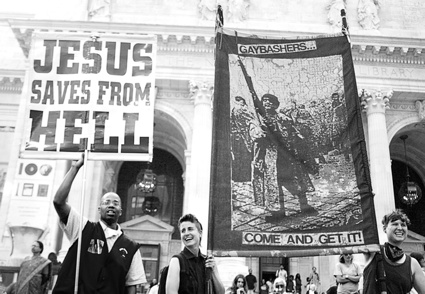 L J Roberts, Gaybashers, Come and Get It, USA, 2011. Courtesy of Blanca Garcia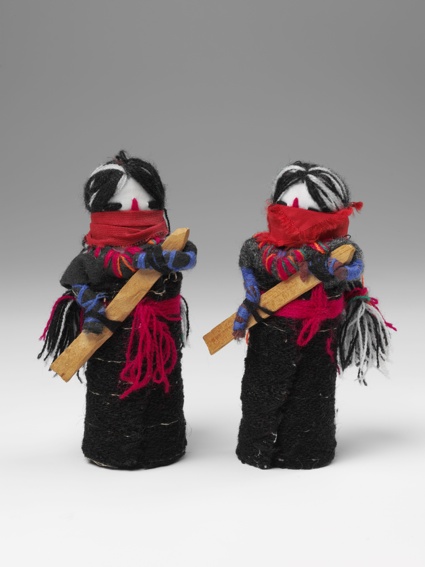 Dolls of the Zapatista Revolution, The Zapatista, Mexico. PhotoVictoria and Albert Musem, London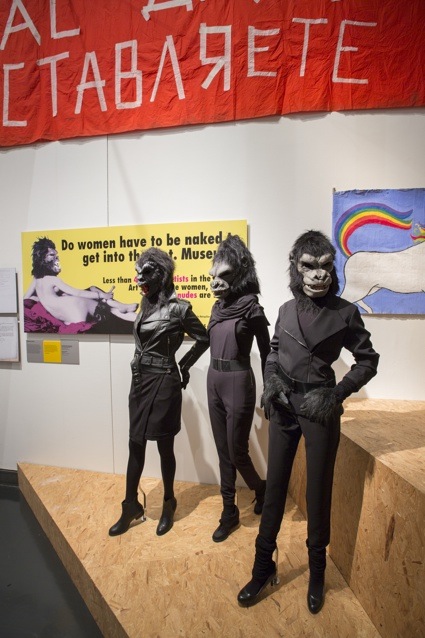 Installation Image, Disobedient Objects, Victoria and Albert Museum, London
Installation Image, Disobedient Objects, Victoria and Albert Museum, London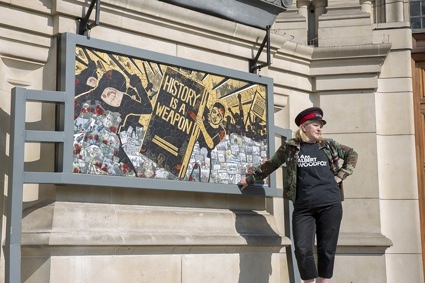 Carrie Reichardt and the Treatment Rooms Collective, Ceramic Intervention on the V&A Façade, 2014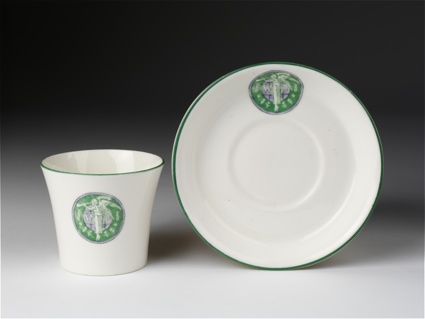 Bone china with transfers printed in green, bearing the emblem of the Women's Social and Political Union (WSPU). Photo: Victoria and Albert Musem, London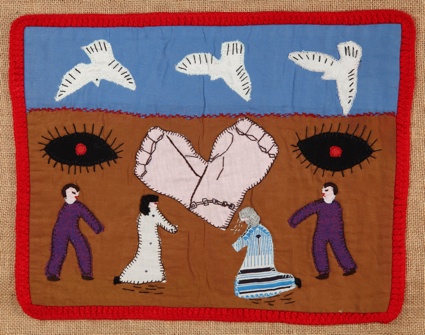 Chilean Arpilleras wall hanging: Donde estan nuestros hijos, Chile Roberta Bacic's collection. Photo Martin Melaugh
The museum has PDF guides to DIY some of the objects exhibited.
Disobedient Objects was curated by Gavin Grindon and Catherine Flood. The show is at the Victoria and Albert Museum in London, until 1 February 2015.