Second part of an overview of the Nonument Symposium dedicated to hidden, abandoned and forgotten monuments of the 20th century which took place last June at CAMP, Prague's Centre for Architecture and Metropolitan Planning.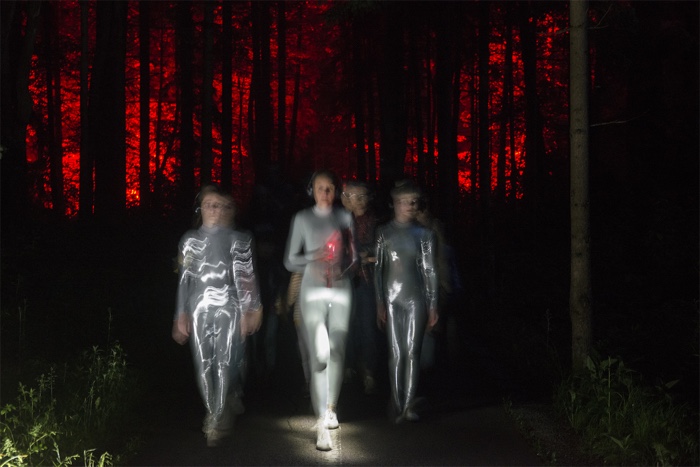 Neja Tomšič and Martin Bricelj Baraga – Nonument Group, From Nowhere to Noplace – Pioneer Railway, 2019. Photo by Peter Giodani. More images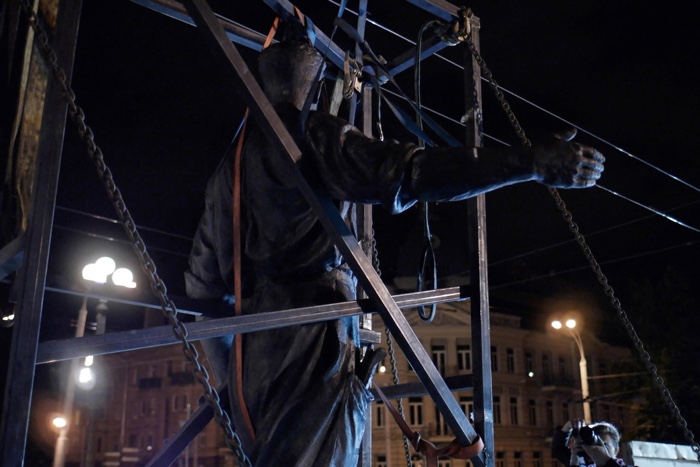 Deimantas Narkevičius, 20 July 2015, 2016. Photo
The term Nonument denotes 20th century architecture, monuments and public spaces that have undergone a shift in symbolic meaning or have lost it, as a consequence of political and social changes.
Artist and writer Neja Tomšič described with great clarity the difference between monument and nonument. During the discussion at the end of the first panel, she explained that the status of a space that has been labelled as a monument is clear, it is regarded as heritage and should remain untouched.
The concept of Nonument, on the other hand, attempts to open up an arena that acknowledges that some spaces or objects encompass conflicts and/or polarised visions. A nonument embodies historical processes and tensions that see people debate whether it should be demolished or preserved. What matters then is not whether this space/objet should be destroyed or protected but how we can retain its ambivalence, how we can acknowledge all the different dimensions and discussions that accompany this nonument.
The videos of the symposium are online. And if you have the time, i'd also recommend you have a look at the videos of the first Nonument Symposium which took place last year in Ljubljana.
In my previous story, i summed up some of the key ideas presented by historians, architects and urban theorists during the Nonument Symposium. This time, i'd like to write a synopsis of some of the artistic ideas and projects i discovered during the event: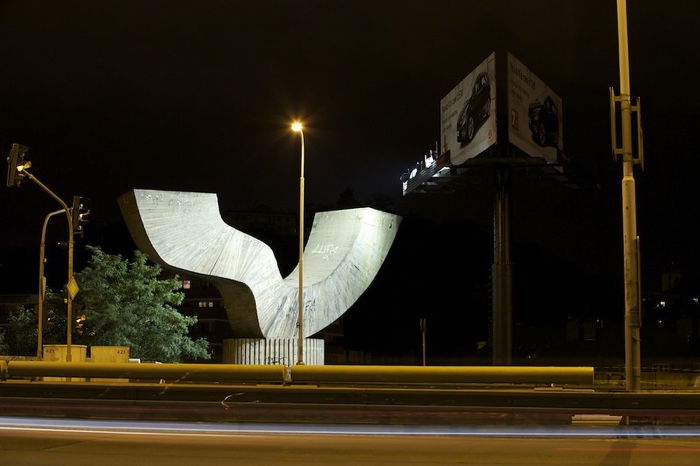 Vladimír Turner with Vojtěch Fröhlich, Jan Šimánek and Ondřej mladý, Osvícení / Enlightenment, 2012
Vladimír Turner with Vojtěch Fröhlich, Jan Šimánek and Ondřej mladý, Osvícení / Enlightenment (Making of video), 2012
Vladimír Turner gave a very entertaining talk about the guerrilla action he and his friends organised in 2012. One night, the group of artists/activists climbed onto the structure of a billboard advertising luxury cars and redirected its lamps to illuminate a nearby sculpture. Simple, smart, efficient. The artwork got the attention it deserved. The huge advertising eyesore was plunged into darkness.
The sculpture, located by the Barrandovský Most bridge in Prague, is a cast-concrete work that sculptor Josef Klimeš made in 1989. The company behind the billboard initially wanted to use the sculpture as a pedestal for its advertising structure (!!!?!) but when the sculptor threw them out of his studio and told them they were not allowed to do so, they simply installed the billboard close to the artwork, making it almost impossible to see the sculpture while you drive by, especially during the night since the lights shine only on the advertising space.
This artistic action rectified a wrong and denounced the visual advertising pollution that pervades Prague and other cities. The light kept on illuminating the sculpture for a full week. The apparent lack of response by the owners of the billboard space might be explained by the fact that advertising is sometimes installed without any official permission from the city.
The video that documents the guerrilla intervention is an invitation for other artists and activists to replicate or adapt the action in their own cities.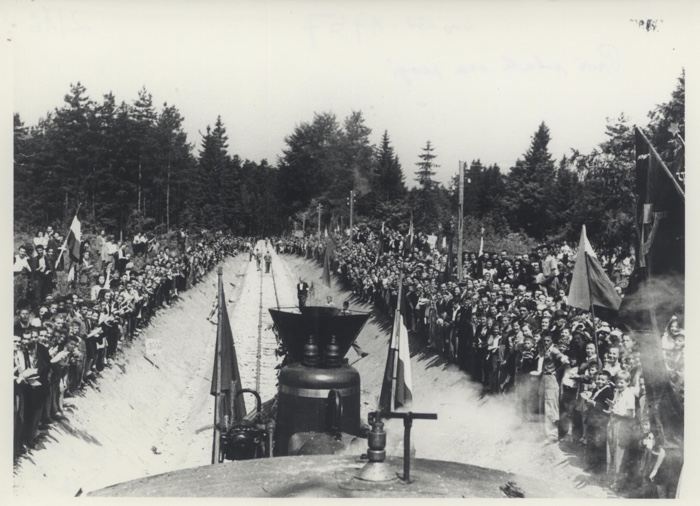 The Pioneer Railway. Photo: courtesy of the Slovenian Railway Museum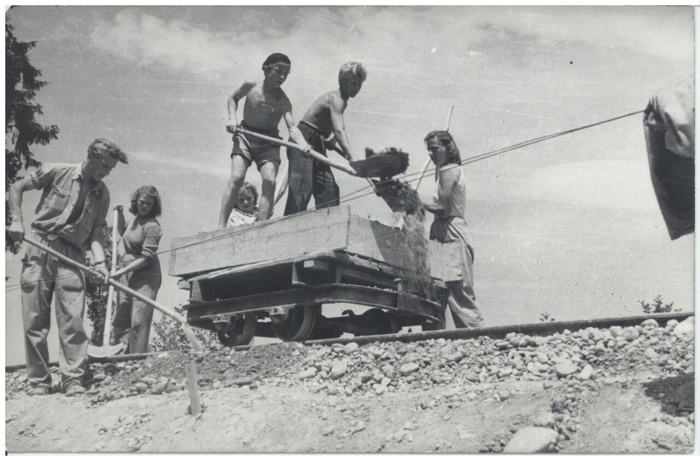 The work brigades are building Ljubljana Pioneer railway in March 1948. Photo: courtesy of the Slovenian Railway Museum

Pioneer Railway, Ljubljana, Slovenia, in operation 1948-1954. Photo: Nonument group
Both architect Danica Sretenović and members of the art collective Nonument Group talked about their attempts to give a presence to a nonument that's almost invisible nowadays: The Pioneer Railway inaugurated in Ljubljana in 1948.
Part of a series of "pioneer railways" built by the Yugoslavian government, this fully operational smaller-scale railway was made specifically for children. Kids performed all the jobs (except for the train driving) under the supervision of adult railway workers.
The train would run at a very slow pace on the 3,9 km long tracks along Ljubljana. The railway was not part of the wider infrastructure, it ran independently, didn't stop at any major station and it ended its course in an open field where there was little to do except pick up mushroom when it was the season. The Pioneer Railway was a source of entertainment, an educational tool and a way to get children excited about technology.
Initially, Ljubljana's Pioneer Railway was very popular (there wasn't much else for children to do at the time), but the public quickly lost interest and the line closed down in 1954. The rail tracks were removed, the train stations were left to decay or were repurposed. Part of the line is now a bicycle lane. Each time memorial plaques have been installed along the original route to inform passersby about its history, they were destroyed. Over and over again, reflecting the kind of uneasiness spaces and works from Socialist time often trigger in some Eastern European countries.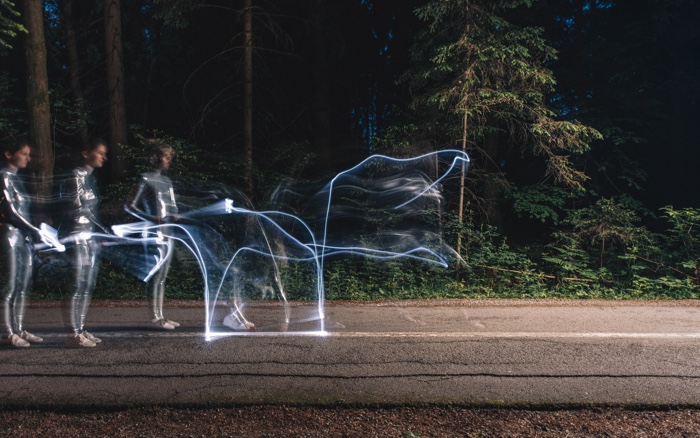 Neja Tomšič and Martin Bricelj Baraga – Nonument Group, From Nowhere to Noplace – Pioneer Railway, 2019. Photo by Peter Giodani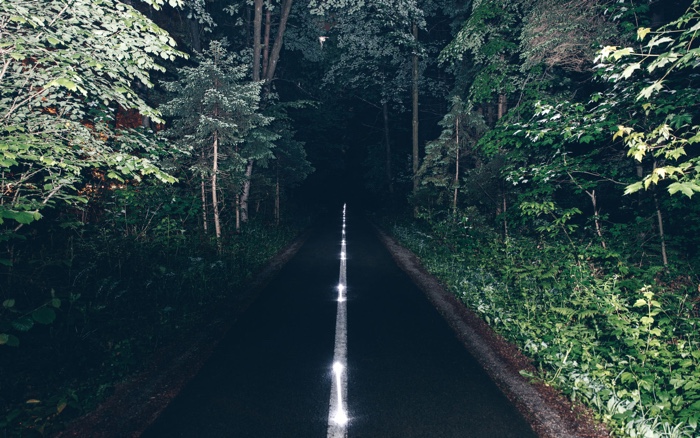 Neja Tomšič and Martin Bricelj Baraga – Nonument Group, From Nowhere to Noplace – Pioneer Railway, 2019. Photo by Peter Giodani
Nonument Group's intervention was based on research in the archives of the Pioneer Railway and on interviews with the builders, users and its other workers. Called "From Nowhere to Noplace", the performance consisted in a participative soundwalk along the cycle lane that follows the old train track.
The light and sound choreography led visitors on a night walk that addressed themes of memory, subjective experience and erasure in relation to infrastructure and ideology.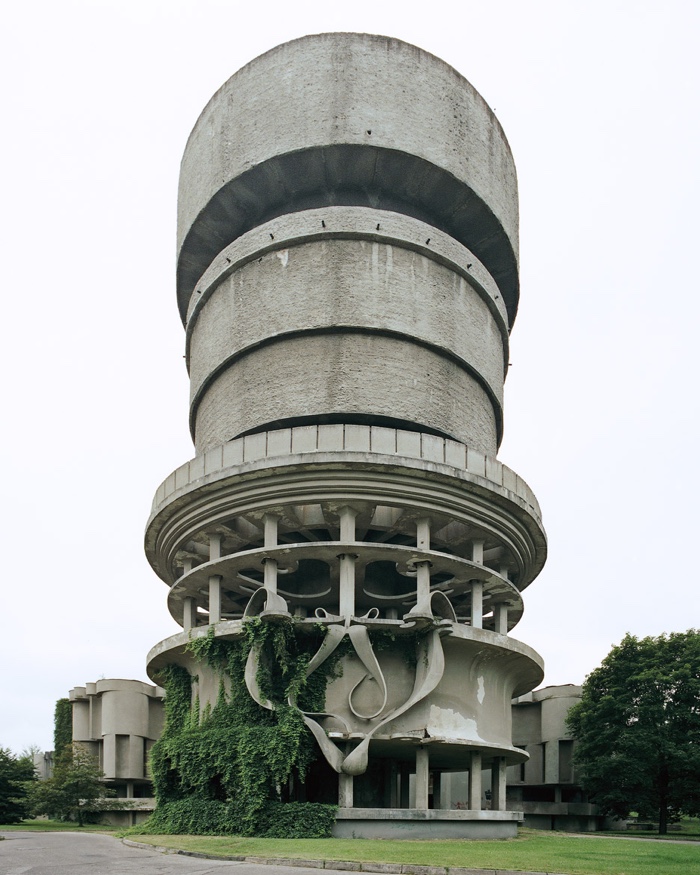 Nicolas Grospierre, Balneological Hospital Water Tower, Druskininkai, Lithuania, 2004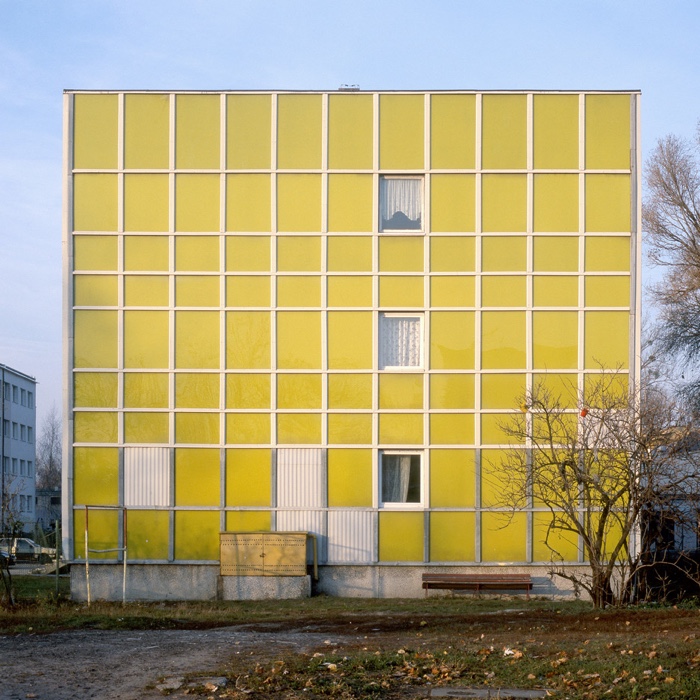 Nicolas Grospierre, Yellow Housing Estate, Warsaw, Poland, 2005

Nicolas Grospierre, Abandoned solar radiotelescope, Crimean Laser Observatory, Katsiveli, Crimea, Russia, 2012
Nicolas Grospierre's A Subjective Atlas of Modern Architecture started its successful life as a Tumblr in 2003 and continued as a series of exhibitions and books.
The artist (who trained as a political scientist) presents the images he took of various Modernist monuments across the world as a sequence dictated by the forms of the buildings, creating thus a flow of architectural shapes. This choice quickly reveals that, although the modernist language is universal, form doesn't always follow function in this type of architecture.
During his presentation at the symposium, the photographer made an interesting observation. Many of these modernist buildings were schools, churches, bus stops, hospitals, places of gathering, hospitals, public sculptures, etc. What they had in common is that they didn't generate any profit by themselves and they embodied a faith that tomorrow would be better. Things are different today. First of all, we've stopped believing in a bright future. Second, financial investment has become the main criteria when it comes to filling urban space with new constructions.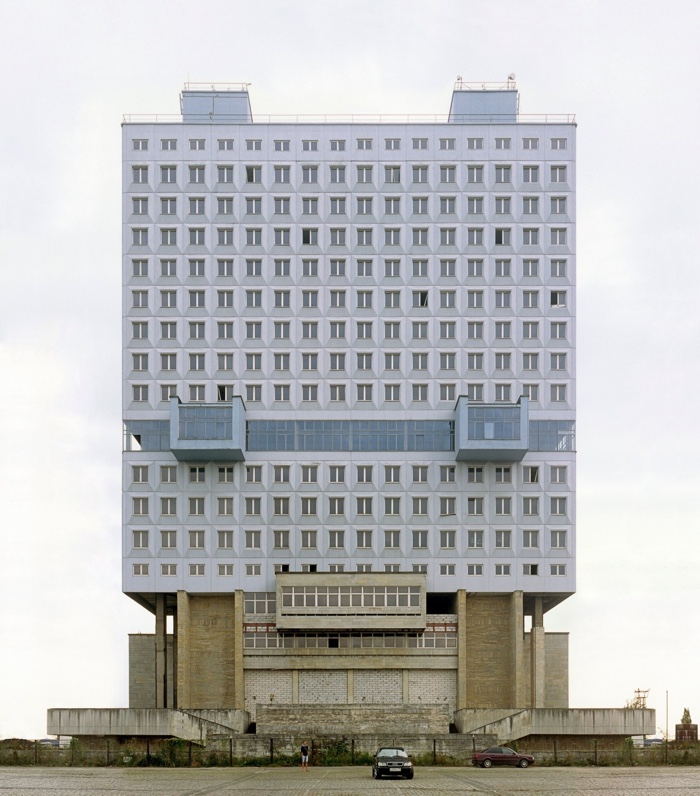 Nicolas Grospierre, House of Soviets, Kaliningrad, Russia, 2012
The House of Soviets seen above has an amusing story. As Grospierre explained, local people call it the "sunken robot" because it looks like the head of a robot buried in the ground up to the shoulders. The building was never finished and kept its concrete appearance for years until Vladimir Putin visited Kaliningrad. The building was then hastily covered in blue panels to make it look like it was still under construction. Now the building is as abandoned as ever but thanks to its Potemkin façade, it looks even more like a robot than before.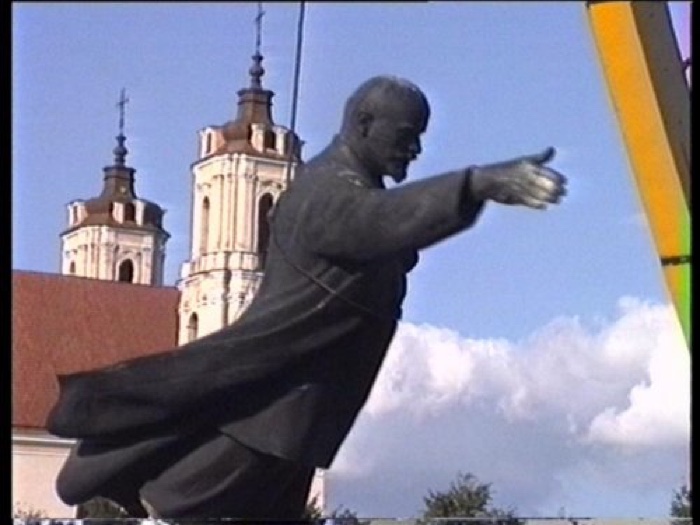 Deimantas Narkevičius, Once in the XX Century (still from the film), 2004
Deimantas Narkevičius's artistic practice examines the relationship of personal memories to political histories, particularly those of his native Lithuania.
He talked about several of his key works that deal, each in their own way, with the concept of nonument.
For Once in the XX Century, he used pre-existing footage that documented the taking down of a public sculpture of Lenin in Vilnius in 1991. The artist edited this VHS tape to reverse the playback of the material. As a result, the video appears to show large crowds applauding with great enthusiasm the erection of the Lenin sculpture. The original footage (thus before Narkevičius's intervention) of the removal of Lenin statue showed people welcoming with frenzy the disappearance of a symbol of the old regime. Lithuania was the first Soviet occupied state to announce restitution of independence and people were full of optimism about their future. The very simple intervention on the footage raises questions surrounding shifts in political regimes and public perception of them over time. This was made very clear by another video the artist showed us.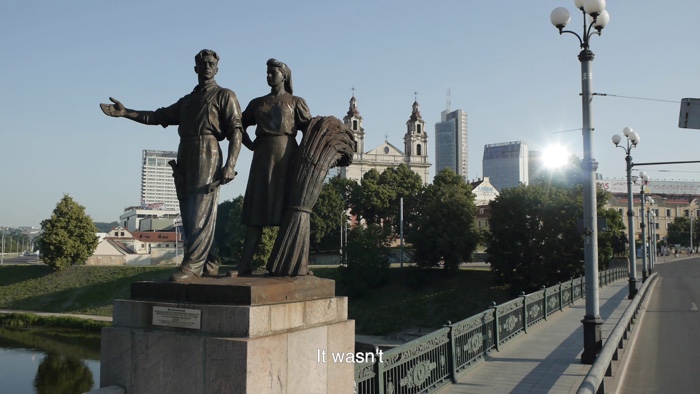 Deimantas Narkevičius, 20 July 2015, 2016. Photo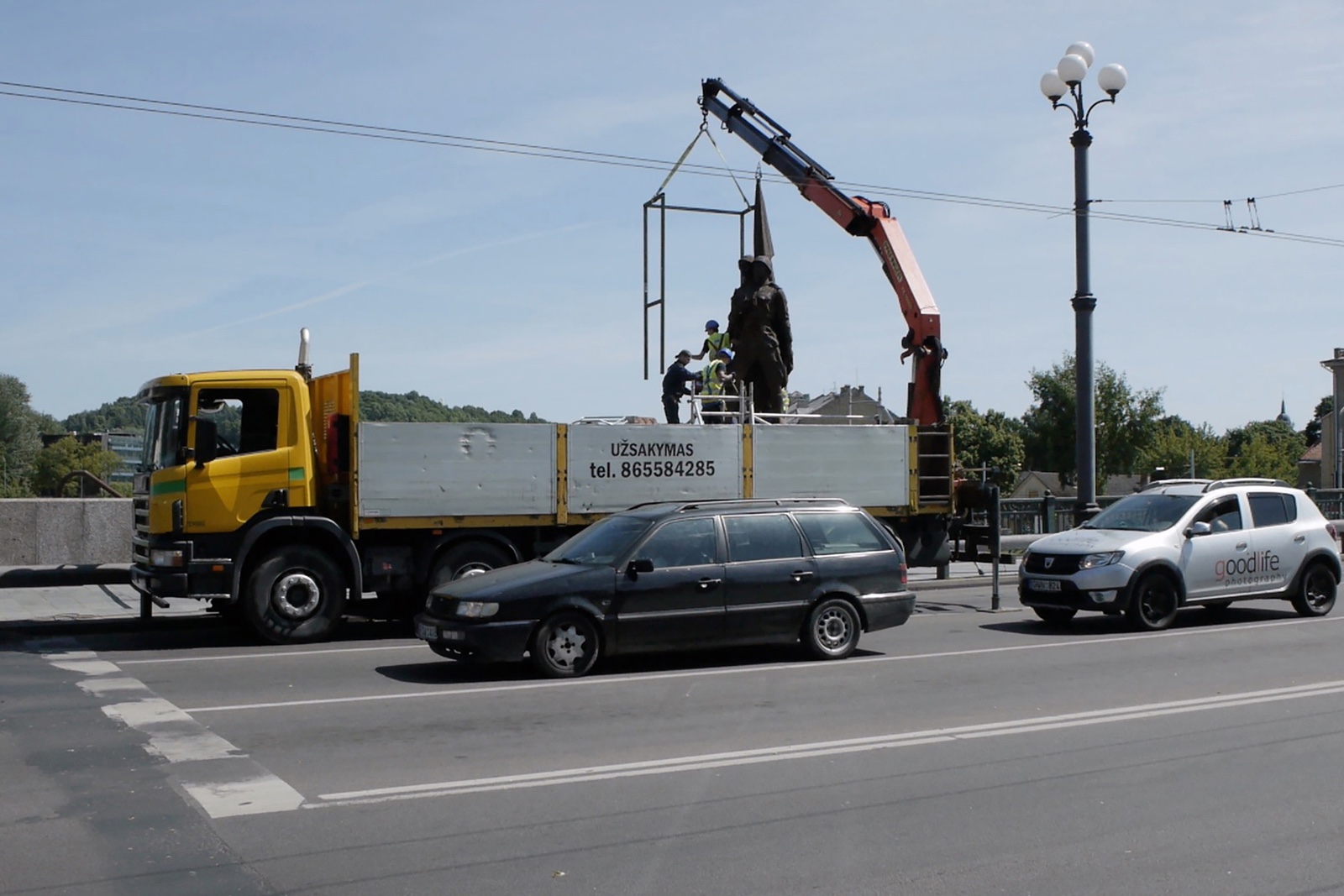 Deimantas Narkevičius, 20 July 2015, 2016. Photo
The second video work documented the slow removal of 8 old communist statues from the Green Bridge in Vilnius over the course of one day. The event took place in the same city but almost a quarter of a century after the dismantlement of the Lenin statue. 20 July 2015 documents a radically different feeling: total indifference from passerby.
The government saw their removal as a necessity long after the political ideology that they exemplified has been repealed. They had hoped to garner media attention and replicate the success of the 1991 images. Their plan failed rather miserably. Narkevičius interpreted the local government move as an attempt to impose a historical trauma on younger generations who don't care.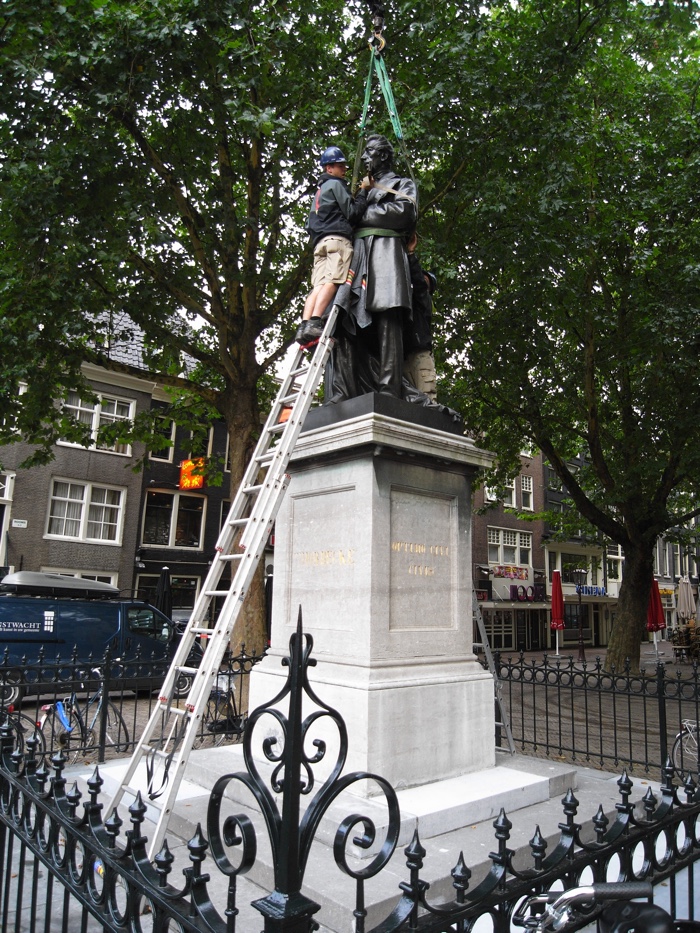 Hans van Houwelingen, What's Done… Can Be Undone!, 2008 -2010
Hans van Houwelingen, Until It Stops Resembling Itself, 2011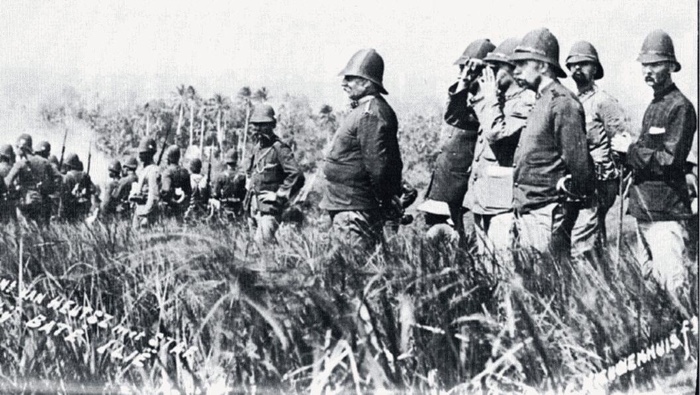 Joannes Benedictus van Heutsz in Atjeh (photo via)
Hans van Houwelingen is an artist whose interventions in public space explore the relations between art, culture and politics. I'm glad the symposium made me discover his work, it's witty, political and thought-provoking.
I'll just mention his current project: Van Heutsz, National Monument of Shame. Joannes Benedictus van Heutsz (1851-1924) was a military officer who was appointed governor general of the Dutch East Indies in 1904. After his death and as a thank you for being responsible for the killing of thousands of people in the colonies, he was given a huge monument at the Olympiaplein in Amsterdam. A hundred years later, Van Heutsz's name was erased from the structure but the celebration of the legacy of the colonialist period remained. According to the artist, what we need are instruments to dishonour the monuments that celebrate colonialism.
van Houwelingen suggests creating something like a pillory, a device formerly used for punishment by public humiliation. He wants to bring Van Heutsz and his killings back into the public memory with a National Monument of Shame that disgraces colonialism. Between this pillory-inspired structure and the existing monument, there would be a space to think about European colonial memory. "Precisely between honouring and dishonouring lies the space for observing history in an unprejudiced manner," he writes. "The pillory is in essence the equivalent of the statue that has fallen out of favour: if we believe a monument is no longer a suitable embodiment of changing historical views, reframing it as a pillory allows it to endure, and to sustain our critical inquiry."
And that's it for my reports about the Nonument Symposium!
Nonument is an ongoing research and artistic project initiated by MoTA – Museum of Transitory Art in Ljubljana. The two-day art and theory symposium was organised by Yvette Vašourková, an architect and founding member of CCEA MOBA, the Centre for Central European Architecture in Prague in collaboration with Neja Tomšič and Martin Bricelj Baraga from MOTA.
If you want to know more about the project, check the growing database on Nonument website which is part of MAPS, Mapping and Archiving Public Space co-operation project. Six organisations have contributed to this database: the Centre for Central European Architecture: CCEA (Prague), WH Media / Beamy Space (Vienna), Tačka Komunikacije (Belgrade), House of Humor and Satire (it's in Gabrovo and i want to go now), ARTos Foundation (Nicosia) and MoTA – Museum of Transitory Art (Ljubljana). The project is co-financed by Creative Europe.
Proceed this way if you've missed part 1.
Previously: A Subjective Atlas of Modern Architecture, East of Nowhere – Contemporary Art from post-Soviet Central Asia, SOS Brutalism. A Global Survey, Utopia London, Balkanology, New Architecture and Urban Phenomena in South Eastern Europe, etc.