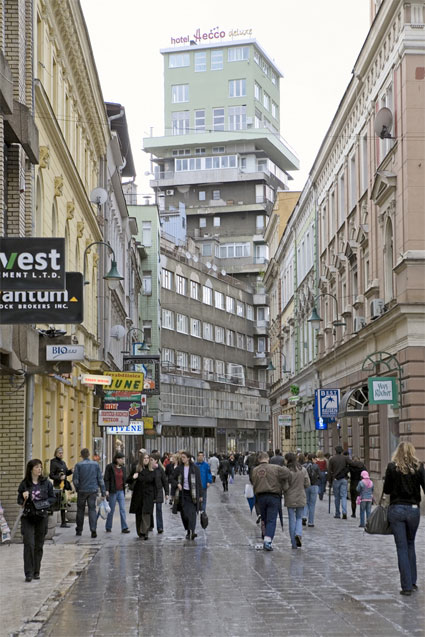 Sarajevo, 2008. ©Wolfgang Thaler
Last week, just a few hours after having landed in Switzerland for the IETM Autumn Plenary Meeting (which focused on the very sexy theme of 'misunderstanding'), i was sitting in a train to Basel. Like an automaton, i had been drawn to the city to visit Balkanology, New Architecture and Urban Phenomena in South Eastern Europe, the ongoing exhibition at the Swiss Architecture Museum.
SA M explores contemporary architecture and urban design from a trans-disciplinary perspective, not just at national level as its title might suggest, it also puts architecture into a global context.
Having been very impressed by their previous show, Re-sampling Ornament, i was more than eager to get very enthusiastic about the current one. Expectations were high. Expectations were met.
It started well right from the start. The exhibition design by Thilo Fuchs & Oliver Mayer of Tatin, with Oliver Theinert was a delight. Floating panels, writings on the floors, elegant typography and graphics.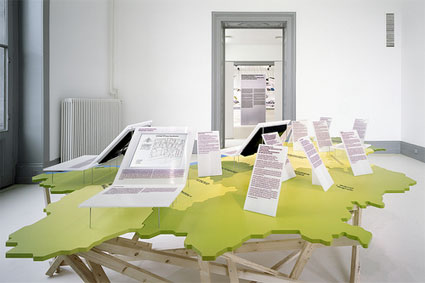 © Tom Bisig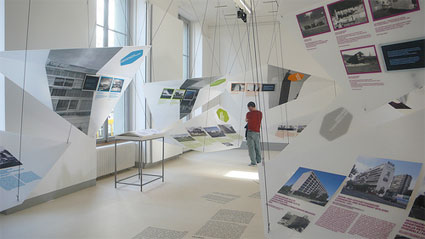 Now about the content of the show: Balkans generally refers to South Eastern Europe, a region with varying geographical definitions. Going beyond clichés and the pathos, the Balkanology exhibition focuses on the impact of recent socio-political changes on architecture and urban planning, drawing a variegated picture of urban development in the region and the forces that determine it.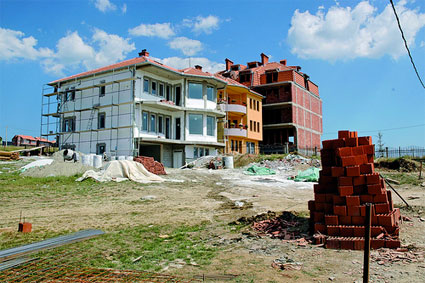 Prishtina, 2008. © Kai Voeckler
Curated by Kai Vöckler, the exhibitions focuses on two main themes:
– the way inhabitants solved the lack of housing and initiated construction projects on their own account.
– a comparison between outstanding yet hardly known buildings of socialist modernism in Yugoslavia with contemporary architecture.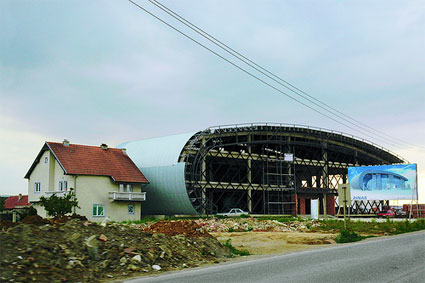 Prishtina, 2008. © Kai Vöckler
Since the collapse of the socialist economic system in ex-Yugoslavia and Albania and the war that lead to the split of Yugoslavia, a new form of urbanisation typified by extensive informal building activity has appeared on the territory. Taking advantage of sketchy legal frameworks and governments initially too weak to enforce rules and regulations, inhabitants have taken the issue of housing shortage in their own hands, they started building new dwellings from scratch and adapting existing edifice for their own purposes.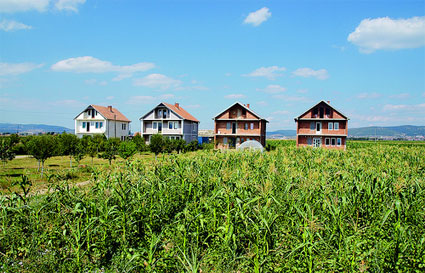 Prishtina, 2008. © Kai Voeckler
In this context, a term often used in all its negative connotations like Balkanization takes a radically different meaning: it stands for the improvisation and adaptation skills of architecture. Some of the many questions the exhibition aims to raise iinclude: how can a combination of governmental and social control offer the best possible basis for a successful retro-active 'post-regulation? To what extent unregulated, informal urbanism develops new typologies and urban forms, and how these forms could also emerge under the banner of neo-liberal de-urbanisation in the rest of Europe.
These unregulated forms of urban developments have often bypassed the expertise of architects. This makeshift architecture has nevertheless developed its own style and culture characterized by a new intermeshing of spaces through visual worlds communicated by the media, migratory movements and cash flows.
As part of a broader research on Belgrade informal architecture, Dubravka Sekulic and Ivan Kucina have compiled a fascinating archive of Belgrade roof extensions. The project in longer run wants to examine the cultural habits that provoke this kind of action in the city and their implication on architecture and public space of the city.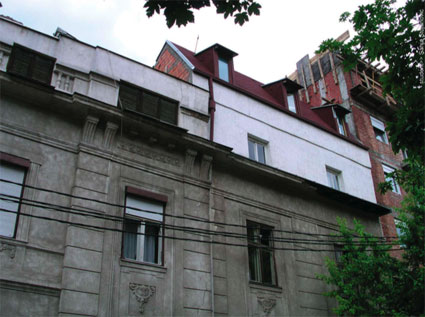 More images of the roof extensions in the PDF report
In the other chapter of Balkanology, examples found in Belgrade, Zagreb, Kotor, Prishtina and Tirana illustrate the way architects, artists, urbanists and activists from South Eastern Europe are dealing with these rapid new transformation processes. The outstanding yet hardly known buildings of socialist modernism in Yugoslavia are compared with contemporary architecture.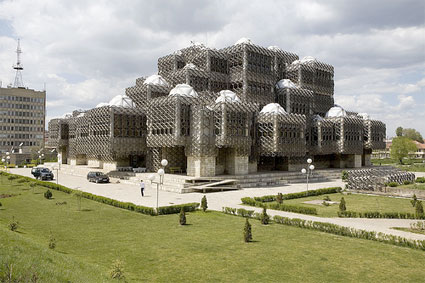 National and University Library, Prishtina, Kosovo, 1983. Architect: Andrija Mutnjaković. ©Wolfgang Thaler
Using selected cases, Maroje Mrduljaš, editor of Oris, and architectural historian Vladimir Kulić show how Yugoslavian architects and planners have tackled "modernity" and "internationality". As you will see in the following examples, the outcome of their investigation oscillates between the depressing and the exhilarating.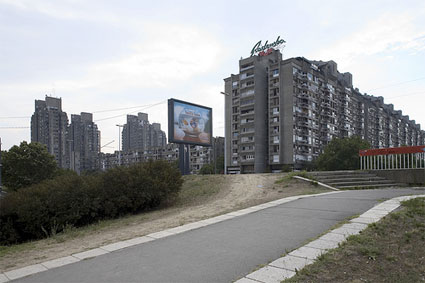 ©Wolfgang Thaler
New Belgrade, a residential area built across the river from Belgrade by Tito after 1950, was conceived as a city of 'light, sun and future' and planned following the principles of the CIAM (the International Congress of Modern Architecture). The challenge at the time was to erect as many buildings, as fast as possible, in order to accommodate a displaced and quickly growing post WW II population. The initial vision of functionality and modernity was translated into what has been defined as a 'brutalist architectural approach'.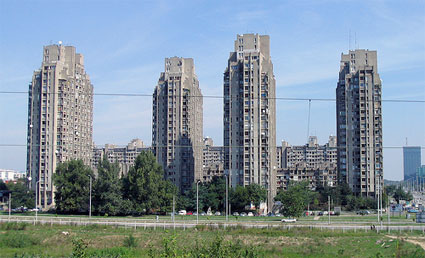 Image by Jim Skreech, via Belgraded
One of the most striking projects that demonstrates the modernity of Yugoslavia is Rijeka's Flexible Swimming Pool, designed by Vladimir Turina in 1949. The auditoriums of this 'architectural device" would have been place on railway tracks to be moved from inside to outside depending on the weather. The inner pool could be easily turned into an exhibition hall or an airplane hangar. All the elements could have been constructed with the technology of the time. I couldn't find any image of the project online so let's drift to another project i found particularly appealing:
Zlatko Ugljen was a student interested in the reinterpretation and modernization of Bosnian Ottoman heritage when he started the Šerefudin's White Mosque project in Visoko, Bosnia and Herzegovina. What started as a modest project made pro bono for the local community ended up as one of the most internationally celebrated buildings in former Yugoslavia: it was awarded the Aga Khan Award for Architecture in 1983 and in 2007, Hungarian architects declared that the mosque was one of the three best designed sacral places in Europe. More images.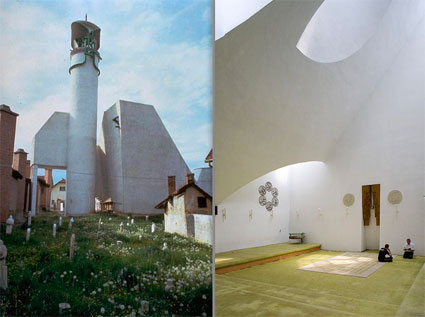 On the left, the minaret and mosque as seen from the graveyard. © Jacques Betant. On the right, inside view. ©Wolfgang Thaler
Balkanology, New Architecture and Urban Phenomena in South Eastern Europe runs until December 28 at SA M, the Swiss Architecture Museum in Basel.
One final recommendation: get your hands on S AM No. 6 – The publication accompanying the exhibition Balkanology – New Architecture and Urban Phenomena in South Eastern Europe, edited by Francesca Ferguson & Kai Vöckler.
Related entries: The K67 kiosk.