Server Manifesto. Data Center Architecture and the Future of Democracy, by writer, architecture critic and guest professor of architecture at the Städelschule in Frankfurt am Main Niklas Maak. Published by Hatje Cantz.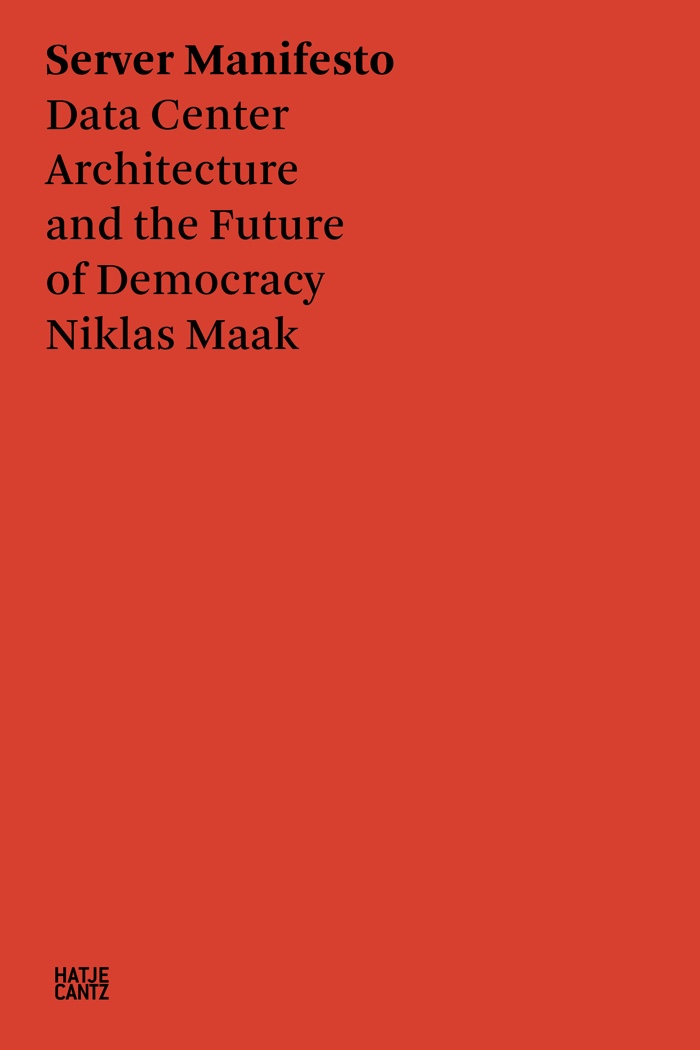 I opened this book right after I had listened to a radio interview about the sharp rise in the artificialisation of soils and natural spaces in France. Each year, more areas of the country are being covered in concrete in order to build houses, shopping malls but also, and increasingly, warehouses, data centres and other infrastructures necessary for the acceleration of the digital economy.
Server Manifesto opens on another story that points to the physicality of an infrastructure that is otherwise presented to us as being as impalpable and evanescent as a cloud. When a massive fire destroyed a data center in Strasbourg, it literally consumed all the information stored there. Because the data had not been stored anywhere else, the blaze also incinerated the naivety of anyone thinking that spending money on offsite-backup is superfluous.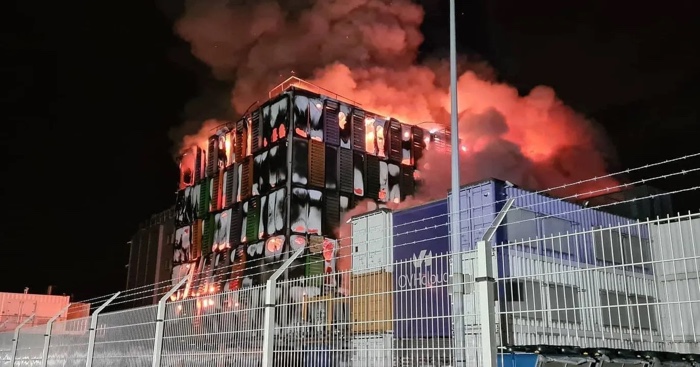 Major fire at the data centre cluster OHV in Strasbourg, France, on March 10, 2021. Photo via
In his book, Niklas Maak looks at the impact that both data and the places where it is stored have on cities and society.
Given the economic and political importance of data ownership, data centres have often been compared to more traditional sites of power like castles of feudal lords, cathedrals and office towers of large corporations. But while its predecessors have left highly visible marks in landscapes and cities, the server farm tends to be anonymous. Usually relegated to the outskirts of cities and sporting bland architecture, the data centre is both massive and virtually invisible.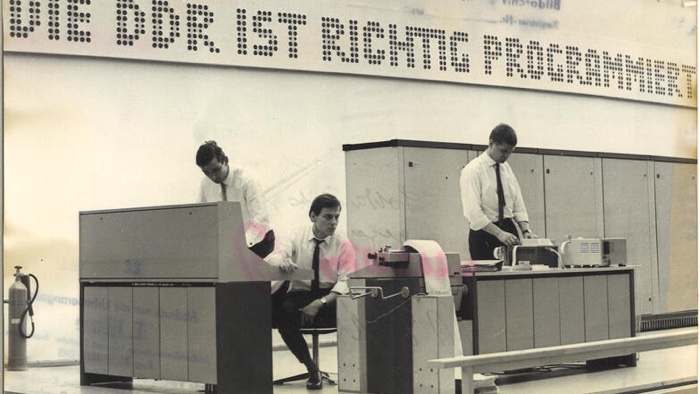 "Die DDR ist richtig programmiert" (The GDR is programmed correctly): slogan on a banner behind the Robotron stand at the Fighter and Winner exhibition in East Berlin, GDR, 1969. Photo via

Benthem Crouwel Architects, AM4, Equinix data center in Amsterdam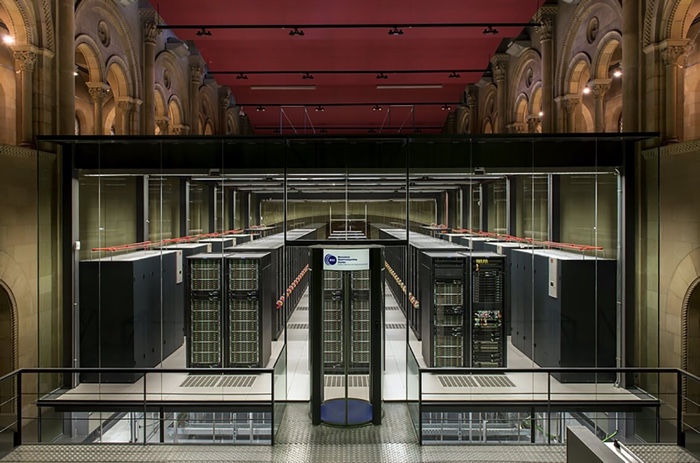 Data center MareNostrum, Barcelona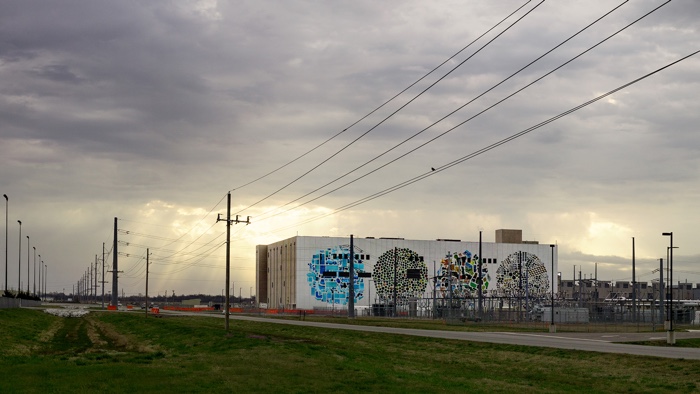 Jenny Odell, The Data Center Mural Project, 2016
In a chapter titled, Architecture Has Become the Décorateur of Platform Capitalism, Niklas Maak notes that there are exceptions to the inconspicuous server farm strategy. Art, design, architecture and eco-friendly elements are increasingly used to cloak under an eye-pleasing blanket the social, political and ecological problems generated by server farms.
The vertical profiling of AM4, Equinix's new data centre in Amsterdam, for example, immediately brings to mind the World Trade Center. In particular, the double tower which suggests the idea of the mirroring and the backup copy central to the Internet age. As for the "sustainable" Spark in Os (Norway), it will be made of wood and local stone, will produce more energy than it consumes and supply heat to local housing estates and public baths. The structure will also boast a vegetable garden, a water lily pond and flower beds. This is the kind of poster boy for eco-conscious (or better said greenwashed) internet infrastructures that will make us forget that what happens inside server farms is opaque, unregulated and exploitative.
Many architects, artists and scientists before Maak have criticised data centres for their ecological footprint, their sheer ugliness and their role in the digital colonisation of Europe but they stopped short of describing any alternative model or infrastructure. Maak imagines what data storage for the benefit of all citizens would look like.
In his book, the author calls for a physical space where citizens would be able to understand that governance is no longer possible without access to data. He proposes that the server farm becomes "a place of political activation". Such place, halfway between a civic centre and a public internet infrastructure, would help citizens visualise what a digital society could do with the data it collectively generates, if it did not give it away to private corporations and platforms. That space would make it clear that the technological future, as well as the political and economic sovereignty of both Europe and Africa, should no longer be squeezed between two models: the Silicon Valley model powered by surveillance capitalism and the Chinese Big State model with its paralysing social point system.
This new breed of data centre could play an important role in what Francesca Bria calls a "smart green new deal" for digital society in This Is a Historic Moment. Why We Need New Public Spaces to Experiment with and Reclaim Digital Sovereignty for the People, the introductory essay of Server Manifesto. Building on her experience as the Chief Technology and Digital Innovation Officer of Barcelona, Bria explains how the contract would put digital technologies at the service of both social and environmental sustainability. It would require digital sovereignty in Europe, data privacy for citizens, a move from data extractivism to data commons as well as ambitious regulation and a digital industrial strategy.
The book closes on a series of designs by students of the Städelschule in Frankfurt am Main who imagine possible models of data centres that better respond to societal and environmental demands: data factories physically distributed throughout city centres to be better integrated into the fabric of society; infrastructures that hover over cities like clouds (of the meteorological kind); a server farm that floats on the sea; server farms that upcycle e-waste that rich countries dump on people living in the Global South, etc. All the projects were rather ingenious. Like the other sections in the book, these students' designs suggest that the construction, management and societal role of data centres could be improved.
Maybe the future is not all doom and gloom then!
Inside the book: