Nicolas Grospierre, Multi-function Hall, House of Culture, Lubartow, Poland, 2002. From the series Void
This year, like each and every year at this time, i'm doing my best to publish something outstanding but as un-christmassy as possible.
My let's-pretend-it's-not-that-time-of-the-year-again post will feature a few photos from Nicolas Grospierre's portfolio. I met him last month while i was spending a few days in Warsaw. If you're looking for the new Berlin, Warsaw is your place. Wait till you see the street art in Warsaw story i'm preparing! But i digress. Grospierre is one of the very few photographers who can portray architectural relics of former communist countries without falling into the judgmental, the over-hyped and the easy. Maybe that's because he is an artist with a background in Political Science and Sociology. Or maybe it's because he is a French who has been living in Poland for many years. All that i know is that Grospierre has a rare talent for producing images that deliver a sharp and unexpected commentary on utopias that have lost their spark and on architectures that fascinate less for their intrinsic elegance than for the collective memories that still inhabit them.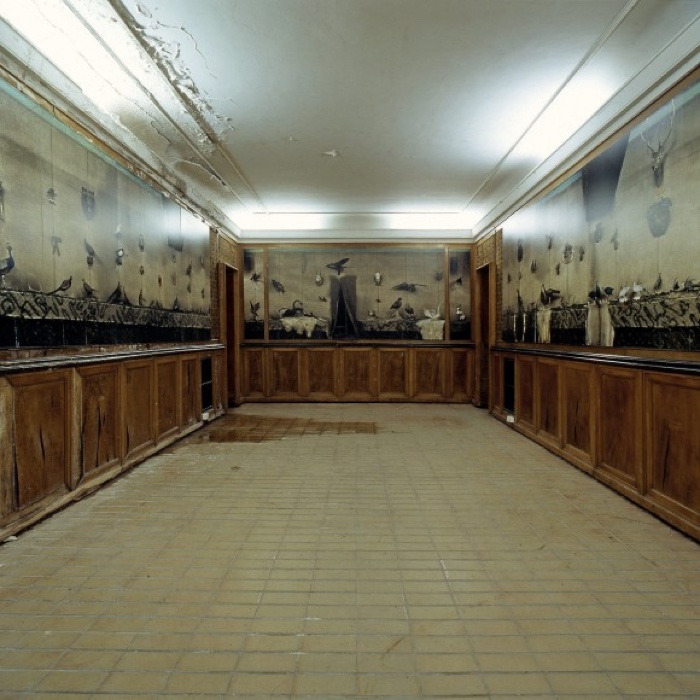 Nicolas Grospierre and Olga Mokrzycka, Mausoleum. Installation at the Palace of Culture in Warsaw
I wanted to share some of the works i discovered in his book Open-Ended but i couldn't find online the images i wanted to use for this post. In particular the ones that illustrate Mausoleum, an intriguing project which reproduced on a life-size scale the private collection of stuffed animals accumulated by a hunting enthusiast who shot and stuffed them all by himself. Grospierre and Olga Mokrzycka discovered this collection of 700 animals in a huge and otherwise empty underground commercial complex in Tblisi, Georgia. Grospierre and Mokrzycka later turned the images into a 15 metre long photographic frieze that they hung on the walls of a forgotten underground club-lounge below the Tribune at the foot of the Palace of Culture in Warsaw, where the Communist dignitaries used to preside over military parades.
Open-Ended was published a couple of years ago but Grospierre has a new book in the works based on his relentlessly fascinating A Subjective Atlas of Modern Architecture tumbr account. There's a show and a talk scheduled at the Architectural Association in London for next year. Keep your eyes peeled for those two events.
And now for some more photos with little to no comment:

Nicolas Grospierre, Hydroklinika, 2003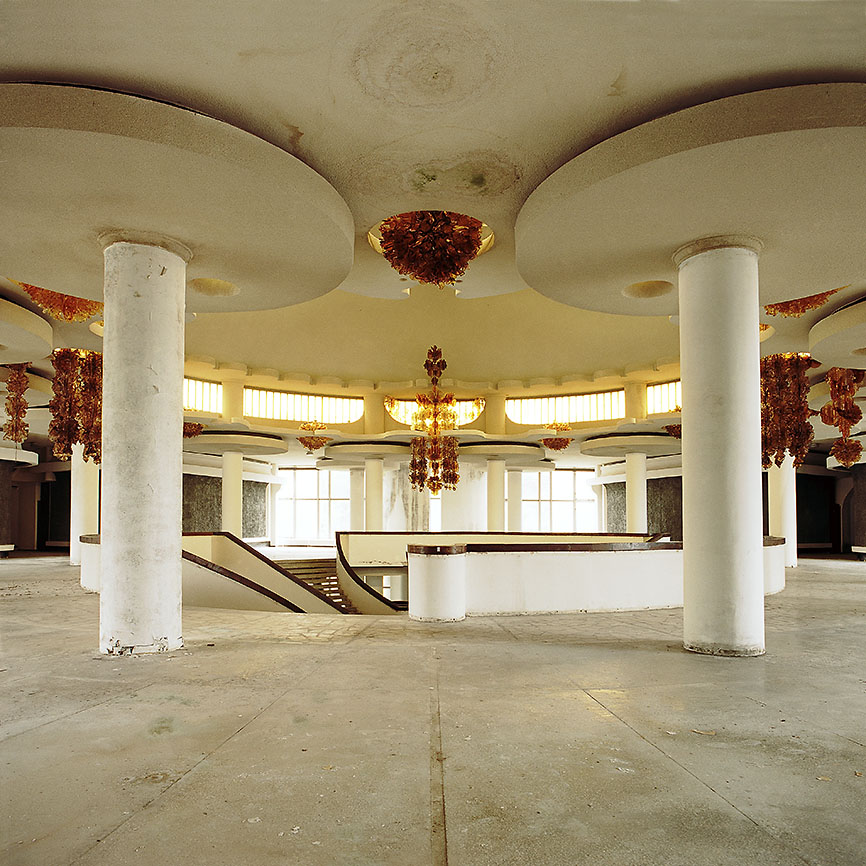 Nicolas Grospierre, Balneological Hospital, Druskinninkai, Lithuania, 2003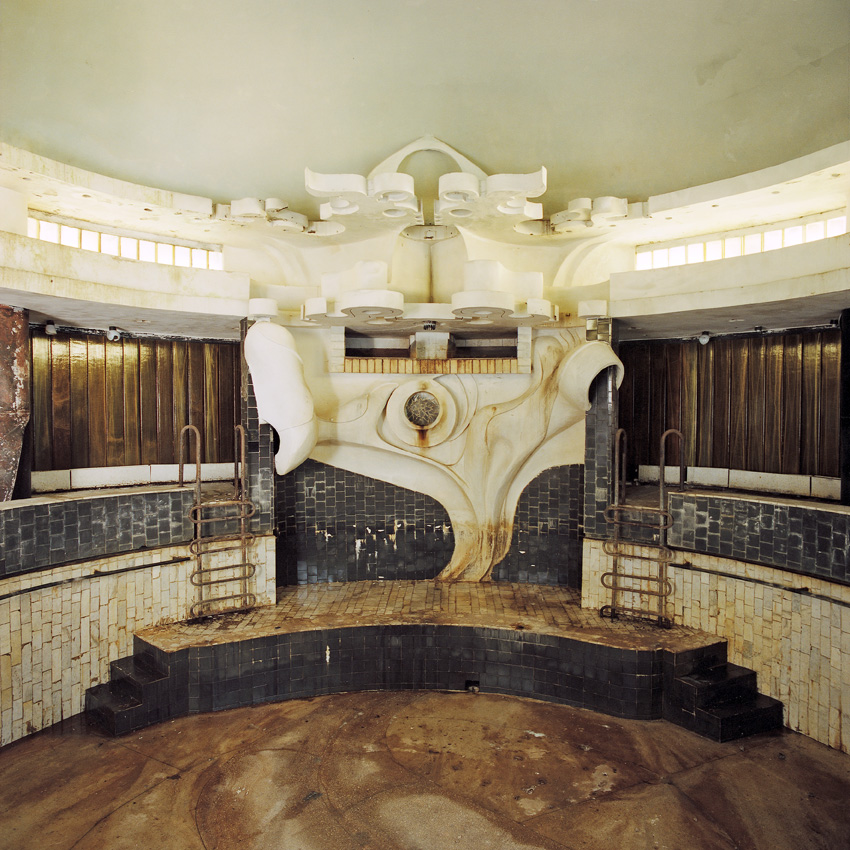 Indoor swimming pool, at Balneological Sanatorium in Druskininkai, Lithuania, 2003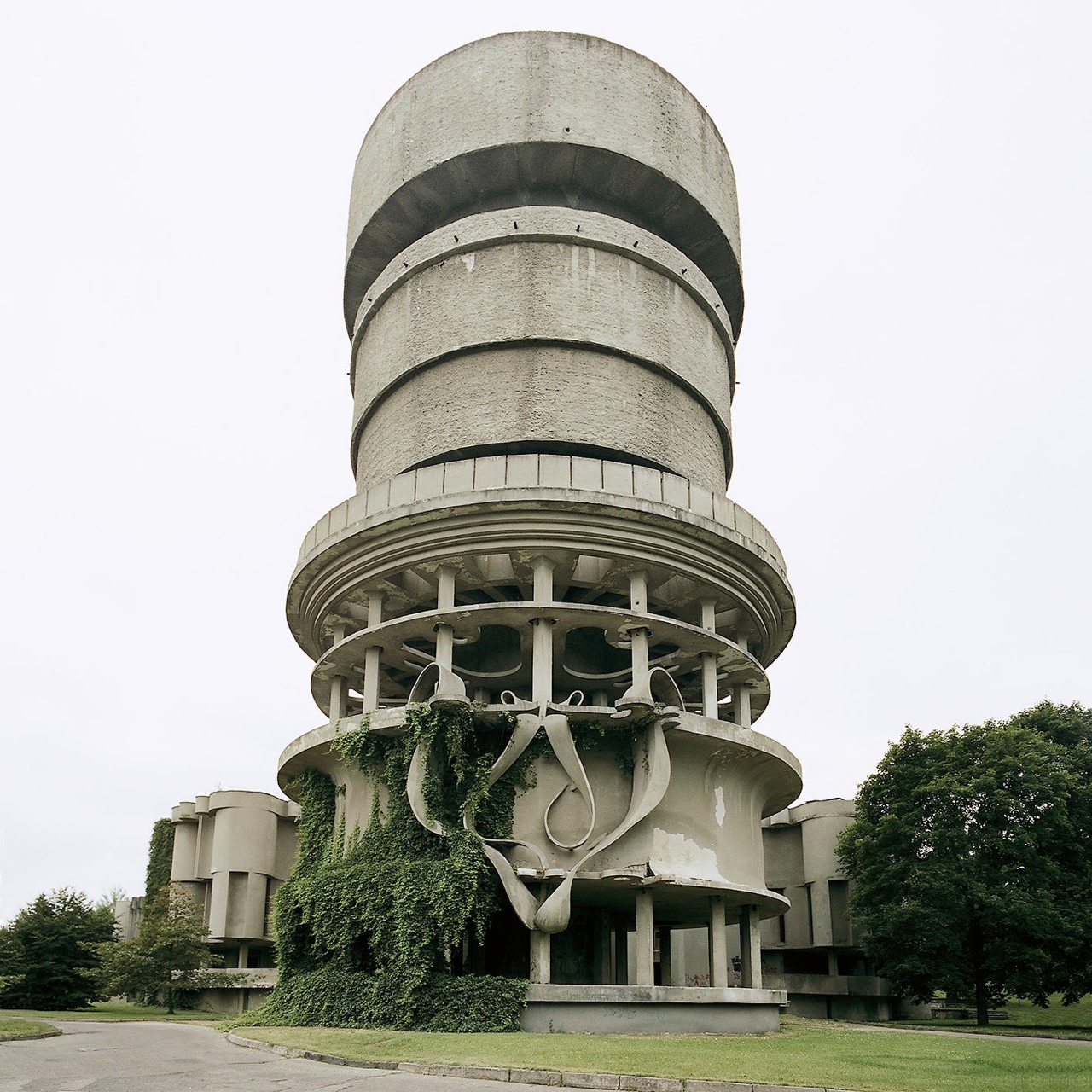 Nicolas Grospierre, Hydroklinika, 2004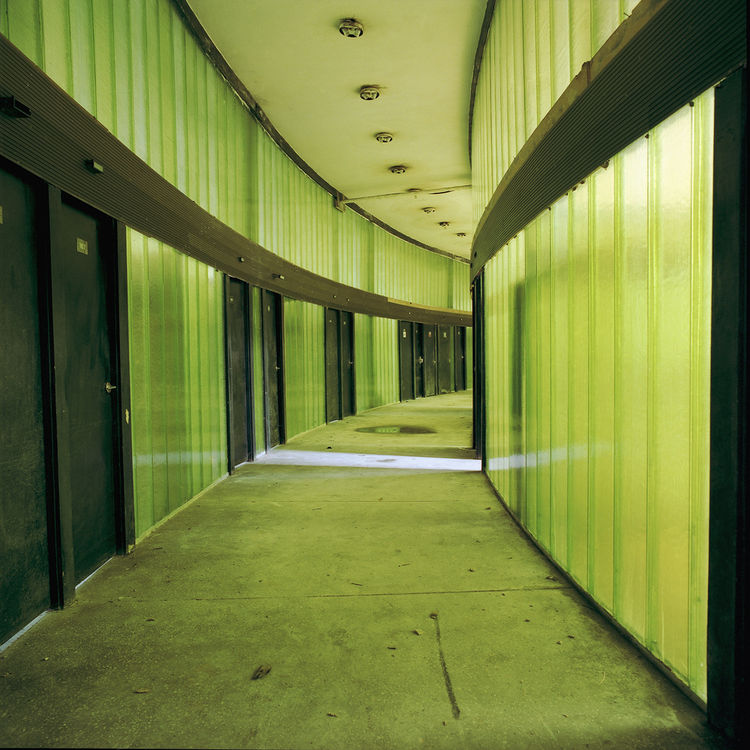 Nicolas Grospierre, Hydroklinika, 2004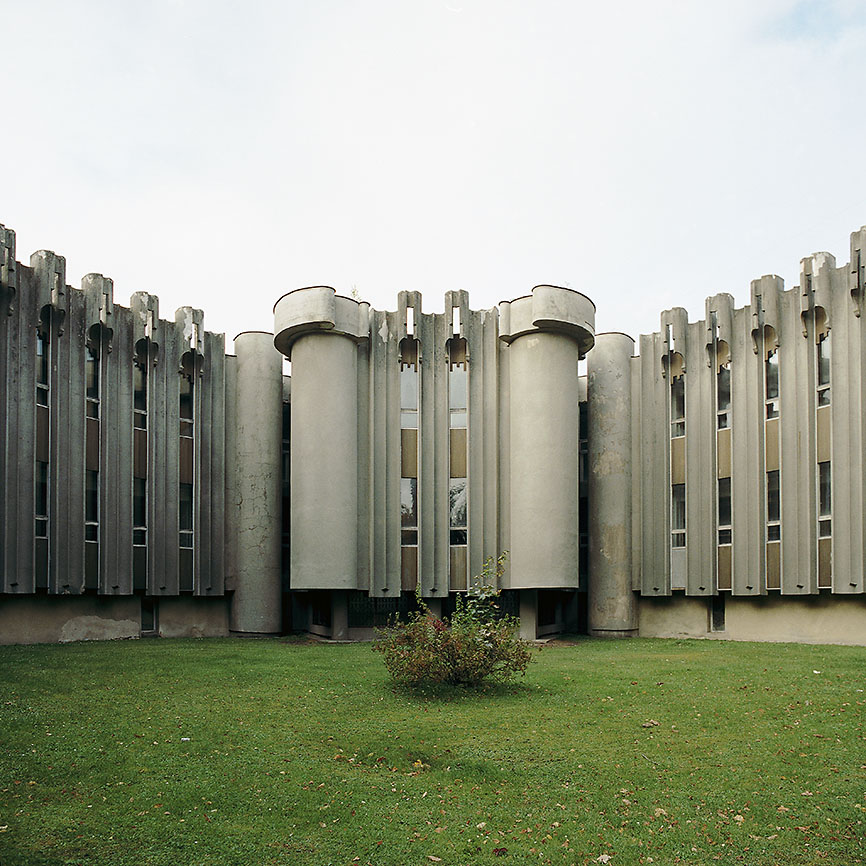 Nicolas Grospierre, Hydroklinika, 2004
Grospierre documented the gloriously bizarre remains of the health spa in the town Druskinnikai in Lithuania, just before it was destroyed to make way to a water-amusement park.
Built in 1976-81 by architects Romualdas and Ausra Silinskas, the swanky complex offered thermal baths, mud baths, underground pool, etc. Its architecture followed a ternary plan, with each element repeated three times. Many of the photographs thus appear to show the same place several times while they were actually documenting three different parts of the building.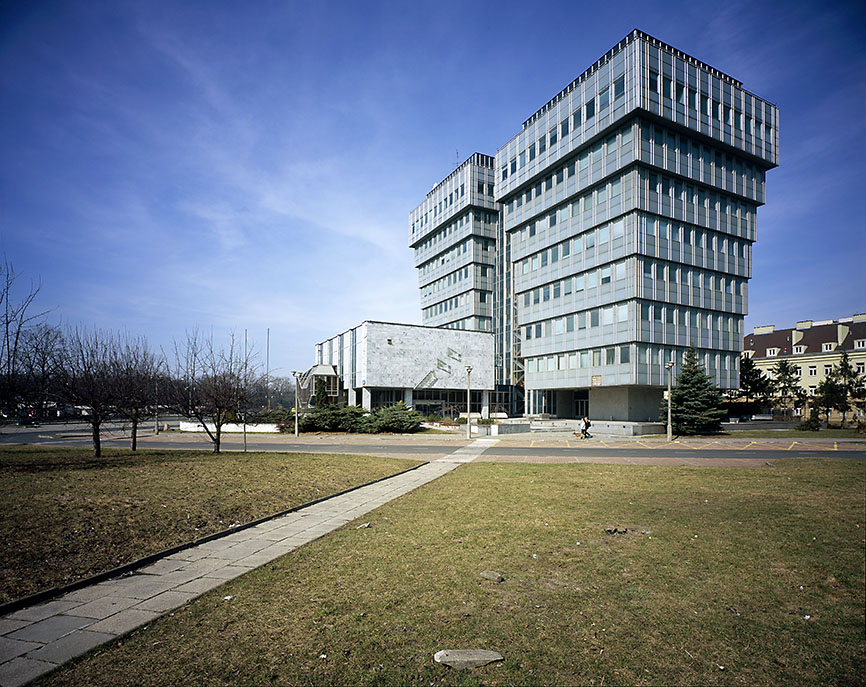 Nicolas Grospierre, Ciech building, Warsaw, 2010. From the series The Glass Trap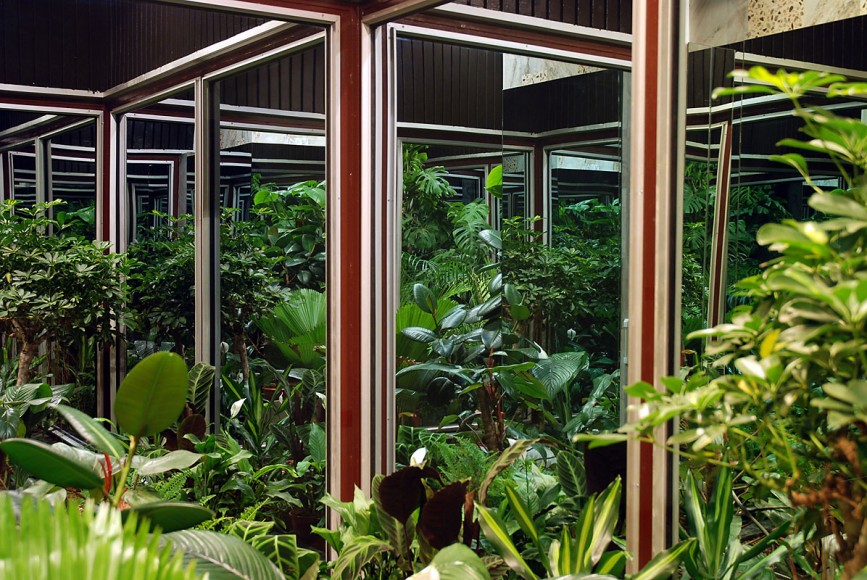 Nicolas Grospierre, Detailed view of the installation, Warsaw, 2010. From the series The Glass Trap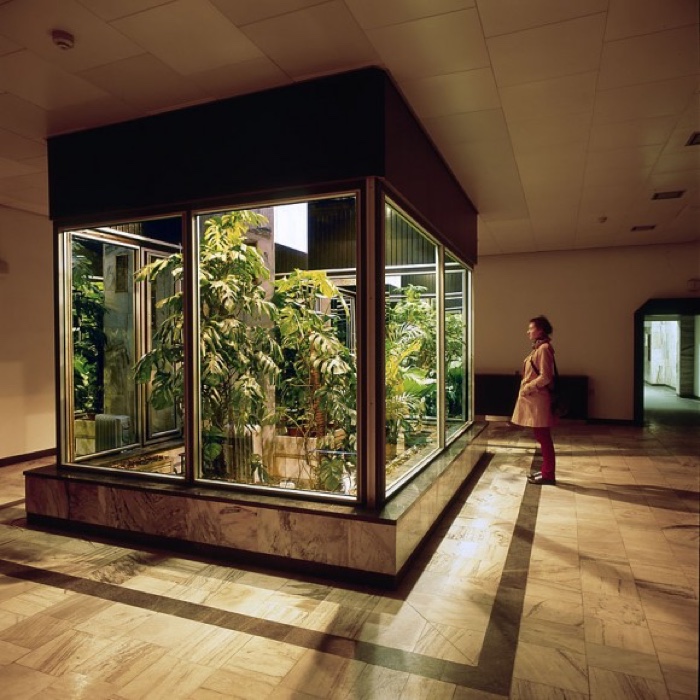 Nicolas Grospierre, view of the installation, Warsaw, 2010. From the series The Glass Trap
Grospierre juggles the conceptual and the documentary in both his photo and installation works. The Glass Trap project is a site specific work that brought an island of luxuriant life into an otherwise desolate, absurdly ugly and abandoned 1980's office building. Grospierre installed a winter garden inside the lobby and let it thrive for a few days before the building was destroyed.
The glass cube was not only filled with plants but also with mirrors that gave the illusion that the green space was infinite.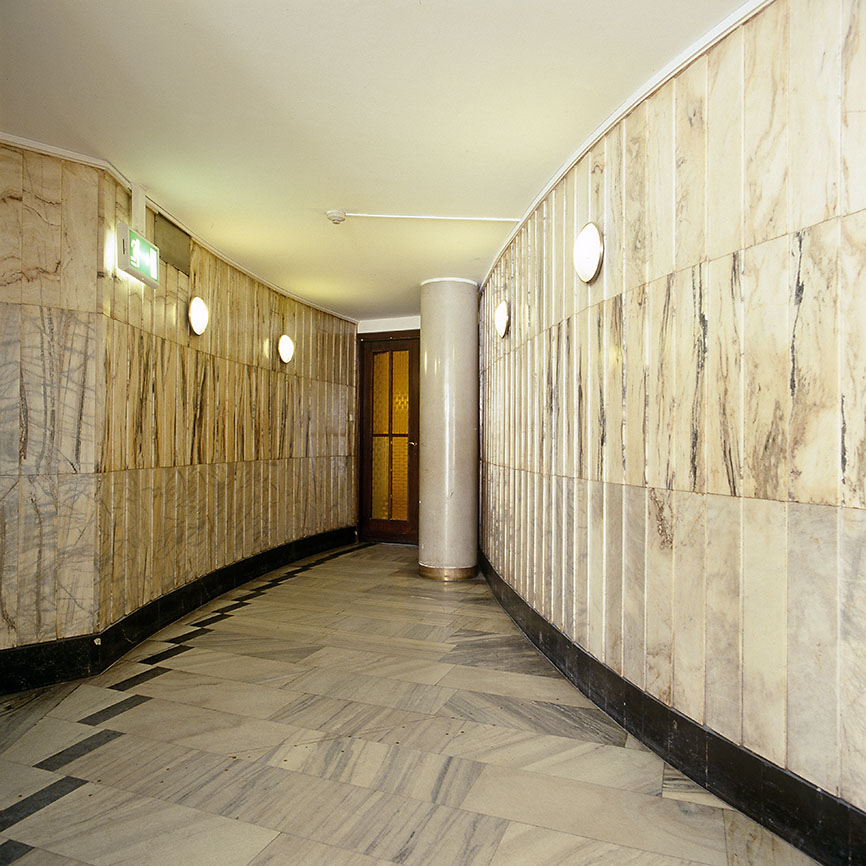 Nicolas Grospierre, Europejski Hotel lobby, Warsaw, Poland, 2005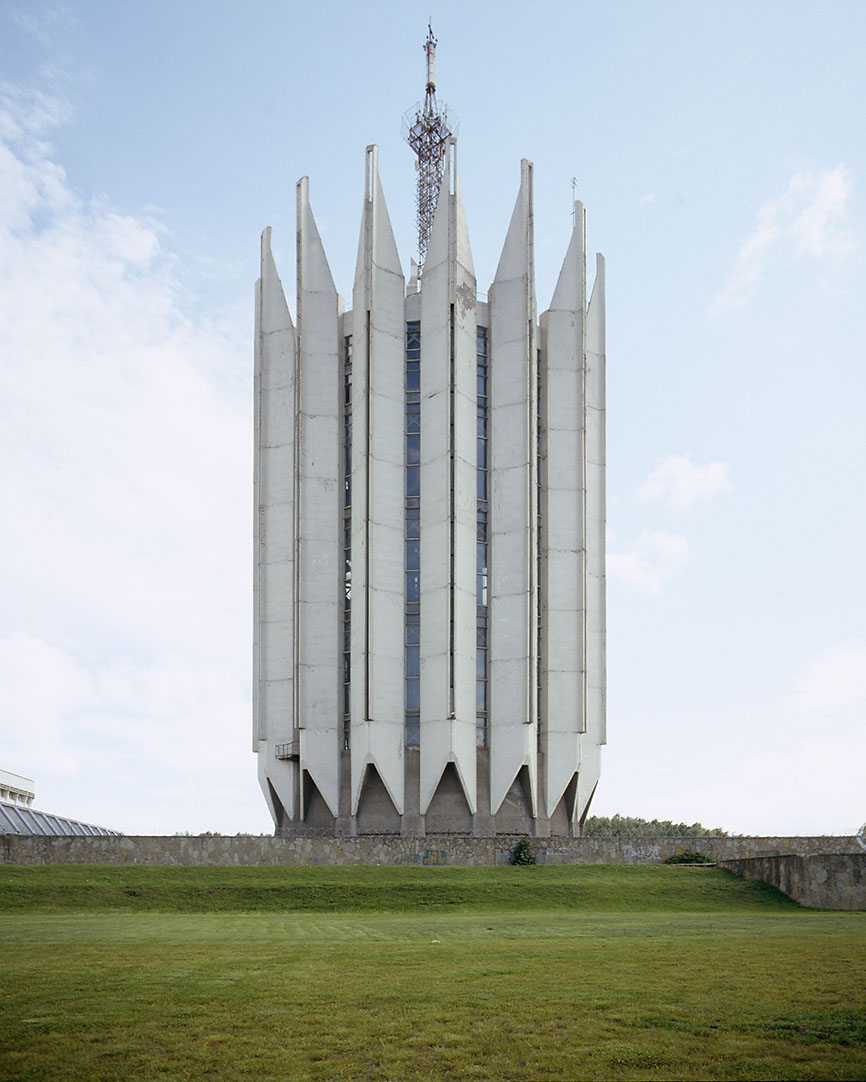 Nicolas Grospierre, Institute of Cybernetics, Saint-Petersburg, Russia, 2007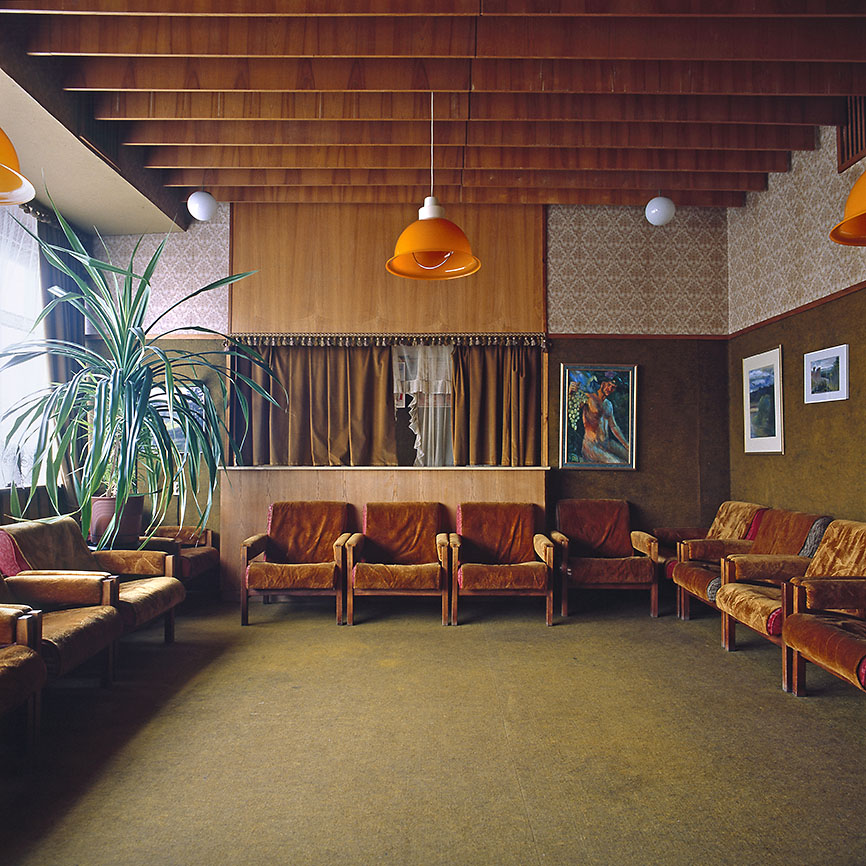 Nicolas Grospierre, Recreation hall, "Kadr" House of culture, Warsaw, Poland. 2008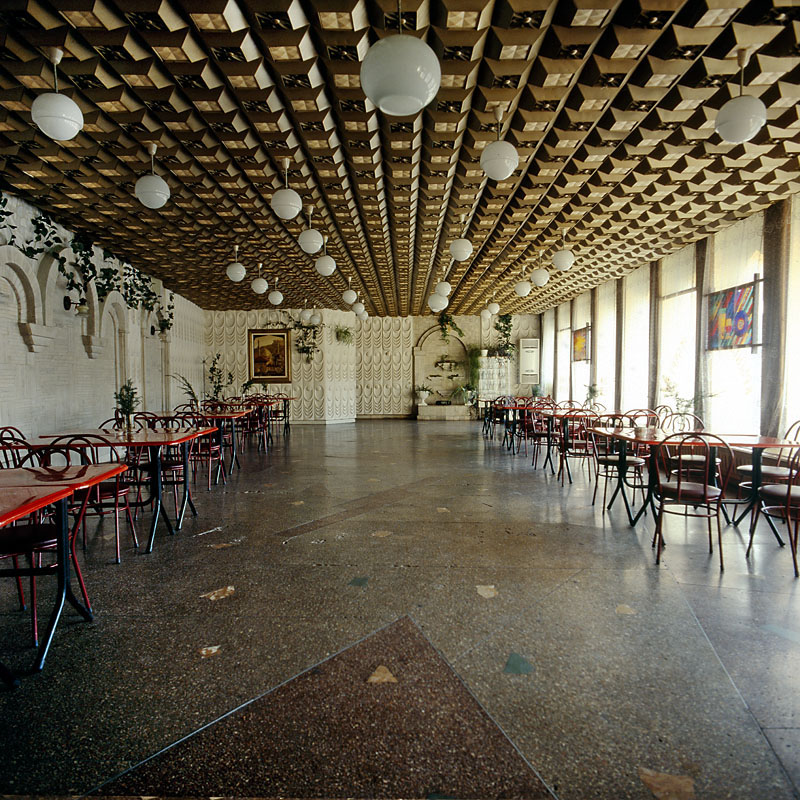 Nicolas Grospierre, Chiburiekarnia, Bakhchysarai, Crimea, 2006. From the series Void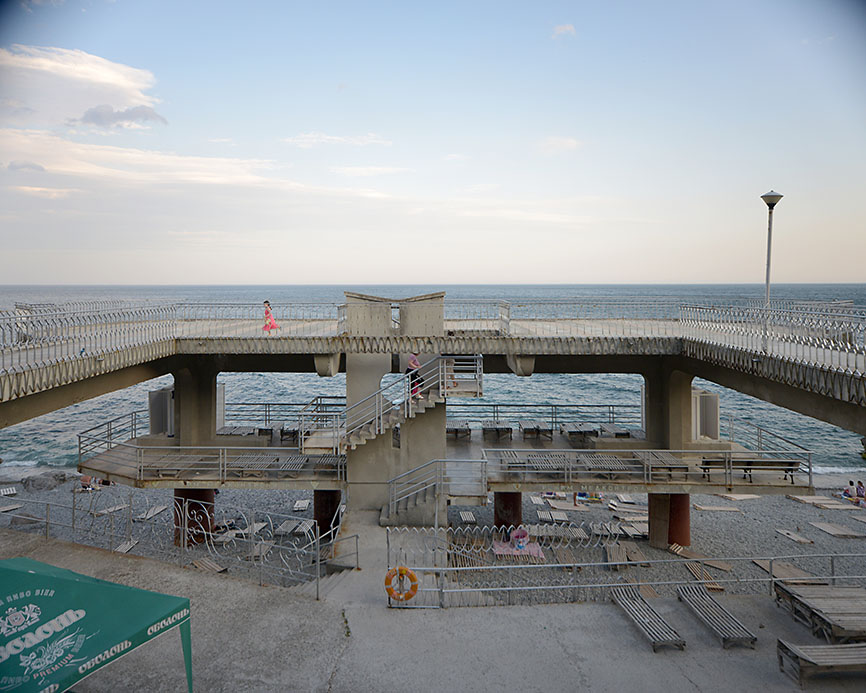 Nicolas Grospierre, Beach platform, Ministry of the interior Sanatorium, Alupka, Crimea, Ukraine, 2012

Nicolas Grospierre, Housing Estates, Sankt Petersburg, Russia, 2010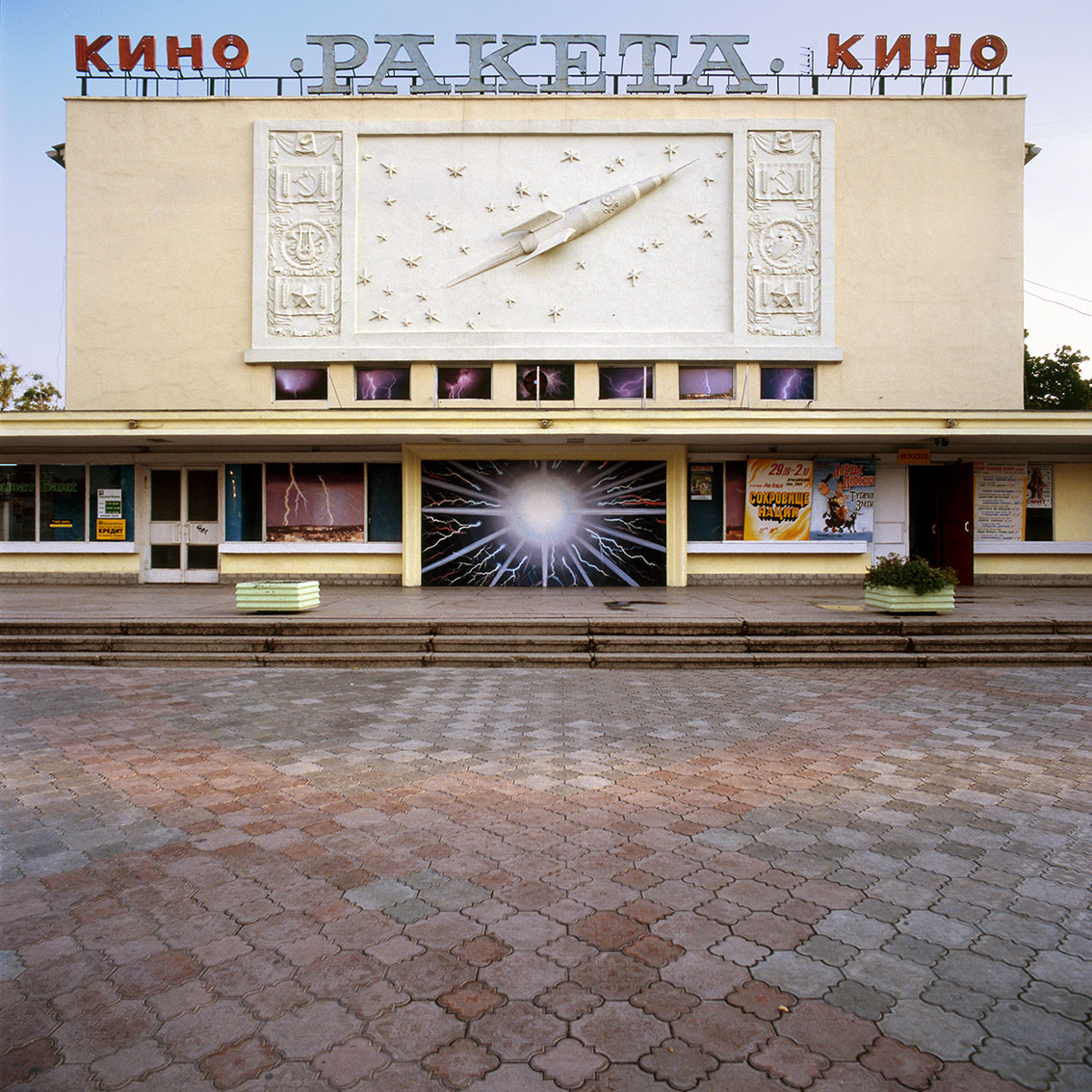 Nicolas Grospierre, Cinema, Evpatoria, Crimea, 2005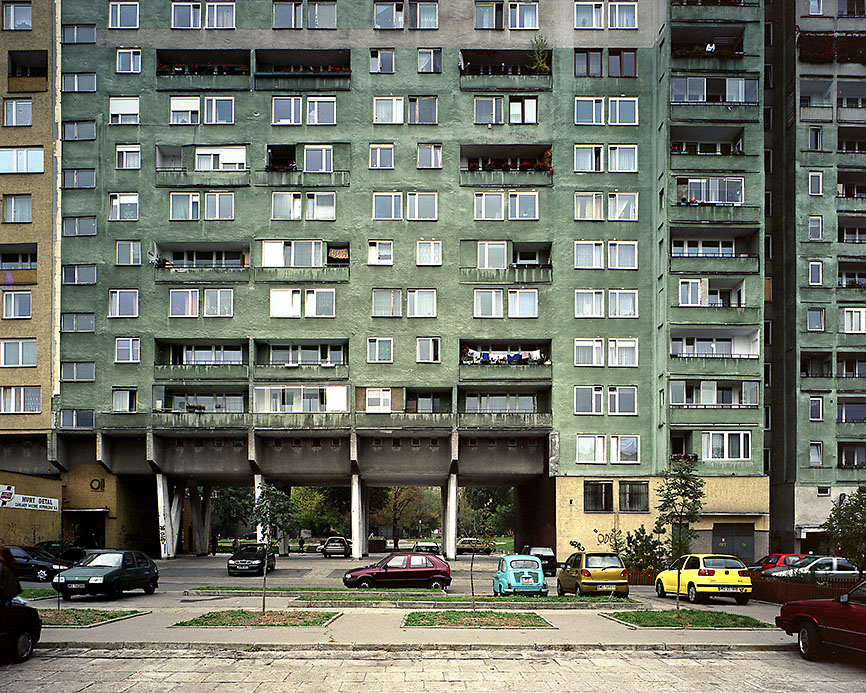 Nicolas Grospierr, Housing estate, Warsaw, Poland, 2003
And i'll just add this one. It's not in Eastern Europe but in Liège, my home town. I used to walk by that building, completely unaware that there was anything remarkable about it: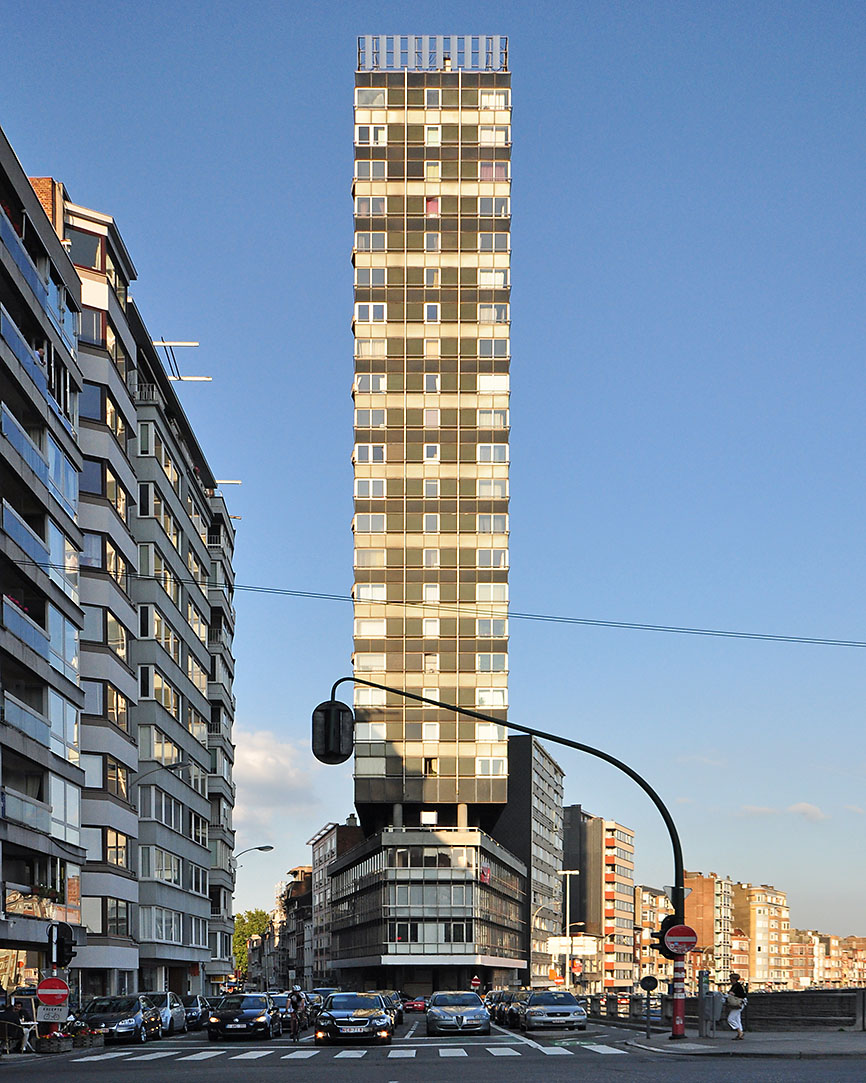 Nicolas Grospierre, Thin skyscraper, Liège, Belgium, 2011
Check out his tumblr: A Subjective Atlas of Modern Interiors and the hypnotizing A Subjective Atlas of Modern Architecture.
Also in Warsaw: Zofia Rydet, the old lady who wanted to photograph the inside of every single house in Poland.