No matter how hard i try to keep in touch with what is going on in Turin, i always seem to do an awful job. Latest openings in London, Berlin, Eindhoven, San Diego or Venice? Easy peasy. But Turin does its best to keep me bored and uninformed. I discovered only a few days ago, as i was taking the plane to Graz (did you know Arnold Schwarzenegger comes from there?), that here was a fantastic exhibition in town. It had opened in May and i managed to visit it yesterday morning, a few hours after being back from Austria.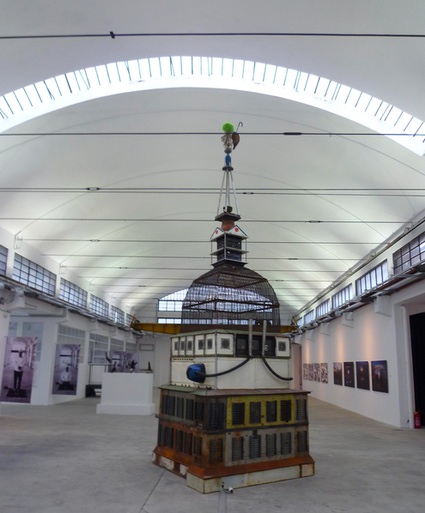 Georgy Tryakin Burharov, Mole Antonelliana (Turin Tower), 2009
East of Nowhere – Contemporary Art from post-Soviet Central Asia showed the work of 32 artists coming from countries i'm unable to locate precisely on a map, except when wars or Hollywood mockumentaries give me a helping hand.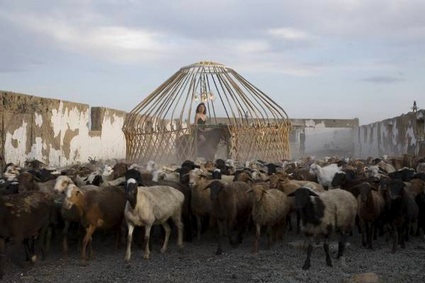 Menlibayeva Almagul, Genogramma, 2008
The countries investigated are 5 ex-Soviet republics (Kazakhstan, Kirgizistan, Uzbekistan, Tadjikistan and Turkmenistan), along with Afghanistan and Mongolia. These two had been at some point under Soviet leadership and they show ethnic and cultural affinities with the republics just mentioned.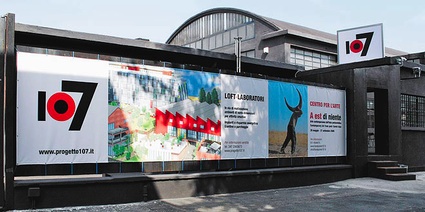 © Photo: Fondazione 107
East of Nowhere, located in the beautiful but cruelly un-heated Fondazione 107, uses photographic works, videos, installations and sculptures to document a moment of extraordinary transformation for an area that is 5 times as big as Europe. The result is bold and exciting with its mix of "globalization", acceleration, nomadic lifestyle, pre-soviet and islamic traditions.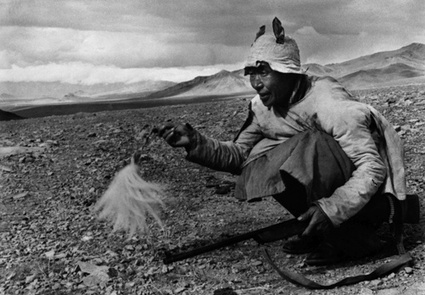 Dugarsham Tserennadmid, A Marmot Hunter
The oldest artworks in the show are Dugarsham Tserennadmid's b&w photos. From the '60s till the '90s, she documented everyday life in the steppe as well as the key moments her country -Mongolia- was going through. In the '90s she decided to leave the art scene and go back to her roots: nomadism.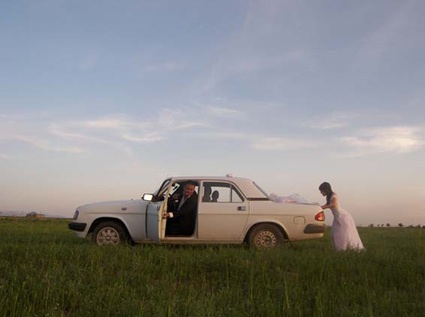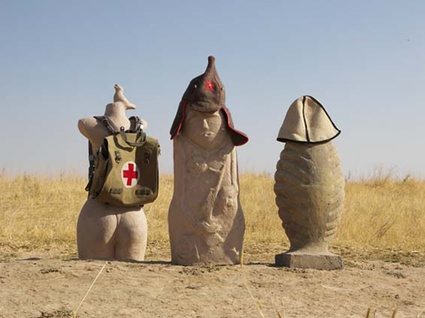 Said Atabekov, The Road to Rome (images Impronte contemporary art)
In The Way to Rome , Said Atabekov recalls Marco Polo's thirteenth century journey from Italy through Central Asia and up to China, and how he returned to Rome and became a symbol of the encounter between the East and West. Atabekov traveled through Kazakhstan to capture ordinary actions, landscapes, people, moments and objects that all look very exotic to us.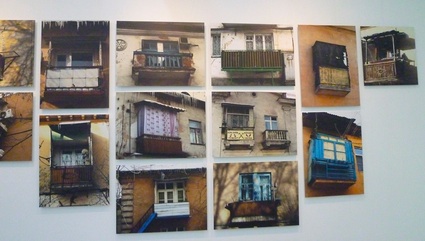 Ekaterina Nikonorova (Almaty, Kazakhstan), Self Soviet Architecture, 2008
Ekaterina Nikonorova, Self Soviet Architecture: Chairwoman Committee, Blue Stair, Poetess Fantasies. 2008
With her series titled Self Soviet Architecture, Ekaterina Nikonorova imagine there's a syntony between places and the persons who inhabits them.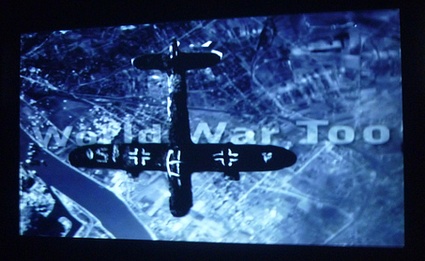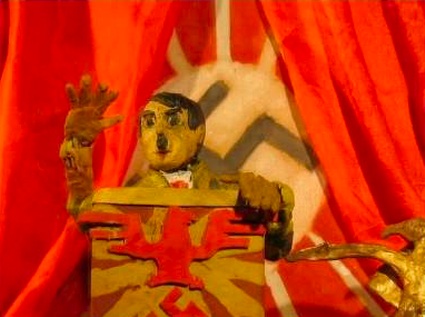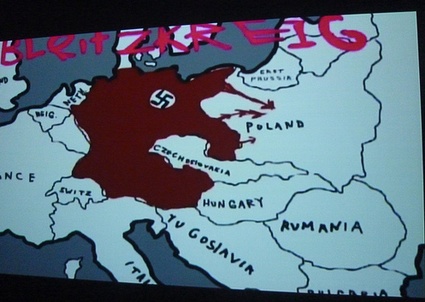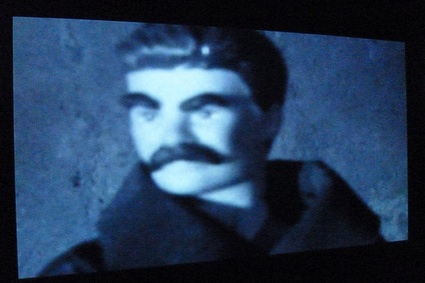 Regina Shepetya, Diana Yun and Malik Zenger, World War Too, 2008
One of the most exciting works for me was a video animation by Regina Shepetya, Diana Yun and Malik Zenger. Mixing archive images, plasticine figures and playful graphics, World War Too is a super pop and concise account of WW2. A few minutes takes viewers from the rise of Hitler to the invasion of Poland, the Blitz, Operation Barbarossa, and finally to a defeated Hitler puppet fleeing a Berlin under the bombs.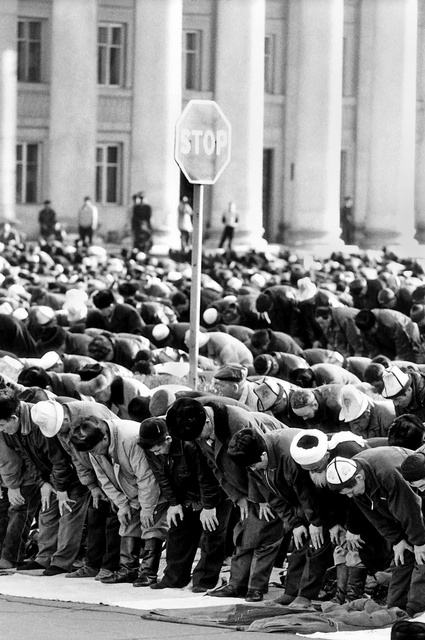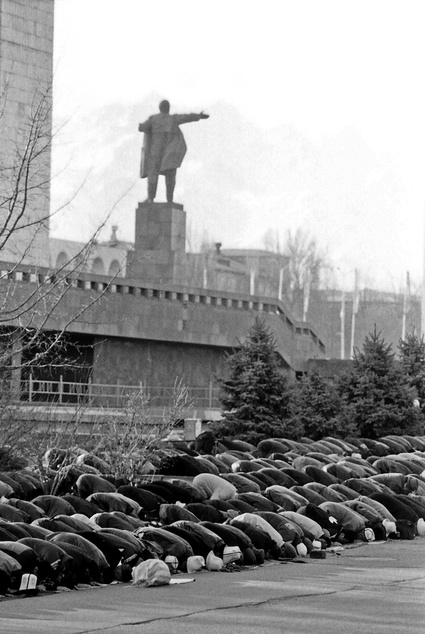 Alimjan Jorobaev, "Men Praying on the Central Square in Bishkek", 1982-2005. Courtesy of the artist
Alimjan Jorobaev's photo series Men Praying on the Central Square in Bishkek looks at the interconnection between manifestations of military and state power and the increased presence of religion in public space in his country, Kyrgyzstan. One of the photos shows people praying with their backs turned to a sculpture glorifying Lenin. A powerful image since ideas of Soviet collectivism have been replaced by identity politics and an obsession with nationhood. Besides, the sculpture has now become a tourist attraction rather than an homage to the communist leader.
I can't end the post without showing a couple of works from Kazakhstan that reflect on the Borat phenomenon with irony and humour: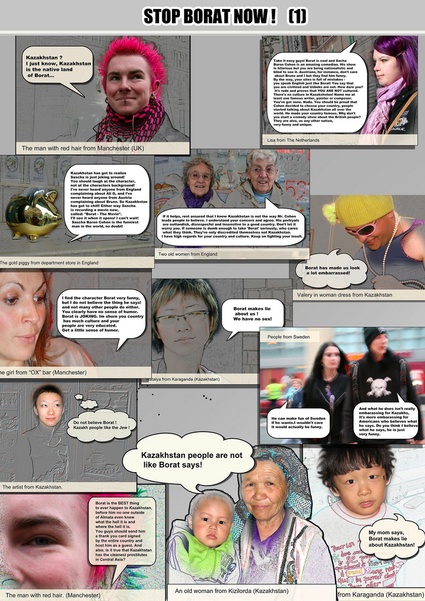 Natalya Dyu. Stop Borat now, 2008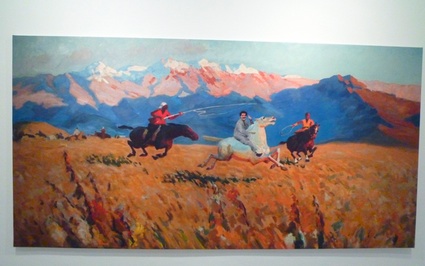 Malik Zenger, East Kazakhstan), Catching the Horse (by M. Kenbaev), 2008
More images in the Flickr set.
East of Nowhere was the inaugural show of Fondazione 107. I'm afraid it is closed by now but i'm looking forward to see what Fondazione 107 is going to program in the future.
Photo on the homepage: Almagul Menlibayeva, Kissing Totems, Still from the video – 2008.