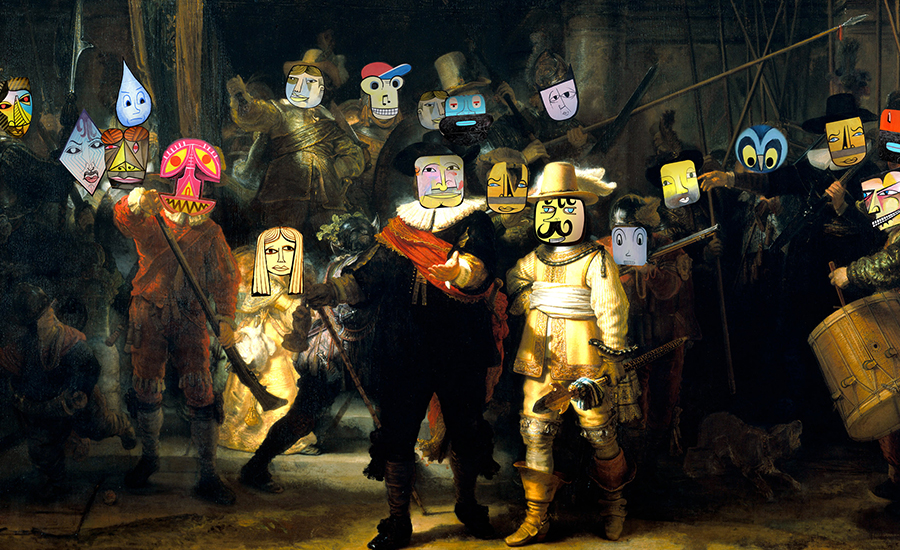 Jim Avignon, Nachtwache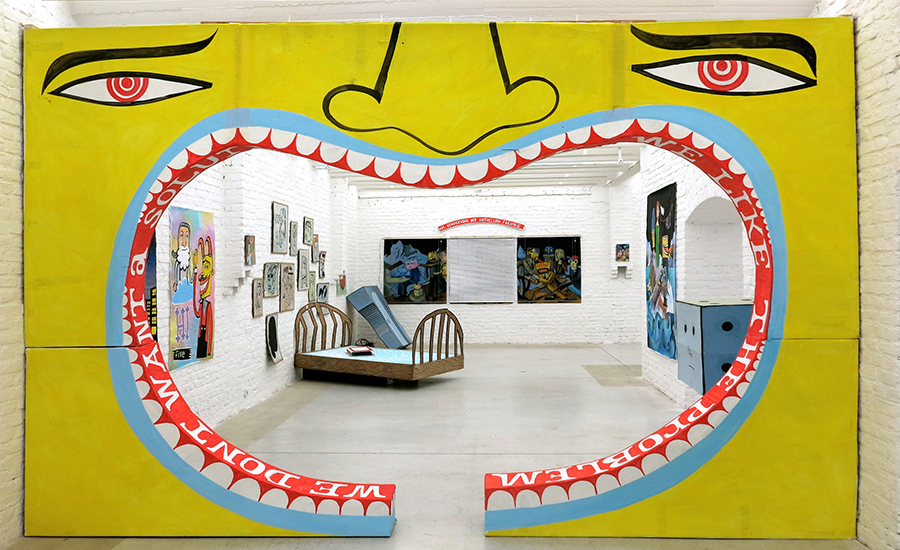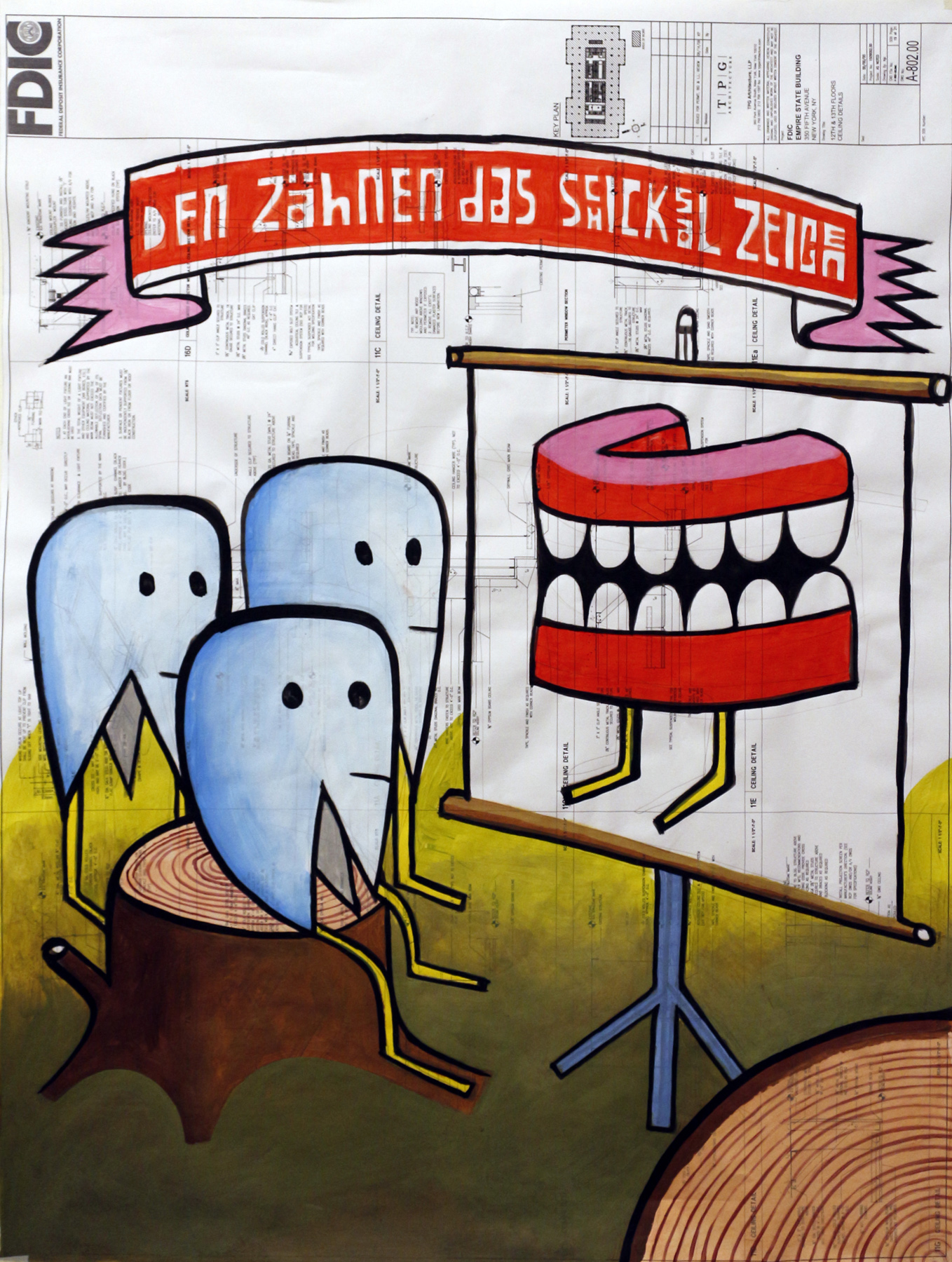 Jim Avignon, Den Zähnen das Schicksai Zeigen, 2014
Jim Avignon is an illustrator, painter, performer and conceptual artist. His work is witty, pop, cheerful and at times also thoughtful and deep. He works fast, very fast and he has no time for the rules, rhythms and logic of a traditional art career. He delights in using cheap and found materials, laughs at the totally wrong information that circulates about him online and keeps his art affordable and intelligible to everyone.
When he is not painting murals in Latin America, creating coloring books for children living in refugee camps or stealing Berlin's iconic and kitschy buddy bears, Avignon turns himself into "neoangin", a performer of electronic music that doesn't seem to take himself too seriously either.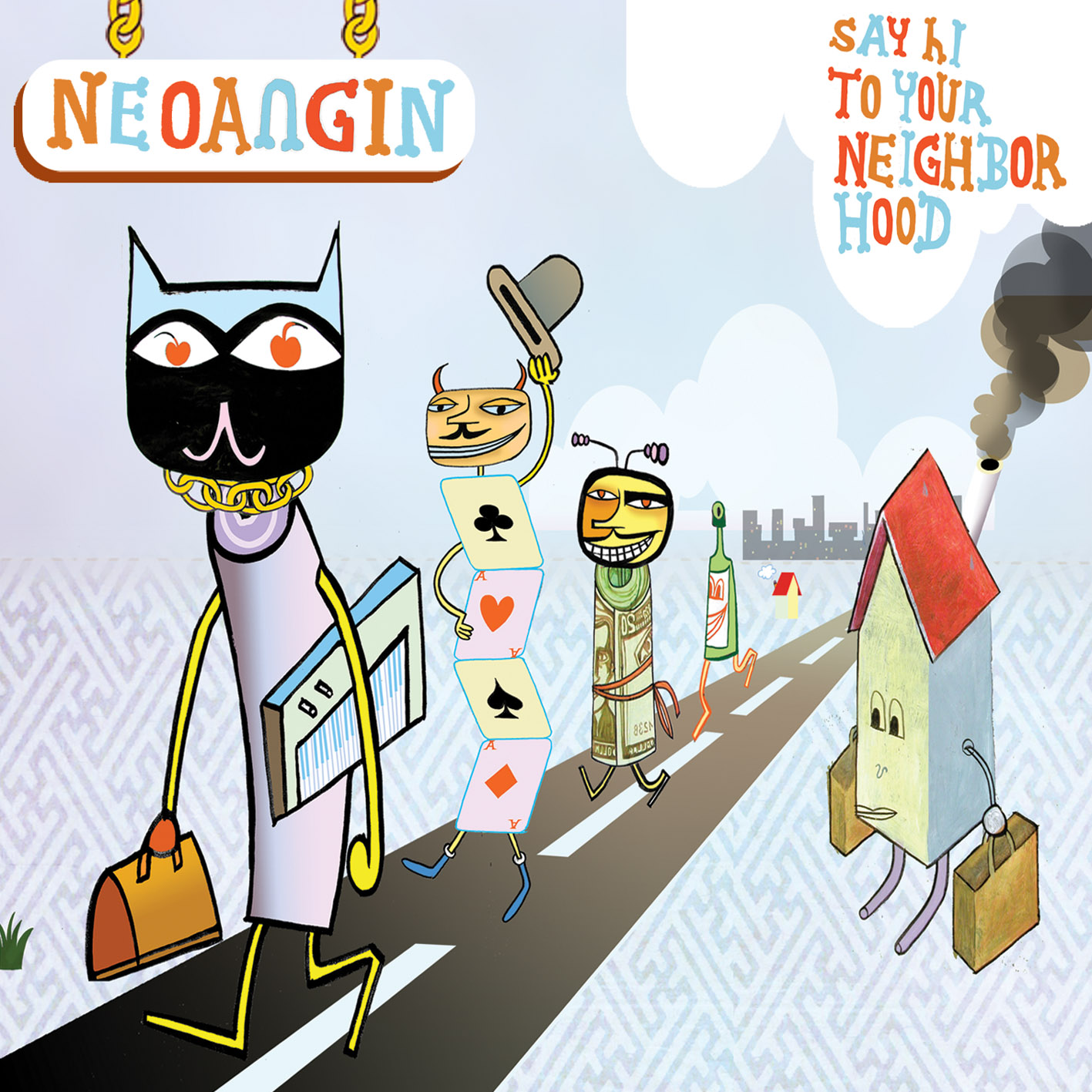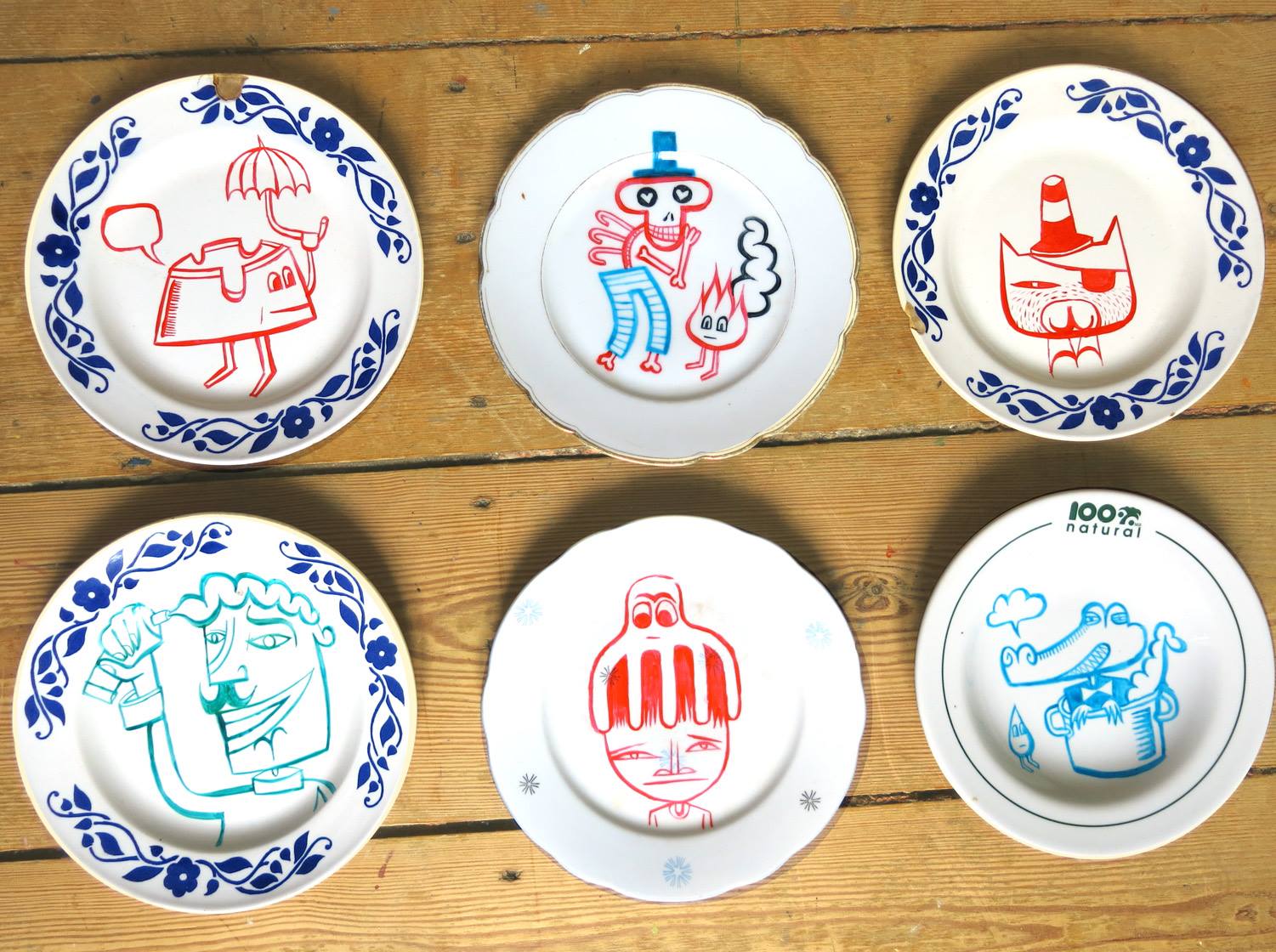 Plates, part of the Black Market Black Market at ReTramp Gallery
Jim Avignon, his magnificent plates, infinite humour and droll little characters are participating to the Pictoplasma festival this week. He also has a solo show titled Black Market at ReTramp Gallery (be quick because it's open till Sunday only!)
The artist is as warm and amusing as his little creatures, i'm happy Pictoplasma gave me an excuse to get in touch with him a few weeks ago:
Hi Jim! I saw a video in which you explained that you created a second identity for yourself and called him 'Neoangin.' Which relationship do you have with this musical alter-ego? How different is he from yourself? And have you started actually becoming Neoangin after so many years living with him?
He is some kind of weirdo jump and run cartoon character version of me, i am more the nice guy in the background but he doesn't mind standing on stage being the crazy one, uplifting even in hopeless situations. In a neoangin show there is a high chance that things get out of control in a funny way, and then i need to be neoangin to turn it into something exciting.
neoangin, Party for 1
Neoangin aka. Jim Avignon, I know you from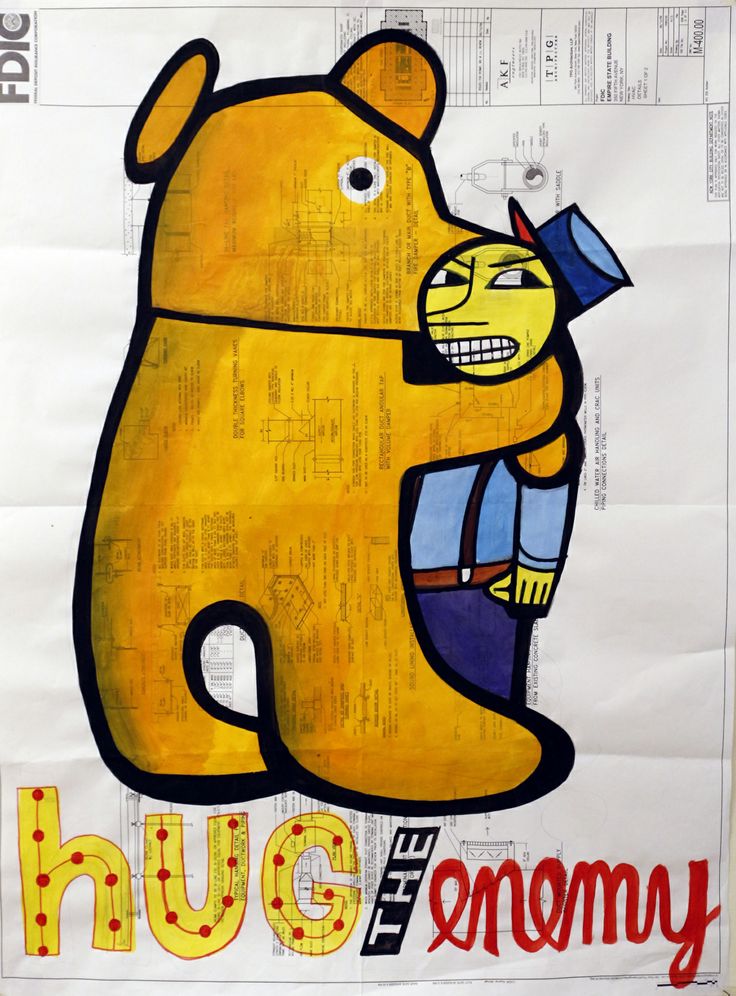 What about Jim Avignon? Is he a character too?
He is the main guy in my character portfolio and was there from the beginning, long time before i invented neoangin. In school i was always the smallest and youngest in my class and a rather insecure and easy to confuse one. After i finished school i knew by heart that i needed to become somebody else. No wonder Why Can't I Be You by The Cure was my favorite song at that time. I found out moving to another city and having a new name helped a lot in inventing a new persona.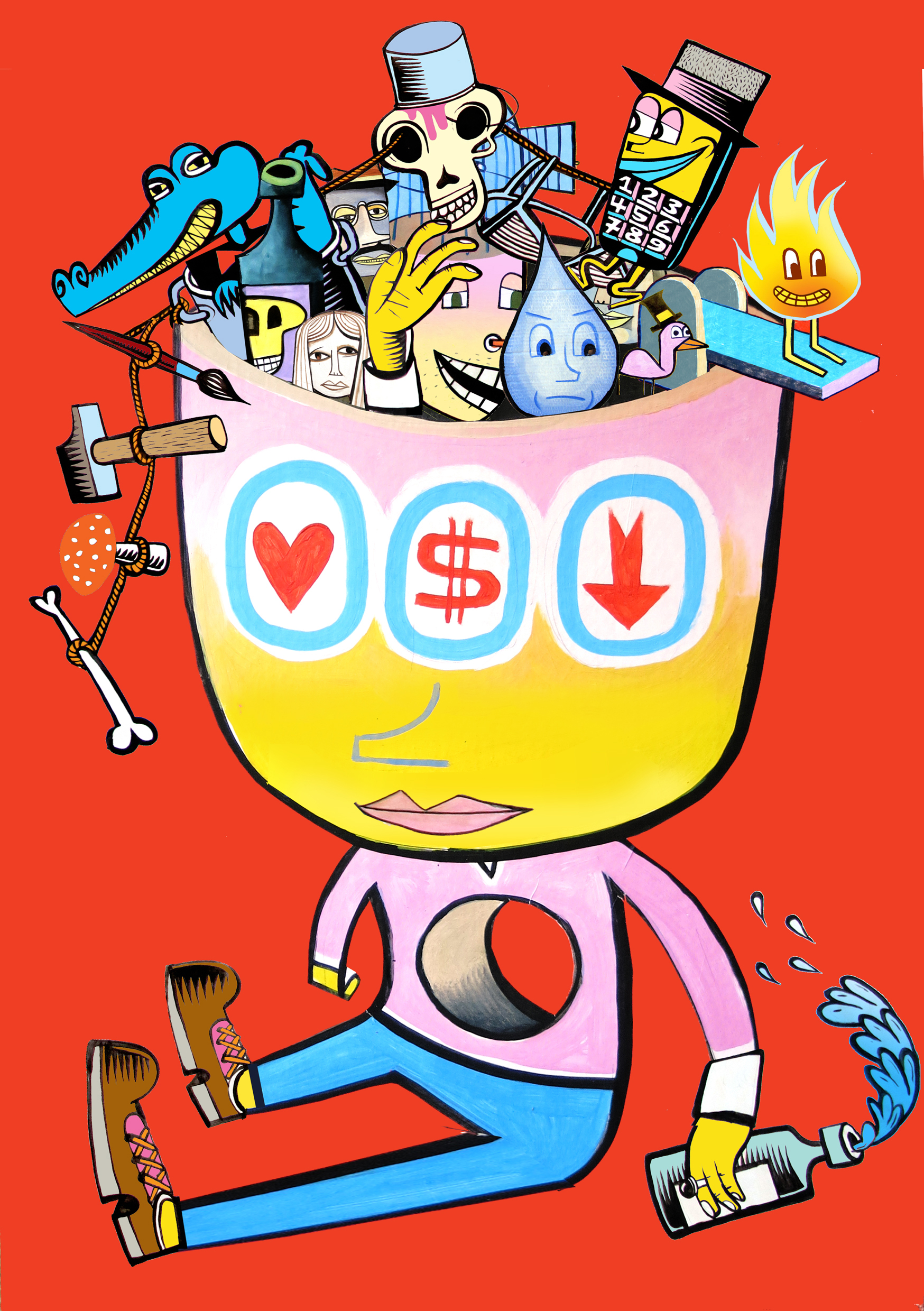 Jim Avignon, Hypnotist
You're inspired by daily life. What are the issues and stories that inspire you nowadays?
I am crazy about input (politics, gossip, internet, music, watching people in the subway, hearing strangers talk) and make up my mind to find hidden connections between all this stuff. i mash up all this input and sometimes some interesting images come up. I am interested in how people deal and struggle with the complexity and speed of modern life and i try to find and invent icons and characters that express that dilemma.
You're known for subverting the rules of the contemporary art market. But are there rules you do follow when it comes to contemporary art but also, more generally, when it comes to creating?
There are no rules apart from the one to be nice to those who are weaker than yourself. I decide by intuition and heart. I don't believe in perfection and the one big career master plan, in fact i believe in learning by doing and making mistakes is important and sometimes beautiful when it comes to creativity.
I do believe that everything is political: how you plan your career, to whom you sell your painting, how you share your time work/family, the ways you produce and sell.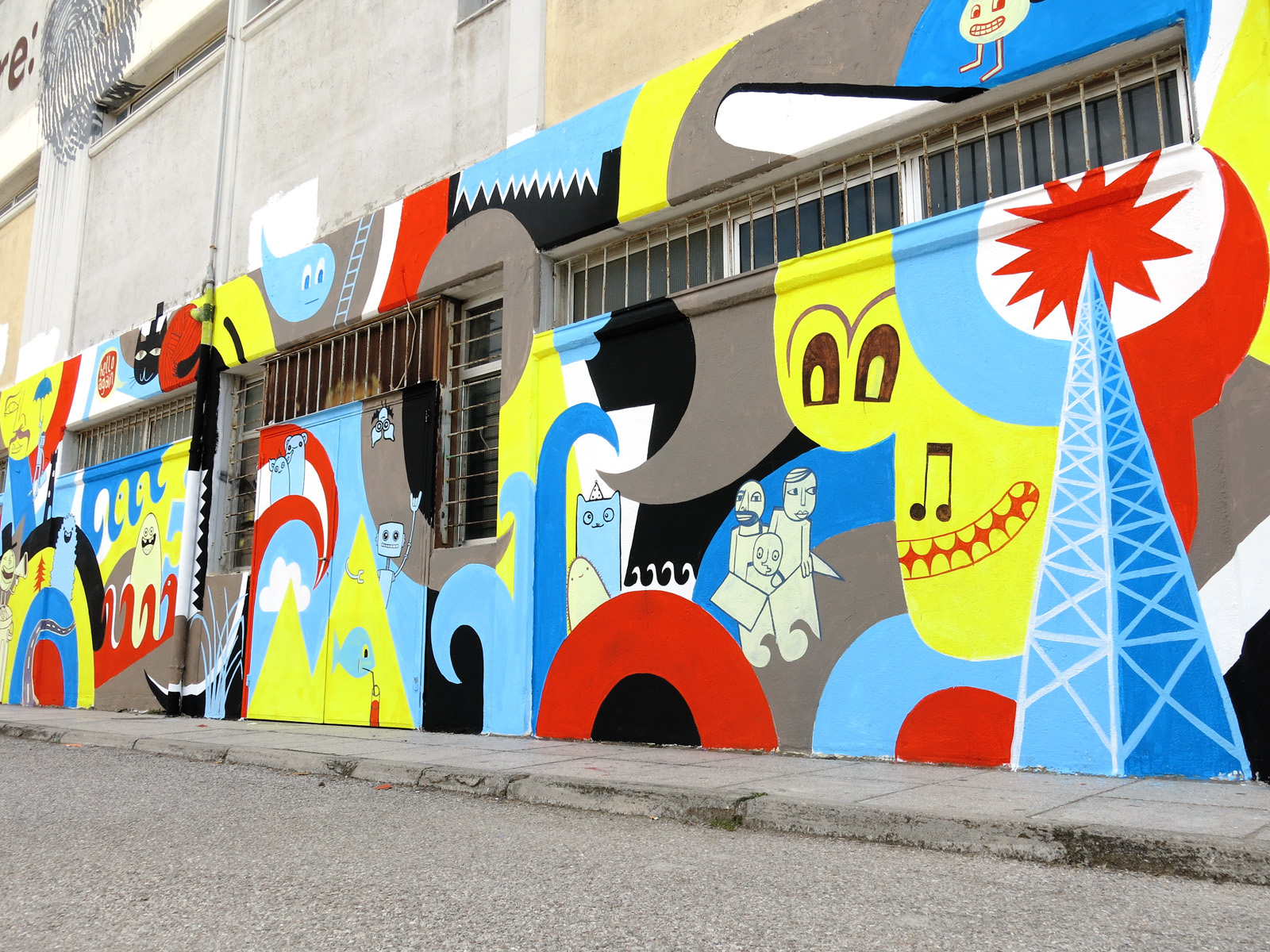 Jim Avignon, Mural in Athens

Jim Avignon, Cover of the coloring book for children
I read on your website that your new year resolution for 2016 is to do no exhibitions at all this year. That sounds very brave. So how are you spending the year? Publishing books? Doing more street interventions?
Well, that was one nice idea to have a year off, i imagined myself reading up that big pile of books i had bought in the previous years, going to the movies, doing a couple of holidays with my family and sitting in bars with friends and having drinks, but i am afraid i am the guy who can't relax.
The first thing i did this year was to start to work with kids in refugee camps and then decided to release a coloring in book for them by myself. Now i am in Greece painting a big wall and i just received an invitation to Taiwan to paint life at the art fair. And of course when Pictoplasma asked me to do an exhibition for the festival i didn't say "Sorry guys, i am having my year off!"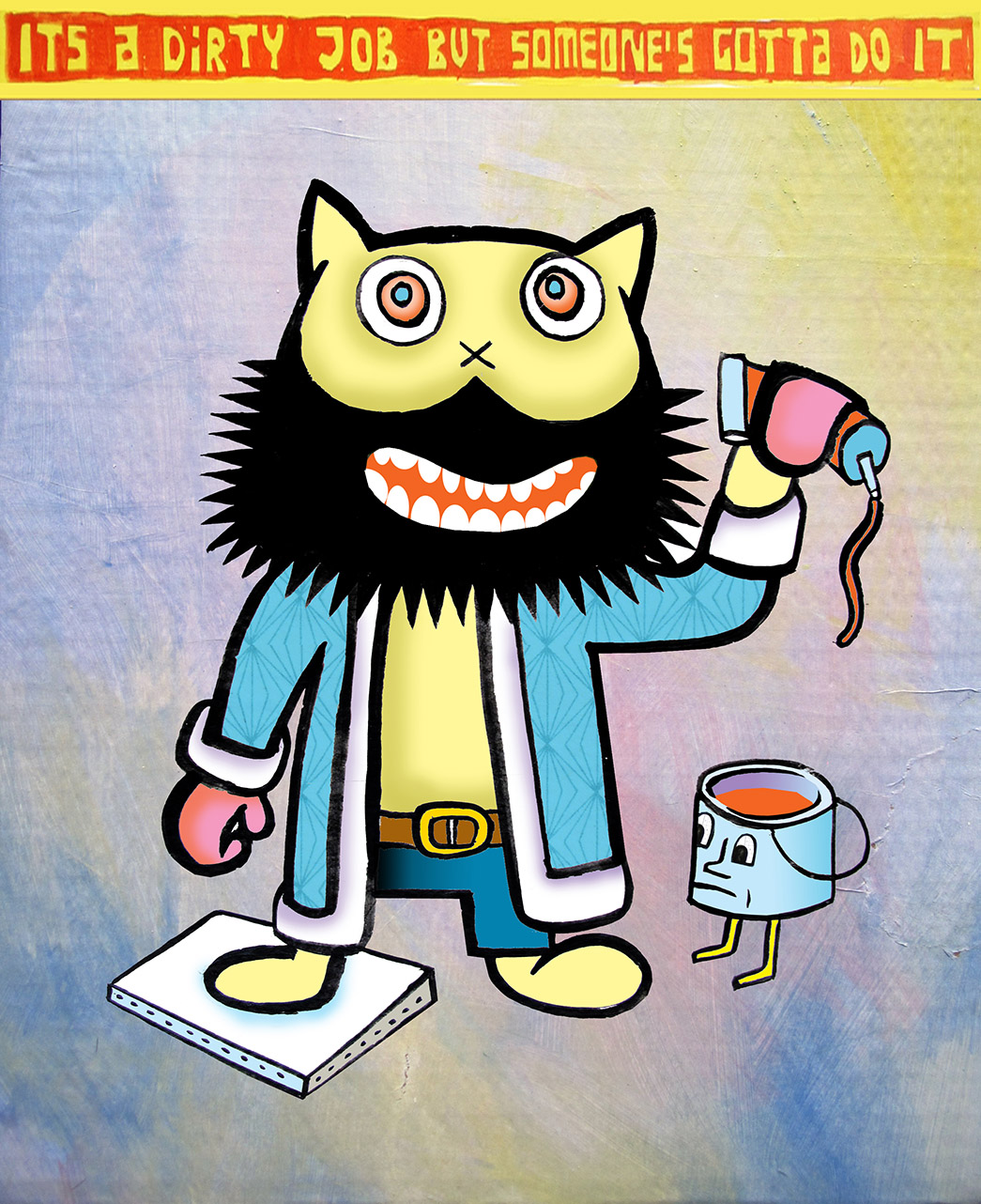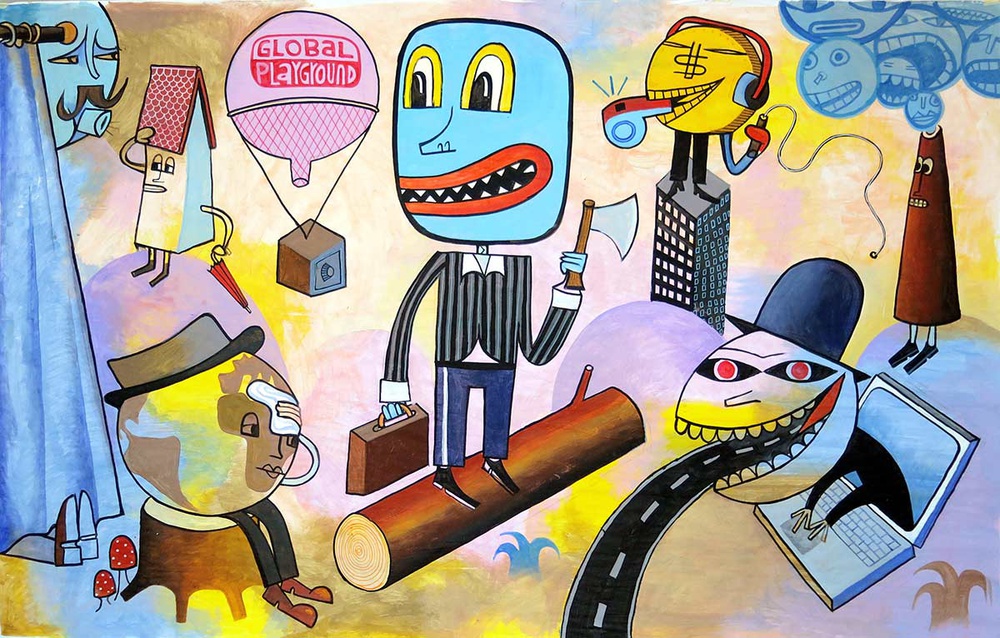 What are you going to present at Pictoplasma?
So far, i have only decided on the title which will be Black Market. In my mind i see some out of control interior design and a giant rocking chair moving mysteriously. I also have this interactive installation called The Perfect Match i did in the last year that tells you who you really are that would fit there in a nice way. I see board games and characters painted on old plates that i just bought in a thrift store and of course there will be some stuff for sale as well at obscure black market prices – and there will be a secret pre-opening party on Tuesday with a friend of mine DJing in a robot costume. If you are already in Berlin then, please come!
Thanks Jim!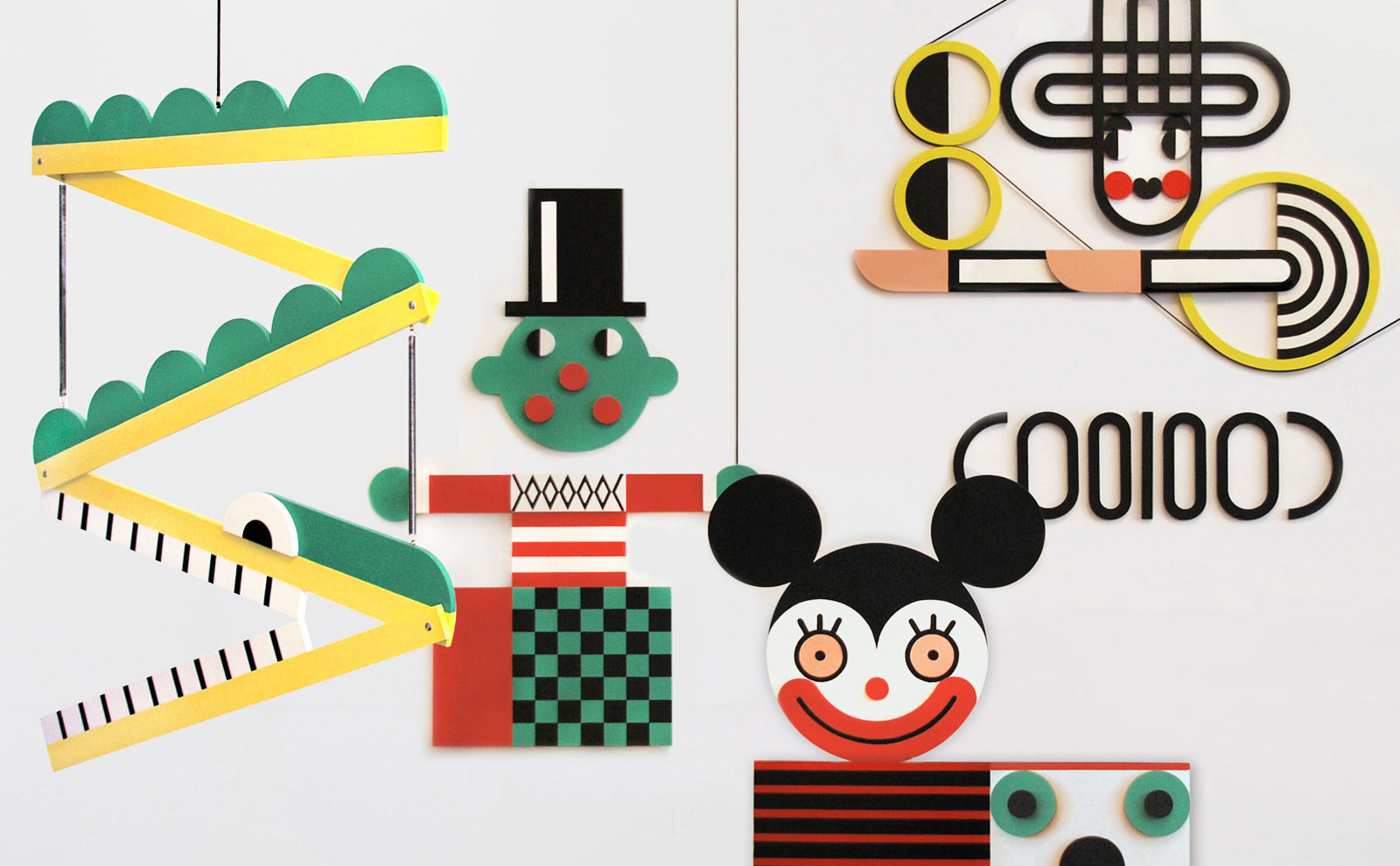 Jim Avignon, Binary Hulahoop with Kathi Kaeppel exhibition at Galerie Crystal Ball in Berlin, 2014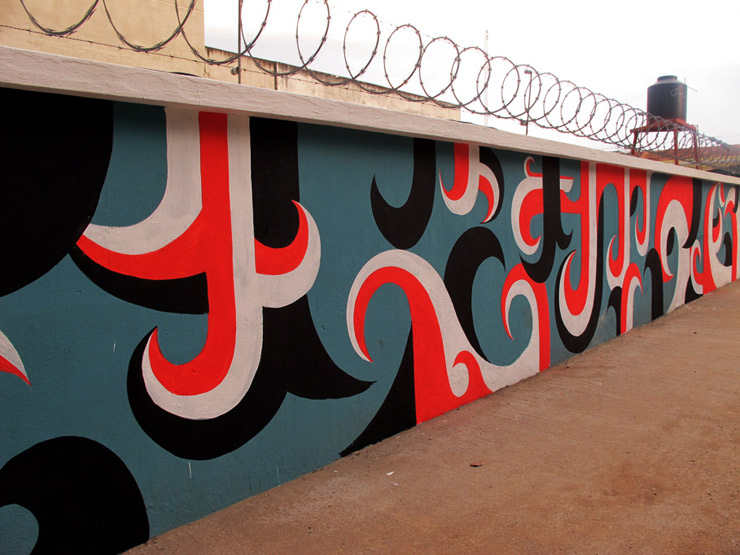 Jim Avignon, Guatemala, Guatemala. Photo via Brooklyn street art
Catch up with Jim Avignon today, tomorrow and over the weekend at the 12th Pictoplasma Conference & Festival in Berlin.
Jim Avignon's exhibition Black Market is open at ReTramp Gallery in Berlin until May 8, from 12 AM to 8 PM.
See also: Pictoplasma focus: Julian Glander and Pictoplasma focus: Mr Bingo, rude postcards and dirty queens.