Experimental Eating, edited by Thomas Howells. With introductory essay by Zach Denfeld, Cathrine Kramer and Emma Conley from The Center for Genomic Gastronomy.
Available on amazon UK and US.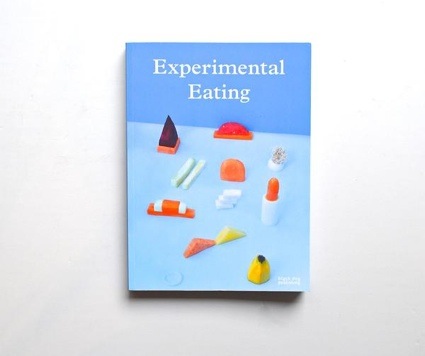 (Image via @allieartbooks)
Black Dog Publishing writes: Experimental Eating is the first international survey of contemporary experimental and experiential food-based creative practices across art, design, catering, science and theatre. Deliciously detailed and good enough to eat, this book combines luscious images with text that questions the assumptions behind how we make, eat and perceive food.
Experimental Eating demonstrates how current creative collaborations are pushing the boundaries of how we understand, experience and relate to food and the rituals of dining. The book encompasses unusual and cutting-edge foods, radical dining events, "kitchen laboratory" experiments, food sculptures and other documentation of the transient moments that make up this field of experimentation.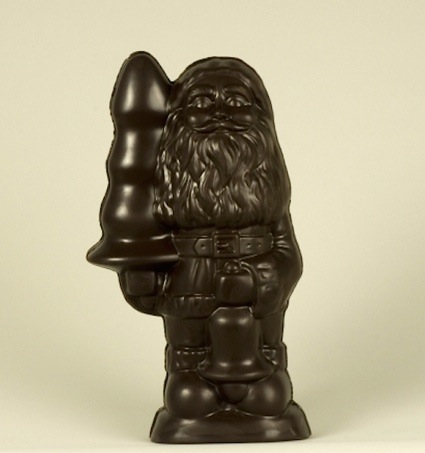 Paul McCarthy, Chocolate version of Santa with Tree. Photo: Svetlana Bachevanova via Paris Photo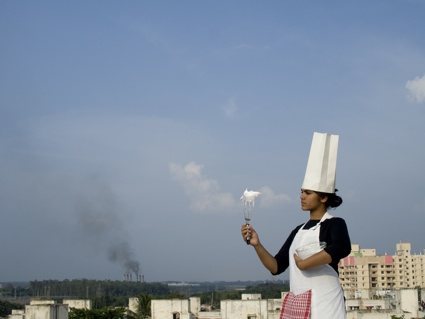 Center for Genomic Gastronomy, Smog Tasting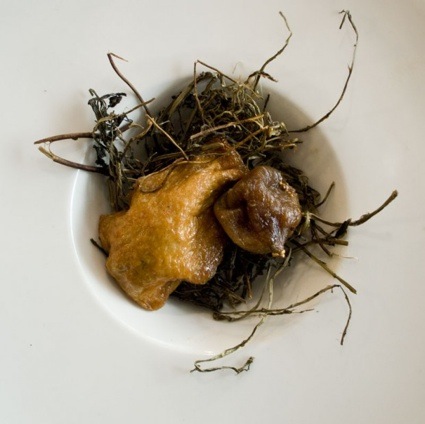 Center for Genomic Gastronomy, Vegan Ortolan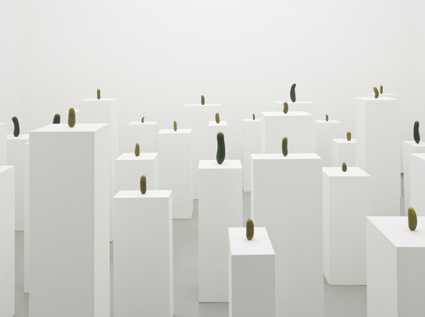 Erwin Wurm, Self-Portrait of Cucumbers, 2008
Experimental Eating is a merry and fascinating survey of artworks that bring the political, the unusual or the technological into the ritual of food consumption. From the moment the ingredients are planted or bred to the moments they are combined into dishes, consumed or discarded.
The book comes at a good time. A time when cooking shows pullulate on tv screens while concerns are raised about the ethics (or rather lack thereof) of our food production.
The artists whose work is featured in the book remind us that a meal is far more than the insertion of edible material into our mouth. It is the result of farming practices, cultural standards, biological manipulations, technological innovations, international trade law and often also ethical choices. Some of the artists and designers working with food speculate on the impact that tissue engineering will have on our plates, others create a permanent fast food joint that offers cuisine from countries the United States is currently in conflict with, others uncover and denounce aspects of our food systems we might not be aware of, etc. What these practitioners have in common is that they use food as a vehicle to get our full attention and spark conversations over broader themes. Preferably outside of the contrived environment of museums and galleries.
Experimental Eating closes on a series of art&food related reprint. They are masterfully chosen. There's Romy Golan's Anti-Pasta which informed me someone once had the idea of founding PIPA, the International Association Against Pasta; there's an introduction to The Starving Artists' Cookbook; and there's The Culinary Triangle, Claude Lévi-Strauss essay on the semantic field of cooking meat.
There might be other publications on the topic but Experimental Eating is the first one that falls into my hands and it is an entertaining, thought-provoking and thrilling one.
Some of the many artworks i discovered in the book: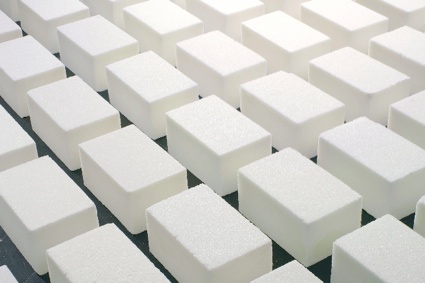 Van Brummelen & De Haan, Monument of Sugar, Argos Brussels, 2007
Following the discovery that European sugar costs far less when sold outside of Europe, Van Brummelen & De Haan embarked on an investigation of the European subsidised sugar trade. They bought European surplus sugar in Nigeria and then shipped it back home. To elude the European trade barrier for sugar imports they transformed the sugar into a monument. The import application was thus filled under the Uniform Commercial Code Law 9703, which applies to all monuments and original artworks regardless of the material in which they are produced. In the end, however, they had to contend with more tariff barriers then they succeeded in avoiding and the sugar proved more expensive than at home.
The sugar sculpture is accompanied by a film essay which charts the artists' research into the sugar trade.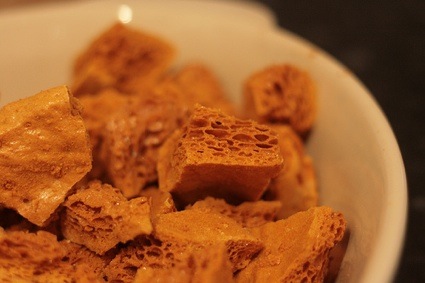 Condiment Junkie, Bittersweet Symphony, 2014
Condiment Junkie experimented with modifying the perception of taste, making it bitter or sweeter, using sound only.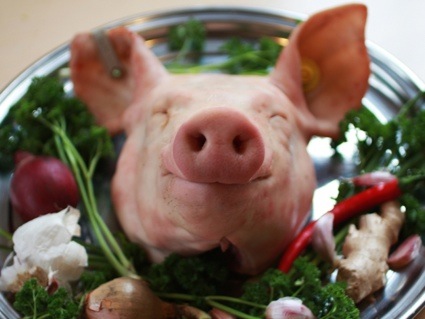 Waag Society, The Other Dinner. Photo Chloé Rutzerveld, 2013
The Other Dinner investigated the meat culture of the past, present and future. One of the chapters of the event looked at the parts of the pig, cow, chicken or sheep that are usually disdained and used only for export or animal feed.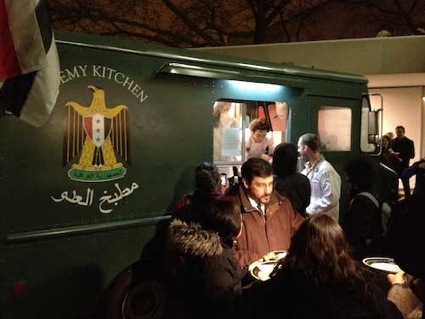 Michael Rakowitz, Enemy Kitchen. Photo: Smart Museum of Art
Collaborating with his Iraqi-Jewish mother, Michael Rakowitz compiles Baghdadi recipes and teaches them to different audiences. He also serves the food in a ice cream truck with the help American veterans of the Iraq War. Preparing and consuming the food gives the artist and the public a chance to approach the topic of Iraq in a more open, less CNN-report way.
Bompas & Parr, Cooking with Lava, 2014. Video by Robert Wysocki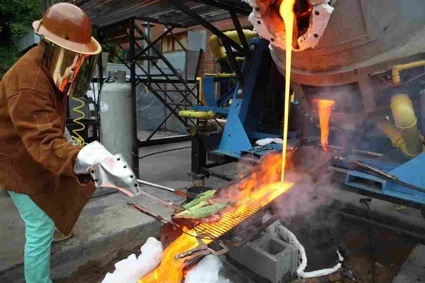 Harry Parr of Bompas and Parr gets volcanic on 10-ounce rib-eye steaks and ears of corn. Photo Bompas and Parr
Bompas & Parr collaborated with Professor Robert Wysocki , an artist who works with artificial volcanoes and streams of man-made lava, for artistic and scientific purposes. The artistic duo harnessed his expertise and bronze furnace to cook meat and fish.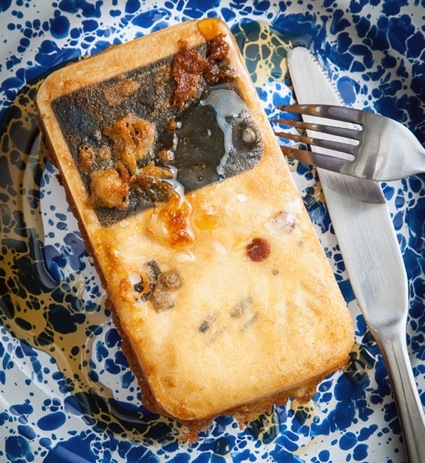 Henry Hargreaves, Deep Fried Gadgets
The title says it all. This is also one of the most stomach-churning works i've ever read about.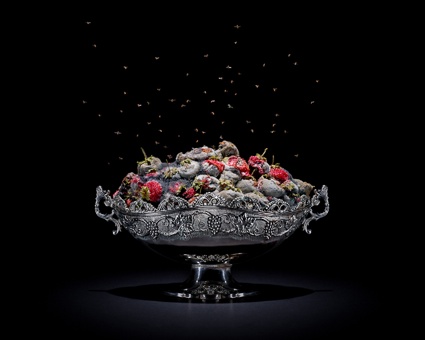 Klaus Pichler, Strawberries, One Third – a project on food waste
Place of production: San Giovanni Lupatoto, Verona, Italy
Cultivation method: Foil green house * Time of harvest: June – October
Transporting distance: 741 km * Means of transportation: Truck
Carbon footprint (total) per kg: 0,35 kg * Water requirement (total) per kg: 348 l
Price: 7,96 € / kg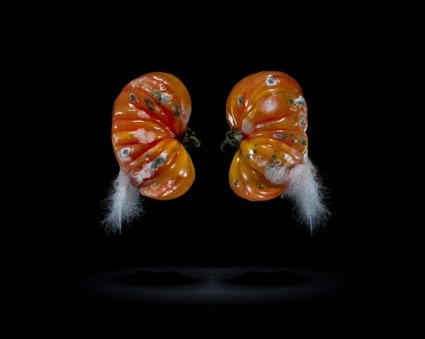 Klaus Pichler, Tomatoes, One Third – a project on food waste
Place of production: Albenga, Italy
Cultivation method: Foil green house * Time of harvest: All- season
Transporting distance: 1.035 km * Means of transportation: Truck
Carbon footprint (total) per kg: 0,31 kg * Water requirement (total) per kg: 215 l
Price: 0,89 € / kg
According to a UN study one third of the world's food goes to waste (mostly in the industrialized nations of the global north) while 925 million people around the world are threatened by starvation. Klaus Pichler's series 'One Third' explores the connection between individual wastage of food and globalized food production. Over a period of nine months, the photographer used his apartment bathroom as a storage space for rotting food items. He then arranged the abominable result of the fermentation into elaborate still lifes and accompanied the images with texts that take an in depth look at the food production and distribution.
Related stories: Prison Gourmet, Data Cuisine, food as data expression, The Meat Licence Proposal, interview with John O'Shea, Super Meal, Cobalt 60 Sauce, a barbecue sauce made from 'supermarket mutants', Cook Me – Black Bile, Conflict Kitchen, Herbologies/Foraging Networks at Pixelache Helsinki, Interview with Kultivator, an experimental cooperation of organic farming and visual art practice, Temporary photoElectric Digestopians (Fusing Cooking and Solar Tech with Design), The Spice Trade Expedition – In pursuit of artificial flavoring, Book Review – Cooking Science: Condensed Matter, etc.