Acclair, by Luther Thie and Eyal Fried, is a security and neuromarketing service that points to Acclairism, a new form of discrimination based on the individual's bio-data and membership in an "acclaired" elite.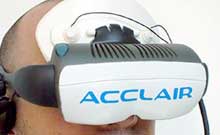 The project creates a "social fiction" to explore a situation wherein people willingly accept a highly invasive, highly authoritative manipulation in return for tangible rewards and social status.
Acclair is a fictional company providing brain-testing services as part of an accelerated security clearance for air-travelers with its use of Brain Fingerprinting technology (BFP).
Before departure, the Acclair member goes through a one-minute brain test in a relaxing environment. His/her brain output is used for security clearance, and then sold to marketing entities interested in his consumerist personality. According to his brain's market value, the Acclair member is rewarded with Capitality credit points that enable meaningful capital benefits and "Amnesty" credit points that provide legal pardons for applicable past offenses.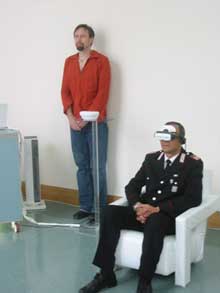 Italian police officer tests the system
Acclairism is an attempt to bring to light some of the conflicts and questions brought about by biometric technologies: What defines us as unique individuals? What defines us as trusted members of society? How much personal information will we willingly give away and under which circumstances?
Part of ISEA 2006, San José, this summer.