A Chronology of Photography. A Cultural Timeline from Camera Obscura to Instagram, by Paul Lowe, an award-winning photographer and Course Director of the Masters programme in Photojournalism and Documentary Photography at the London College of Communication, University of the Arts London.
Available on amazon.com and .uk.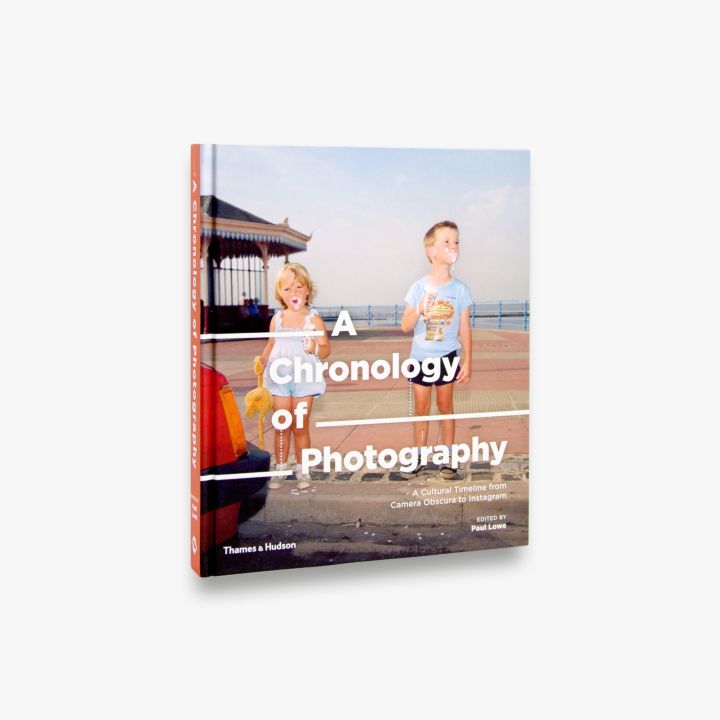 Publisher Thames & Hudson writes: A Chronology of Photography presents a fresh perspective on the medium by taking a purely chronological approach to its history, tracing the complex links between technological innovations, social change and artistic interventions. Structured around a central timeline that charts the development of photography from early experiments with optics right up to the present-day explosion of digital media, it features sumptuous reproductions of key photographs, together with commentaries and contextual information about the social, political and cultural events of the period in which they were taken. Special features highlight important themes and influential practitioners, while technical sections explain how the development of new camera technology has affected the practice of photography.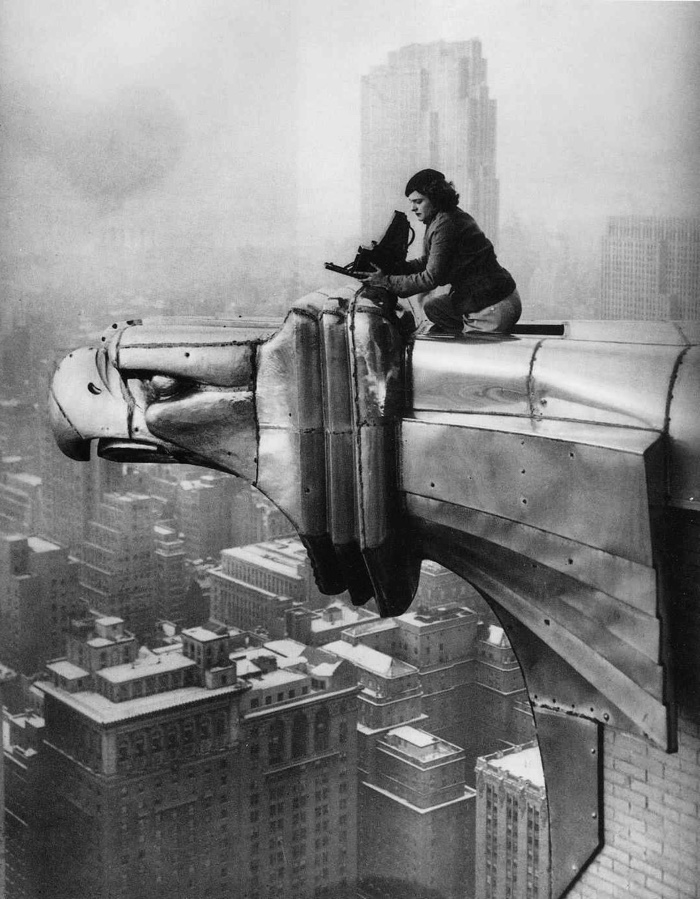 Oscar Graubner, Margaret Bourke-White atop the Chrysler Building, c. 1930.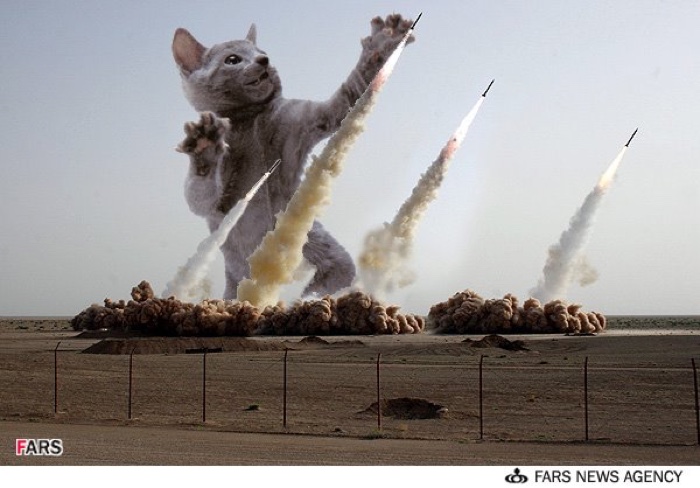 Are We Lumberjacks?, LOL Missile (Clickabiggen), 2008
I've reviewed a number of publications and exhibitions about photography: its history, some of its main genres and challenges. It doesn't make me an expert in photography but that won't prevent me from declaring that this book is a real tour de force.
A Chronology of Photography brings the evolution of photography into its historical, cultural and social contexts. Paul Lowe managed to cram into one book some 200 years of history, technology, art, society without ever making it look laborious nor indigestible.
While charting the rise in popularity and critical appreciation of photography, the publication highlights the main dilemmas and challenges that photographers have struggled with over the years: the use of the medium by human rights champions, advertisers and authoritarian regimes alike; the surge of the camera phone and its questioning of a whole profession; the figure of the photographers are a conceptual artist, innovator or reporter; the exploitation of the tool to advance racist theories or document environmental scandals; the role of photography in unveiling untold stories or serving the revisionism of certain accounts of history; the copyrights issues and the sometimes uneasy relationship between culture and commerce; the documentation of important cultural moments or of society's daily ridicules; the tensions between personal privacy and overexposure facilitated by social media; etc. Replace the word "photography" with the word "internet" and it will all sound uncannily familiar.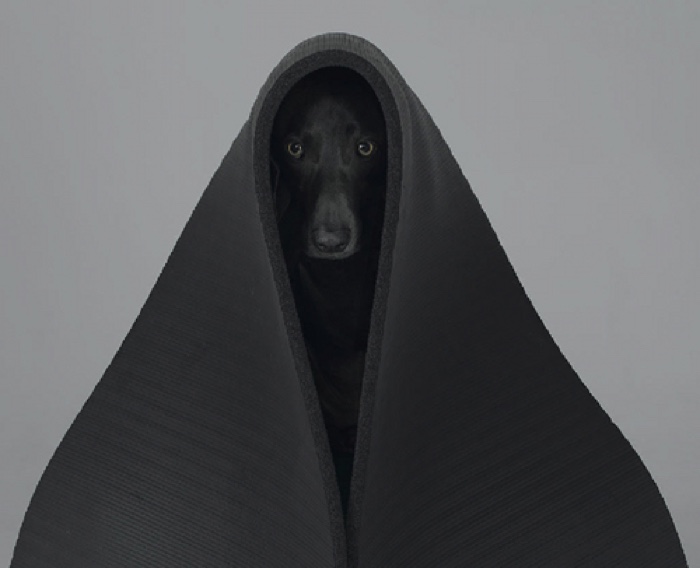 William Wegman, Ray, 2006
The book is also packed with amusing anecdotes and important moments: the rise and fall of Kodak, the game-changing technological discoveries, the introduction of photography as evidence in court or its acceptance as an art form.
The other strength of the book is that the author didn't go for the obvious when it came to selecting the illustration. There's some iconic photos here and there but there is also plenty of visual material that hasn't been printed ad nauseam.
Demonstration below (with a few comments here and there):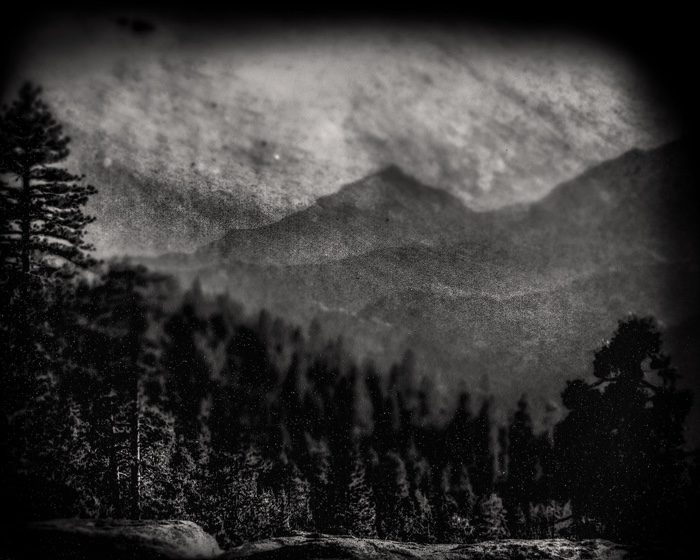 Marcus DeSieno, 36.887900, -118.555100, from the series No Man's Land, 2015
No Man's Land, presents a series of landscape photographs captured on CCTV cameras in the most surprising places around the world. Marcus DeSieno found online the location of these cameras and got the tools needed to hack into them and get access to the streams. Once he found a view he liked, he would photograph the screen with a large format camera, before using salt paper processing to create a painterly and "timeless" aesthetic.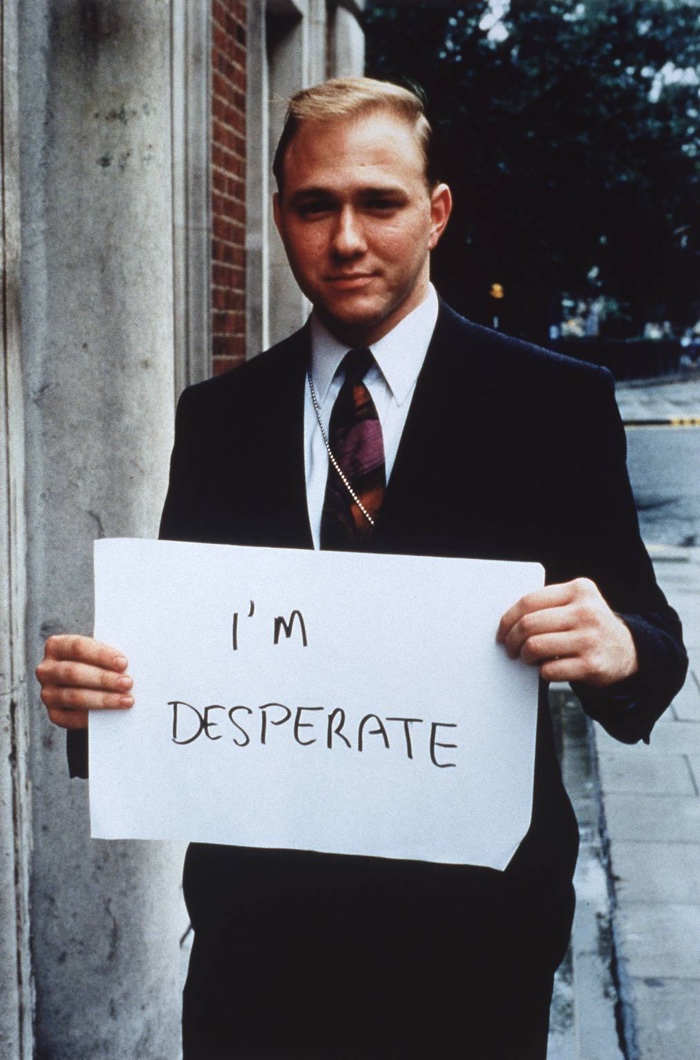 Gillian Wearing, I'm Desperate, 1992-1993. From the series "Signs that Say What You Want Them To Say and Not Signs that Say What Someone Else Wants You To Say"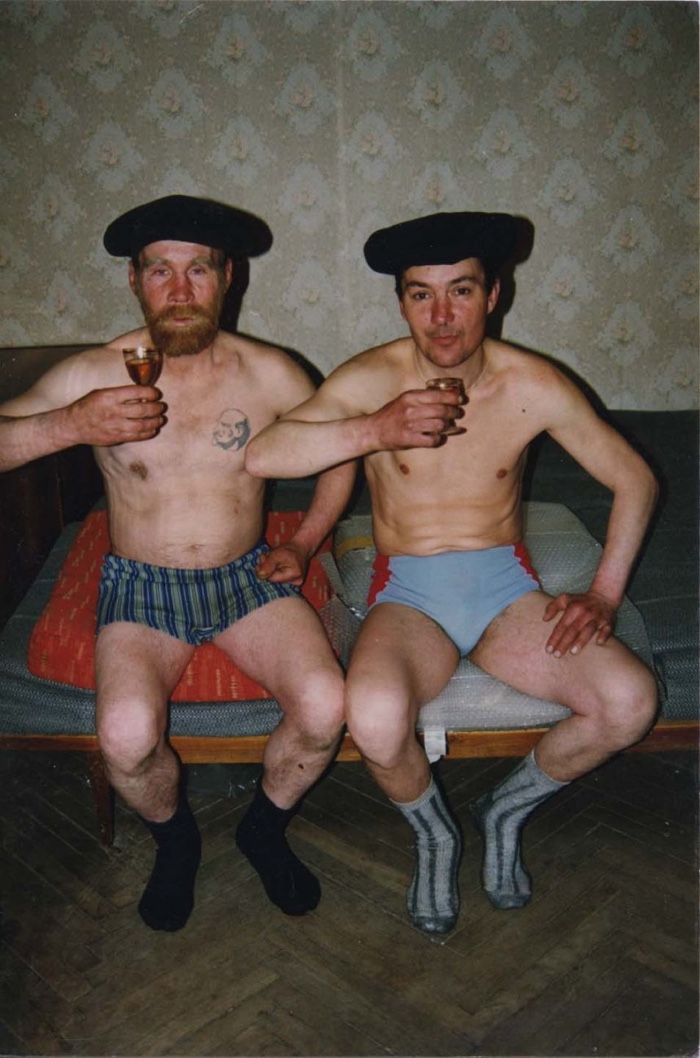 Boris Mikhailov, Case History, 1997-1998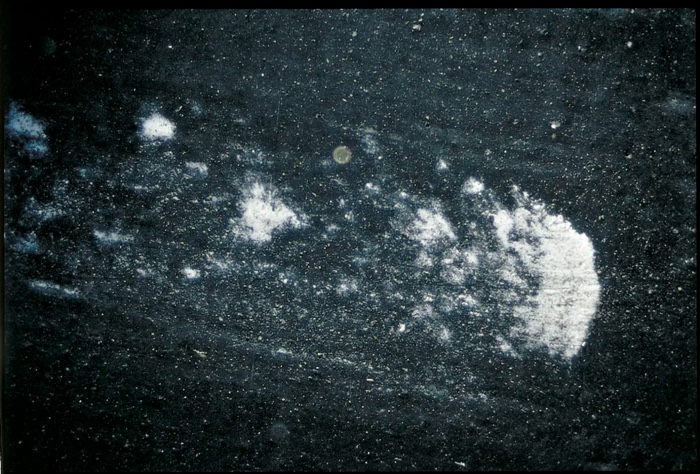 Cornelia Parker, Einstein's Abstract, 1999
Cornelia Parker made photomicrographs of the blackboard covered with Albert Einstein's equations from his lecture on the Theory of Relativity, Oxford 1931.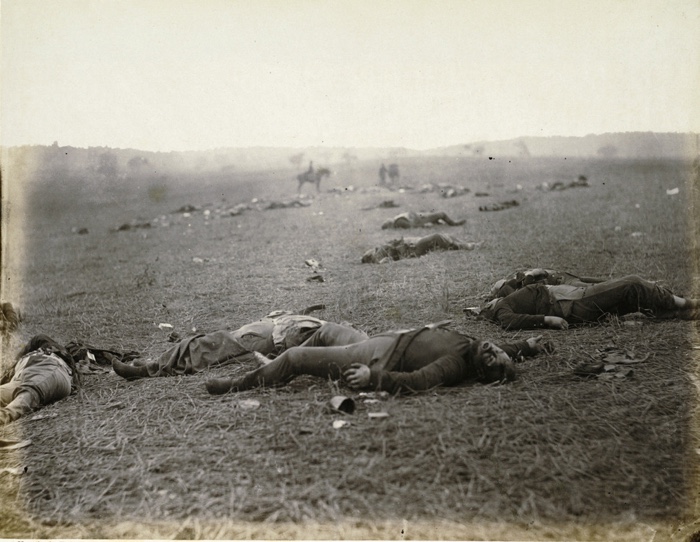 Timothy O'Sullivan, "A Harvest of Death" Gettysburg, Pennsylvania, 1863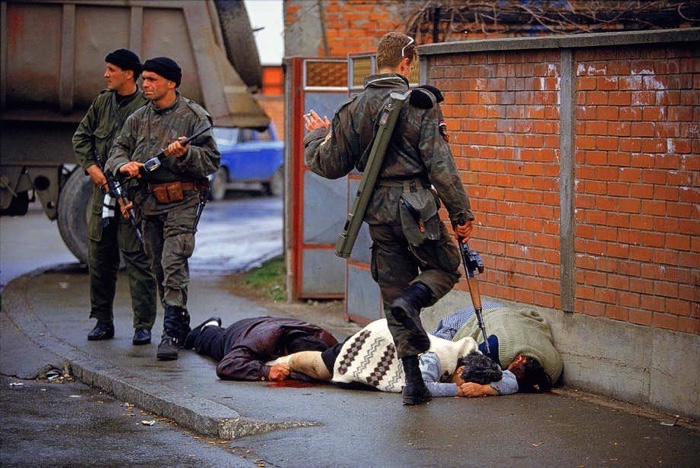 Ron Haviv, from Blood and Honey, 1992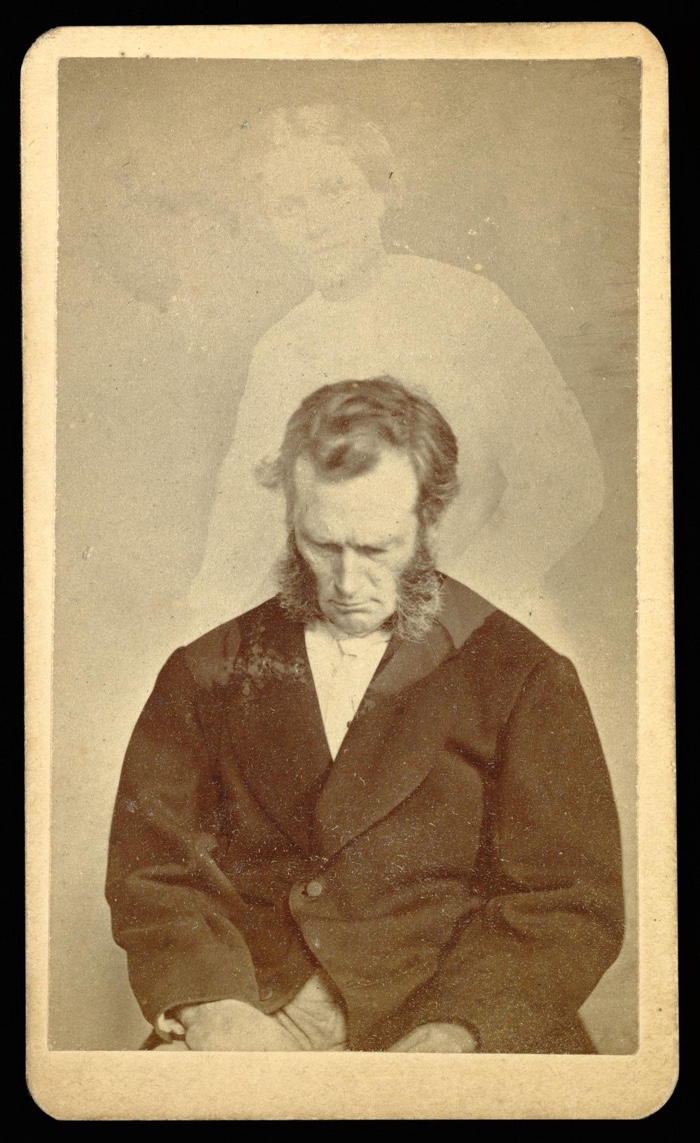 William H. Mumler, Bronson Murray, 1862 – 1875
In the early 1860s William H. Mumler became the first producer of spirit photographs, portraits in which ghosts and other spiritual entities appeared to loom behind or alongside the sitter. Mumler opened a studio in New York City in 1868 but was arrested the following year on charges of fraud and larceny.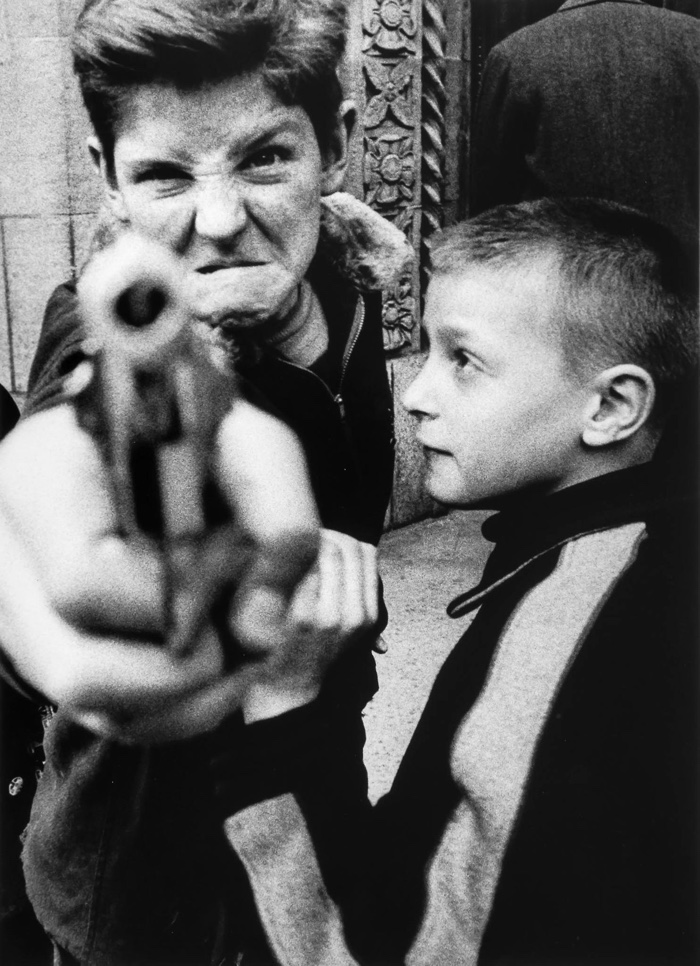 William Klein, Gun 1, New York, 1954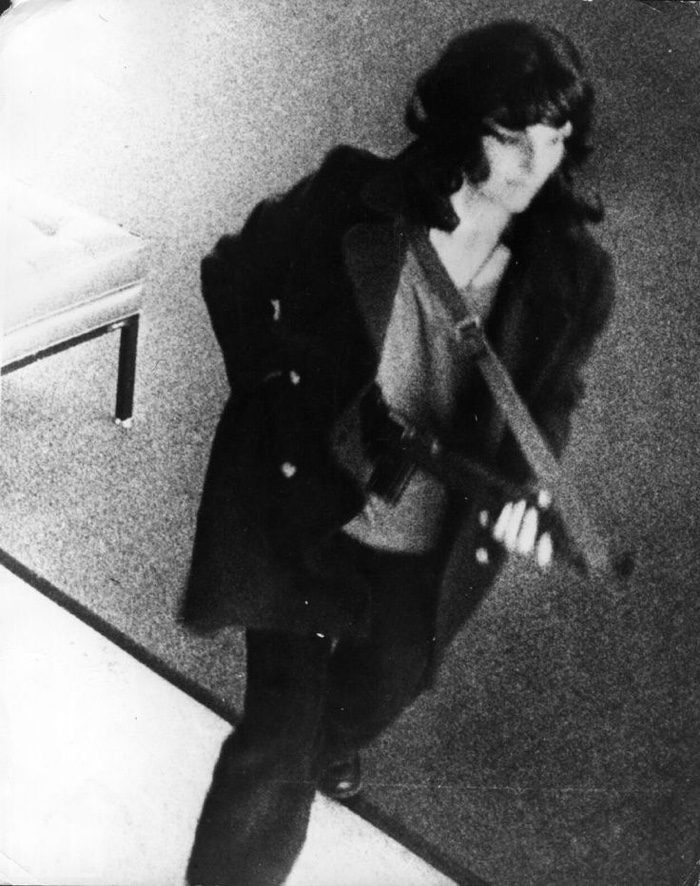 Patty Hearst, Surveillance Camera in San Francisco, 1974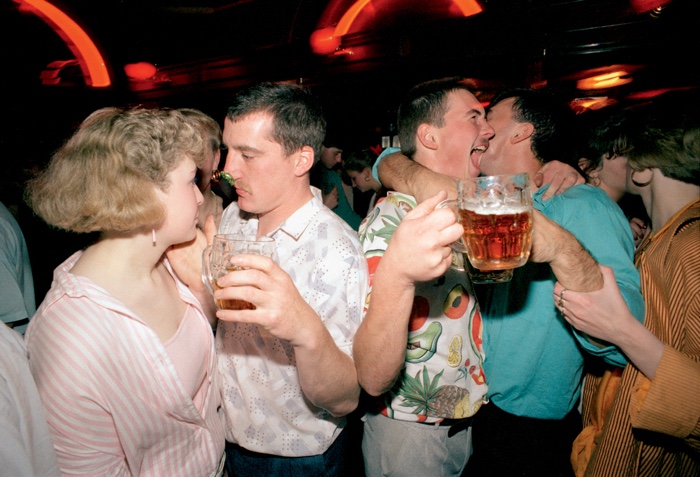 Tom Wood, Bottlenose, Chelsea Reach (from Looking for Love), 1985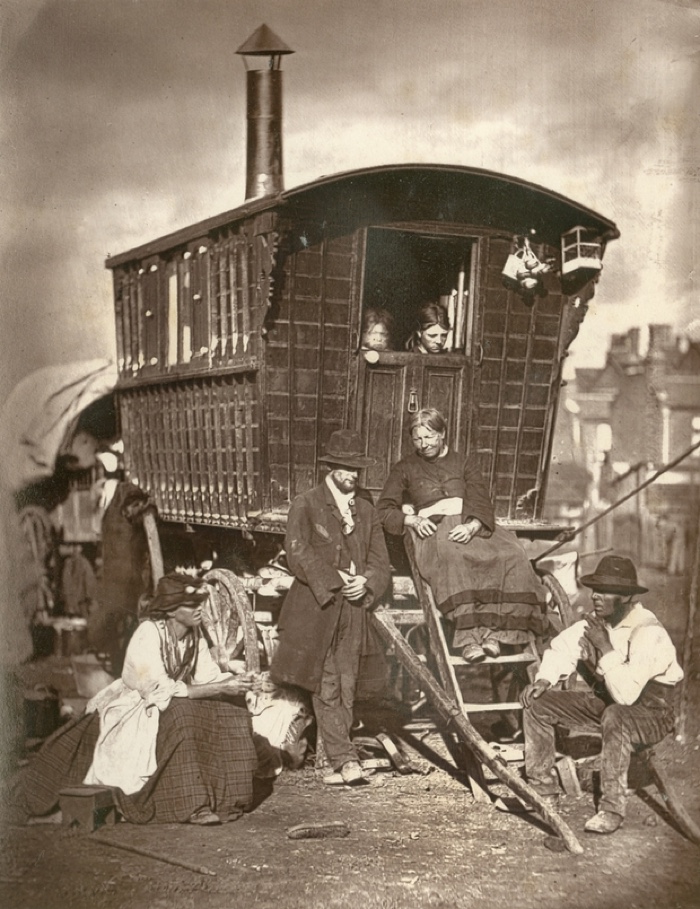 John Thomson, London Nomades, 1877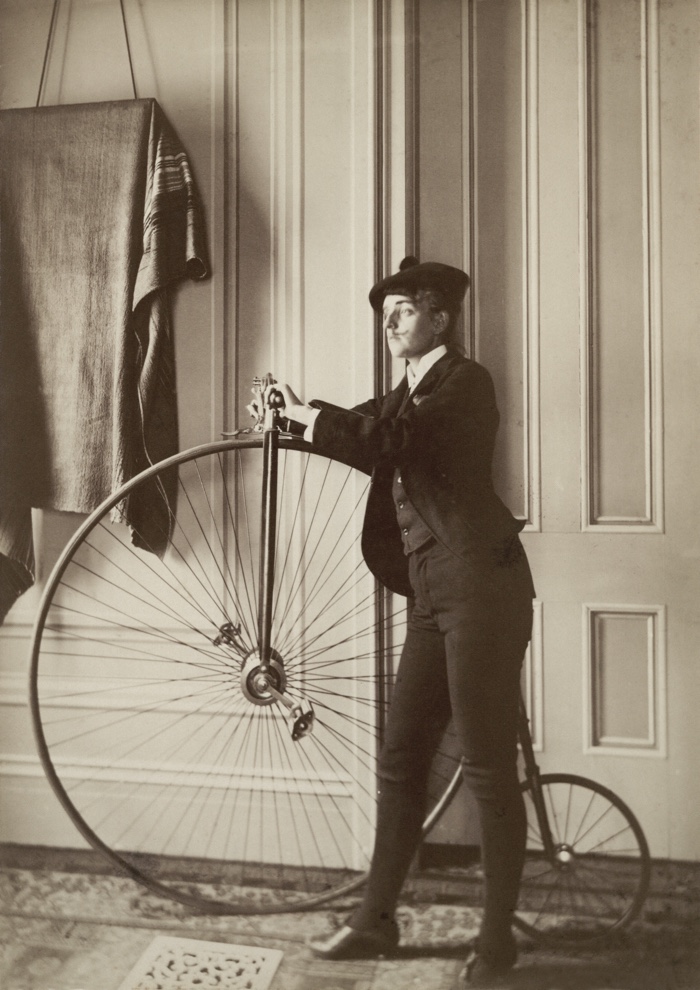 Frances Benjamin Johnston, Self-portrait with false moustache and penny-farthing, between 1880 and 1900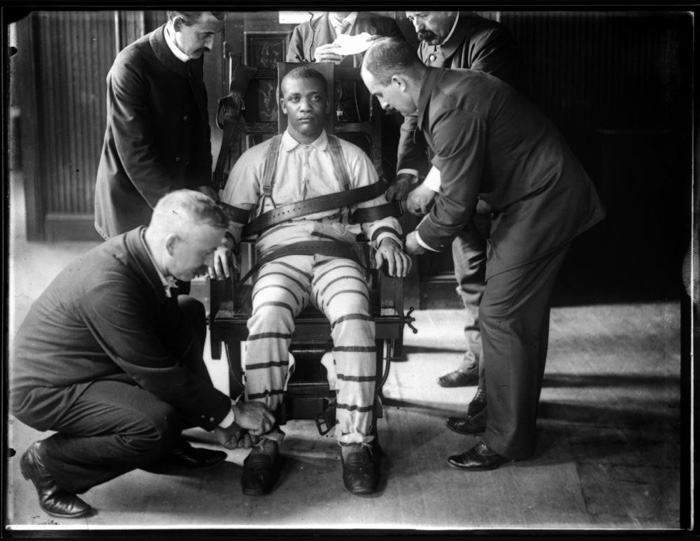 William van der Weyde, Electric Chair at Sing Sing, ca. 1900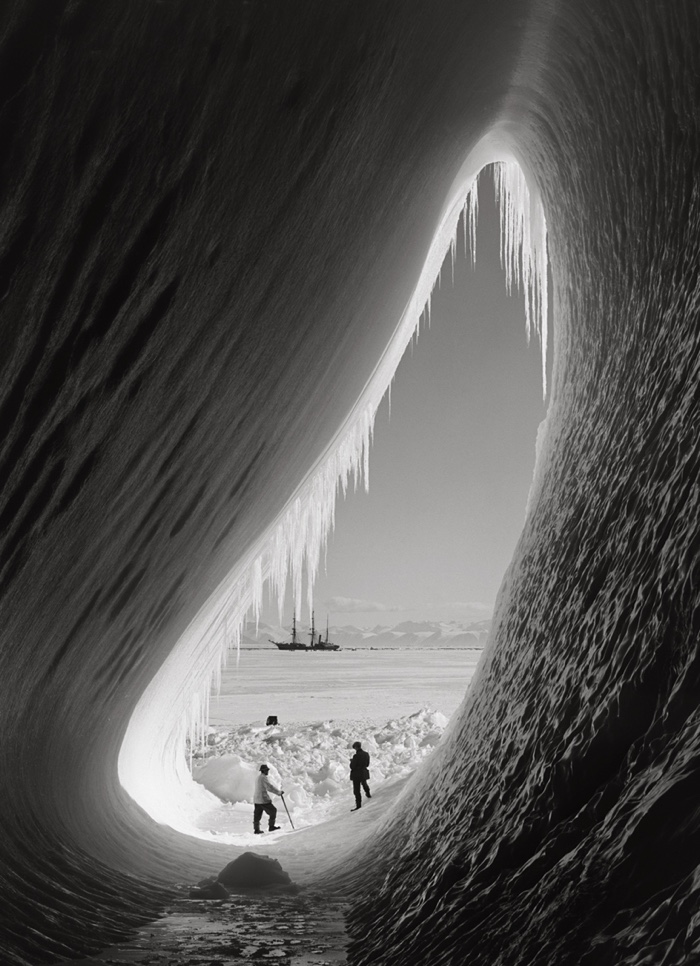 Herbert Ponting, Grotto in a Berg, Terra Nova in the Distance, 1911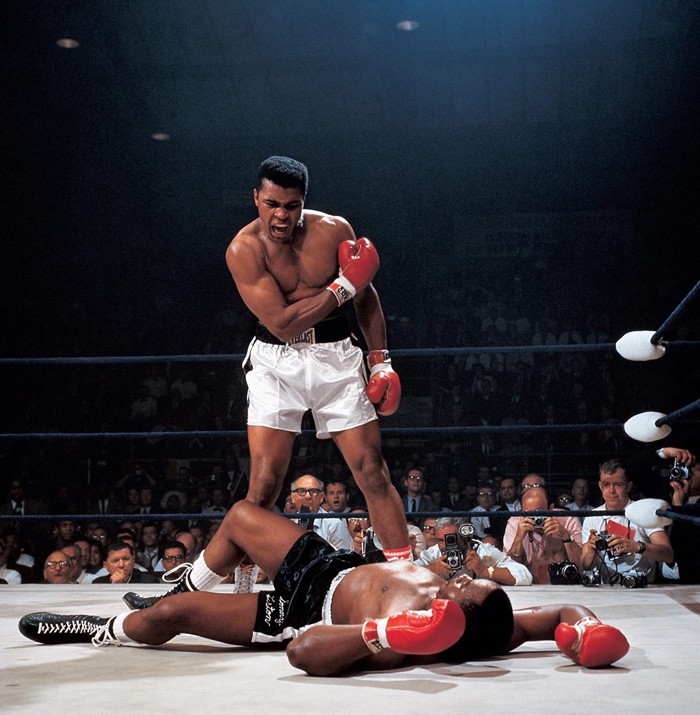 Neil Leifer, Muhammad Ali vs. Sonny Liston, 1965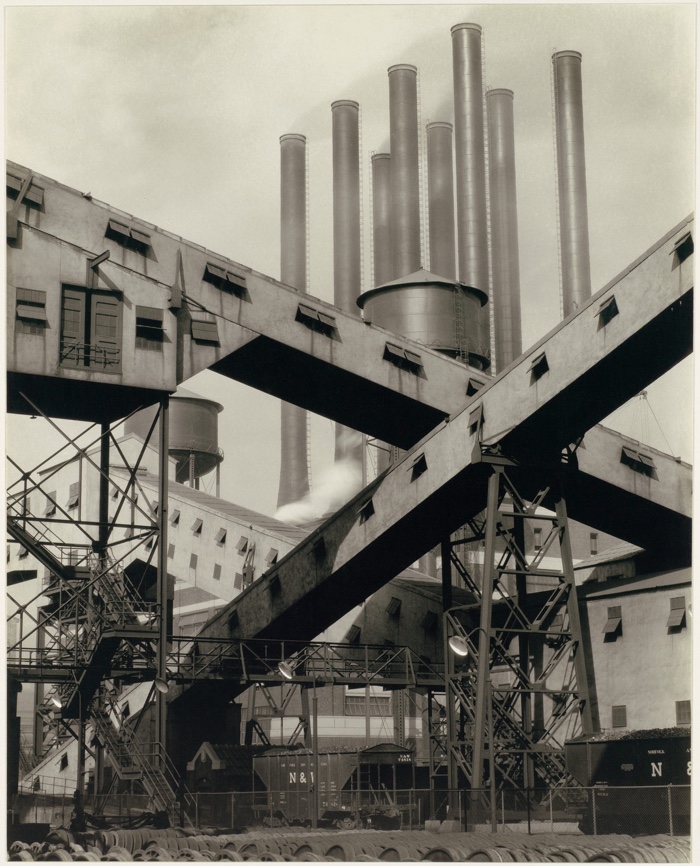 Charles Sheeler, Criss-crossed Conveyors, River Rouge Plant, Ford Motor Company, 1927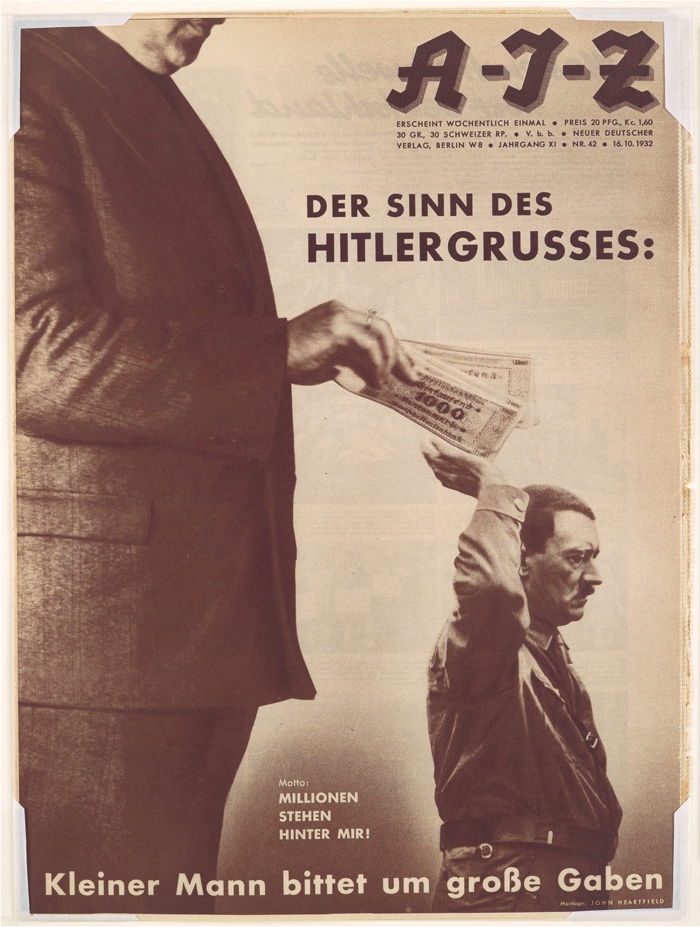 John Heartfield, Der Sinn des Hitlergrusses: Kleiner Mann bittet um große Gaben. Motto: Millionen stehen hinter mir! (The Meaning Behind the Hitler Salute: Little Man Asks for Big Donations. Motto: Millions Stand Behind Me!), 1932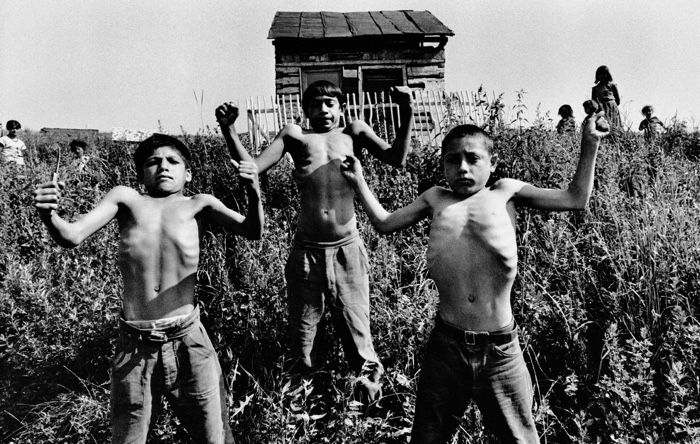 Josef Koudelk, Gypsies, Zehra, Czechoslovakia. 1967. © Josef Koudelka | Magnum Photos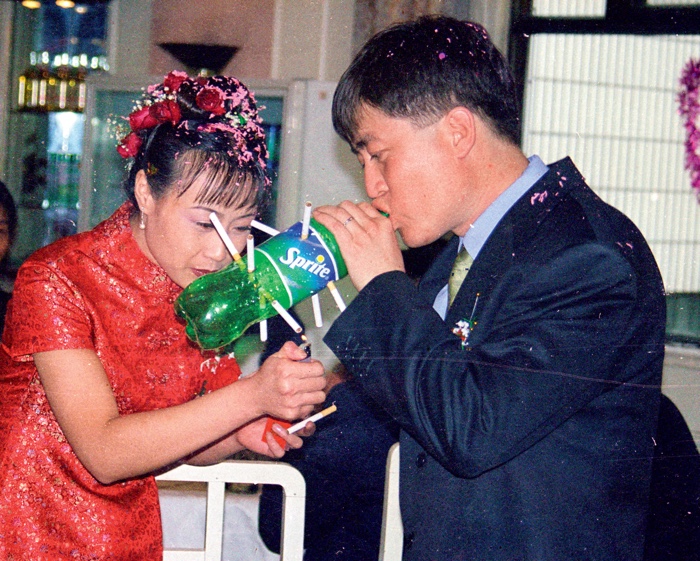 Thomas Sauvin, Chinese Wedding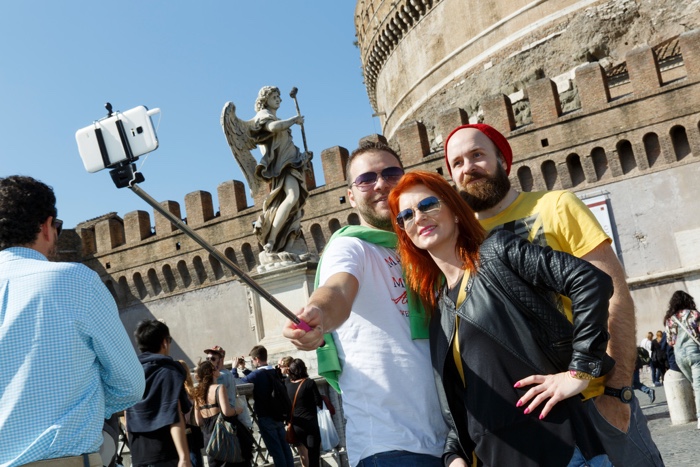 Martin Parr, Outside the Vatican Museum, 2014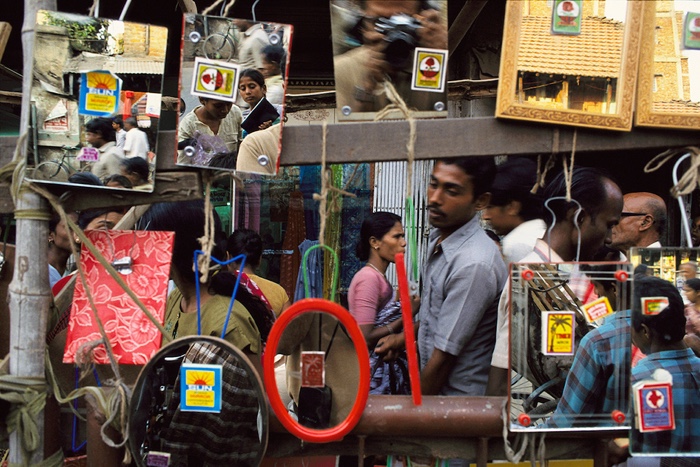 Raghubir Singh, Pavement Mirror Shop, Howrah, West Bengal, 1991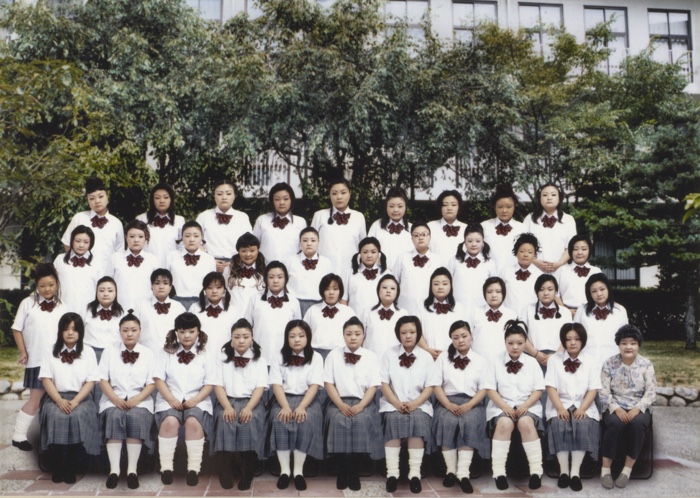 Tomoko Sawada, from School Days, 2004
Spreads: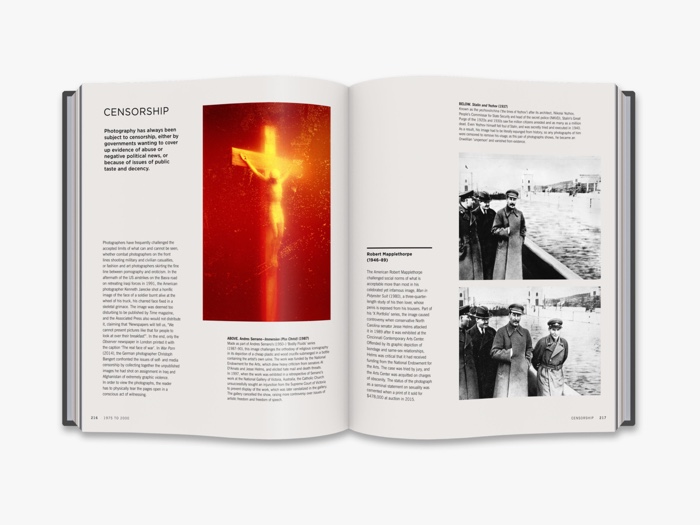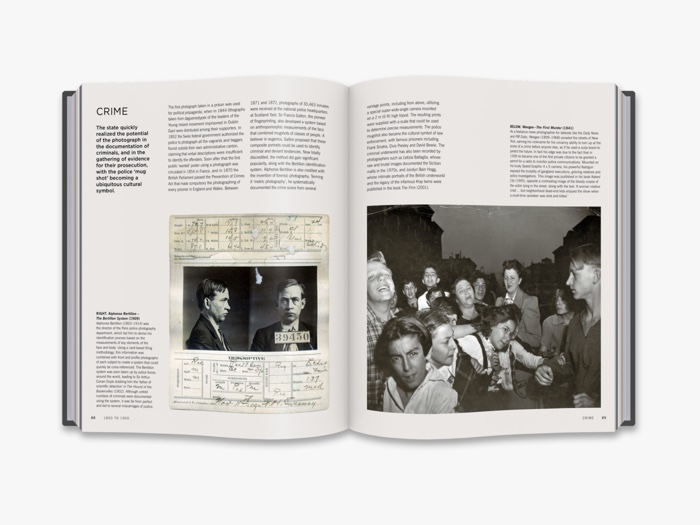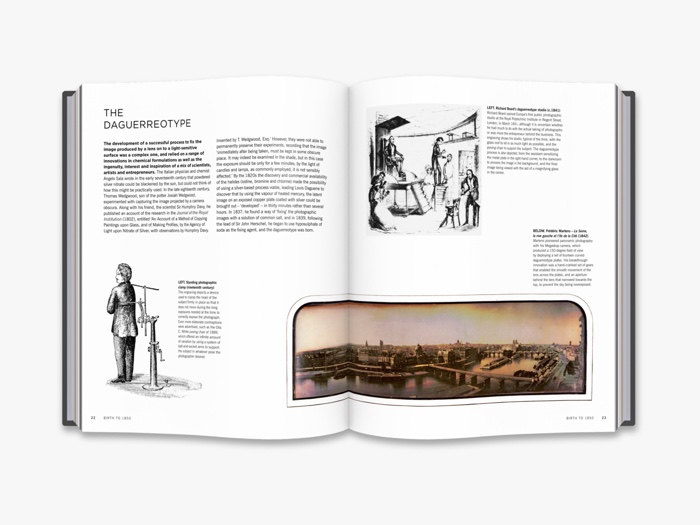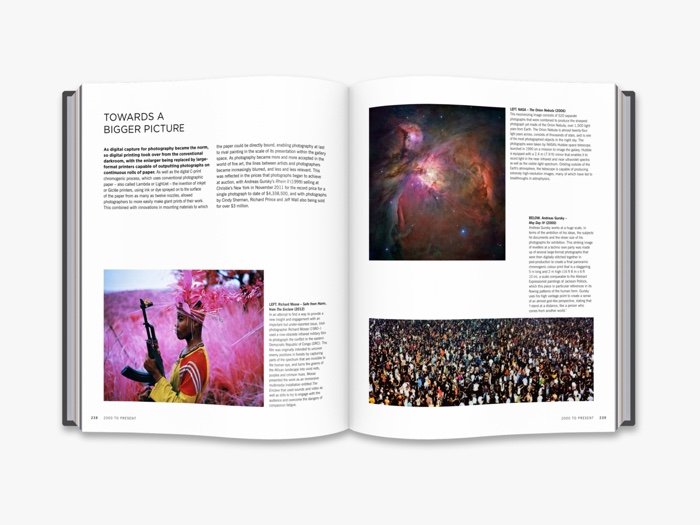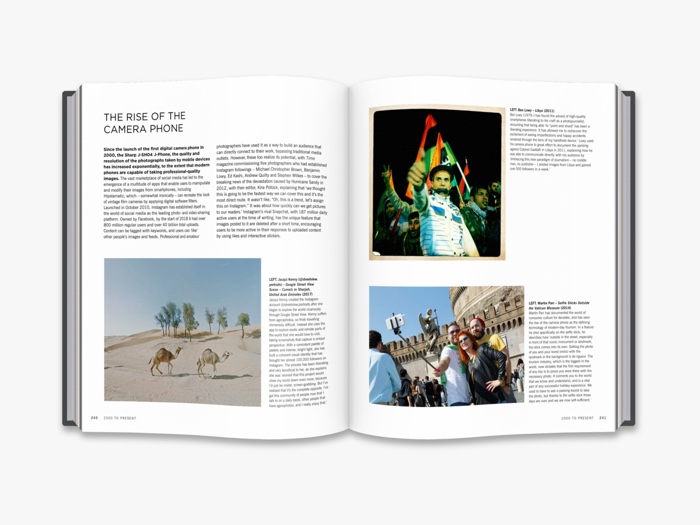 Related stories: Nonhuman Photography, Making It Up: Photographic Fictions, The Edge of the Earth. Climate Change in Photography and Video, Faceless. Re-inventing Privacy Through Subversive Media Strategies, Photography and its ghostly footprints, Watching You Watching Me. A Photographic Response to Surveillance, Strange and Familiar: Britain as Revealed by International Photographers, etc.