Electroland's new work EnterActive is now live at the Met Lofts apartment building, 11th and Flower streets, in Los Angeles. A luminous field of red LED lights embedded into the entry walkway respond to the moves of visitors. When the walkway interactivity is triggered the impact is mirrored on a eight-story grid of LED panels on the building facade. When completed, a video camera facing the building will transmit images to a plasma screen in the lobby, so visitors inside can see the effect their footwork is having outside.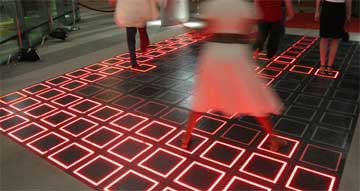 The digital carpet is made of tiles embedded with sensors that send LED lights pulsing as people walk
The project is but one of many examples of artists and designers using tracking technology to create engaging experiences in public spaces.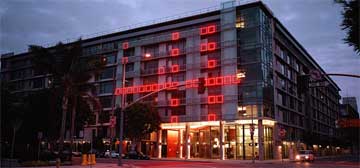 Ellen Lupton, curator of Design Life Now which opens at the Cooper-Hewitt National Design Museum in New York on Dec. 8, credits Diller & Scofidio with setting the pace for surveillance-themed media works in the early 1990s. "For probably 15 years, way before 9/11, they were doing a lot of work dealing with surveillance that used cameras and video and airport security X-ray machines," she says. 2 examples: Facsimile and Refresh.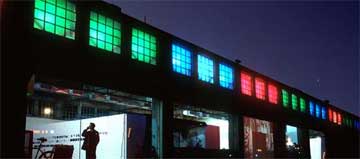 For their first collaboration, in 2001, Cameron McNall and Damon Seeley of Electroland devised RGB, an installation at the Southern California Institute of Architecture that enabled cellphone users to call a designated number and, using the keypad, activate red, green and blue lights stretched along the 81 windows of a campus building, raising issues concerning private interaction and control of public spaces. Video.
Target Interactive Breezeway , another project recently completed at the Rockefeller Center in New York, electronically "tags" visitors and tracks them via LED panels in the ceiling. Video.
More surveillance-themed projects are in the pipeline. In about 18 months, an electronic vitrine on the facade of NoHo Commons, a residential-retail complex being built in North Hollywood, will display "wipes" of alpha-numeric messages in response to passing cars. And an Indianapolis airport pedway, scheduled for completion in 2008, is designed to literally connect the dots between travelers, who are "assigned" overhead discs of light as they travel to and from the parking lot. The projects are documented on Electroland's website.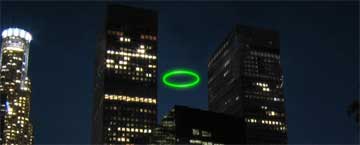 Another of their latest projects looks awesome. Last year, Electroland won a competition for an installation at the City National Plaza Towers, Los Angeles. Unfortunately the client abandoned the project. One of their proposal was the Interactive Ring that would sit in the plaza between the towers. At night it would rise slowly, take its place 150 meters in the sky and change color and intensity in response to activity along a circular paving in the plaza below.
Also by Electroland: Interactive Walkways, Urban Nomad Shelter.
Via archinect LA Times.