X-Ray Architecture, by architecture historian Beatriz Colomina.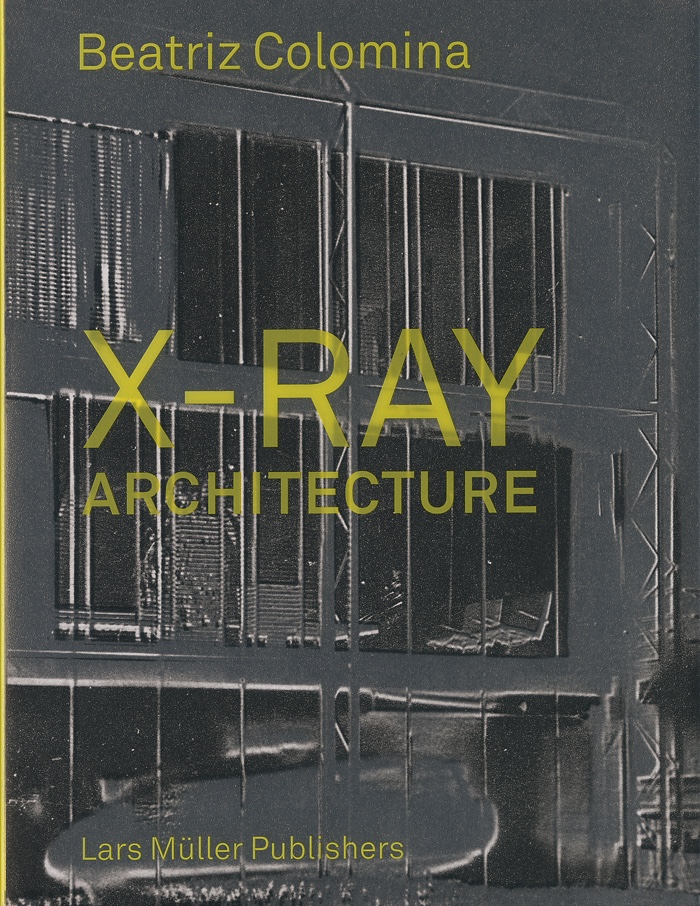 Publisher Lars Müller writes: Modern architecture and the X-ray were born around the same time and evolved in parallel. While the X-ray exposed the inside of the body to the public eye, the modern building unveiled its interior, dramatically inverting the relationship between private and public. Architects presented their buildings as a kind of medical instrument for protecting and enhancing the body and psyche.
Beatriz Colomina traces the psychopathologies of twentieth-century architecture—from the trauma of tuberculosis to more recent disorders such as burn-out syndrome and ADHD—and the huge transformations of privacy and publicity instigated by diagnostic tools from X-Rays to MRIs and beyond. She suggests that if we want to talk about the state of architecture today, we should look to the dominant obsessions with illness and the latest techniques of imaging the body—and ask what effects they have on the way we conceive architecture.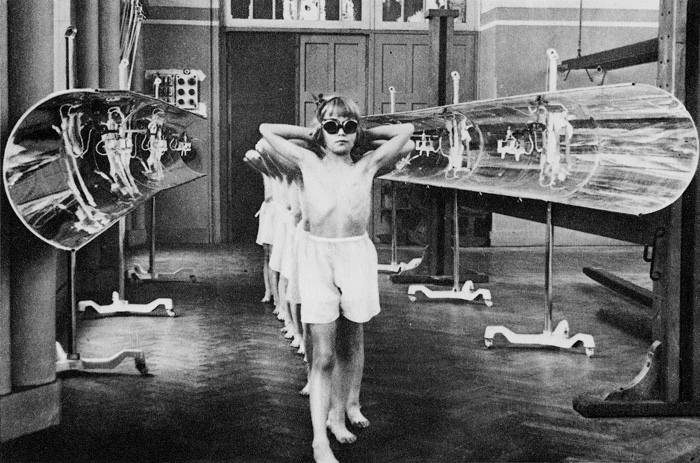 Children during a heliotherapy session, 1937. From: Le Visage de L'enfance (Paris: Horizon, 1937), p. 201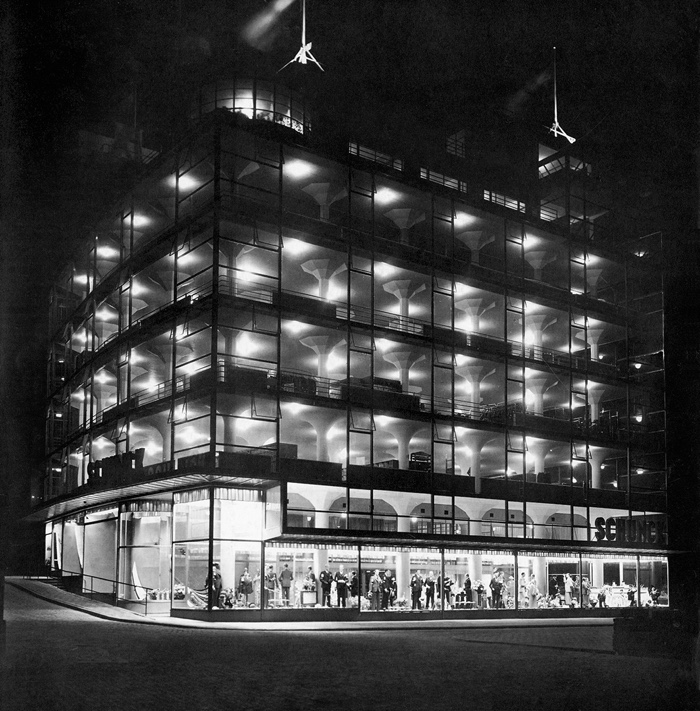 Frits Peutz, Schunck Glass Palace, Heerlen, the Netherlands, 1935
The machine we live in is an old coach full of tuberculosis, wrote Le Corbusier in his 1923 essay Towards a New Architecture.
He and many of his fellow modern architects made it one of their missions to expel tuberculosis and other diseases from buildings. It wasn't just the health of patients that was to be restored but everyone's. After all, some of these architects believed, we are all sick to some varying degrees.
Beatriz Colomina (whose previous publications The Radical Architecture of Little Magazines 196x-197x and Domesticity at War i greatly enjoyed) unravels the links between Modern Architecture, tuberculosis and X-ray, the technology associated with it. The hypothesis that tuberculosis helped make modern architecture modern sounds like a bold one but Colomina is very convincing when she explains how architecture responded to the anxieties of a society obsessed with fresh air, sun light, the spreading of germs, physical exercise and hygiene.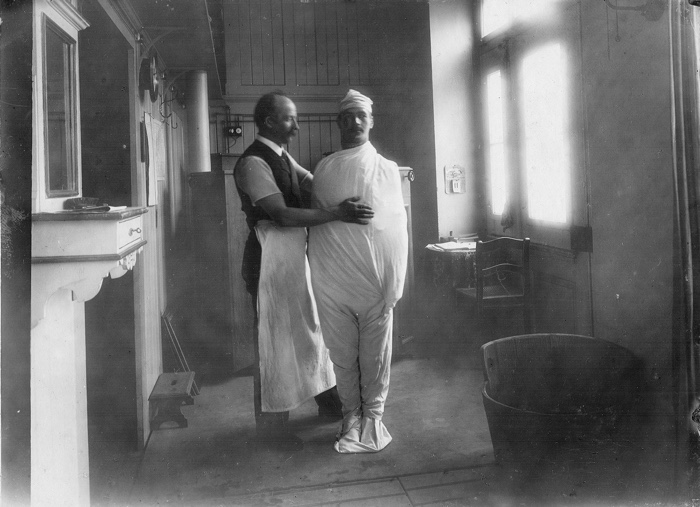 Hydrotherapy at the sanatorium "Lebendige Kraft," full body wrap by Dr. Maximilian Bircher-Brenner, Zurich, 1910. Universität Zürich, Institut für Medizingeschichte Bircher-Brenner-Archiv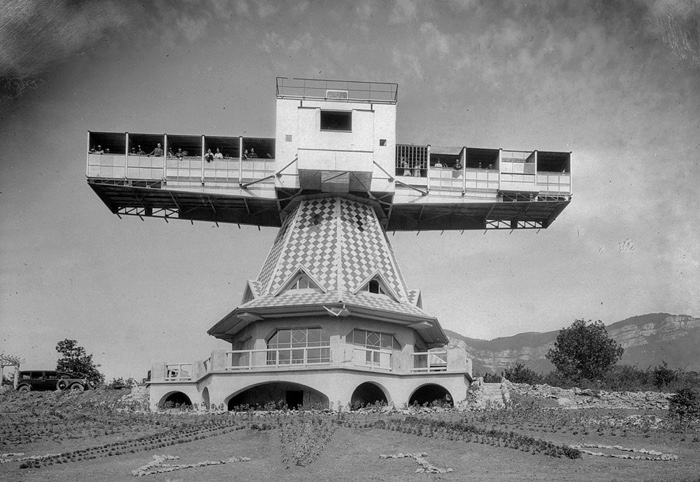 Dr Jean Saidman, Revolving Sanatorium in Aix-Les-Bains, France, 1930. Photo by Fox Photos/Getty Images
The general consensus at the time was that a patient suffering from TB needed to live and breathe in an environment that would dry out the inside of their body. Cue to architects designing domestic gym rooms for exercising as well as roofs and balconies for sunbathing.
The real testing ground of new techniques, materials, experiments and architectural innovations however, was the sanatorium. Alvar Aalto, for example, saw patients as 'horizontal clients' and adapted the architecture of the medical establishment to their supine position. The Paimio Sanatorium he designed was an integral part of the medical treatment. Radiologist Jean Saidman conceived a revolving sanatorium that ensured that patients faced the sun as much as possible.
Modern architecture aspired to heal the body but also the psyche, with smooth, white and clean surfaces that would anaesthetize bodily sensations. Buildings were thus conceived as a form of medical equipment, an exercise machine but also a cocoon sheltering the fragile psyche. Richard Neutra even claimed that his works could improve the sex life of their inhabitants.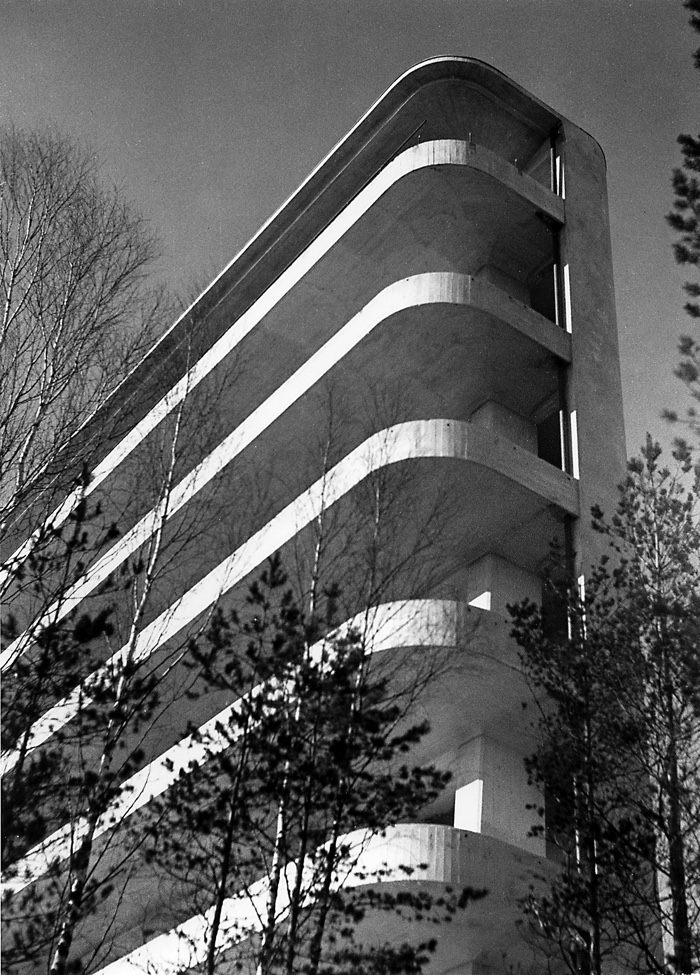 Alvar Aalto, Paimio Sanatorium, exterior view with sundeck balconies, ca. 1934. Alvar Aalto Museum Jyväskylä, Finland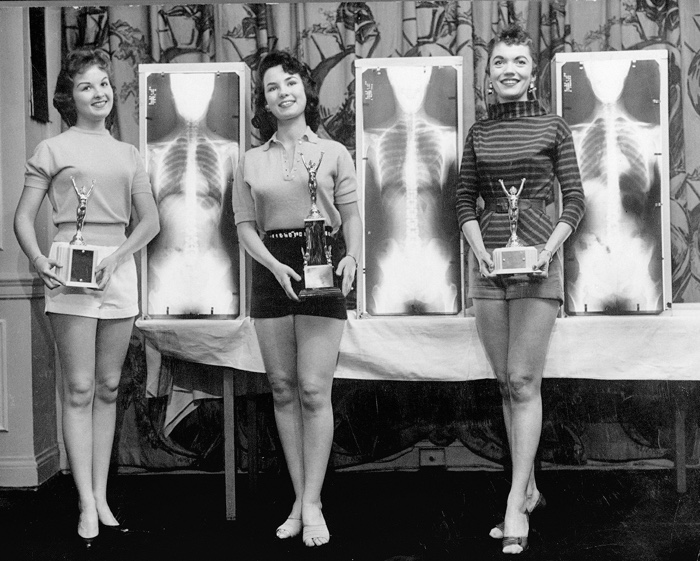 Winning models Marianne Baba (L), Lois Conway (C) and Ruth Swensen standing next to plates of their x-ray during a Chiropractor Beauty contest. (Photo by Wallace Kirkland//Time Life Pictures/Getty Images)
X-Ray had an even more profound impact on architecture. Its dicovery refashioned the perception of space and in particular the relation between inside and outside. After x-ray, modern buildings started to look like medical imaging with transparent glass walls that revealed the inner structure. Furniture, light bulbs, pyrex cookware followed their lead. And because x-ray also changed the concept of what is visible and what is invisible, the private became the subject of public scrutiny.
Colomina adds another dimension to this architecture: the blurred vision, the glass surface of the building that catches the gaze in layers of reflections of the surrounding environment. Describing the Glass House (1949) he had built, Philip Johnson compared its glass surface to a beautiful, ever-changing wallpaper.

Passive Millimeter Imaging (PMI). Front and back X- ray views of a male subject during BodySearch surveillance. Revealed on the body are bags of cocaine (shoulder, waist); scalpel blades (chest); plastic gun (back); metal gun and file (legs)
You don't have to be passionate about architecture to be engrossed in this book. The text is witty, clear and packed with anecdotes. The photos are plentiful and often astonishing (to me at least.) More interestingly, Colomina's research finds many echoes in contemporary society. The impact architecture can have on our well-being is still a contemporary preoccupation, with calls to design buildings that will encourage people to move and shed weight or with the current discussions around sick building syndrome some office workers suffer from. The quest for transparency also remains very much alive. With the difference that surveillance technology has now replaced glass walls. In short, the book might be entertaining but it also does a great job at highlighting how the architectural discipline is capable of assimilating and reflecting changes in society.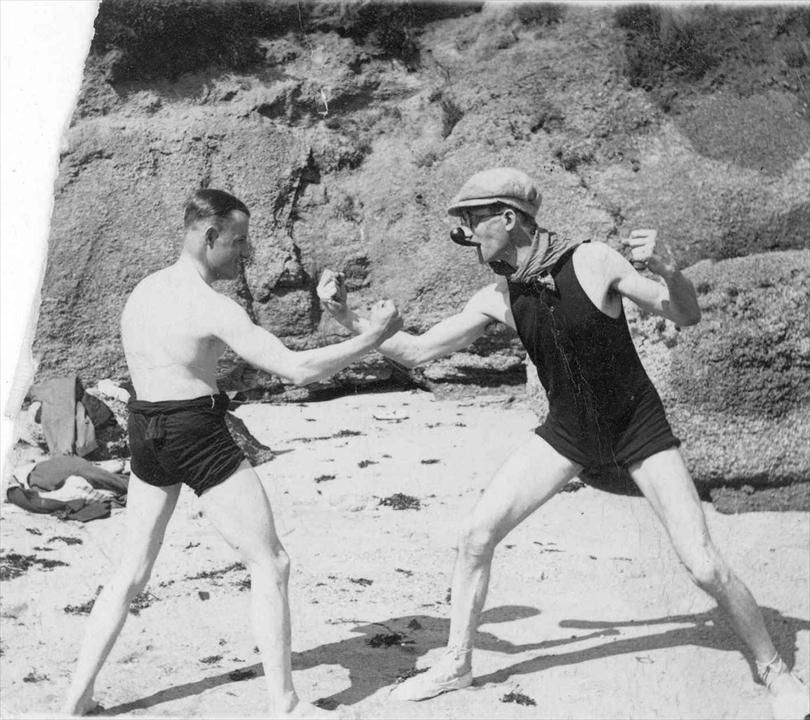 Le Corbusier and Pierre Jeanneret boxing on the beach in Piquey, 1933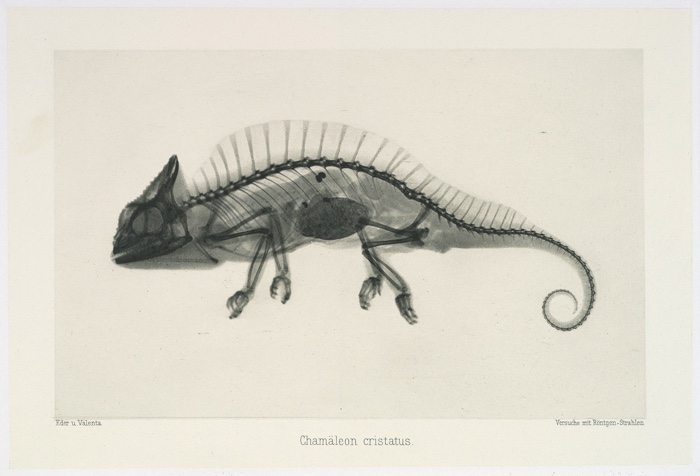 Josef Maria Eder and Eduard Valenta, Photographie mittelst der Röntgen-Strahlen, 1896, cover and Chamäleon cristatus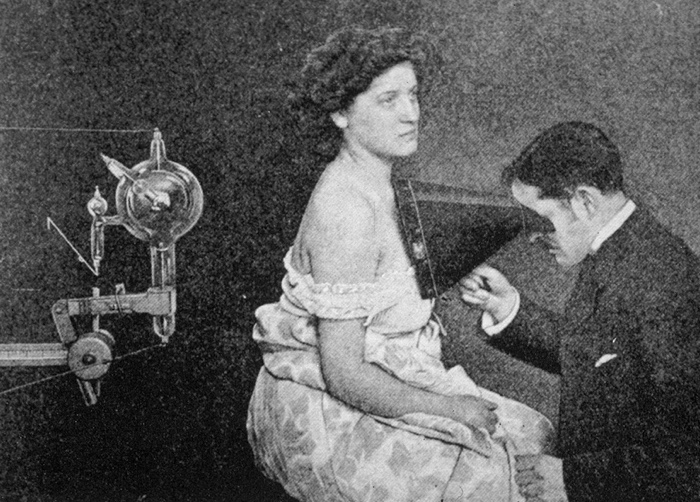 Fluoroscopy of the chest, New York Medical Journal, February 23, 1907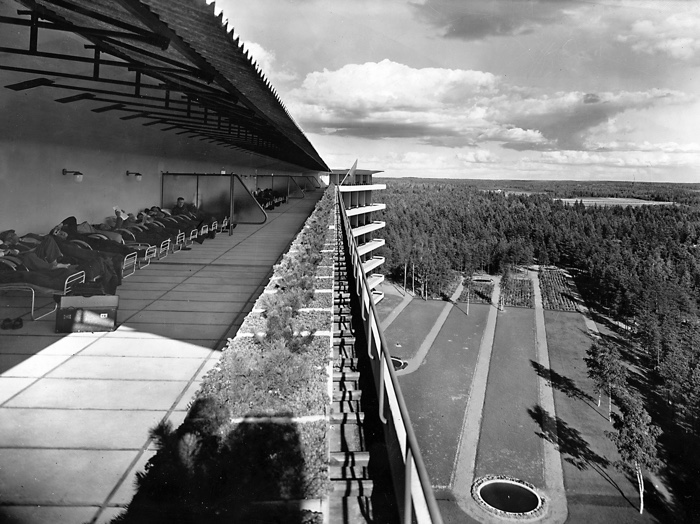 Alvar Aalto, Paimio sanatorium, upper sun terrace with patients taking the fresh-air cure, 1933. Alvar Aalto Museum Jyväskylä, Finland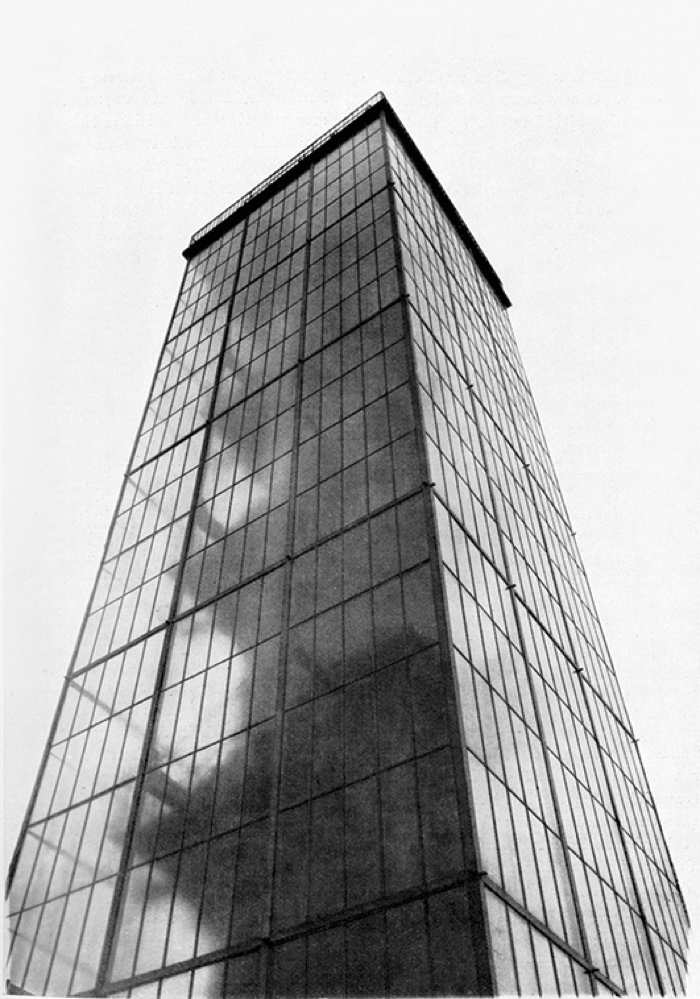 B. Čermák, the Viewing Glass Tower of the Chamber of Commerce Pavilion, Exhibition of Contemporary Culture in Czechoslovakia, Brno, 1928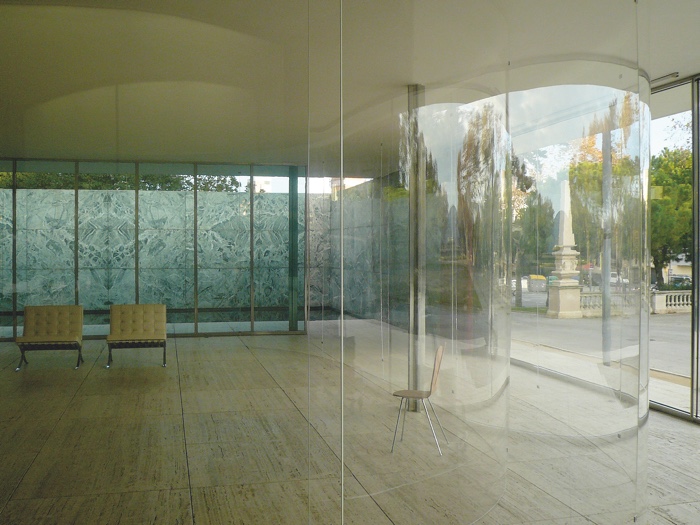 View of SANAA's installation in the Mies van der Rohe Pavilion, Barcelona, 2008. Fundacio Mies van der Rohe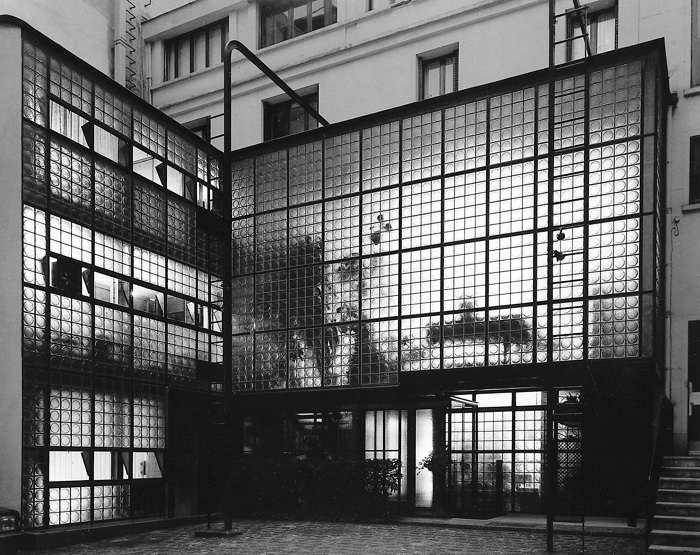 Maison de Verre, 31 rue St-Guillaume, Paris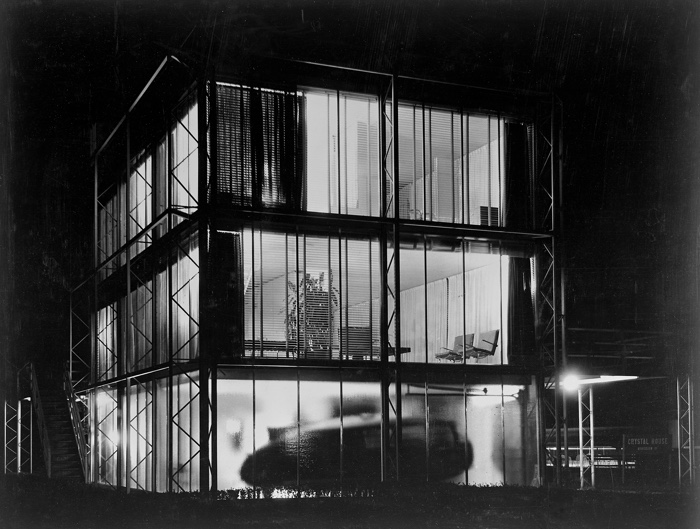 Exterior view of George Keck's Crystal House, constructed c. 1934 for Chicago's Century of Progress World's Fair. This photograph was taken at night and features R. Buckminster Fuller's Dymaxion Car parked within
Spreads: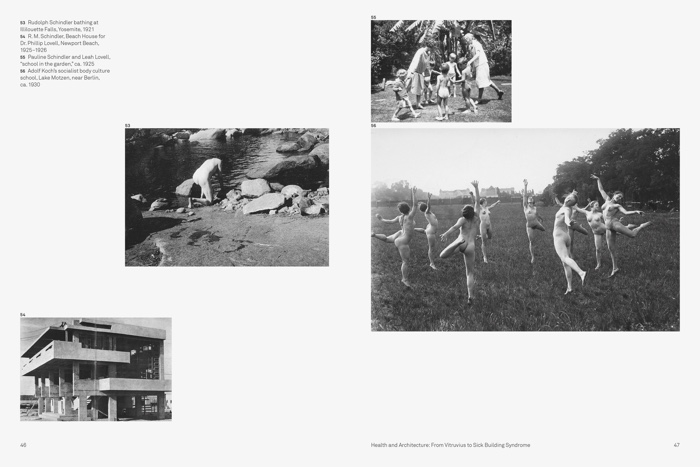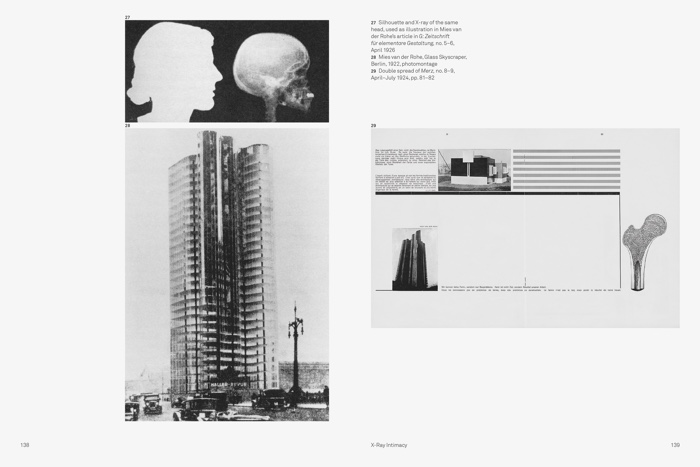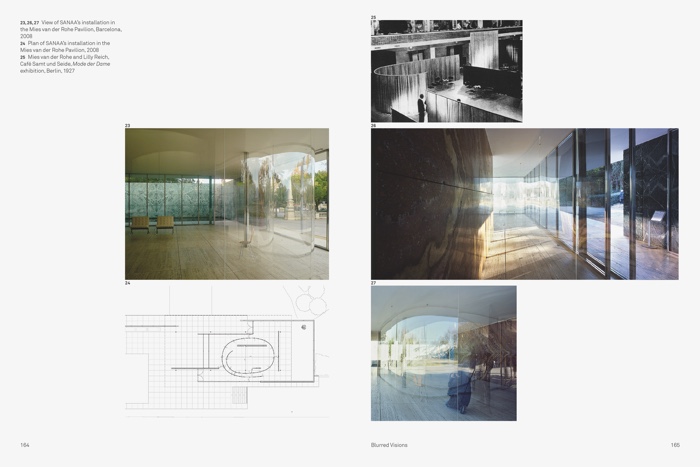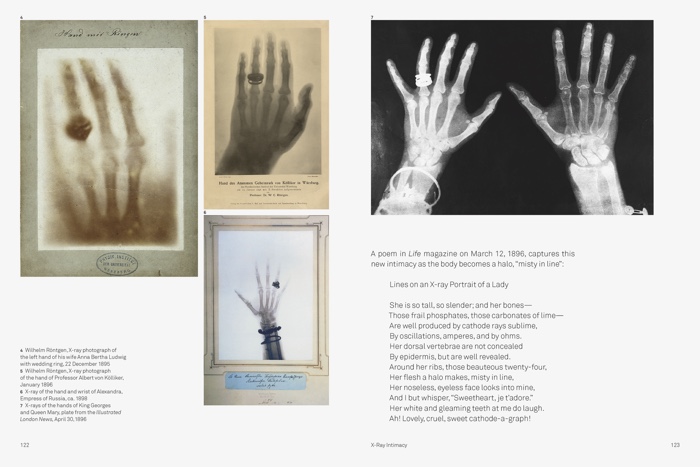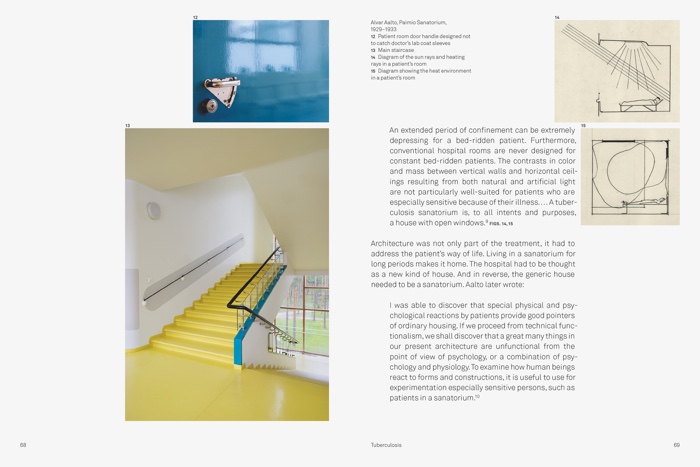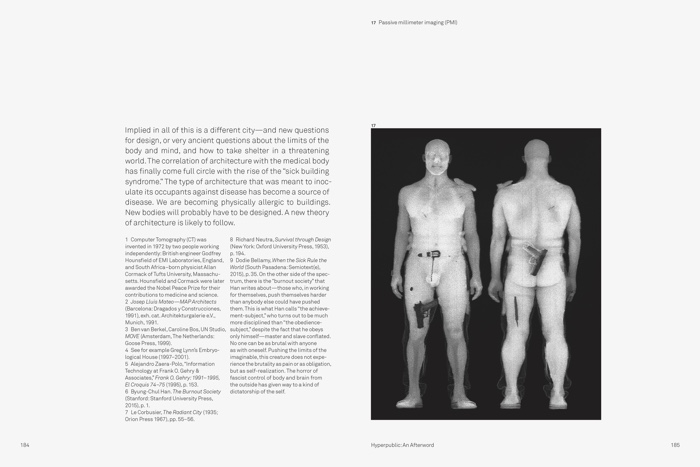 Other books by Beatriz Colomina: The Radical Architecture of Little Magazines 196x-197x and Domesticity at War.