Previously: Winners of VIDA 11.0 announced (part 1)
The second Prize of the VIDA competition was given to Performative Ecologies, a work by young artist, architect and too rare blogger Ruairi Glynn.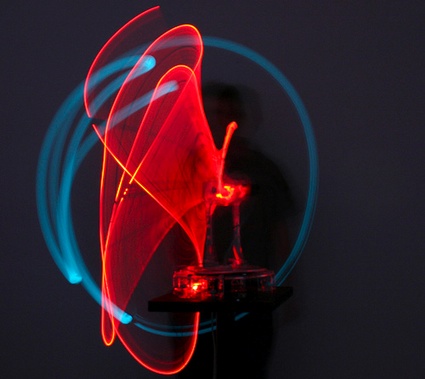 Performance Ecologies © Ruairi Glynn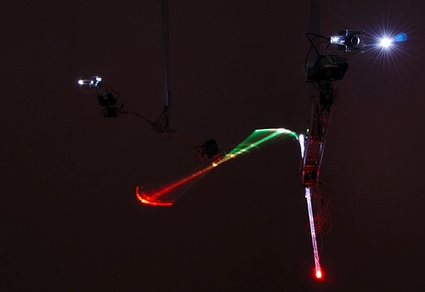 Performance Ecologies © Ruairi Glynn
Performative Ecologies is made of 4 independent 'creatures' that observe the public and dance for them. At the beginning of the exhibition, the creatures are rather dumb, they have little understanding of the way to move their heads and react to visitors. The only instinct they have is 'to be looked at" so they search their environment for people. As soon as their camera has detected that someone is watching them, they start dancing in order to keep the attention on them. In the beginning, they perform randomly. As time passes however, the little machines learn which kind of dance is more successful with observers, they improve their movements and choreography. They become increasingly smart and informed.
The dancers learn and behave as individuals. In fact, they even compete with each other to get your attention. But they also form a community. When foreigners are out of the room, the dancers share what they have learnt. Just like what happens in real life, their relationships is based on mutual understanding but also on disagreement.
Glynn believes that his role is not to come up with a pre-choreographed set of 'interactions', he merely built an environment for these creatures and gave them the ability to develop their own individual personality. Instead of working on the usual action-reaction mode that characterizes many of the so-called 'interactive installations', Performative Ecologies evolves through a series of experiences that generate genuine and new information, unexpected results and multiple layers.
The third prize of the competition went to Chico MacMurtrie's Sixteen Birds.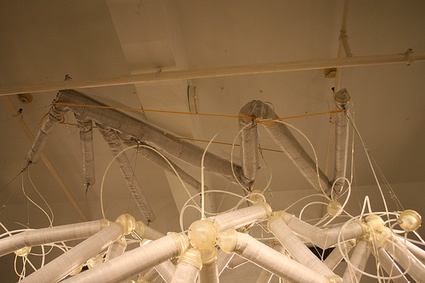 Sixteen Birds © Chico McMurtrie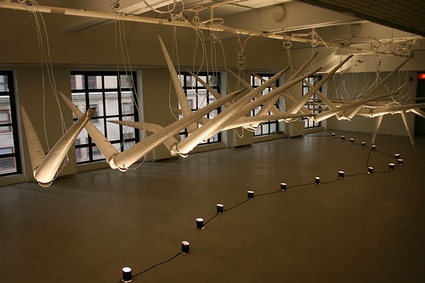 Sixteen Birds © Chico McMurtrie
The inflatable robotic birds extend and move their wings in a coordinated flight-like motion as they sense the presence of visitors. But beware! If people come too close and in too high a number, the birds suffocate and deflate, as if deperishing. A strong environmentalist position is already implicit in the bio-mimetic shape of the birds, and is reinforced in other features of the work. For example, in the first exhibition of Sixteen Birds, the configuration of the sculptural group as a whole suggested the flow of the local river, threatened by over-development.
Ruair Glynn made a brilliant little video about the VIDA exhibition: