The major Spanish net communities, Barrapunto, Bandaancha.st and Ayudaadsl, as well as numerous forums and blogs are expressing their disapproval of the way one of the major national newspaper, 'El País', is despising them.
A few days ago the daily published an article in which music piracy and organized mobs, mafias and drug dealers were mixed indiscriminately.
More recently, the biggest gathering of web surfers in Spain, the "Campus Party" held in Valencia, was harshly attacked in an article entitled:"El festival de las descargas porno y del pirateo termina a toda máquina" / "The festival of porno downloading and obsessive piracy".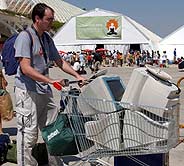 The author hardly said a word about the debates or workshops which had nothing to do with piracy or pornography.
From IBLNews.