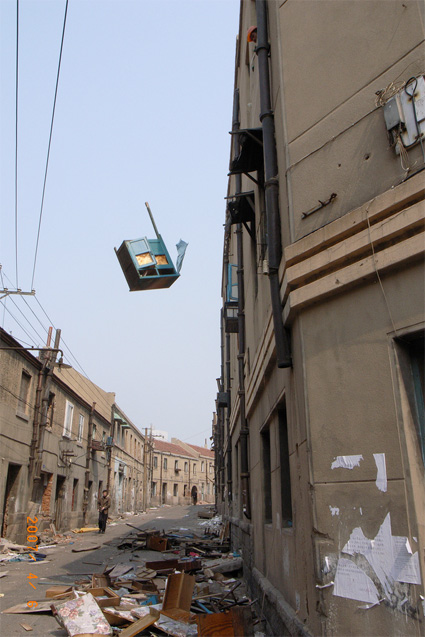 Qingdao (Shadong. © Ren Xihai, 2007
So much has been said and written about contemporary China. A fifth of humanity lives within its boundaries, the country is undergoing extraordinarily fast mutations, its cities dwarf whatever idea Europeans might have of a metropolis and its economy is increasingly linked to ours. Yet, i doubt there are many people out there who could honestly pretend they understand or 'know' the 'Middle Kingdom.' In fact, the splendor and history of imperial China is probably clearer in most minds than the country as it is nowadays.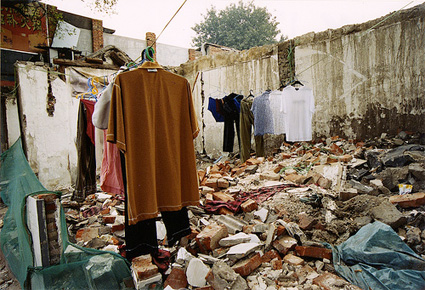 Pekin (Beijing), an hutong demolition. © José Antonio Soria

One hundred signs of demolition 'Chai' painted on houses that have to be bulldozed. © Wang Jingsong, 1999
The exhibition In the Chinese city. Perspectives on the transmutations of an Empire currently on view at the CCCB in Barcelona gives an overview of the recent processes of construction and implacable deconstruction that the country is undergoing and puts them into a historical and cultural context.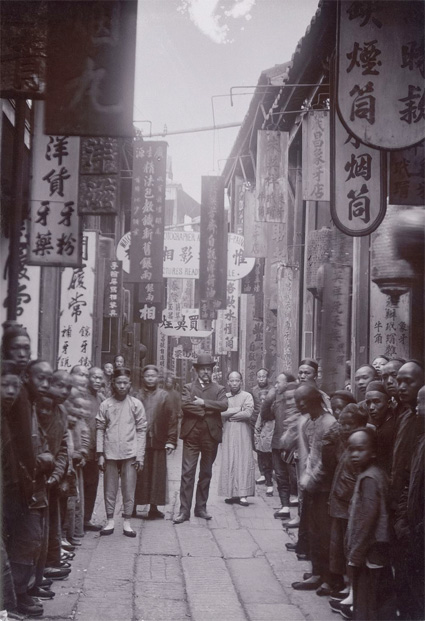 China: Street scene in Canton. © Misión 21: BMA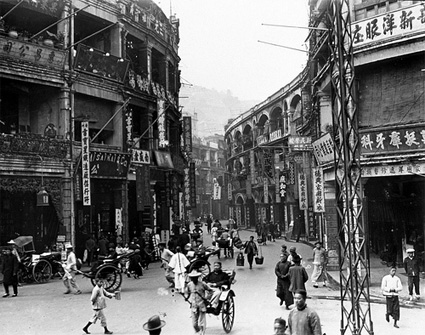 Shopping street in Canton/ Guangzhou around 1930. © akg-images / Richard Fleischhut
The show is split into a dozens sections linked between themselves by a Chinese word or concept that leads visitors through the urban design, architecture, landscape and infrastructure of various Chinese cities.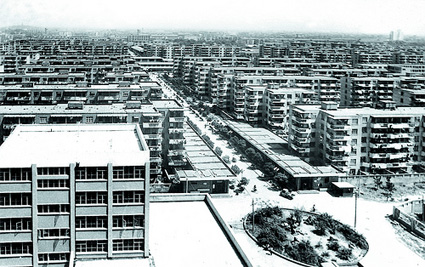 The "new town Caixiangxincun", neighbourhood built in 1980 in Suzhou. © Comité municipal de compilación de las anales locales de Suzhou
Archeological artefacts, maps, spectacular photographies guide visitors to the most exotic places: along the coast of Guangdong province where more than 100 000 workers recycle computers and other electronics waste products shipped from Japan, South Korea and the U.S. Or to Chongqing, a mountain city counting some 32 million inhabitants where bang bang workers carry huge amount of goods on their shoulders and to the Dafen Oil Painting Village, a village that churns out around the world about five million paintings every year — most of them copies of famous masterpieces.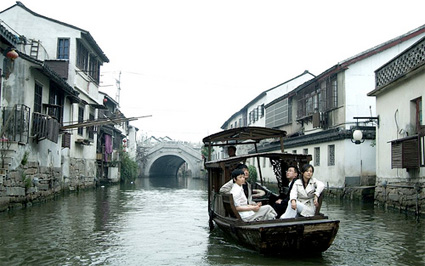 "Cry me a river", film for the exhibition about the city of Suzhou. Director: Jia Zhangke. © Xstream Productions Ltd./CCCB/Cité de l'architecture et du Patrimoine
The most moving part of the show comes in the form of short movies shot by five young movie directors who present their personal visions of five cities. Jia Zhangke -whose previous movie Still Life won the Golden Lion at the 63rd Venice International Film Festival- portrayed Suzhou, the 'eastern Venice' in a short titled Heshang de aiqing (Cry Me a River).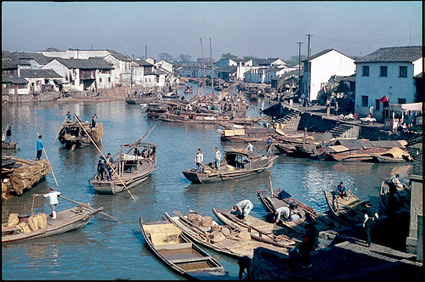 Channels in Suzhou, 1966. © Solange Brand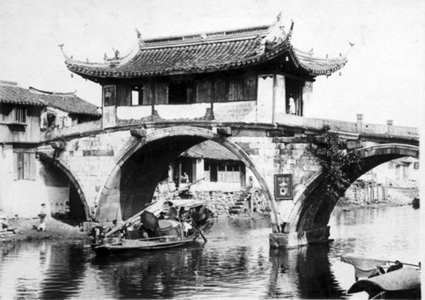 Pufu bridge, built during the Ming Dinasty and destroyed in 1969 during the cultural revolution. © Comité municipal de compilación de las anales locales de Suzhou, 1930
Suzhou is remarkably well 'preserved' compared to other Chinese cities (most famously Beijing) who have felt the pulverizing wrath of modernization. According to Ruan Yongsan, who used to work at the Office of Building in Suzhou, there is no law that protects monuments in China, only labels given to 'famous, historical and cultural cities'. China is finally starting to awaken to the need to save its patrimony and some fear that authorities might want to erect some fake authentic buildings where monuments have been destroyed.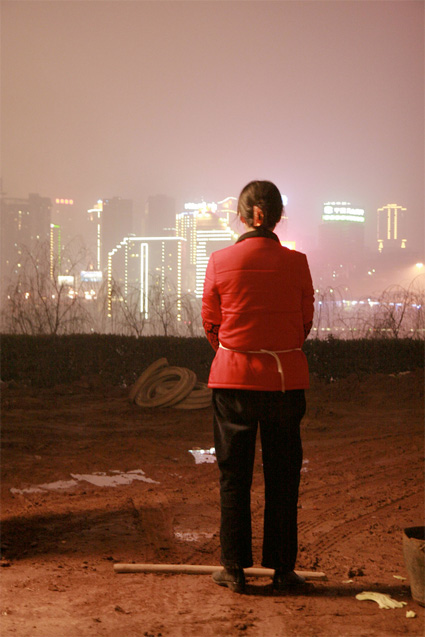 "Waiting", film for the exhibtion about the city of Congqing. Director: Peng Tao. © X Stream/CCCB/Cité de l'architecture et du Patrimoine
Interestingly, the exhibition is coupled with a series of debates and presentations that deal with delicate and controversial topics such as Tibet or political prisoners.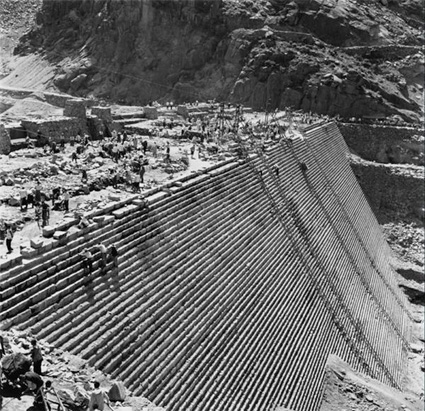 Shimen (Henan) © Zhou Zhenhua, 1975
In the Chinese City is a co-production between the CCCB and la Cité de l'Architecture et du Patrimoine de París. On view at the CCCB in Barcelona through February 22, 2009.
If you can't make it to Barcelona, i'd recommend the catalog of the exhibition, In the Chinese City published by Actar. There's an english/french version, a catalan and a spanish one. I bought a copy at CCCB and forgot it in a hotel room. I wish i would not do this kind of silly acts so regularly.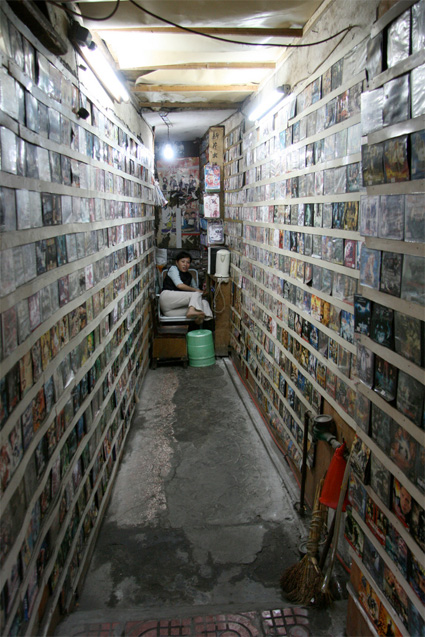 Chongqing, music shop. © José Antonio Soria, 2007
Image on the homepage: "Espera", film for the exhibition about the city of Chongqing Director: Peng Tao. © Xstream Productions Ltd./CCCB/Cité de l'architecture et du Patrimoine.