SNØBALL is a physical game that mimics the ancient play of snowball throwing.
The rapid use of fossil energy has the side effect that the traditional Norwegian winter with a lot of snow is a seldom experience for today's kids.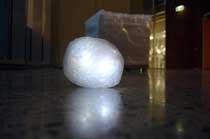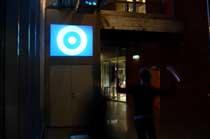 This snowball throwing substitute uses a modified web-cam to track a infra-red signal from a electronic "snowball." The snowball has a impact sensor. Each time the ball hits the wall, it triggers a projection of graphical snow-crystals and points.
The snowball circuit that is wrapped in bubble-wrap has a white led to recreate a the cool winter glow of bright winter days.
Nice video.
By Stig Skjelvik, with Jørn Knutsen (flash application programming).
The installation was a part of the interaction course REMEMBER WINTER at the Oslo School of Architecture and Design, December 2005 (Ti.mo's pictures + Jon Olav's images).
Related: Creative Collision.