Art and Climate Change, by curators, critics and art historians Maja and Reuben Fowkes. Published by Thames & Hudson.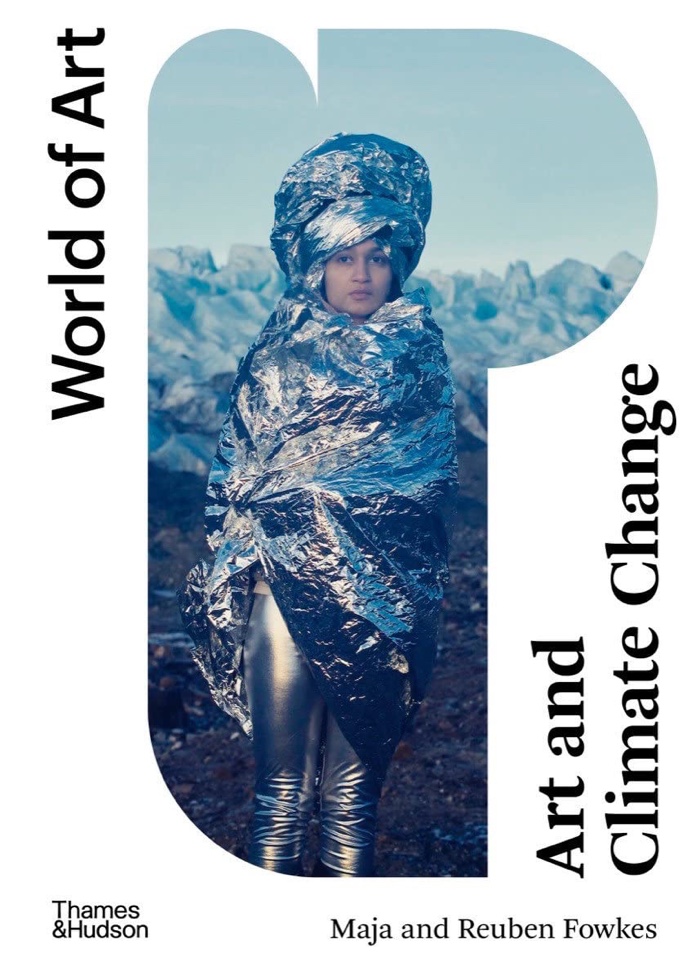 From the publisher's page: Across five chapters, curators Maja and Reuben Fowkes examine artworks that respond to the Anthropocene and its detrimental impact on our world, from scenes of nature decimated by ongoing extinction events and landscapes turned to waste by extraction, to art from marginalized communities most affected by the injustice of climate change. What guides the artists gathered together here is an ardent concern for the living, breathing subject of the Earth and all fellow terrestrials caught up in this fast-moving climate drama.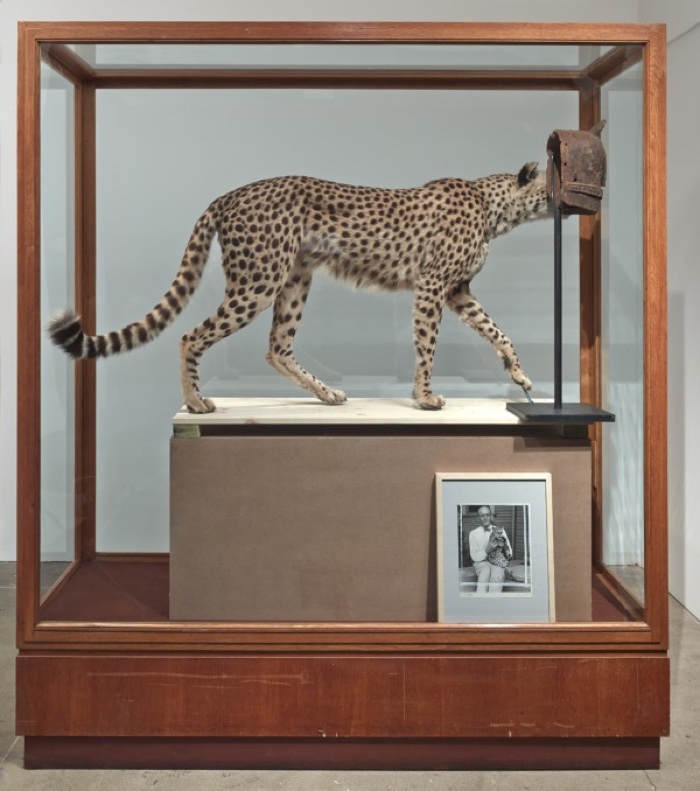 Kader Attia, Measure and Control, 2013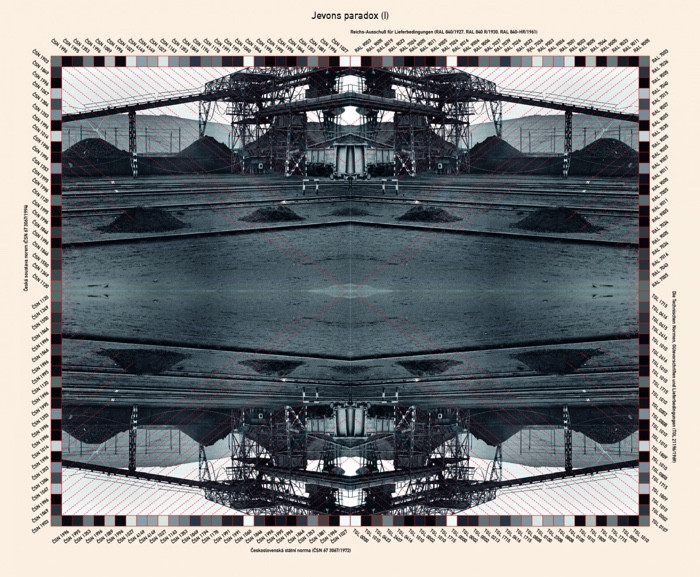 Zbyněk Baladrán, Jevons Paradox, 2020
Oto Hudec, Concert for Adishi Glacier, 2018
I've reviewed, read or just flipped through many many books about art and environmental emergencies. This one has to be the most comprehensive, sharp and enlightening of all. The reasons for my enthusiasm are numerous but I'll just mention a couple. First, the dozens of artworks I discovered in the book: many of them videos, a fair number by indigenous artists, none of them of the "I am an artist interested in the environment because it is kool" variety. I was also very impressed by the quality and extent of the academic writings mentioned: Achille Mbembe, Bruno Labour, Donna Haraway, Elizabeth Kolbert, Francoise Vergès, Marisol de la Cadena, Philippe Descola, Arturo Escobar, Kyle Powys Whyte, Isabelle Stengers, Andreas Malm, Vandana Shiva, Boaventura de Sousa Santos, Emanuele Coccia, Michel Serres, Frans de Waal, George Monbiot, Lynn Margulis, Anna Tsing, Silvia Federici, etc. The words and insights of some of my favourite philosophers, anthropologists, ethologists, feminists, environmental activists and thinkers give further depth to each of the chapters.
Oliver Ressler, Carbon and Captivity (excerpt), 2020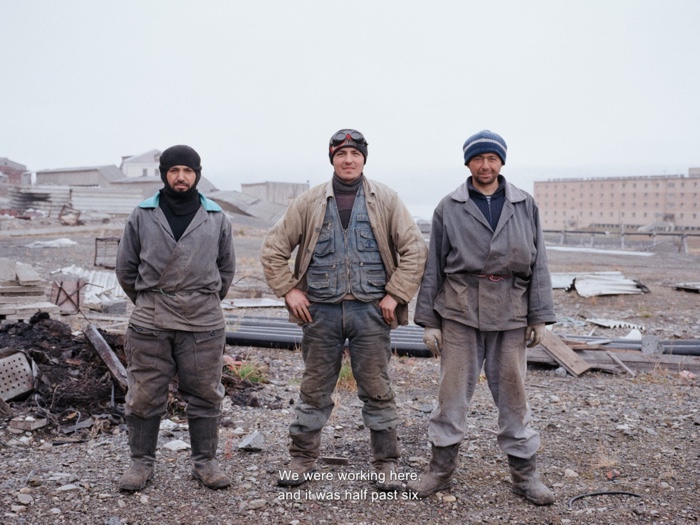 Ieva Epnere, Four Edges of Pyramiden, 2015
The wide range of topics covered is remarkable. Some of them have become classics of art & climate change discourses. Such as the movements for land and indigenous rights in the Global South, the dangers posed by the idolatry of technology, the importance of microbial communities to sustain everything from soil fertility to human health, the urgency of giving dignity to non-human persons, botany as a colonial enterprise, the legal rights of rivers and other natural entities, etc. Maja and Reuben Fowkes also investigate themes that tend to be less explored in similar books: the detrimental implications of the contempt for weeds and the vilification of invasive species, the persistence of the military-colonial mindset, the necessity to rethink natural history museums from an animal perspective, the avian influence on the unfolding of historical events, the harmful effects of extractivism on mental wellbeing, and many more.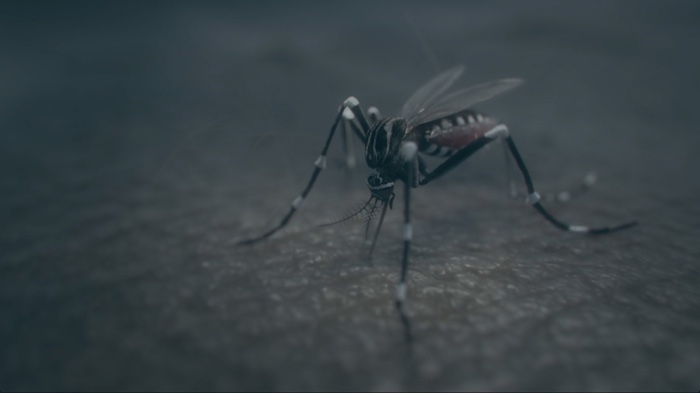 Pedro Neves Marques, Aedes aegypti, 2017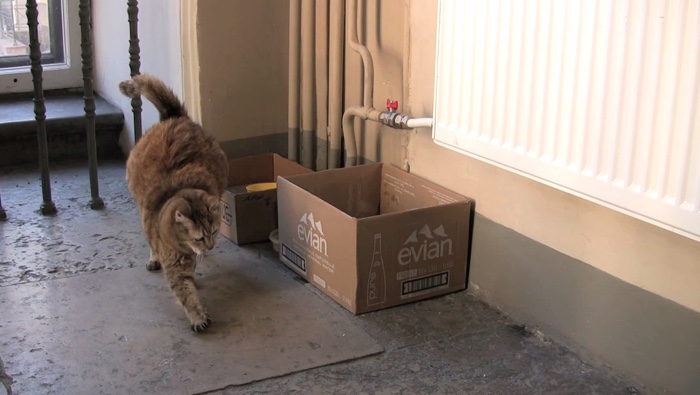 Anna Jermolaewa, Untitled (Hermitage Cats), film still, 2013
While the book is firmly anchored in 21st-century crises, it also illuminates some of today's most pressing problems with references to historical events and anecdotes. For example, the authors recount one of the earliest campaigns in the history of modern environmentalism when the painters of the Barbizon School successfully petitioned 1852 Napoleon III of France to protect the Fontainebleau Forest from the harvesting of wood for industrial purposes and disruptions cause by Parisian day trippers. Or how, under Soviet socialism, the Great Stalin Plan for the Transformation of Nature of 1948 gave state biologist (and author of questionable botanical theories) Trofim Lysenko free rein to experiment with ideologically tinged approaches such as 'floral collectivism', which saw trees planted closer together in circular formations instead of geometrical rows in order to encourage proletarian solidarity and protect against weeds and other class enemies.
The conclusions drawn by the authors of this brilliant analysis of artistic practices coming to grips with climate change are already known and, alas, notoriously difficult to implement at individual, societal and planetary levels: we need pervasive interconnectedness, we need to overcome the tendency to regard the earth as a vast set of "resources", we need to make space for a plurality of possible worlds, etc. The fact that artists, philosophers and scientists agree on that prescription tells us a lot about their discernment and integrity. Unfortunately, it also confirms their lack of power in front of the forces of neoliberal capitalism. For now.
Works I discovered or re-discovered while reading the book: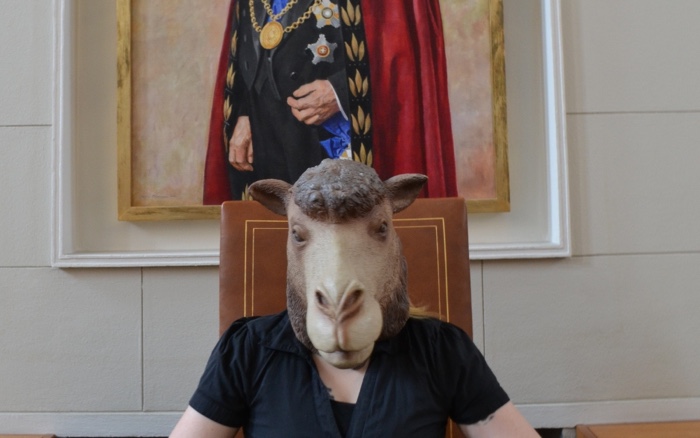 Laura Gustafsson and Terike Haapoja, The Trial, 2014. Photo Saara Hannula
The Trial was based on the 2013 Perho wolf-poaching case that saw twelve Finnish hunters convicted of illegally hunting wolves. Actors play the men were put on public trial and sentenced to imprisonment for eight years, with the judges also asked to consider whether compensation should be paid to the Perho wolf pack.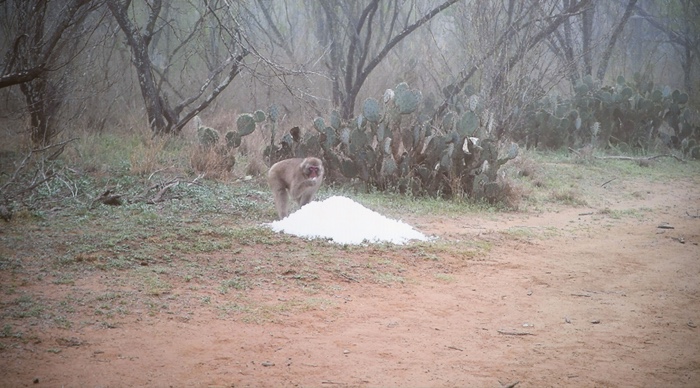 Shimabuku, The Snow Monkeys of Texas: Do snow monkeys remember snow mountains? (video still), 2016
Having spent several days with snow monkeys that had been relocated to the southern United States, Shimabuku wondered whether they still remembered their old habitat. His video The Snow Monkeys of Texas: Do snow monkeys remember snow mountains? recorded the reaction of the monkeys to a heap of snow and ice brought to them under the Texan sun.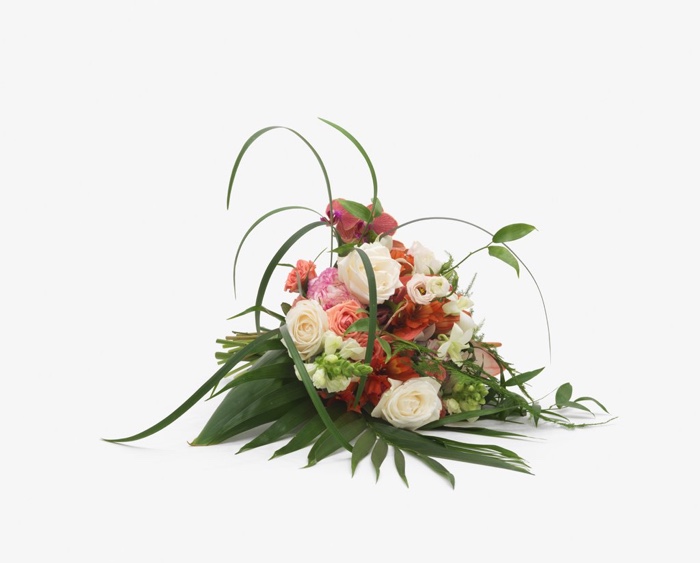 Kapwani Kiwanga, Flowers for Africa: Nigeria, 2014. Photo by Rachel Topham
Kapwani Kiwanga worked with florists and archival photographs to recreate floral displays corresponding to the decolonial transitions of the 54 countries on the African continent. The fresh flowers and foliage used in her arrangements are left to wilt and dry over the course of the exhibition.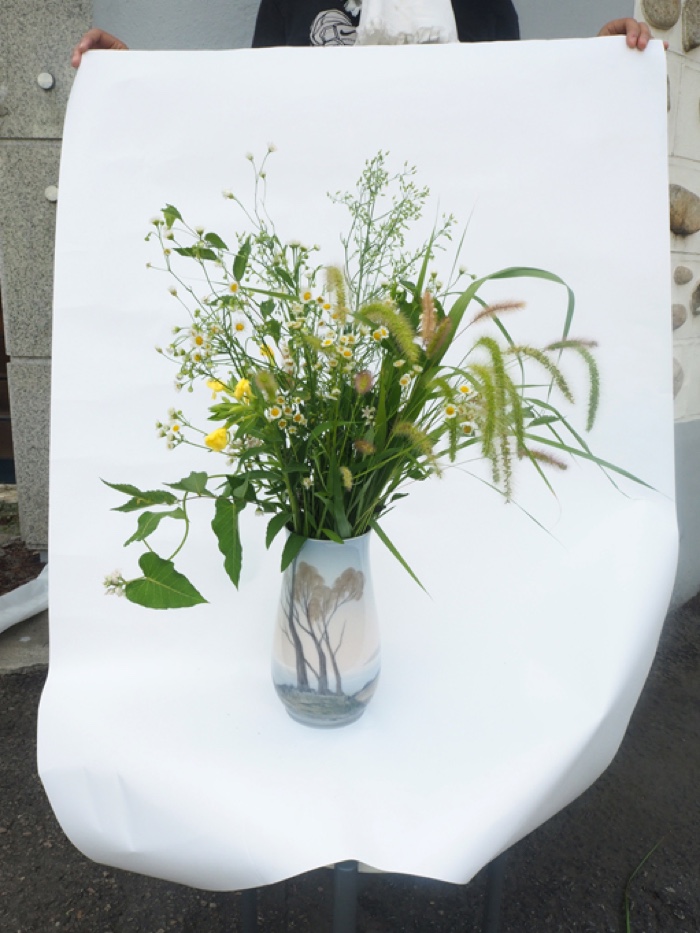 Camilla Berner, Still Alive, 2016
A "hwa-hwan" is a Korean flower arrangement used at weddings, birthdays or other celebrations. Camilla Berner's hwa-hwan bouquets differ from the traditional Korean version as they are not made out of roses, lilies etc, but out of wildflowers, weeds and grasses founds in urban wastelands and abandoned development sites.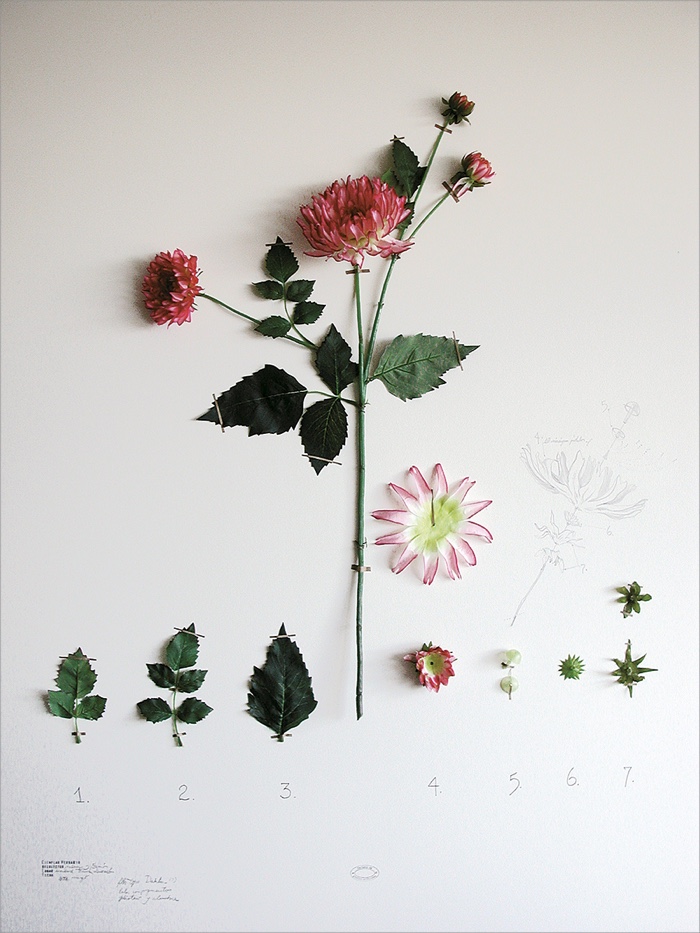 Alberto Baraya, Dahlia I, from the series Herbarium of Artificial Plants, 2006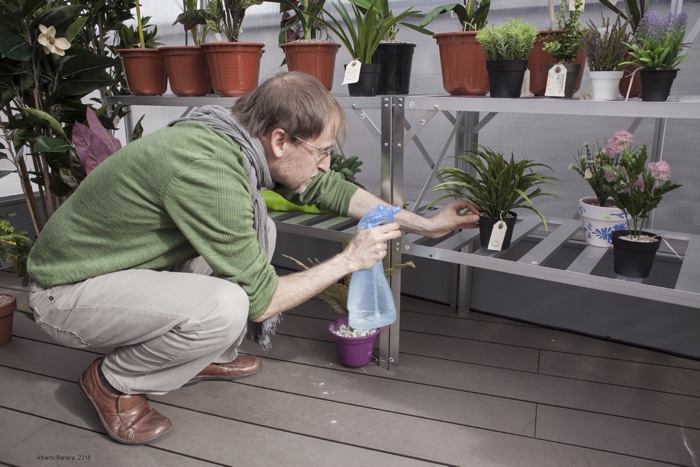 Alberto Baraya, New Herbs from Palermo and Surroundings. A Sicilian Expedition, 2018
Alberto Baraya borrowed the taxonomy procedures developed by colonial botanists in the seventeenth and eighteenth centuries to classify exotic discoveries, but with the difference that he only collected plastic plants.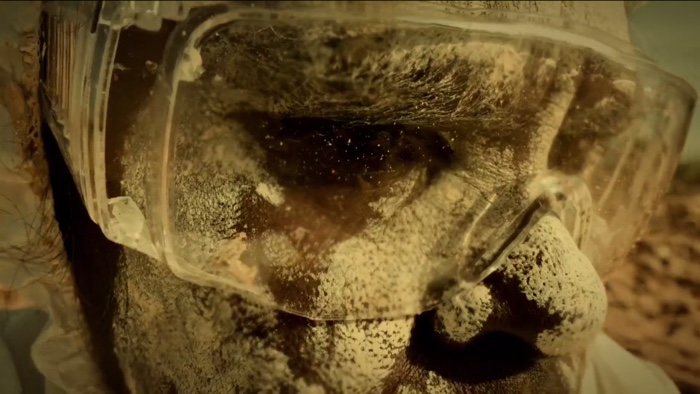 Karrabing Film Collective, The Mermaids, or Aiden in Wonderland (film still), 2018
The film The Mermaids, or Aiden in Wonderland is set in a near future when only Aboriginals can survive long periods outdoors, while the white race has no immunity to the toxic contamination and capitalist degradation it has produced.
Zheng Bo, Pteridophilia, 2016
Isuma, Qapirangajuq: Inuit Knowledge and Climate Change, 2010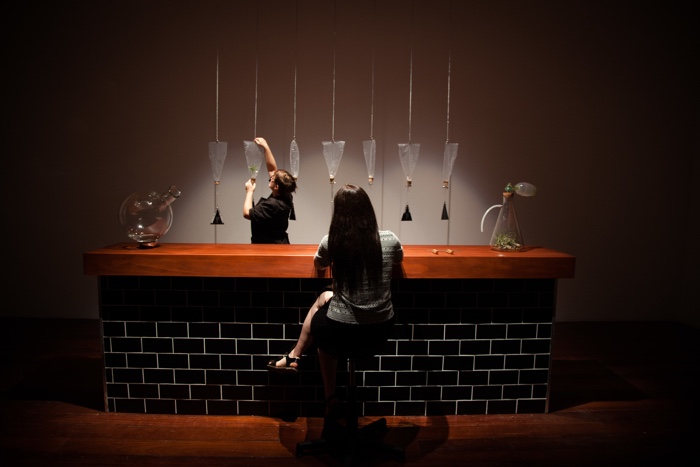 Emily Parsons-Lord, Different Kinds of Air, a Plant's Diary, 2014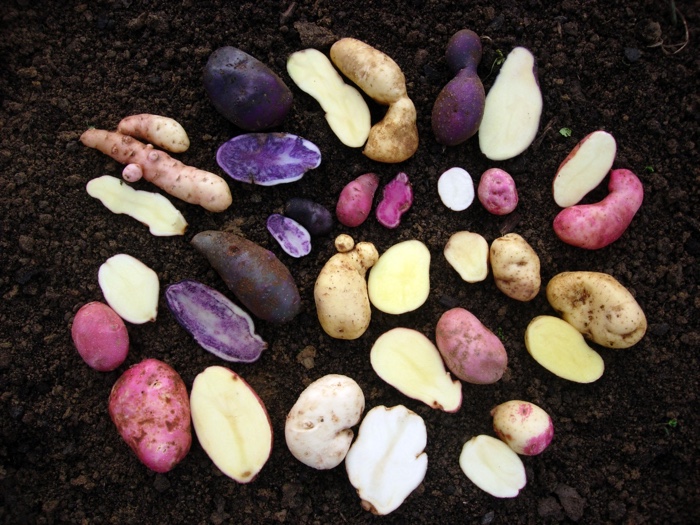 Åsa Sonjasdotter, The Order of Potatoes, 2010-ongoing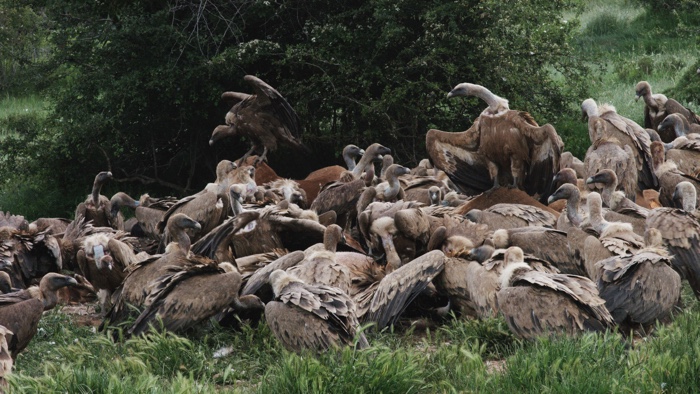 Gerard Ortín Castellví, Reserve, 2020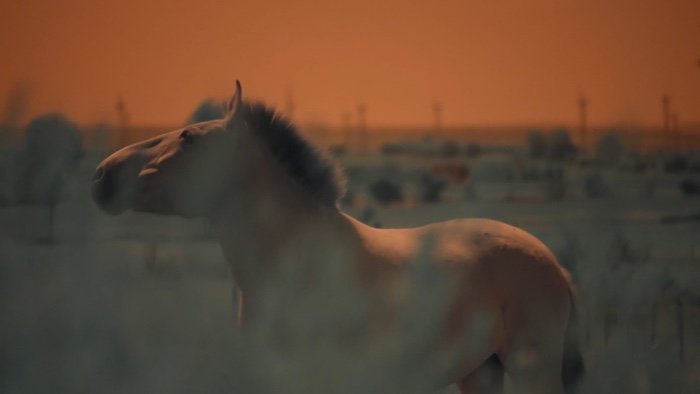 Matthew C. Wilson, Geological Evidences, 2017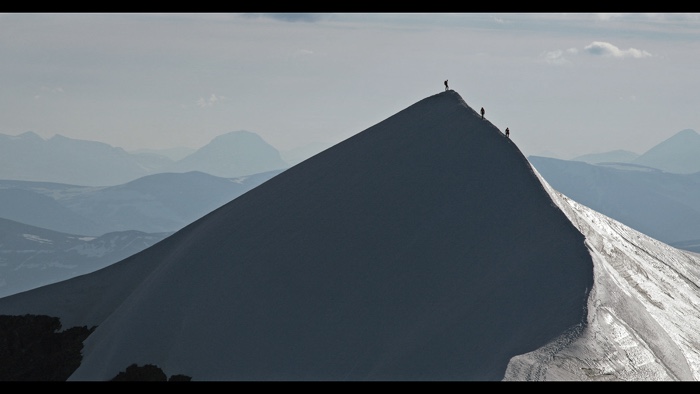 Hanna Ljungh, I am mountain, to measure impermanence, 2016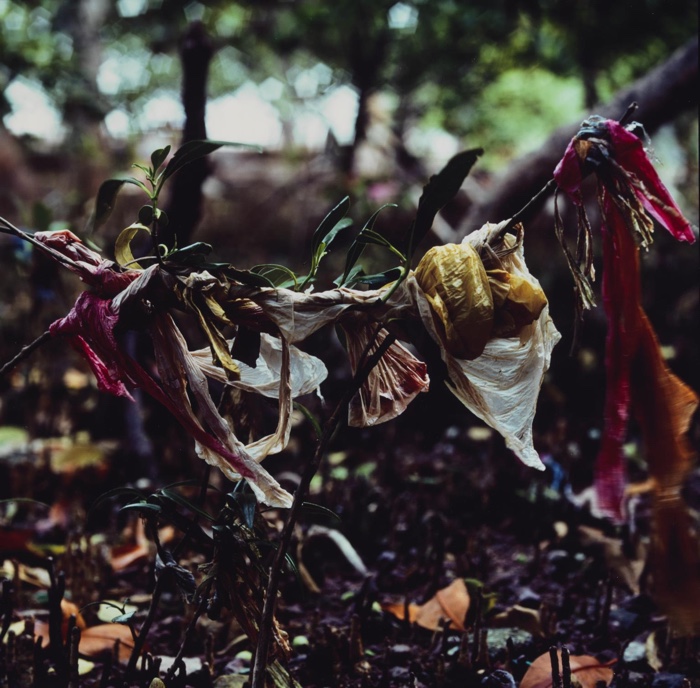 Simryn Gill, Channel #23, 2014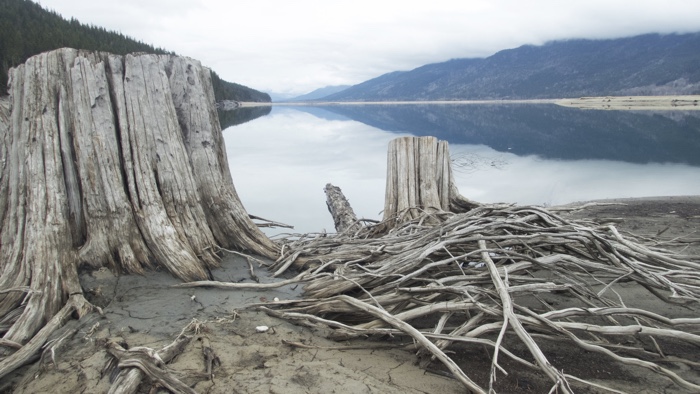 Genevieve Robertson, Still Running Water (video still), 2017–19
Thao Nguyên Phan, Becoming Alluvium, 2019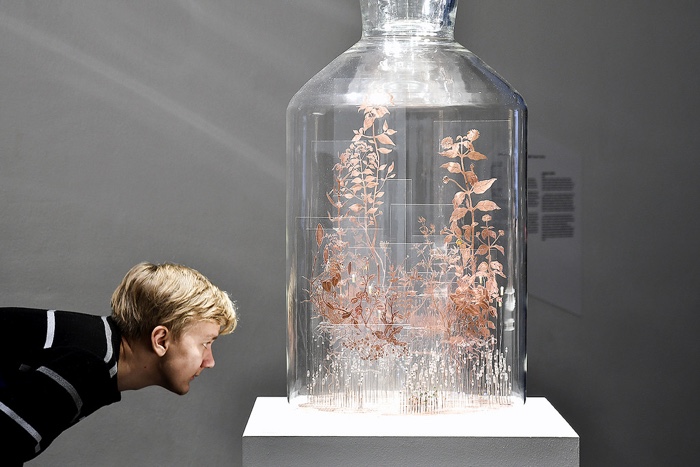 Nandita Kumar, The Unwanted Ecology, 2017

Libby Harward, Ngali ngariba, 2018–19
Sasha Litvintseva and Daniel Mann, Salarium (trailer), 2017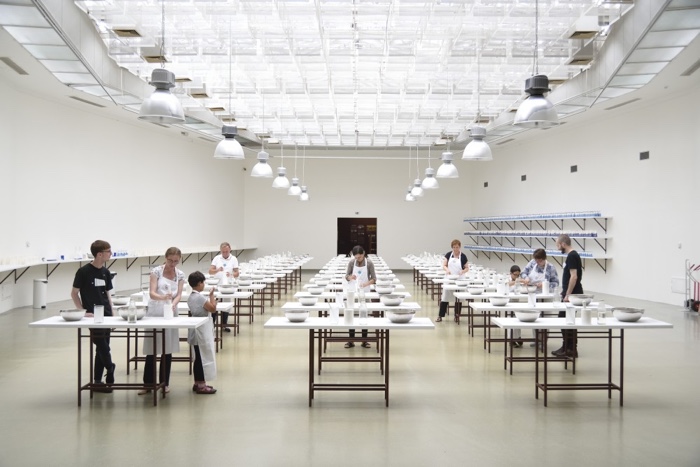 Ilona Németh, Eastern Sugar, 2017–20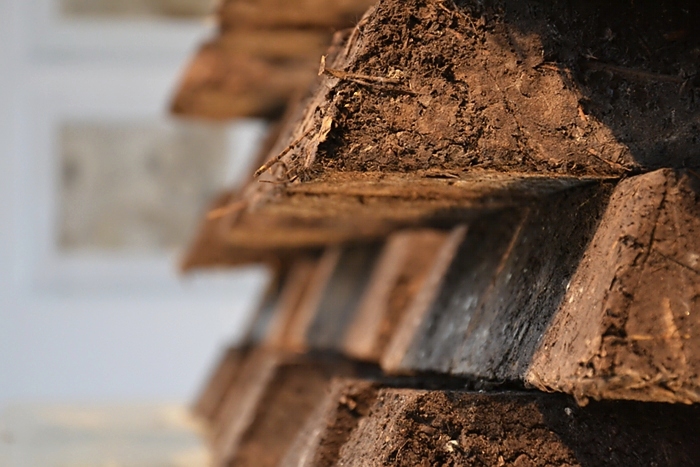 Claire Pentecost, Soil-erg, 2012. Photo
Dinh Q. Lê, The Colony (trailer), 2016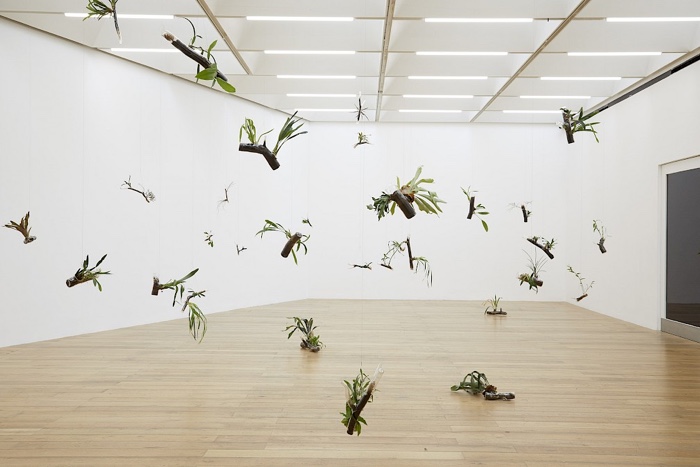 Daniel Steegmann Mangrané, Living Thoughts, 2019. Photo: Stuart Whipps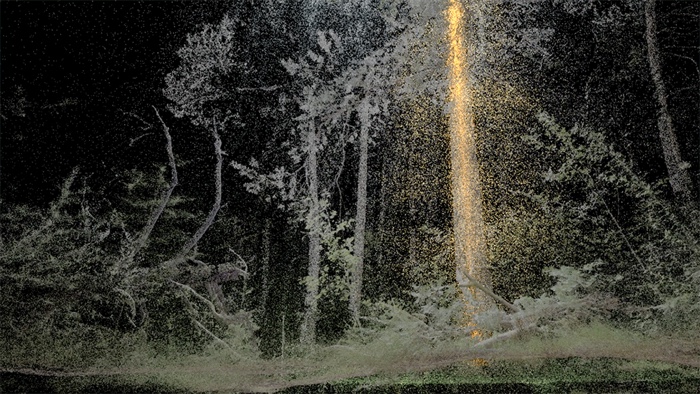 Rasa Smite and Raitis Smits, Atmospheric Forest, 2020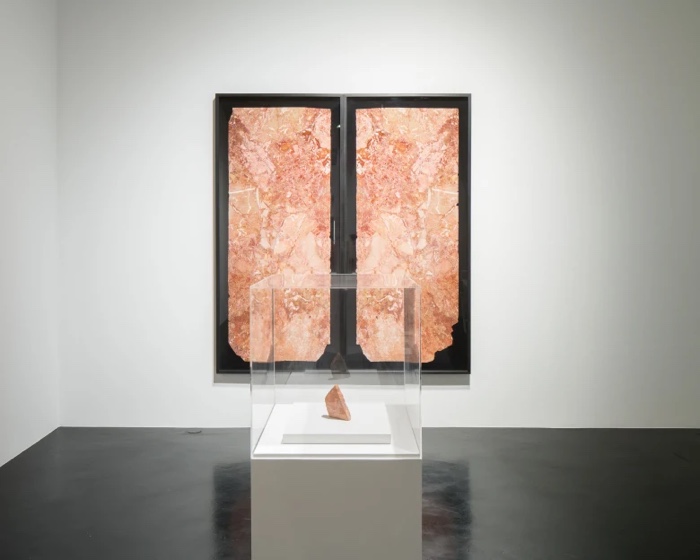 Amie Siegel, Dynasty, 2017. fragment of pink marble from the lobby of the Trump Tower in NY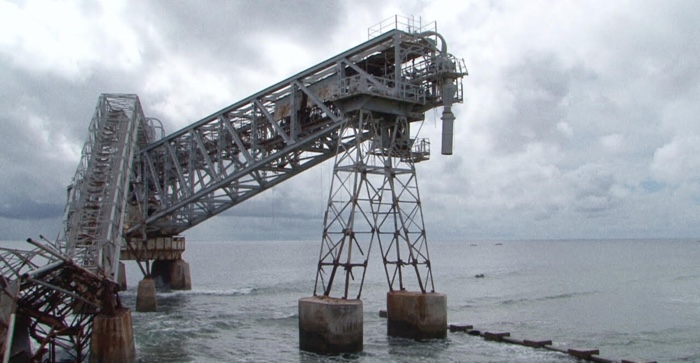 Nicholas Mangan, Nauru – Notes from a Cretaceous World (still), 2010.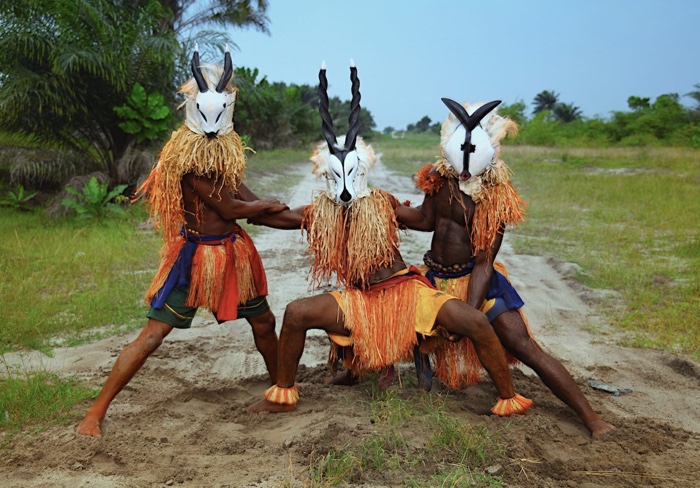 Zina Saro-Wiwa, Brotherhood 2 from Karikpo Pipeline, 2015

Rachel O'Reilly, Infractions, 2019

Ursula Biemann, Deep Weather, 2013