SmallPlanet's CrowdSurfer, a location-based, mobile social software working on Bluetooth technology, is now being tested on the UCLA campus in Los Angeles.
The system enables people with the same profile and common friends to meet each other: each time a potential new friend is within 10 metres, users get a Bluetooth radio signal and relationship information is available via GPRS connections to the Web site. SmallPlanet can also be adapted to your needs: profile settings such as "social" or "business" permit to filter the type of information to be revealed depending on what type of environment users are in, from bars to business conference, or public transport.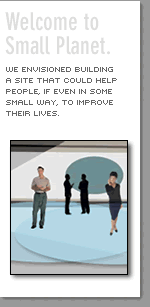 Found on Hotspot.
Related entries: Lop, an Italian idea to use Bluetooth technology, Brilliant networking tool, Wireless dating, Looking for a Backgammon partner in your neighbourhood?