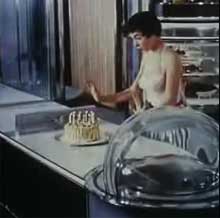 Set at the 1956 General Motors Motorama and yours to download on internet archives, Design for Dreaming is one of the key Populuxe films, showing futuristic dream cars and a "Kitchen of the Future."
In this surreal musical, a lovely brunette is introduced to the joys the "Kitchen of Tomorrow" furnished with a machine that reads recipes off computer cards, a glass-walled refrigerator, and an hemispherical glass oven that seems to be able to make a cake complete with lighted birthday candles on top.
At Motorama, she gets quite excited by the looks of the Firebird II, calls the traffic dispatch center by radio, then, accompanied by her "prince charming", she rides onto the electronic highway of tomorrow and sings a duet linking their love to technological progress.
Check also: Once Upon a Honeymoon (1956), a musical to promote colour telephones as a decorator accessory in the home; A Touch of Magic (1961), a Motorama film presenting new cars, appliances and futuristic ideas; American Look, another populuxe film on 1950s automotive, industrial, interior and architectural design. Part 1, 2 and 3.