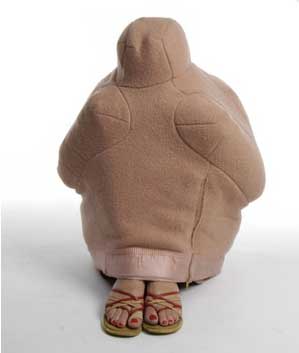 Whether it's to get away from a personal crisis or from universal threats, from time to time we just want to curl up and hide. Rosalie Monod de Froideville's HideAway might be the solution. Pre-shaped in the hiding-position, this cover has a snug fit and is easy to use.
HideAways are available in a range of positions, materials and sizes. They come in a in a carry-on bag to can be taken everywhere easily.
Related: the furniture derived from the statue-like forms of people engaged in playing the PSP; the inflatable Emancipator Bubble; Cocoons against stressful life and Moments of darkness.
HideAway is part of Positioning System – whereareyou, iamhere, hereweare, an exhibition that opens on December 1 at the MAMA in Rotterdam.
This exhibition raises very relevant questions such as: is a location only a geographical spot? Isn't private space more public than we might expect? How do we deal with flexible, changeable, and unclear positions? To explore such issues, the curators have selected a couple of GPS-based art works but also some totally non-tech projects. A blend i wish we'd see much more often.
Via artbbq.