Japan will welcome the guests at the World Expo opening in Aichi on March 25 with robots trained to greet them in their language, entertain their children and perform rap music with them.
Aichi's information booth worker Actroid, developed by Kokoro and Advanced Media, looks like a Japanese woman in her 20s and understands 40,000 phrases each in Chinese, English, Japanese and Korean.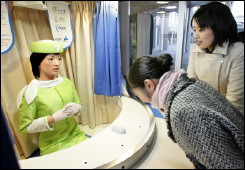 The humanoid can put on facial expressions suitable for the more than 2,000 types of answers it can give, but it may refuse to answer to some questions for "privacy reasons," making an X with her arms and bowing.
She also has a sense of irony. When asked if she is a robot, she says, "Y.e.s, I. a.m. a. r.o.b.o.t" in a disconnected voice and moves about clumsily. A moment later, she says "Just kidding" and starts a natural flow of movements.
Much much more exciting robots at Servihoo.
Related: Robots at the world expo 2005.