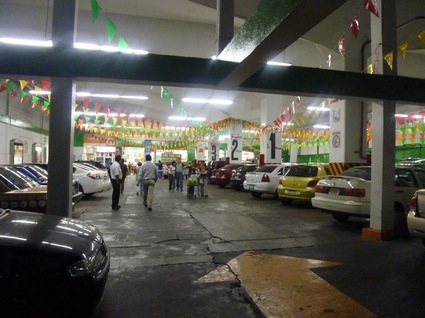 I wish European parking spaces were as cheerful as Mexico DF's
Previously: Postopolis DF – Kumbia Queers , Postopolis DF – notes from day 2 and Postopolis DF – notes from Day 3.
Day 4 of Postopolis. Another intense one.
Will never thank again the cute guy who juiced a whole liter of carrot for me each afternoon.
Weather: mostly hot and sunny with very heavy rain and thunder in the evening.
Attendance: plentiful, stylish and ready to brave the downpour. We'll never thank them enough for their heroism.
Drinks: metzcal for everyone but me (see above for details.)
Just a couple of highlights from that happy Friday: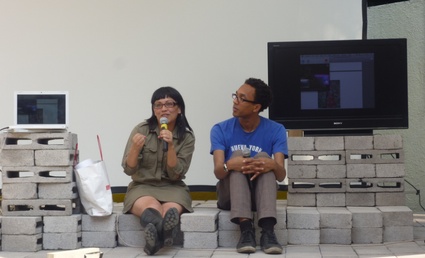 Geraldine Juarez introduced by Jace Clayton
Geraldine Juarez took the stage together with Magnus Ericksson of Piratbyrån fame. Magnus was only there through video conference but we didn't experience any technical glitch, everything went smootly. They explored the cultural and economic modes of (in)formal distribution, drawing parallels between file-sharing and Tepito, an area of Mexico city famed for its street market where you can buy pretty anything, especially if pirate, stolen or counterfeit. Tepito is the largest street market in the country, with tunnels underneath the streets and an extremely dense and complex network of streets. According to Magnus and Gerladine's analysis, Tepito is a good example of a place where the street meets the internet.
ChocolateRobot (aka Geraldine Juarez), Tepito: It's a fake
I'll add an extract from Don de Dios, a movie shot in Tepito. I'll be watching it as soon as i'm done with this post:
Extract from the movie Don de Dios
Both Tepito and file-sharing are based on protocols (between human beings in the case of the Mexico DF market) and micro-trust reigns in Tepito as much as in the community of file-sharing. There's no index nor on the web nor in Tepito where visitors need someone who will act as their 'human browser' and help them navigate the streets. Both are located at the outskirts of the system. Clashes of power between the authorities and file-sharing / counterfeit in Tepito.
Wayne Marshall had invited Camilo Smith to present and discuss on stage with rappers 2phase and Lil T'ko about their view and experience of the rap scene in Mexico. I won't elaborate on this cuz Wayne did that better than i ever could. They ended their presentation with a rap duo that gave me the stamina i was in dire need that day.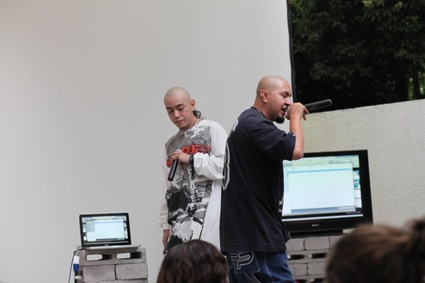 Image credit: Domus
Daniel Hernandez introduced Cuauhtémoc Medina and Mariana Botey of El Espectro Rojo / The Red Specter, a half-collective half-sect (in their own words) which explores the intersection between artistic and theoretical practices from a political, post-colonial and poetic perspective. And, yes, these guys are as hard-core as they sound!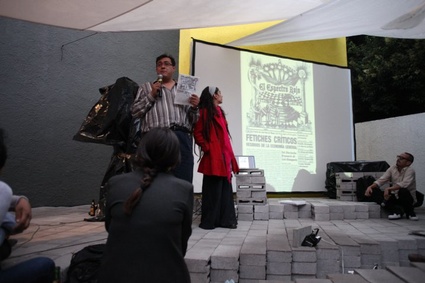 El Espectro Rojo. Image credit: Domus
They have an exhibition, titled Critical fetishes. Residues of general economy, at the CA2M Centro de Arte Dos de Mayo in Madrid throughout the Summer. I wish i could go because the show is packed with works by some of the most interesting artists of the moment: Teresa Margolles, Francis Alÿs, Alfredo Jaar, Raqs Media Collective, Santiago Sierra, Judi Werthein, etc. The catalogue/newspaper is available online, i strongly recommend that you download and have a look a it (PDF.)
In clear opposition to the melancholic nature of contemporary reflection, Critical fetishes sets out to show how a variety of recent artistic interventions have invoked a constant political and aesthetic transgression, in which the fetish notion manipulates and distorts the fictions of usefulness, equivalent exchange and investment rationality. All the interventions and works assembled for the Fetiches críticos exhibition explore the complex and multi-faceted capitalist system, in the north as well as the south, as an economic system with fissures and paradoxes which art exploits in a poetic quest for forms of practical and intellectual dissent.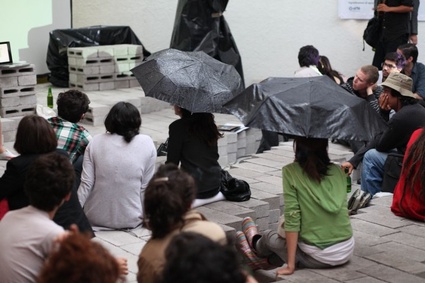 Image credit: Domus
We closed the day with my guest and friend Fernando Llanos (i had the pleasure of interviewing him last year.) He's a musician, audiovisual artist, author, tv producer, film maker, coordinator of Animasivo –a festival of animation in Mexico. He's also the most reliable provider of mascaras de luchadores i known. Fernando talked about the iconic Ciudad Satélite, the suburban area where he was born and about which he is writing a book. He managed to draw parallels between the strong visual 'branding' and identity that the developers of Ciudad Satélite created in the late '50s/ early '60s with coat of arms and commercials and a project that Fernando developed recently in the city of Valparaiso. Orgullo Local aimed at boosting the local pride of the inhabitants of Valparaiso. Chileans have indeed the reputation of being shy and somewhat apprehensive. Fernando launched a competition to design the coat of arm of every suburb of the city. The coats of arm were later exhibited and turned into stickers, t-shirts, pins, tiles, etc.
One of the reasons that makes me find this project particularly interesting is that it puts an emphasis on a concept, local pride, which has taken rather alarming and nasty undertones in Europe -in particular in places such as the Italian region of Piedmont where i live and which is governed since March by the Lega, a far-right party that advocates a secession of the North of Italy, aka the Padania, from the South and i won't even start talking about my own beloved and slightly demented country. As Fernando explained, local pride, when not in the misguiding hands of nationalists, has its virtues.