Policing the Planet: Why the Policing Crisis Led to Black Lives Matter, edited by Jordan T. Camp and Christina Heatherton.
On amazon USA and UK
.
Publisher Verso writes: Combining firsthand accounts from activists with the research of scholars and reflections from artists, Policing the Planet traces the global spread of the broken-windows policing strategy, first established in New York City under Police Commissioner William Bratton. It's a doctrine that has vastly broadened police power the world over—to deadly effect.
With contributions from #BlackLivesMatter cofounder Patrisse Cullors, Ferguson activist and Law Professor Justin Hansford, Director of New York–based Communities United for Police Reform Joo-Hyun Kang, poet Martín Espada, and journalist Anjali Kamat, as well as articles from leading scholars Ruth Wilson Gilmore, Robin D. G. Kelley, Naomi Murakawa, Vijay Prashad, and more, Policing the Planet describes ongoing struggles from New York to Baltimore to Los Angeles, London, San Juan, San Salvador, and beyond.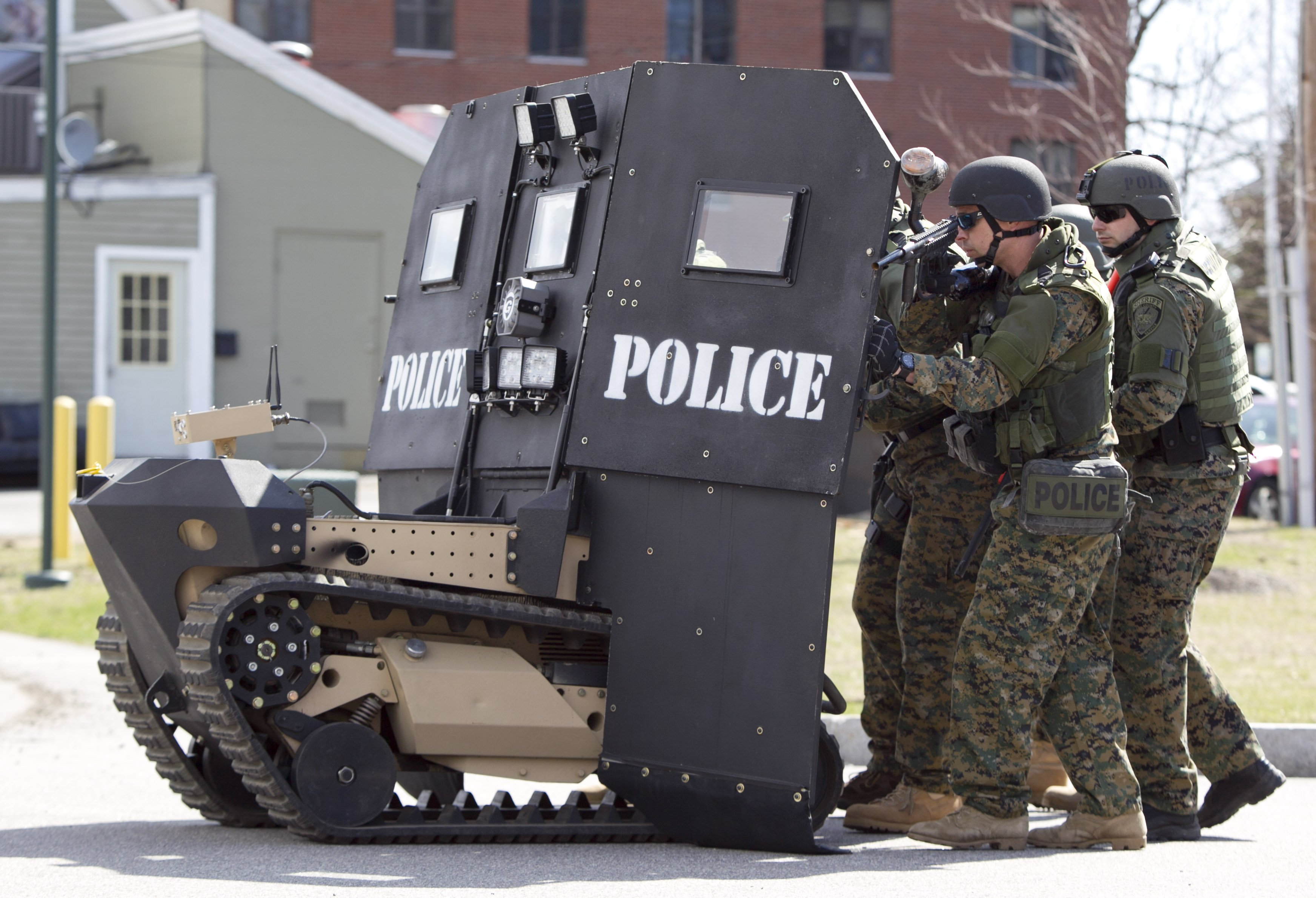 A SWAT robot, a remote-controlled small tank-like vehicle with a shield for officers, is demonstrated for the media in Sanford, Maine on April 18, 2013. AP Photo/Robert F. Bukaty via Business Insider
The backdrop of Policing the Planet is the Ferguson protests, the Black Lives Matter movement and the way police around the world -but mostly in the U.S.– are killing civilians. However the book is less about premature loss of life by the hands of law enforcement and more about the way that some people, vulnerable because of their poverty and/or the colour of their skin, are monitored and marginalized throughout their entire life. It's also about how police, prison and other forms of state violence are seen as the only way to deal with people who are homeless or suffering from mental illness or drug addiction.
In a nutshell, what the authors of the book want to challenge is routine policing, not just the 'exceptional abuses' of policing.
It seems that everything started with the best intentions back in the 1990s when the "community-minded" broken windows theory was adopted by the police. It was an easy and logical idea: nipping any form of anti social behaviour in the bud would naturally curb down urban disorder and vandalism in neighbourhoods.
Unfortunately, the broken windows policing often led to increased militarization of the police, school-to-prison pipeline, residential segregation, mass incarceration, mass surveillance and mass criminalization of the black working class, of Native Americans and more generally of poor people.
The authors of the book are social movement organizers, scholar-activists, journalists and artists. Together, they challenge the role and legitimacy of the police, reflect on alternatives to the most aggressive forms of policing and denounce the over-funding of the police force to the detriment of the social security net, job creation, rent control programs, basic public services like health care and transportation, etc.
Each of the essay or interview in the book explores a different case study: 'anti-Indianism' in New Mexico, influence of Israeli policing structures on the LAPD, New York city's strategy to rely more on invasive policing than on mass incarceration, LA Skid Row as a testing ground for police practices that will be exported to the world, links between criminalization of poverty and real estate speculation, state violence and gentrification in El Salvador, etc.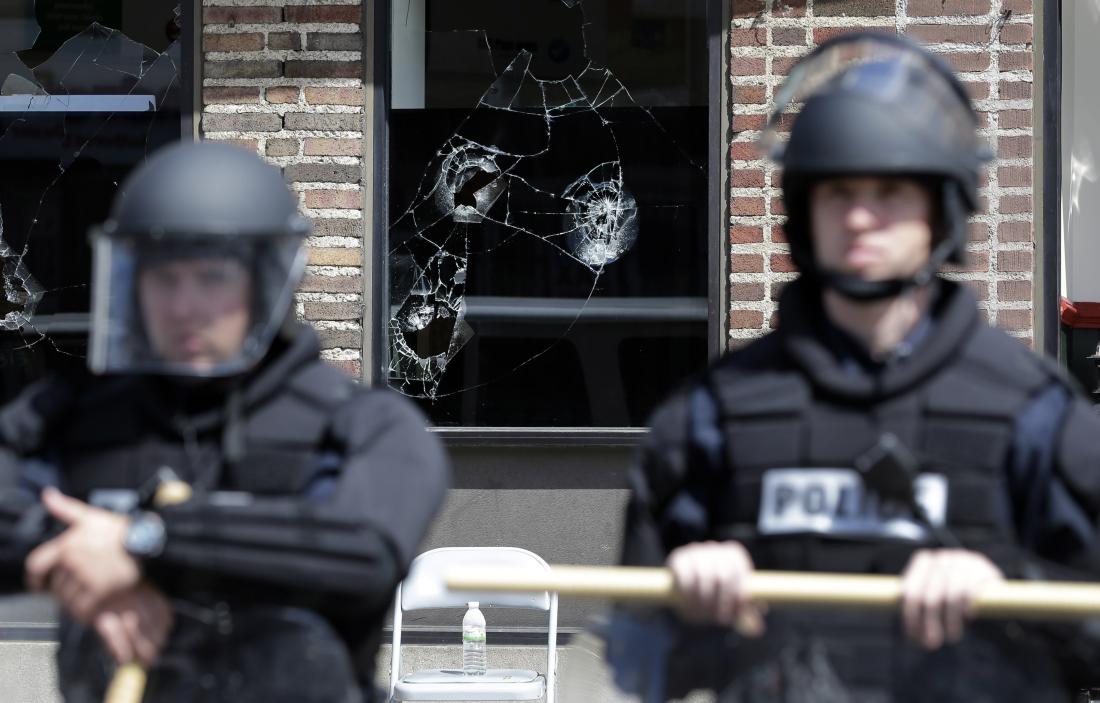 Broken store windows remain as members of the Anne Arundel County Police guard the intersection of North Avenue and Pennsylvania Avenue, on April 29, 2015, in Baltimore. Patrick Semansky—AP, via Time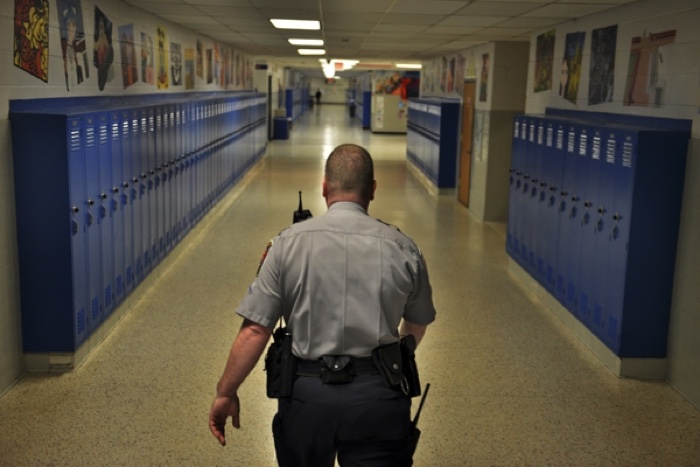 Advocacy groups are calling for a reduction in the use of police officers in schools. Photo: Jahi Chikwendiu/The Washington Post/Getty Images, via The AP
Policing the Planet is a powerful book. I often found it hard to believe what i was reading. Surely people cannot face that much discrimination just because they are poor, black or Muslim? Surely, the police is here to protect us? But my incredulity can be explained by the fact that i'm white, living in a nice, quiet area of a mid-sized city and spending a lot of time with Harry Hole, D.I. John Rebus or Sergeant Logan McRae. Some of my friend back home are Arabs, Latinos or otherwise not very Belgian-looking and they often told me how they are routinely stopped, searched and threatened by the police under the most flimsy pretexts.
And don't go thinking that Policing the Planet is 'just' about police in the U.S. because, as we all know, the American model often ends up being exported to other countries.
I'd recommend Policing the Planet to pretty much everyone. I learnt a lot from this book. Others (less naive and ignorant than i am), will appreciate the importance of exchanging these stories, experiences and lessons learnt.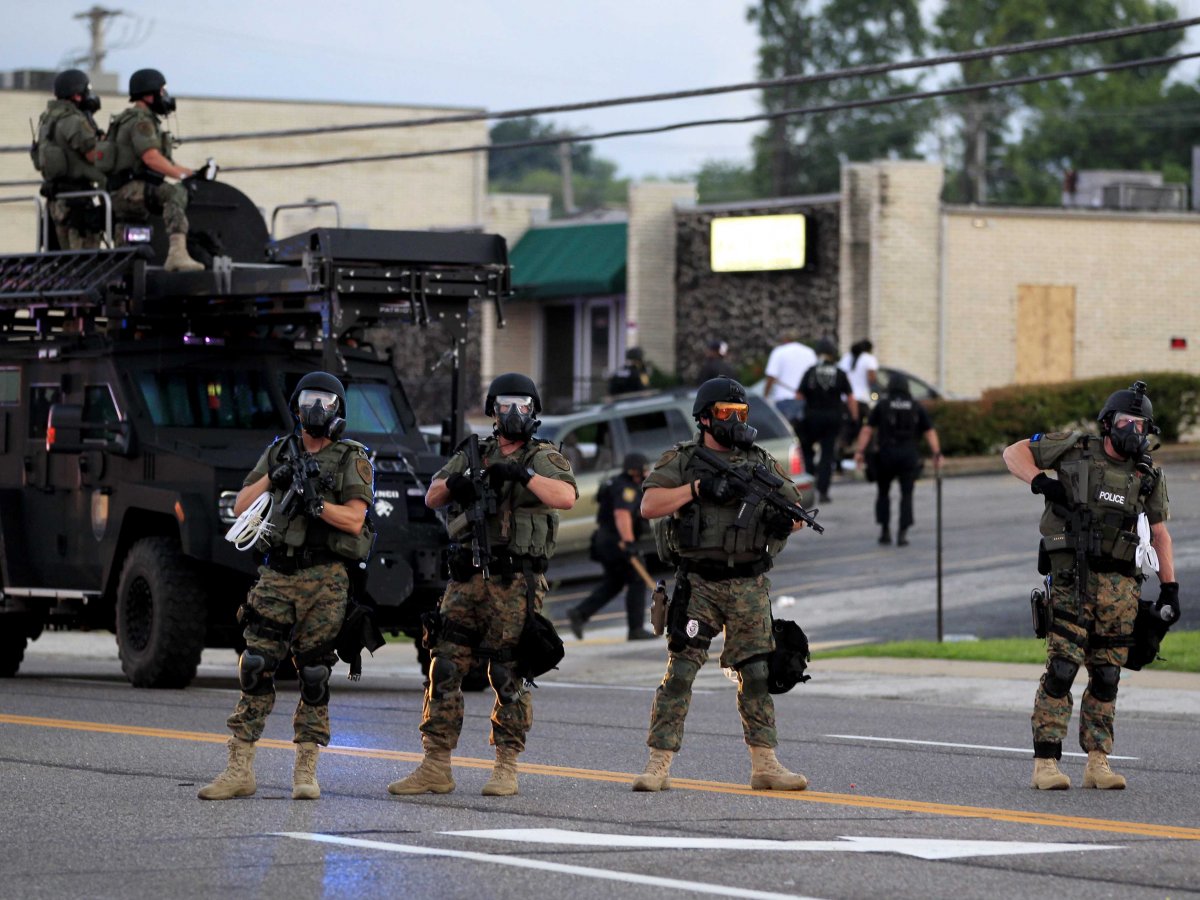 Police officers try to disperse a crowd Monday in Ferguson, Missouri. Via Business Insider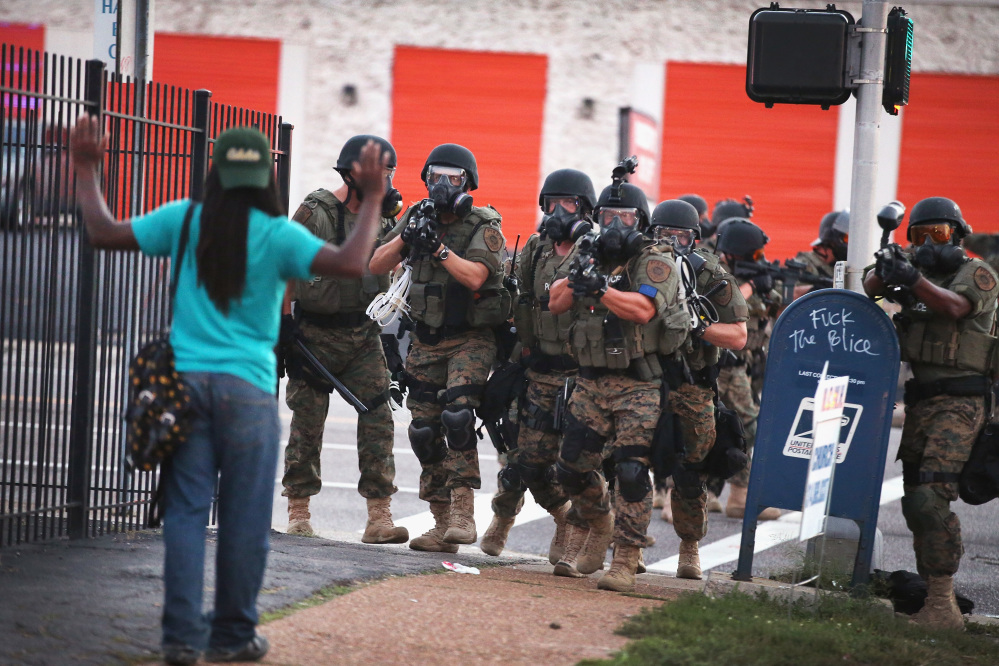 Police wearing riot gear walk toward a man with his hands raised in Ferguson, Missouri. Photo: Scott Olson/Getty Images/AFP, via the Tico Times

The Clash, Guns Of Brixton