Photography: A Cultural History (Fourth Edition), by Mary Warner Marien.
Available on Amazon USA and UK.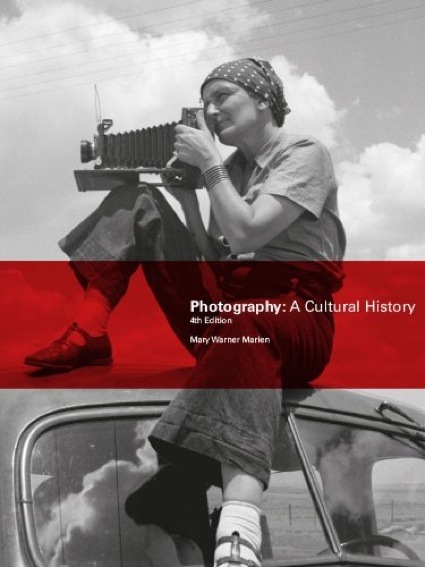 Publisher Laurence King writes: Mary Warner Marien discusses photography from a truly global viewpoint and looks at a wide-ranging collection of images through the lenses of art, science, travel, war, fashion, the mass media and individual photographers. In addition to representing the established canon of Europe and the United States, key work from Latin America, Africa, India, Russia, China and Japan is also included. Professional, amateur and art photographers are all discussed, with 'Portrait' boxes devoted to highlighting important individuals and 'Focus' boxes charting particular cultural debates. New additions to this fourth edition include an overview of photography's involvement in conceptual art, a detailed review of the photographic work of artist Ed Ruscha and new material on European Worker Photography during the 1920s and 30s. Many new pictures have been added throughout the book, including superior versions of historical photographs and recent images from contemporary photographers, including Walead Beshty, Youssef Nabil, Lalla Essaydi and Ryan McGinley. A rich and vivid account of the history of photography placed in an essential cultural context, this indispensable book shows how photography has charted, shaped and sharpened our perception of the world.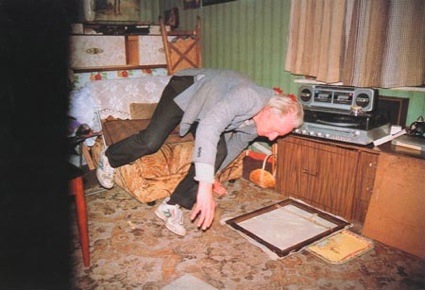 Richard Billingham, Ray's A Laugh, 1996
Mary Warner Marien is Emeritus Professor at Syracuse Uni­versity and this publication started as a textbook for her students. Don't let that detail alarm you, this is by far the most engaging, exciting and informative book on photography i've ever read (and i've read quite a few).
The author examines the story of photography, the technical innovations and the key figures of the rather brief story of the medium but she also looks at the impact it had on society and culture. And vice versa. Photography is indeed a powerful weapon. From its early days until its current guise, it has been equally used to denounce social injustice and to function as an instrument of political propaganda.
By explaining the historical and cultural contexts in which photographers worked, Warner Marien shows us how to research, interpret, understand and ultimately look at a photography. A skill we often overlook in our age of image overload.
Photography. A Cultural History is also a very entertaining book. It will take you from the early days of tabloids to the heyday of Kodak, from racial profiling to documenting public executions, from social documentary to the history of medical experiments.
Have a look at some of the works, ideas and facts i discovered in the book: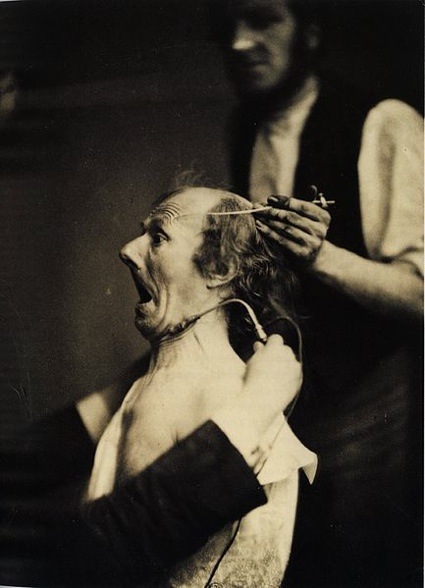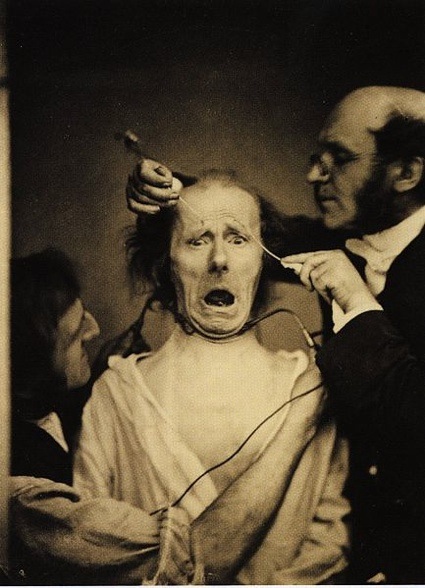 Guillaume Duchenne de Boulogne performing facial electrostimulus experiments on "The Old Man"
French neurologist Duchenne de Boulogne used electrical currents to stimulate facial expressions. The newly invented photography offered him a tool to capture the resulting expressions of his subjects.
His monograph The Mechanism of Human Physiognomy was the first publication on the expression of human emotions to be illustrated with actual photographs.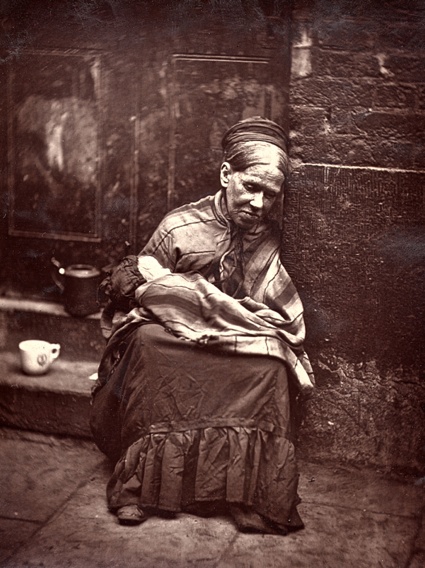 John Thomson, The Crawlers, London, 1876-1877
John Thomson collaborated with journalist Adolphe Smith to produce the monthly magazine, Street Life in London, from 1876 to 1877. This early type of photojournalism documented in photographs and text the lives of the street people of London.
The "Crawlers" lived in the street and whenever they had enough cash to buy tea leaves then they would "crawl" to a pub for hot water.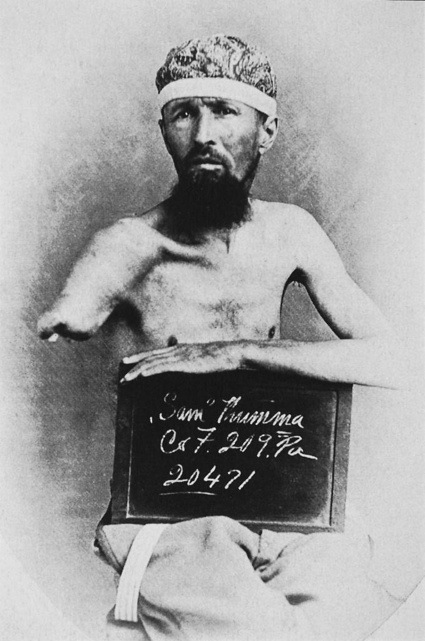 Photographer Unknown, Corporal Samuel Thummam, 1865
Photographs of American Civil War veterans were circulated to teaching hospitals in an effort to improve battlefield care, recovery and prosthetics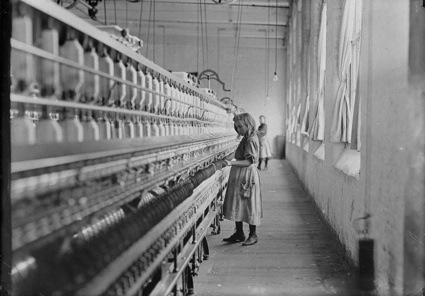 Lewis Hine, Child in Carolina Cotton Mill, 1908
Lewis Hine, photographer for the National Child Labor Committee, recorded the lives and work of hundreds of children in the United States in the first decades of the twentieth century. His pictures were instruments of persuasion. He believed that if the public could see for themselves the abuses of child labor, they would demand laws to end it.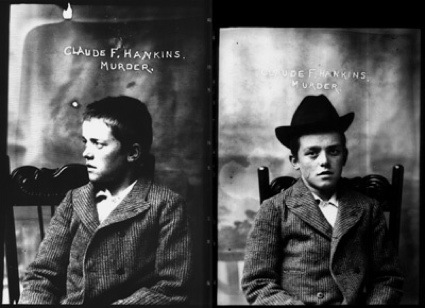 Clara Sheldon Smith, Claude F. Hankins. Caption reads: "In 1904 Claude Hankins , aged 14, was convicted of murder and paroled after serving four years."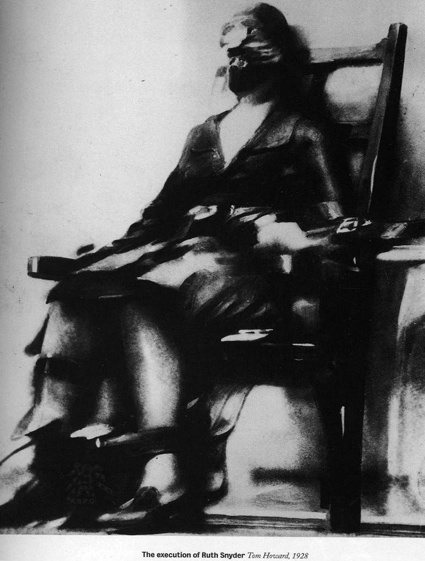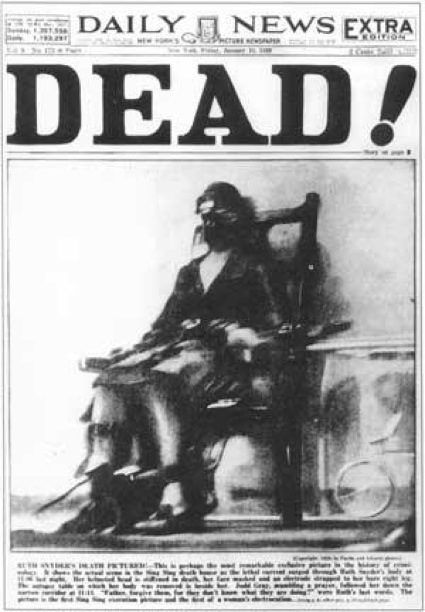 Tom Howard, Dead! (Execution of Ruth Snyder in New York's electric chair. Front page of the New York Daily News (January 13 1928)
Ruth Snyder was sentenced to death for killing her husband. Her execution, in the electric chair at Sing Sing Prison was captured in a well-known photograph.
Because photographers are not permitted into executions in the United States, the New York Daily News commissioned a man no one at the prison knew to document the moment. Tom Howard strapped a miniature camera to his ankle and linked he photographic plate by cable to the shutter release concealed within his jacket.
The next day, the photograph made the front page of the paper. For many years afterwards witnesses to executions were searched and asked to hold up their hands so they could not operate hidden cameras.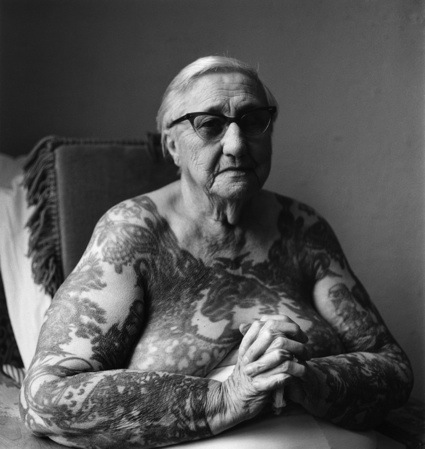 Imogen Cunningham, Irene Bobbie Libarry, 1976
Imogen Cunningham was one of the first photographer to portray older people in a way that reflected their individuality. She was 92 when she started working on After Ninety, a series of photos of elderly people. The photo above sows tattooed circus attraction Irene "Bobbie" Libarry (83) in a nursing home.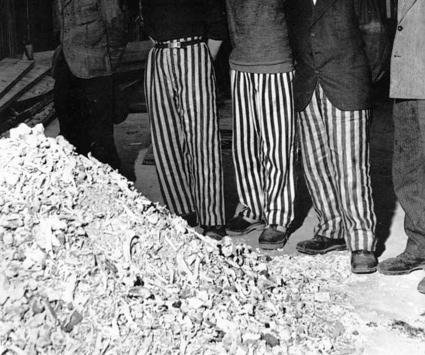 Lee Miller, Buchenwald, April 1945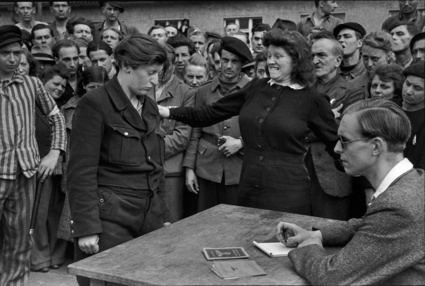 Henri Cartier-Bresson, Dessau. A young Belgian woman and former Gestapo informer, being identified as she tried to hide in the crowd © Henri Cartier-Bresson/Magnum Photo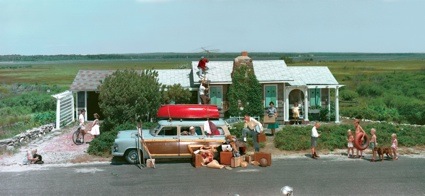 Ralph Amdursky and Charles Baker, Colorama. © 2009 Kodak

Colorama by Kodak
From 1950 until 1990, Kodak's gigantic Colorama photographs dominated the east wall of Grand Central's Main Concourse. The photographers employed used the company's innovative technology to print oversize and meticulously staged photos that portrayed an idealized view of American life.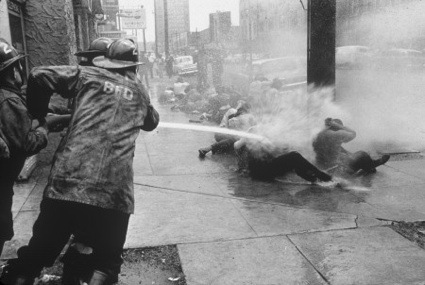 Charles Lee Moore, Firefighters hose demonstrators, Birmingham, 1963
Charles Lee Moore documented the American civil rights era.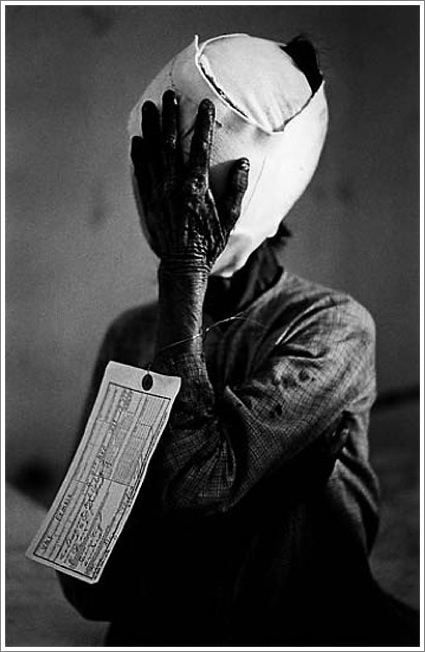 Philip Jones Griffiths, Napalm Victim, Vietnam, 1967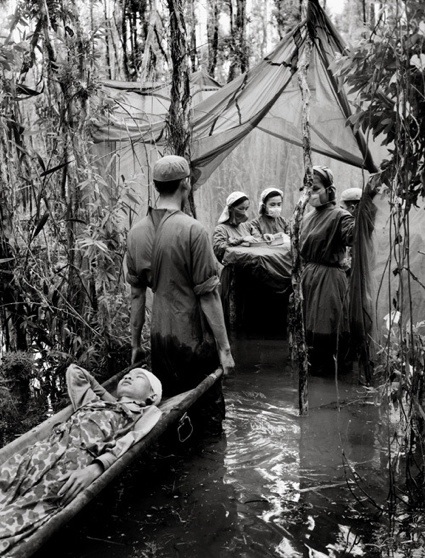 Vo An Khanh, Vietcong Improvised Operating Room, U Minh Forest, 1970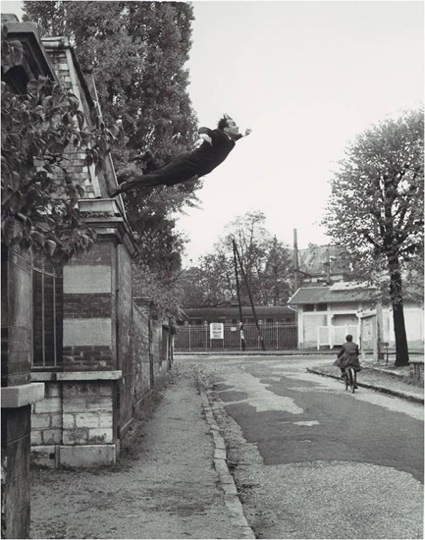 Yves Klein, Harry Shunk, and Jean Kender, Leap into the Void, 1960
The famous photography Leap into the Void is also a famous photomontage. Harry Shunk first photographed the street empty except for the cyclist. Then, Klein "climbed to the top of a wall and dived off it a dozen times–onto a pile of mats assembled by the members of his judo school across the road. The two elements were then melded to create the desired illusion." (via)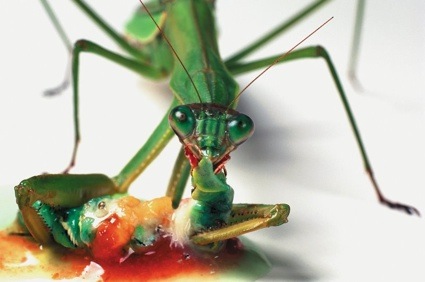 Catherine Chalmers, Praying Mantis Eating a Caterpillar from Food Chain, 1994-1996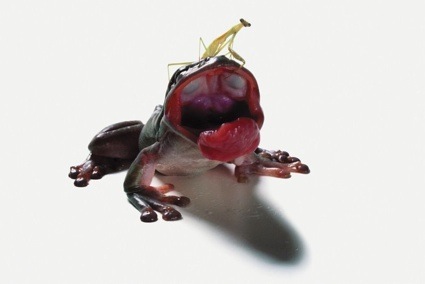 Catherine Chalmers, Frog eating a Praying Mantis from Food Chain, 1994-1996
Catherine Chalmers portray predatory insects and animals snacking on other living, wriggling creatures.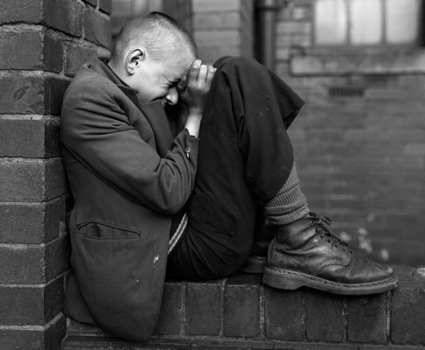 Chris Killip, Youth on Wall, Jarrow, Tyneside
Chris Killip spent two decades in the industrial communities of the North East of England. His gritty images attest the impact that the decline of industries and the detrimental economic policy had on British working class.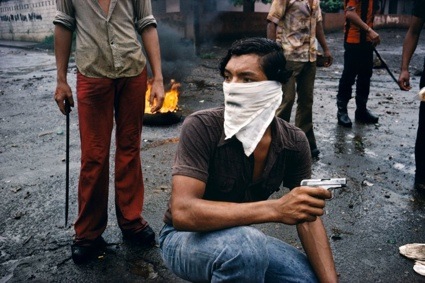 Susan Meiselas, Street fighter, Managua, Nicaragua, 1979
Susan Meiselas is best known for her coverage of the insurrection in Nicaragua and her documentation of human rights issues in Latin America.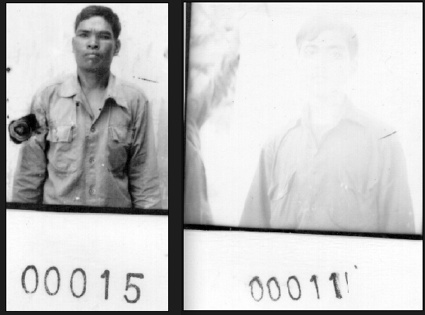 The Cambodian Genocide Program at Yale University has scanned more than 10,000 photographic images pertaining to various aspects of gross human rights violations under the Khmer Rouge regime. In this preliminary release of data from our existing archive, we focus on the victims of the Tuol Sleng Prison in Phnom Penh, the notorious "S-21" extermination center.
More than 5,000 photographs were taken of prisoners being processed into the facility for interrogation and execution.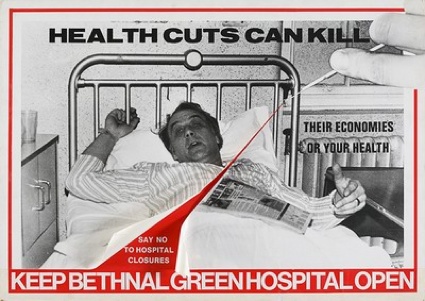 Peter Dunn and Loraine Leeson, Health Cuts Can Kill. Campaign to Save Bethnal Green Hospital, 1978
A2 poster produced and distributed through the hospital campaign committee over 30 years ago. Still painfully relevant.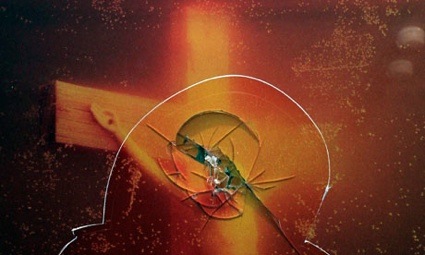 Piss Christ, with partial damage. Photograph: Jean-Paul Pelissier/Reuters
Andres Serrano's Piss Christ, a "photograph of the crucifix submerged in the artist's urine"), was made in 1987 and wherever and whenever it was exhibited the work met with controversy, protest or vandalism. In 1989, Sen. Alfonse D'Amato used it as an example of art that ought not to be supported by state funding.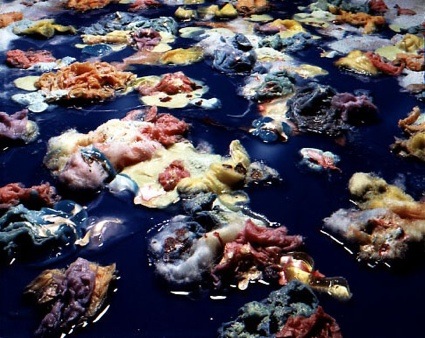 Tim Head, Toxic Lagoon, 1987
Tim Head created brash, seductive compositions using discarded mass-produced materials.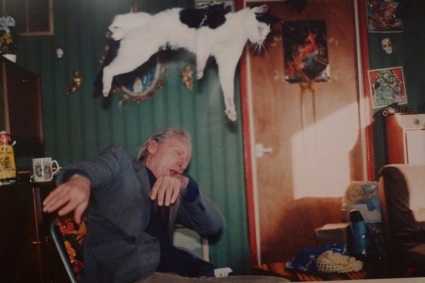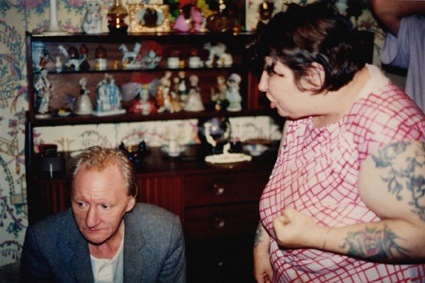 Richard Billingham, Ray's A Laugh, 1996
Ray's a Laugh is probably one of my favourite photo series ever (together with Pieter Hugo The Hyena & Other Men.) In this work, Richard Billingham portrays the domestic life of his alcoholic father Ray, and chain-smoking, tattoo-covered mother, Liz. The wonky framing and approximative focus gives the series sincerity and authenticity. It is brash and unforgiving but in the process Billingham managed to make his parents perfectly lovable.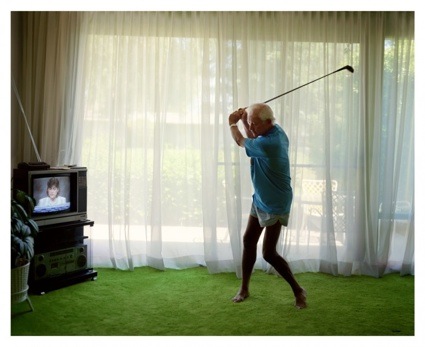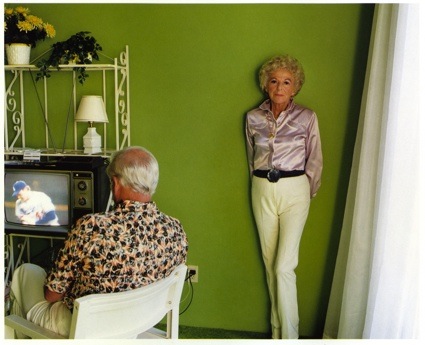 Larry Sultan, Pictures from Home
Larry Sultan photographed his father and family over a ten year period spanning the 70s and 80s as part of an elaborate project that included his parents own photos, home movies and statements.
Larry Sultan's project Pictures From Home was inspired after watching some old family films and looking through old albums that they had not seen in years. He looked through the old reels of films and albums and studied how they represented his family and their connection to history, memory and time.
Using the old images as inspiration Larry Sultan took photographs of his parents in their retirement home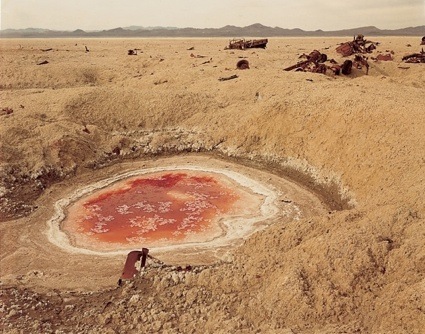 Richard Misrach, Bomb Crater and Destroyed Convoy, Bravo 20 Bombing Range, Nevada, 1986
In 1952, the U.S. Navy began illegally testing high-explosive bombs on an enormous expanse of public land near Fallon, in Nevada. Richard Misrach's photographs capture both the natural beauty and the man-made devastation of the land.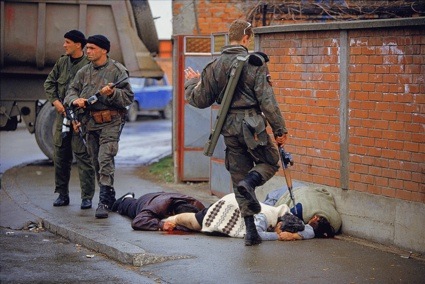 Ron Haviv, Blood and Honey: A Balkan War Journal, 1992
Blood and Honey: A Balkan War Journal chronicles the horrors that the Serbs, Croats, Bosnians, and Kosovar Albanians perpetrated against each other. The image above shows a young Serb militiaman about to kick a woman in the head.
Views inside the book: