The pergola is the one that flanked the "Turkish Villa", aka the Villa Schwob, that Le Corbusier built in La Chaux-de-Fonds, Switzerland, back in 1916. A few years after its construction, the architect published photos of the villa in L'Esprit Nouveau. On the ground, a white smear betrayed retouching: the pergola had disappeared.
The Palais de Tokyo in Paris gave the name of Le Corbusier's disappeared building extension to its latest exhibition. Pergola is indeed dedicated to Poltergeists, Against the background of a haunted modernity, silhouettes of erased lives demand restitution.
Think what you like of the way the Palais picks up its titles, the contemporary art space never fails to surprise its visitors with unexpected associations of themes and ideas.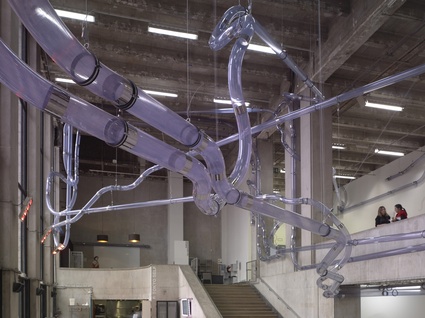 Serge Spitzer, Re/Search: Bread and Butter with the ever present Question of How to define the difference between a Baguette and a Croissant, 1995-2010. Partial view of installation. Photo: André Morin
Serge Spitzer's monumental installation snakes along the walls and ceiling of the first floor, to the cafe downstairs and back. It evokes the pneumatic transport system that was first implemented in 1866 under the streets of Paris to speed up commercial orders between the Central Telegraph Office and trading rooms. Messages were inserted inside cylinders which were propelled along the tubes by air either compressed or depressed. The 467 kilometers long network of tubes remained in use until 1984, when it was abandoned in favor of computers and fax machines. Spitzer's capsules however contain only messages without sender nor recipient.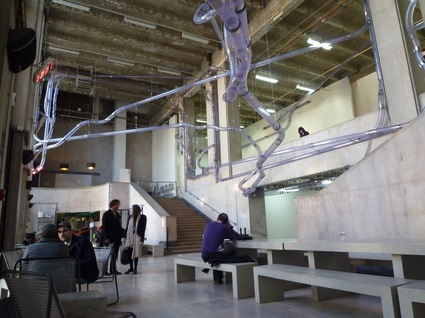 The artist installed the first version of Re/Search, Bread and Butter with the ever present Question of How to define the difference between a Baguette and a Croissant in 1997 for the Lyon Biennial. Internet was starting to get pretty popular and the large-scale installation had thus already acquired an old-fashioned gloss.
In our time of information technology hegemony, the chaotic pneumatic transport system is beyond outdated. It's a curiosity. Nostalgia at its most playful. By bringing into full view a data exchange technology that, although analog, was as invisible and as deeply buried under our feet as the internet is today, Spitzer ironically interrogates its function and draws attention to the paradox of a network of tubes that is as operational as it is irrational in its structure.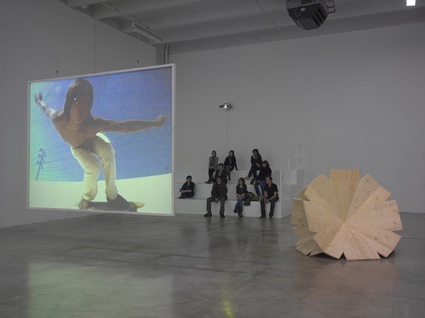 Exhibition view of A list of which I could tediously extend ad infinitum. Detailed caption (from left to right): Raphaël Zarka, Topographie anecdotée du Skate-board, 2008 and Raphaël Zarka, Forme à clés, 2009. Photograph: André Morin
Raphaël Zarka believes that the world is inhabited by phantoms, reoccurring forms and remanence. As a result, he photographs and catalogues ready-made which he calls the "Formes du Repos" (Forms of Rest): a stretch of abandoned monorail, a concrete breakwater, a lone pylon and other remnants of unfinished constructions that litter the landscape.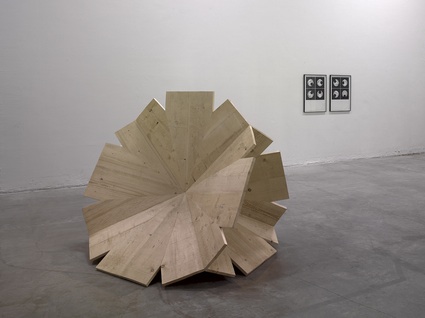 Raphaël Zarka, Forme à clés, 2009. Exhibition view, A list of which I could tediously extend ad infinitum. Photo: André Morin
One day, the artists discovered the rail on which the French Aérotrain was supposed to ride in the 1960s. Often compared to magnetic levitation trains, this means of transport floats on air cushions and was meant to run between Paris and Orléans at the speed of 422 kilometres per hour. The project was abandoned in 1977 due to lack of funding, the death of its inventor, engineer Jean Bertin, and the adoption of TGV as the country's high-speed ground transport solution. Only the test track – a monorail supported by inverted T-shaped pilasters – was realized. Today, the section of track with no beginning nor end stands like a concrete sculpture discarded in the landscape.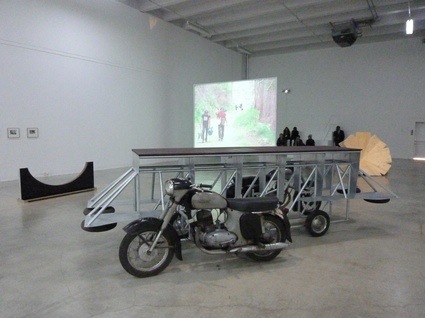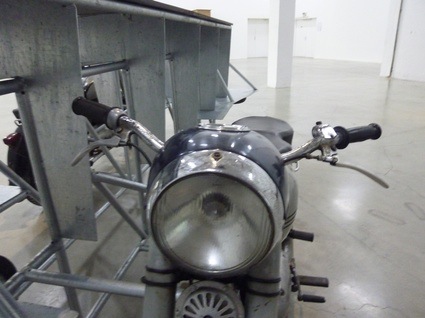 As an homage to the Aérotrain, the artist reproduced the draisine that was designed to ride the hovertrain rails in Orleans in the early '70s (photo 1 and 2). This particular type of draisine is propelled by two motorcycles, one in each direction, assembled to form a makeshift freight car.
This rudimentary vehicle, originally conceived of by Bertin to travel the length of the Aérotrain monorail, appears as the antithesis of progress and emerges as a point of tension for a futuristic vision that will never come into being.
Skateboarding provides Zarka with another fantastic way to discover and explore forms and shapes in urban contexts. Skateboarding dissociates pieces of public furniture from their functions. Streets, sidewalks, even abandoned swimming pools are hijacked and turned into a new landscape. Zarka is showing at the Palais a documentary that exposes the array of surfaces skaters use to sublimate their discipline.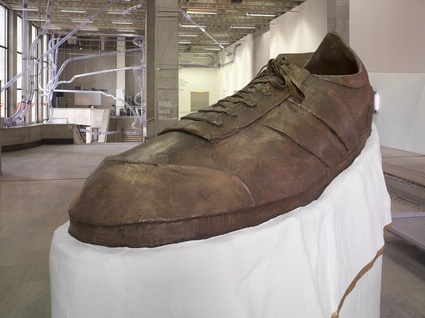 Laith Al-Amiri, Symbol of Courage, 2009. Photographie: André Morin
Apart from Zarka and Spitzer, only 3 artists have been invited to show their work for Pergola. Laith Al-Amiri's Symbol of Courage is a monument raised to celebrate the brave act of journalist Muntazer Al-Zaidi. I loved the work of Valentin Carron but sometimes it's difficult to write about artworks when you like them so much. His sculptures presents objects, images, symbols associated with the Swiss Alps under a regime of falsehoods.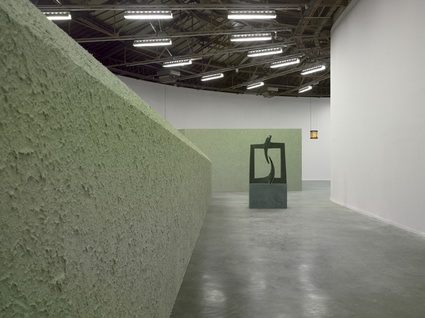 Valentin Carron, L'inavouable extase, 2010. Photographie: André Morin
Finally, there was a small 'retrospective' of the sculptures of Charlotte Posenenske which i discovered a few months ago at another exhibition at the Palais de Tokyo, Chasing Napoleon. Her 1967 series D and DW consists of quadrangular tubes which question industrial processes while they look as if they could be pure products of it. Their manipulation is entrusted to the spectator (series DW) and their assemblage is delegated to the exhibition curator (series D). By leaving the final form of her works up to others' imaginations and supervision, the artist celebrates societal cooperation and criticizes standardized work. Between perfection and disorder, imagination and impediments, vindication and powerlessness, fluid diversions and rational forms, Charlotte Posenenske imposes a poetry of improvised action.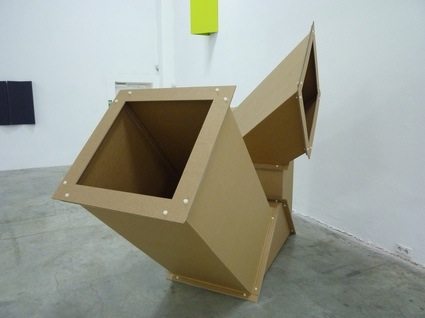 Charlotte Posenenske, Vierkantrohre Serie DW, 1967-2010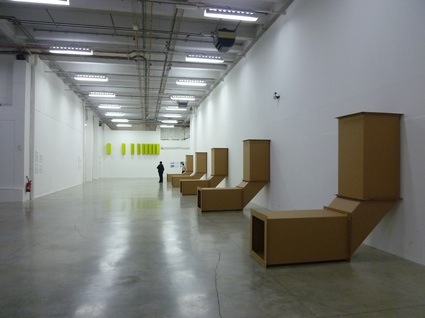 My images on flickr.
Pergola runs until May 16, 2010 at the Palais de Tokyo in Paris.