Katharina Birkenbach (aka Ponypink), an Amsterdam- and soon Berlin-based designer, has just launched a pretty fresh social networking website, it's called Nearness. Built on Mediamatic's anyMeta system, it allows you to feed it with various information about events, people, things, etc., all of which are equally treated as artefacts. This allows users to create rich interconnections between the individual entries, creating an ever more complex network of stuff.
I asked Katharina to briefly line out what the idea behind it is: "Nearness is an environment where people can store their information that is surrounding them in their daily life. It is not focused on one kind of media but is open for nearly any kind of information, doesn't matter how big or small, important or unimportant it is. Nearness can become an always present little companion, which is helping you to collect, to not forget, to organise the things you like. But organising not in the sense that you are somehow the administrator of a complex folder system, but by generating context for the data and embedding it in the data network. The context in which, for example, your favourite book is displayed is not only set up by the information you've entered, but all the users of Nearness. In this sense it can develop to some kind of stimulating treasure trove."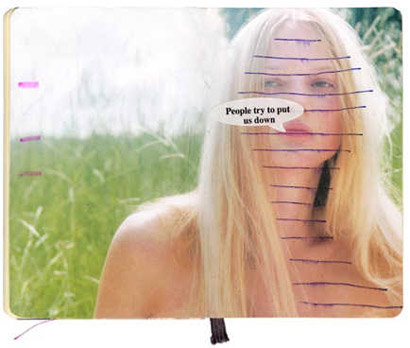 Trying to explain the potential of it, she also sent me a scan from her sketchbook which is pictured above, along with its history: a photo from i-D magazine, alluding to The Virgin Suicides. A sticker from Dazed and Confused which itself is a quote from The Who. Ten friends also made collages like this as part of something called Feed Me. So, Nearness in her vision could grow to become a tool for the same process. Something that today many creative people use notebooks for: collecting snippets of culture, ideas – in a way making mental collages but with the power of a networked system.
On another Amsterdam-related note, my short recap and pictures from last week's wearables workshop are online now. If you're interested in what people actually made, you should have a look.