Material Matters: New Materials in Design, by material scientist Philip Howes and Zoe Laughlin, the co-founder/director of the Institute of Making and the Materials Library project.
Available on Amazon UK and USA.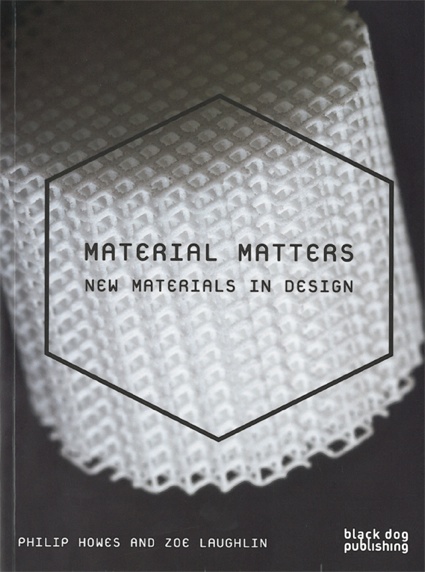 Black Dog Publishing writes: Material Matters: New Materials in Design discusses the vast range of materials that are available to us today, and highlights the advances predicted to prove seminal in the future. The six chapters are divided by chemical composition–Metals, Glasses, Ceramics, Polymers, Composites and material Futures–and with every material featured, the book stresses the relevance of physical material properties.
Each material featured is presented with relevant manufacturer information, material properties and current and potential applications and includes the websites of manufacturers and research institutes, making this a handy reference book for the designer. Material examples include the newly developed metallic 'microlattice', now the lightest solid known on earth; Dow Corning's 'Deflexion', a fabric capable of instantly hardening and Graphene, a material which, at 200 times the strength of structural steel despite being only one atom thick, has the potential to revolutionise the field of electronics.
Philip Howes, Materials Scientist and Zoe Laughlin, Creative Director of The Institute of Making, provide explanations of the basic chemical structure of materials–what makes a glass a glass and why not all polymers are plastics. Their discussion of the potentialities of new materials embraces disciplines as disparate as aerospace engineering and medical research, in addition to offering explanations to everyday material conundrums.
Markus Kayser, The Solar Sinter, 2011
Microscopic glass flakes, Blood Lab-On-A-Stick, piezoelectric ceramics, Catalytic Clothing (clothes that purify the air around), noise-absorbing ceramic, titanium foam, antimicrobial copper, instantly-hardening fabric, light-reflecting concrete, self-healing concrete, soft magnets, self-cleaning glass, etc. And i had no idea that bullet-proof vests contained ceramic.
There is nothing arid nor soporific about new materials.
The authors of the book handpicked some of the most surprising new materials. Their look sometimes belies their nature, their names often verge on the oxymoron and their applications have only just started to be explored. Most materials are allocated one page in the book but some of them are illustrated further with a spotlight on a 'case study' that describes designers, architects and engineers' most innovative uses of materials: from largest optical/near infrared telescope to shape-changing architecture.
The text is as techy as necessary to explain clearly the physical properties and latest applications of each innovation but you don't require a degree in engineering to follow along.
Material Matters: New Materials in Design doesn't pretend to be the bible of all materials, the ultimate encyclopedia but it does fulfill competently its ambition to be a source of inspiration for designers and artists.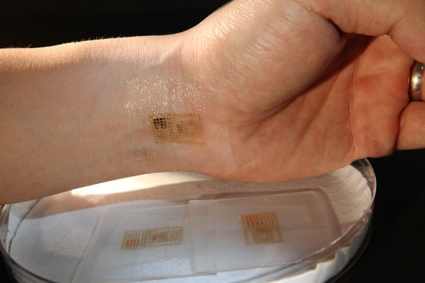 Soft Circuits or "epidermal electronic system" (EES) is an ultrathin, electronic circuit applied on the skin. It can stretch, flex, and twist and take input from the movements of your body.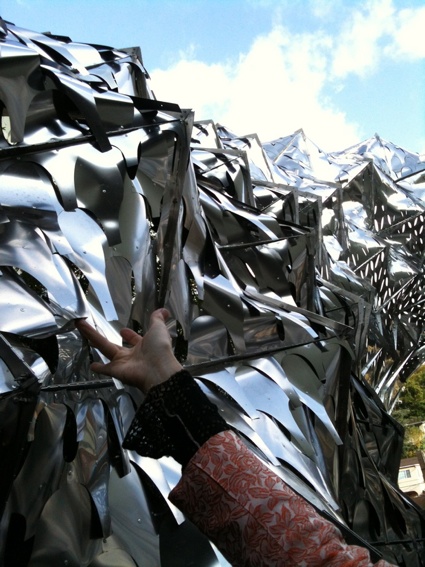 Doris Sung, Thermo-Bimetals at Applications&Materials Gallery
Jólan van der Wiel lets magnetic fields and the force of gravity shape its stools. A mix of iron and plastic is layered between strong magnets that pull the material into unique designs.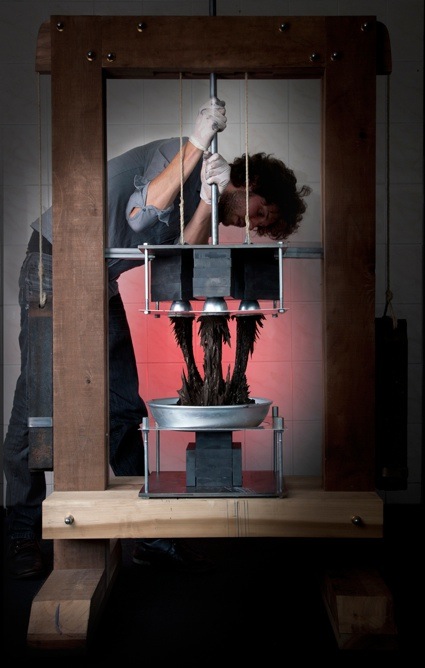 Jolan van der Wiel, The Gravity Stool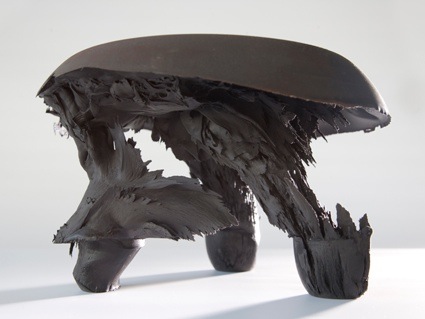 Jolan van der Wiel, The Gravity Stool
Doris Kim Sung's Bloom installation demonstrates the properties of thermobimetal, a thermally responsive metal surface, which reacts to both the change in temperature and direct solar radiation. When the temperature of the metal is cool, the surface appears as a solid object, but once the afternoon heat penetrates the metal, the panels of custom woven bimetal will adjust and fan out to allow airflow and increase shade potential.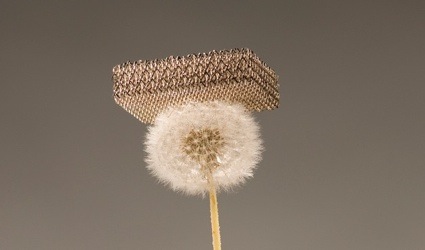 Microlattice, the world's lightest material is 99.99% air, 100 times lighter than styofoam and as strong as steel.
Particles of Stardust are shot into Aerogel
Stardust are made from dust that pre-existed the Sun. The interstellar samples were collected by astronauts in 1999. Scientists stored the stardust in Aerogel because its extremely light structure and thermally-insulating properties ensure that the particles are not damaged after being embedded inside the spongy interior.
Bare is a temporary conductive ink that can be sprayed or brushed directly onto the skin to create custom electronic circuitry. This innovative material allows users to interact with electronics through gesture, movement and touch.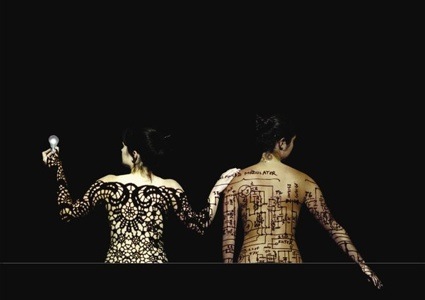 Bare: Skin Safe Conductive Ink
Mushroom Packaging as a 100% biodegradable alternative to polystyrene (Styrofoam) packaging.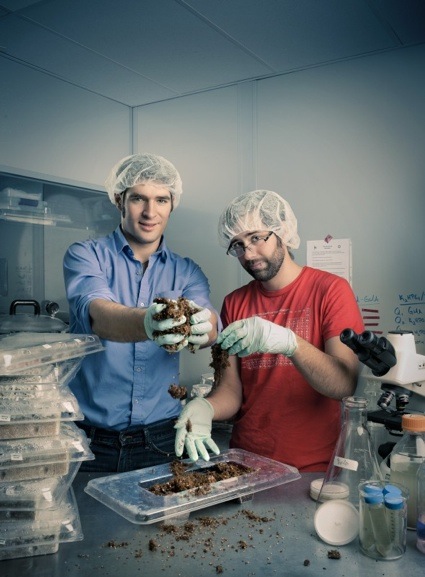 Ecovative Design (image Chris Crisman)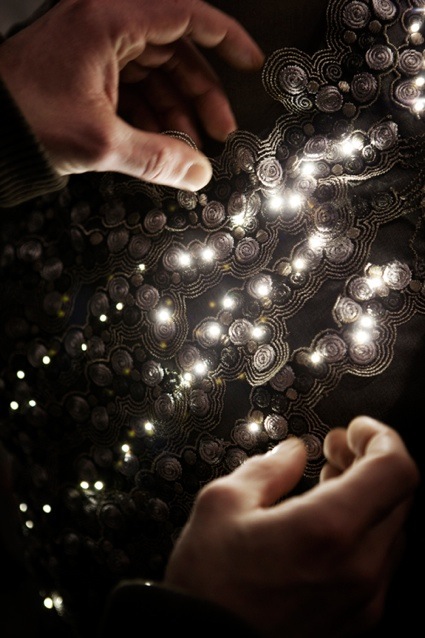 The Climate Dress uses conductive clad fibers and responds to carbon dioxide in the atmosphere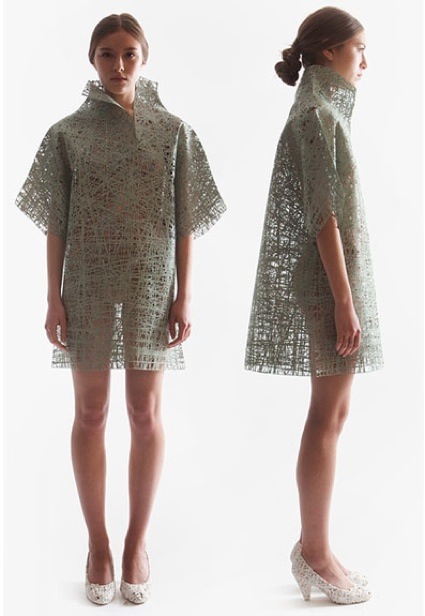 Jungeun Lee and Shota Aoyagi, Heat-Fusible Yarn
Ferrofluid, or magnetic liquid, is composed of ferrous nanoparticles suspended in a liquid.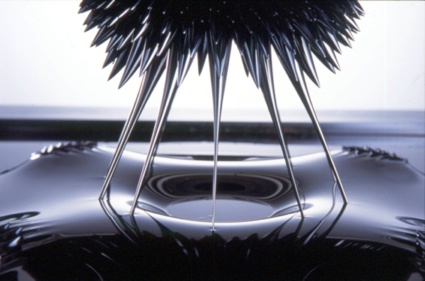 Sachiko Kodama and Minako Takeno, Protrude, Flow, 2001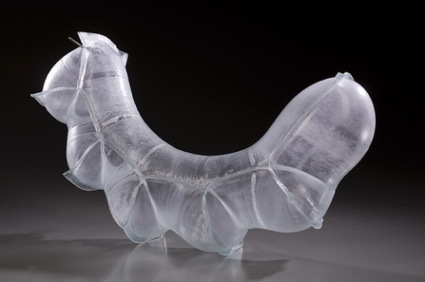 Matthew Szösz blows air between pieces of fused discarded window glass.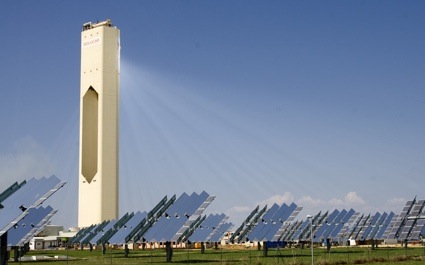 P10 Concentrating Solar Power Tower