Alive Technologies developped a platform to monitor the progress and physical condition of marathon runners. The system relies on the Alive Heart Monitor, a Bluetooth GPS and Bluetooth mobile phone worn by the runner. The mobile phone transmits all the data to a server via GPRS over the mobile phone network.
Anyone can then log into a website where the current position and athlete's condition can be tracked, or replayed.
The system was tested on the Australian Gold Coast Marathon in early June, and it's scheduled to be used in another three events.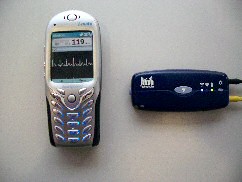 From Geekzone.