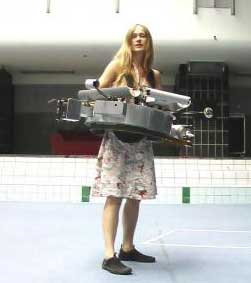 Compass, by Lawrence Malstaf, is an orientation machine to be worn around the waist. As the wearer walks around the room his/her movements are manipulated. The device guides the wearer by avoiding the magnetic fields present in specific zones, creating an invisible, yet tactile architecture.
The user, however, can choose to either resist the machine or follow its orders.
By the same artist: Nevel, a moving labyrinth and Shrink, an installation that vacuum-packs gallery visitors.
Related: A belt with tactile sense to show you the way.
Via Paul Granjon. Images: 3voor12, 5daysoff, kevinenjoyce and ctrlaltdelete.