On January 31, 2010 a life-size statue of Ronald Mc Donald was abducted from a McDonald's fast food joint in central Helsinki. The kidnapping took place in broad day light as the video below demonstrates:
How Ronald was kidnapped (more on The Free Ronald's channel
A few days after, the kidnappers, a group of health-food activists called the Food Liberation Army, uploaded a video message on YouTube threatening to 'decapitate' Ronald if the hamburger corporation failed to answer questions about the quality of its food and its work ethics. The only unequivocal the FLA received was a stern warning that the company "does not negotiate with criminals." So poor Ronald was guillotined. Only that it was only a copy of the stolen figurine that lost its head. The 'original' one remained intact.
Somehow, the Finnish police managed to discover the identity of one of the food activists: artist Jani Leinonen. They raided his home, seized mobile phones and computers, threw him in jail for thirty hours and heroically freed Ronald the "hostage".
It wasn't the first time Leinonen's artworks engaged with food products, satirizing and dismantling their symbols and marketing strategies but this action proved too much for the authorities and the fast food chain. As Leinonen explained in an interview "I thought I was just stealing a store decoration, but I must have done something much worse."
I discovered Jani Leinonen's work at the Venice Biennale back in 2009. The cardboard signs he had bought from beggars across the world were framed and gracing the dining room of the Danish and Nordic Pavilions curated by Elmgreen & Dragset. He had actually bought these signs from people asking for charity and i still remember vividly how uneasy their presence at the swanky art event made me feel.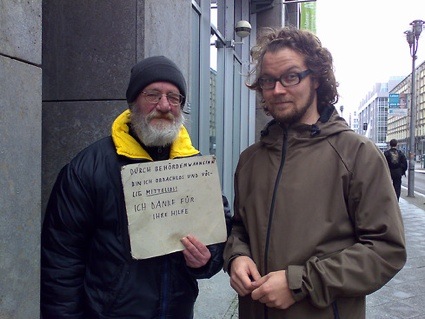 From the series Anything Helps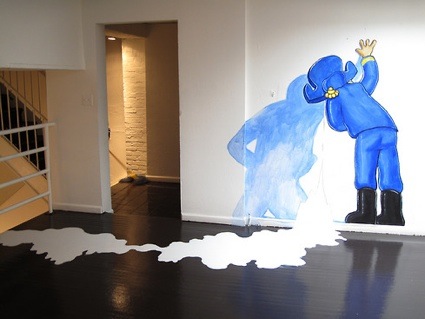 Jani Leinonen, Rejected Ideas For Cap'n Crunch Advertisements, 2009
Jani Leinonen, Coulrophobia, 2009. Photo: Johanna Viljakainen
Thanks to the kind help of James Hudson, i got in touch with Jani Leinonen and bombarded him with questions about the beggars signs, his crazy sexed-up versions of cereal boxes for children, experiments with selling contemporary art works by the bulk as if they were vegetables and of course i was curious about the aftermath of the Ronald affair.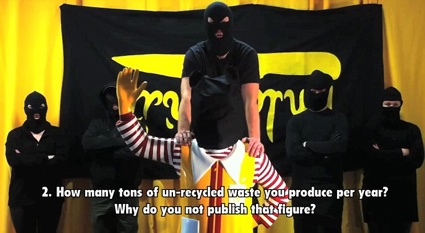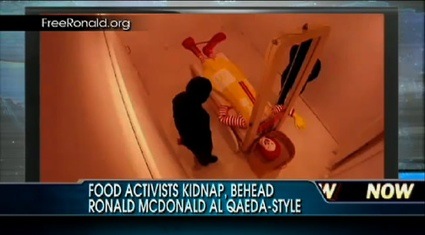 Kidnapping of Ronald McDonald was reported on Fox News
What happened after the Ronald affair? I read about the whole ordeal with the police and how the fast food decoration eventually went back to the restaurant. Is the police still looking at you suspiciously? Has McDonald's banned you from its restaurants?
But more more generally, do you think that Food Liberation Army brought the right spotlight on your artistic career? Or looking back, do you think you should have handled things differently?
Fortunately I was not banned from McDonald´s restaurants because I do visit them often. I keep telling myself it´s artistic research but I think I am lying even to myself. We just got the final charges via mail a few weeks ago. I and two other FLA members are charged with forgery and fraud, and the trial will be held in June in Helsinki. The prosecutor claims that the repair form of a fictional statue repair company we left at the table at McDonald´s is a forgery. Even more surprisingly he claims we committed a fraud and tried to profit economically by kidnapping Ronald. I am very happy about the chance to make my case in trial. We are planning to invite the best food specialists and art scholars to witness that our action was art and and served a revolutionary purpose.
Of course, there are many things I would have done differently. Then again, there was no way of knowing that, for example, the police would be doing a six man raid at my home just because we took a plastic store decoration. The project happened mostly in the web and media, and the debates it started and the attention it got there, were beyond all my expectations.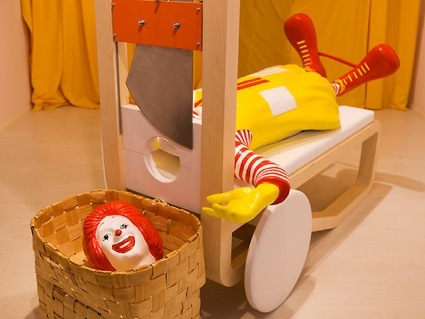 Food Liberation Army: A carpenter crafted the Alvar Aalto style guillotine from traditional Finnish crafts wood birch
How about the Food Liberation Army? Are you planning to do more actions or did the whole army retire?
I created the Food Liberation Army to allow myself to make art both anonymously and without tagging it art immediately. FLA gave people an impression of activism, which I think my art is really close to. My cover was blown when the cops threw me to jail and the press found about it. But before that it was amazing to follow the confusion of people when they had no idea if the kidnapping was the real thing, or a marketing stunt, or art, or what. The most interesting discussions sparkled out of genuine interest in the issues the FLA brought up in the letter of demands. I think FLA will continue its work but I will deny having any part in it.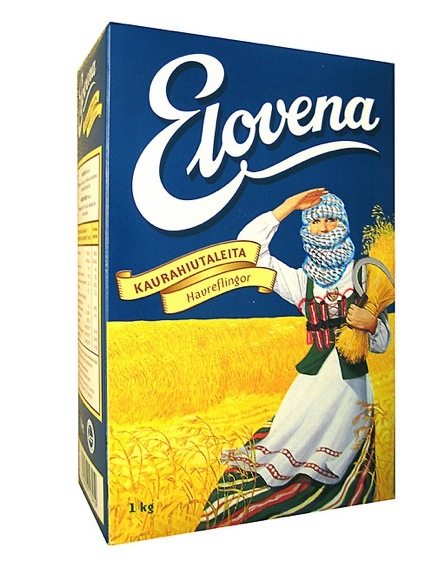 Jani Leinonen, From the series All bad that happened to others is now happening to us, 2008. Photo: Jami Saariniemi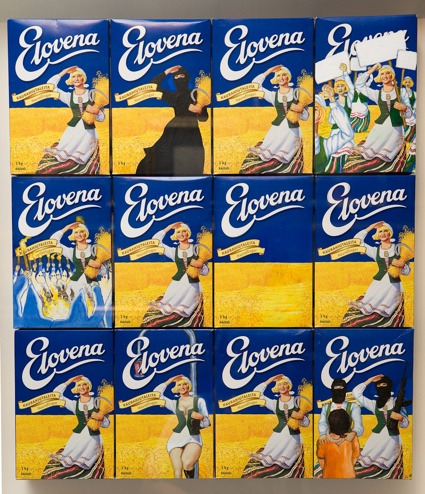 Jani Leinonen, From the series All bad that happened to others is now happening to us, 2008. Photo: Jami Saariniemi
You seem to be fascinated with branding. Is it a coincidence that many of the brands you target are associated with family and children? Have any of the cereals makers ever reacted to the way you subvert their packaging?
I read a study that the most unhealthy food products are the most dazzling by the appearance, and those are of course kid´s products. The first time I used packages in my art I received a threatening letter from a Finnish company called Raisio. I had painted on their age-old Elovena oat meal packages. There´s a girl in a traditional Finnish national costume in the cover and I had painted her in Niqab, or as a call girl, or a suicide terrorist. Their lawyer wrote in the letter they have a right to claim financial compensations because I have damaged their trademark. They dropped the case after getting a lot of bad publicity which was in those days my only weapon against these giant corporations. That was the first time I realized that these colorful and seemingly innocent images are dangerous.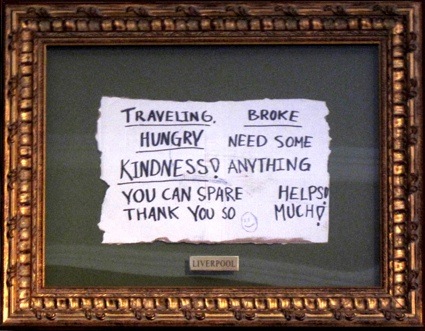 Liverpool, England, from the series Anything Helps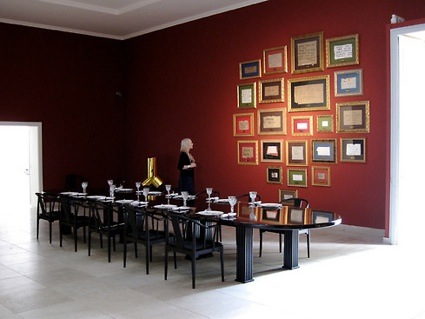 Anything Helps, 2009. Installation view at the Venice Biennale
I remember seeing the Beggar Signs at the 2009 Venice Biennale. The website of the project says "The incomes from selling the installation and all the donations will be spend on raising the awareness of globally rising class-differences and poverty through thought-provoking actions." What happened after Venice? Did you sell some of those signs and used the money to set up actions? Was Hunger King one of those actions?
I sold the whole thing and the money has been waiting for a good use in a high interest bank account. If I recall correctly, the selling price was around 14 000 euros, and the buyer was one of the richest men in Switzerland. I started buying the signs from beggars already in 2006 without knowing what to do with them. The first two I bought with something like 5 dollars in San Antonio, Texas. The more I bought the worse my conscience got, and I started increasing the purchase price. The last ones I bought with about 40 euros. it was not until 2009 I realized the money I payed and got from the process was so integral that I had to use it to help these people who created the work.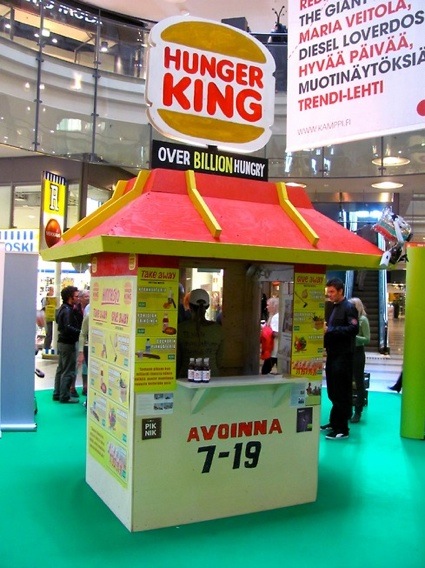 Jani Leinonen, Hunger King,
I read on your blog that the Left Alliance party office had asked you if you'd design a poster for the presidential campaign of their candidate. Is that something you could do? Would you be interested in becoming the Shepard Fairey of Finland? Why or why not?
I did do the poster, and he did not make it to the second round. Perhaps it was my fault. We had 8 presidential candidates this year, from 8 different parties. The only regret I have is that I got the most brilliant idea too late. I will save it for the next elections in six years.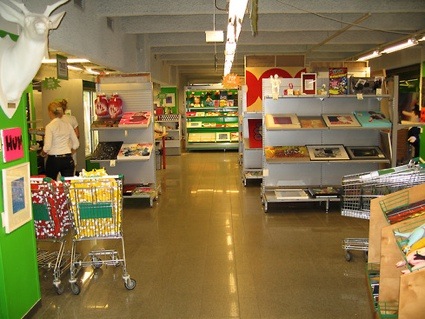 Art Super Market , 2006
I admire your attempts at making and showing art outside of the usual art context: Hunger King, Food Liberation Army and Art Super Market for example. How did the Art's Supermarket work go? Where did you get the idea for it? Which kind of customers did it attract? Why didn't you open it for longer than 3 weeks?
I show art outside its usual context because art has a reputation problem. When people realize a certain object or event is art, their attitude changes. To most people art is this weird, all-allowing, bourgeoise peculiarity. That´s why I spend a lot of time hiding the art from my projects. Hunger King, FLA, Art Supermarket, they were all made they way it took people long to realize they were art. Or perhaps they never did. People react so much stronger when they perceive things as real, as something they cannot put in a box right away.
I also think the job of an artist is to make prototypes, create ideas that change the rules of how people think things are. It´s not our job to take these prototypes to mass production. Art Supermarket was a test of an idea. We opened it just to make a point, not to start a profitable business. I don't have the patience to start doing the real work of running the daily tasks of running a supermarket. I was fun to see it work for 3 weeks, that people did come into a supermarket that sold art like sausages and actually bought works. The place looked so real some people actually came shopping food.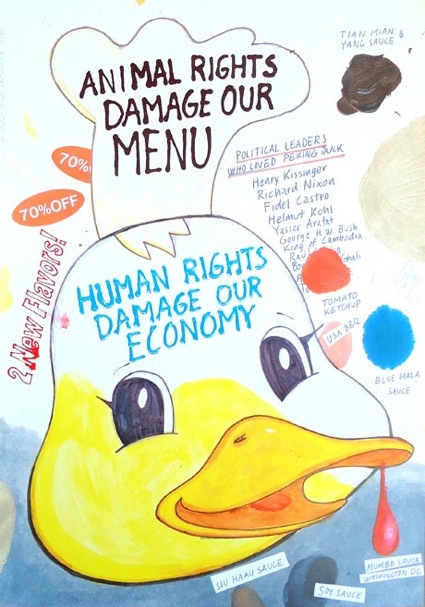 Riiko Sakkinen, Beijing Roast Duck Rights, 2010
Finally, could you tell us about other Finnish artists whose work you admire?
My all time favorite artist happens to be Finnish: Riiko Sakkinen.
Thanks Jani!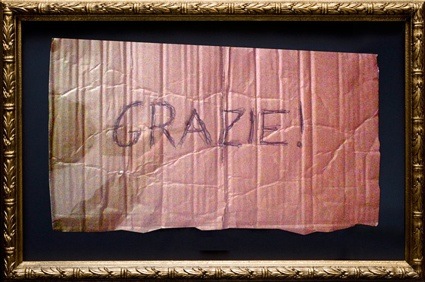 Rome, from the series Anything Helps