I felt no particular urge to see It's not only Rock 'n' Roll, Baby!, an exhibition which reconsiders personalities of today's rock'n roll scene in the context of their work as visual artists. I don't like rock. But then i was in Brussels and had just read that the show was curated by Jérôme Sans, the co-founder and ex-co-director of what remains my favourite art center on earth, the Palais de Tokyo, and the current director of the Ullens Center for Contemporary Art in Beijing. He also happens to have his own rock band, Liquid Architecture.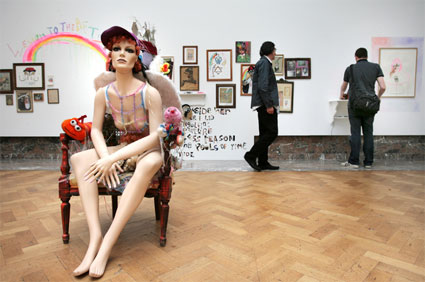 Image La Libre Belgique
It's not only Rock 'n' Roll, Baby!, or 'how the voice of rock emerged in the visual arts', is crammed with big names (so i was told but i make a point of not knowing anything about rock, i don't like it, did i mention that already?): Patti Smith, Brian Eno, Chicks on Speed, Fischerspooner, Devendra Banhart, Pete Doherty (i know that one, he used to date Kate Moss)… There's some 20 of them brought together under the same roof, not to give a concert, but to showcase their installations, drawings, collages, paintings, sculptures or videos.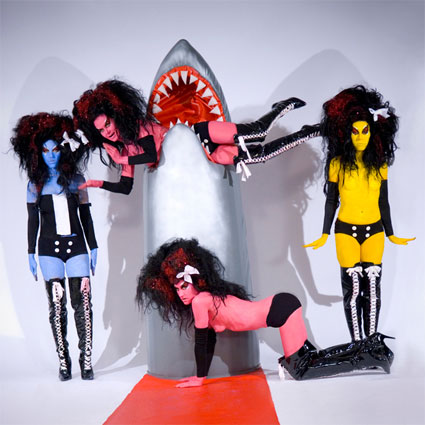 Kembra Pfahler, The Volutuous Horror of Karen Black, 2007 © Kristy Leibowitz
The good aspect of starting a visit with a grumpy attitude is that you can only have good surprises. I ended up liking the exhibition, despite the fact that part of the works on show correspond too much to the idea i had of what could be rock 'n' roll art, basically a bit of trash here and there, what looks like blood smudged over canvas, some provocative sexy installations that wouldn't impress your granny, etc. Don't expect to see portraits of Mick Jagger by Andy Warhol or the banana on the cover of a Velvet Underground LP in the gallery, you're in for a fresh and very contemporary treat.
Now the goodies:
Miss Kittin's graphic design-powered paintings.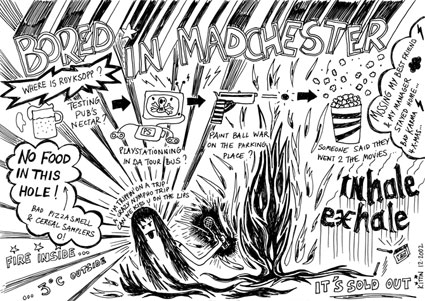 Miss Kittin, bored in madchester, All drawings by Miss Kittin (Caroline Hervé), © 2002, Miss Kittin
Bent Van Looy, lead singer of Das Pop's dark acrylics. Apparently Brian Eno told the artist: 'Your paintings are the only other stuff I like'. Who am i to call into question his taste?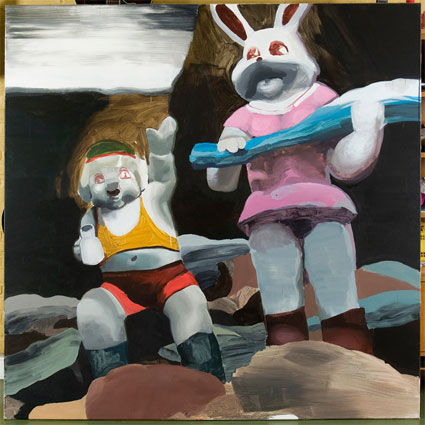 Bent Van Looy (Das Pop), Untitled, 2006 © Philippe de Gobert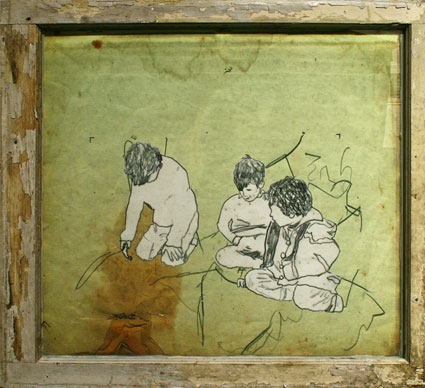 Riceboy Sleeps, Indian Summer
The gem of the exhibition is it's catalog (available at actar and on amazon USA and UK), conceived as a 'half-book, half-rock magazine'. Grrrrrreat graphic design, interviews, essays, loads of photos. Gorgeous.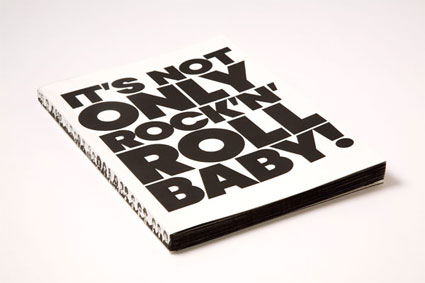 Some videos and photo galleries.

It's not only rock'n'roll baby ! runs at the Palais des Beaux-Arts (Bozar), Brussels, through September 14, 2008.