There were several works at DesignMai for people who live in the streets, here are two of my favourites:
Instant Housing, by Winfried Baumann, are mobile living units tailored to the homeless and other urban nomads's specific personal circumstances (like carrying your laptop or inviting friends to sleep home). They are compact and easy to carry from place to place by a single person.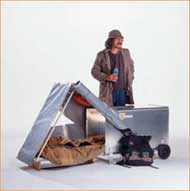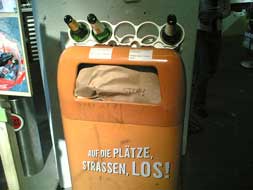 Holger Jahns was showing a tray for returnable bottles to be affixed on public trash bins. People would just slip their empty bottles into the holes of the plastic add-on. The bottles would thus be visible and easily collectable for the people who earn their living by returning these bottles to shops. No more garbage digging required. The designer explained that the system is even more necessary now that dog owners are required by the law to dump dog poos into these same trash bins.
More images of Instant Housing and tray.
Check also: Krzysztof Wodiczko's Homeless Vehicles, Electroland's Urban Nomad Shelter, Sean Godsell's urban furniture for the homeless, Lucy Orta, paraSITE,
Homeless yakuza terrorize Tokyo parks, etc.