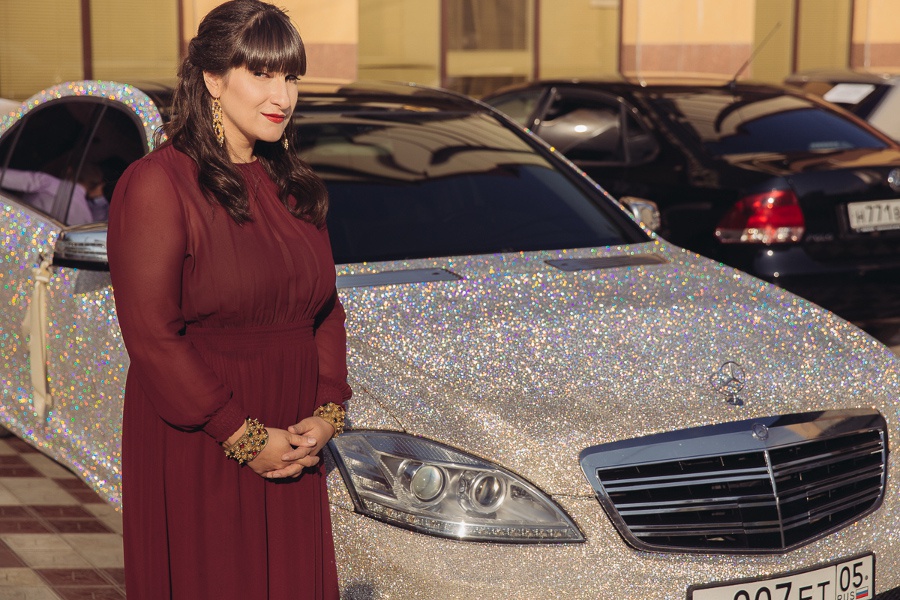 Taus Makhacheva, 19 a Day (Outside Arabeska wedding hall), 2014
Since last week's review about the exhibition How To Live Together at Kunsthalle Wien was all doom and gloom, i had to come back with another post and a more encouraging viewpoint.
This time i will thus focus on the artworks that show what makes coexistence possible in times of rapid societal changes, growing economic inequality, forced migrations and a widespread loss of trust in politics.
Intuitively, we already know that the key to more unified societies lies in a mix of resistance, remembrance, borrowing from other cultures, dreams and empathy. Many of the artists in the show illustrate what happens when these abstract notions are turned into real life stories: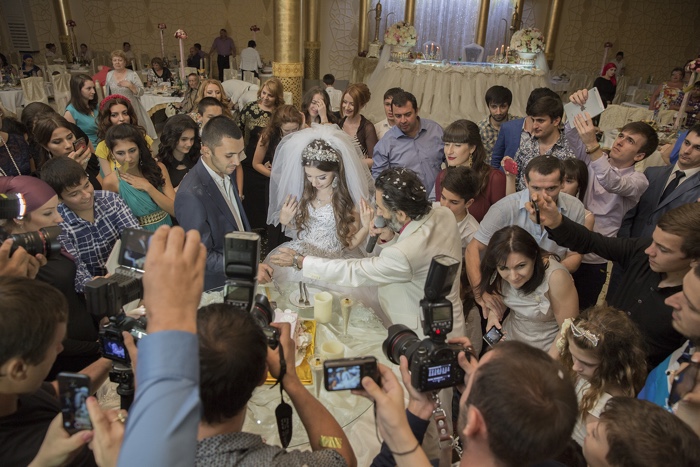 Taus Makhacheva, 19 a Day, 2014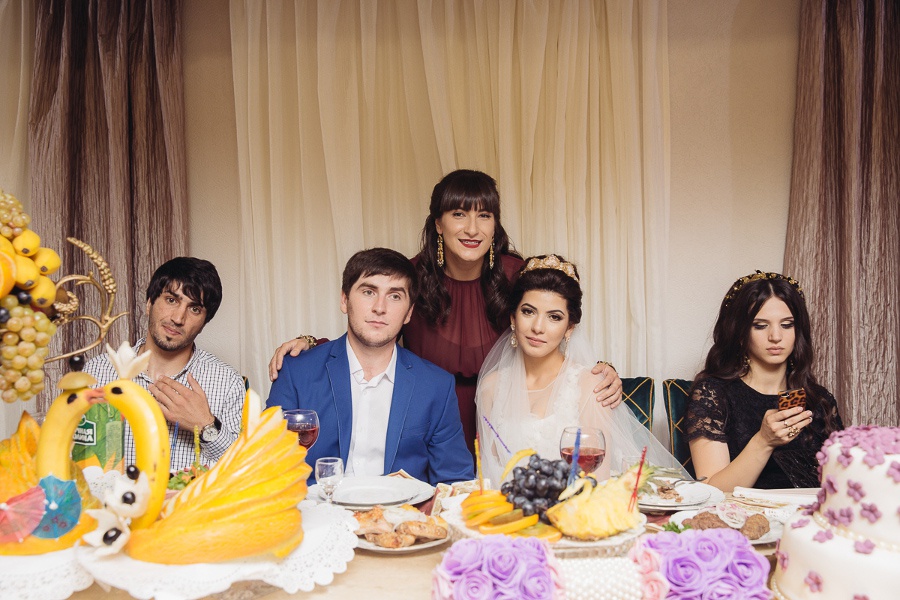 Taus Makhacheva, 19 a Day (Laili wedding hall), 2014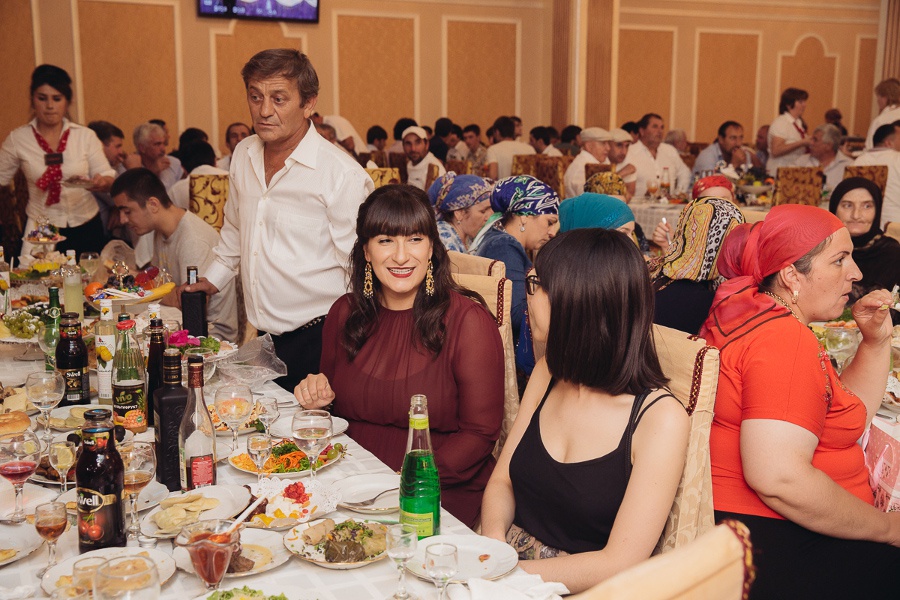 Taus Makhacheva, 19 a Day (Niagara wedding hall), 2014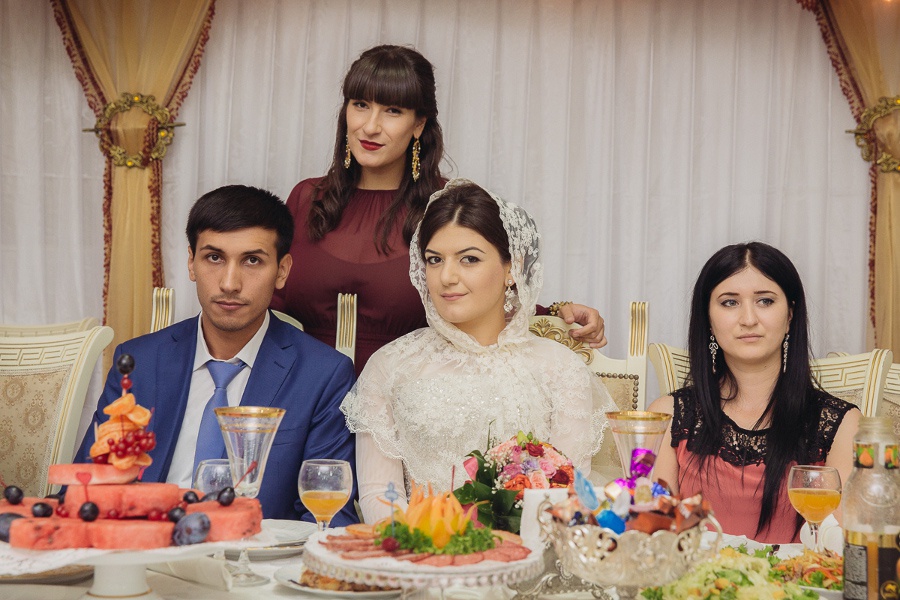 Taus Makhacheva, 19 a Day (Evropa wedding hall), 2014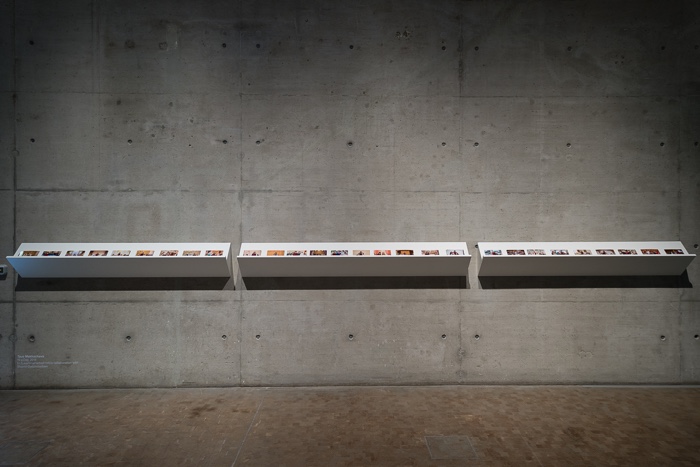 Installation view: How To Live Together, Kunsthalle Wien 2017, Photo: Jorit Aust: Taus Makhacheva, 19 a Day, Makhachkala, 14.09.2014
Makhachkala is the capital city of the Republic of Dagestan, Russia. Dagestan is famous for its dozens of ethnic groups, none of them forming a majority. Which explains why the country has 13 official languages.
Dagestani weddings are as serious as they are expensive and i'm glad no one has ever invited me to one because traditional celebrations can last for 3 days. Makhachkala counts more than 60 wedding halls. Each of them booked out during peak season (late spring to early autumn.)
With the complicity of local wedding photographer Shamil Gadzhidadaev, Taus Makhacheva spent a whole day crashing as many weddings as possible. At the end of the day, she managed to attend 19 marriage celebrations.
The performance was documented in postcards (each of them available for Kunsthalle Wien visitors to take away.) You see her adopting all the clichéd poses: congratulating the newlyweds, dancing, eating among the other guests, standing proudly next to the wedding gifts, etc. She's the perfect uninvited guest!
Because of the coexistence of so many cultures into one city, the images of the festivities show a fabulous mix of brides wearing a hijab and a Western 'princess' dress, female guests whose style icons are clearly one or all the Kardashian sisters, people taking photos using an iPad, ladies in very conservative outfits, etc. Somehow this blend of oriental/occidental, pop/traditional attires works fabulously and suggests a society that is borrowing from several cultures in order to define its own identity.

Installation view: How To Live Together, Kunsthalle Wien 2017, Photo: Jorit Aust. Willem de Rooij, Bouquet V, 2010
Bouquet V is made of ninety-five species of fresh flowers. The arrangement gives equal importance and visibility to each flower, no mater its colour, size, or provenance. The bouquet symbolises the beauty of diversity, the appeal of mixing individuals of various origins to obtain a stunning foral composition. The same logic should apply to society. Yet, celebration of diversity is still undervalued in many parts of the world. Unless you live in Dagestan of course.
Willen de Rooij's floral compositions are also a reference to the Netherlands' role as a key hub in the international flower trade.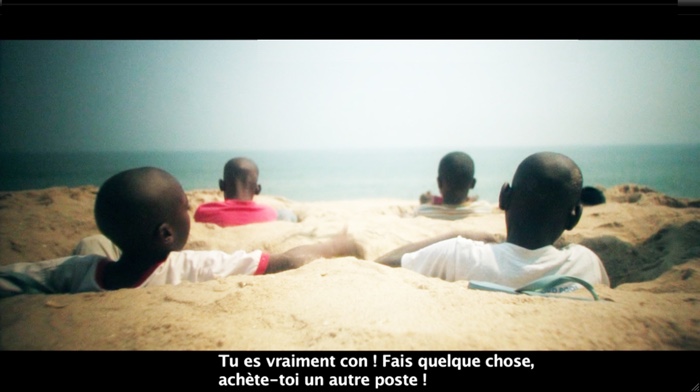 Binelde Hyrcan, Cambeck (video still), 2010
Binelde Hyrcan, Cambeck (extract), 2010
The latest Mercer Cost of Living Survey calculated that Angola's capital Luanda is the most expensive city in the world for expats. While living costs for foreigners who often work for the oil industry are slightly higher than New York and San Francisco, the average wage for the local population in Angola is just under $2 a day.
The most moving work in the show is a video by Binelde Hyrcan. The film shows four little boys playing on the beach in Angola. Sitting in the sand, they pretend they are driving around the world in a limousine. In only 2 min 30, the children's playful chitchat reveals an existence plagued by social inequalities, poverty and families split by migration. "I'm going to America and live in a building; you're going to stay here and live in a shantytown!"
But the film also talks of hope and dreams as a way to escape the trauma of social suffering.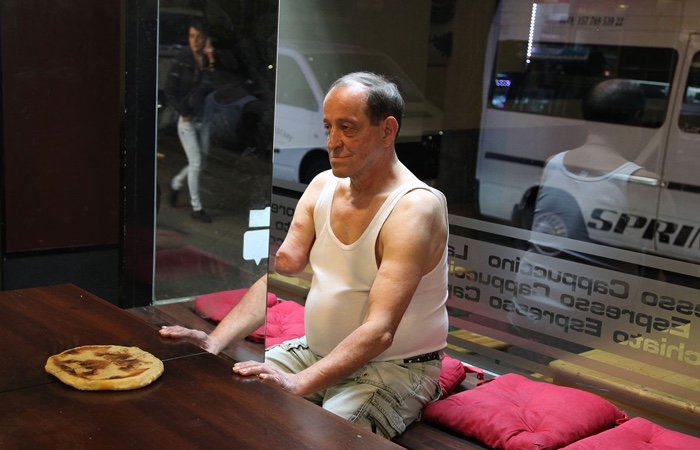 Kader Attia, Reflecting Memory (Video Still), 2016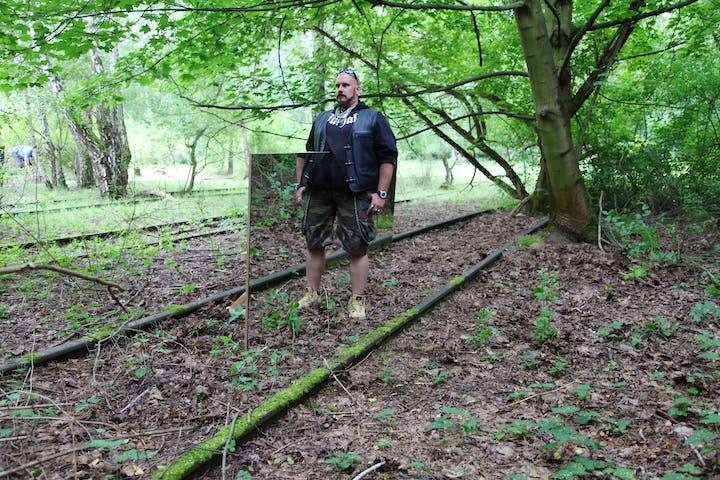 Kader Attia, Reflecting Memory (Video Still), 2016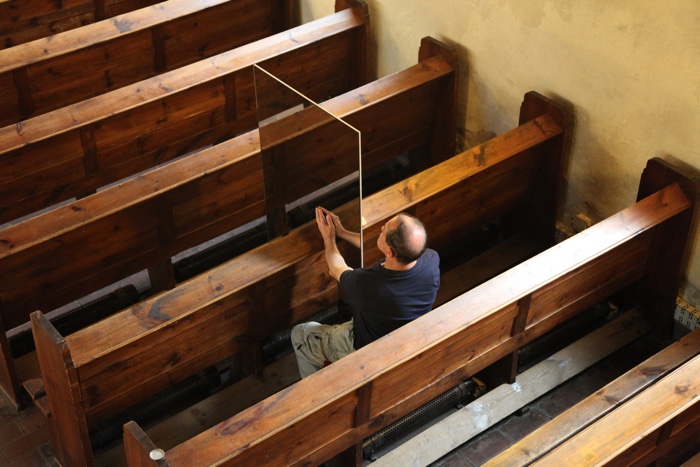 Kader Attia, Reflecting Memory (Video Still), 2016
Kader Attia is also interested in exploring trauma and social anxieties. He believes that the world, too focused on the present to remember the past, is suffering from amnesia.
His film essay Reflecting Memory deals with the idea of trauma and "reparation". Surgeons, historians, philosophers, psychoanalysts and traumatised people discuss the phenomenon of phantom pain, which amputees feel for their missing body part. The video draws parallels between this neurological condition and the trauma caused by psychological wounds, such as those brought about by war, slavery, colonialism, genocide and terror. They can spread over several generations as an unexpressed sensation of pain. This pain can in turn divide communities and create social tensions.
According to the interviewees, a confrontation with the past and an acceptance that it is part of our genealogy are necessary steps towards "repairing" the pain.
Attia's film is shown in the screening room next to the space occupied by Sven Augustijnen's Le Réduit which explores an episode in Belgium's ruthless exploitation of Congo (i mentioned the work in my previous story). Congo, now The Democratic Republic of the Congo, typifies the fate of an ex-European colony which has experienced much trauma but has never been offered any healing experience.

Johan Grimonprez, Kiss-o-drome (fragment from Shadow World, story written and read by Eduardo Galeano), 2016
In 1980, Judge Manuel Morales ruled that 'the cinemateographic kiss, in which salivas mix to simply swell the sensuality' should be banned from the city of Sorocaba in Brazil.
In reaction to the ludicrous edict, almost 2,000 young people marched through the streets and organized a huge 'kiss-in' protest. "Never had people kissed so much," writes in his book Eduardo Galeano in Children of the Days.
Johan Grimonprez's short video celebrates the protest with images of a dancing couple and the voice of Eduardo Galeano narrating the Kiss-o-drome demonstration.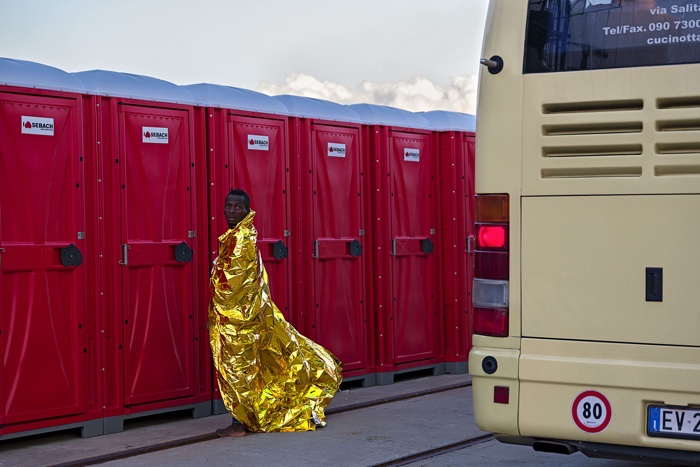 Herlinde Koelbl, Italy Catania-Messina (from the series: Refugees), 2016
Herlinde Koelbl's Refugees photo series highlights under-represented aspects of the life of refugees after they've arrived in Europe: their days inside the camps, the most treasured possessions they brought with them, etc. But also the generosity they encounter in the countries of arrival.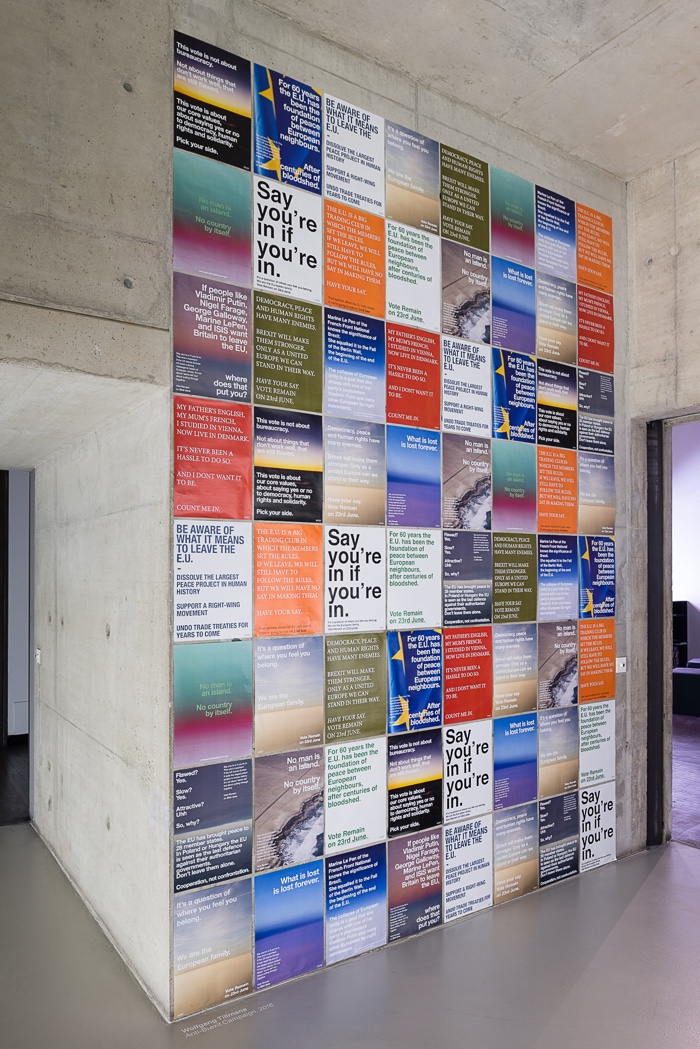 Installation view: How To Live Together, Kunsthalle Wien 2017, Photo: Jorit Aust. Wolfgang Tillmans, Anti-Brexit Campaign, 2016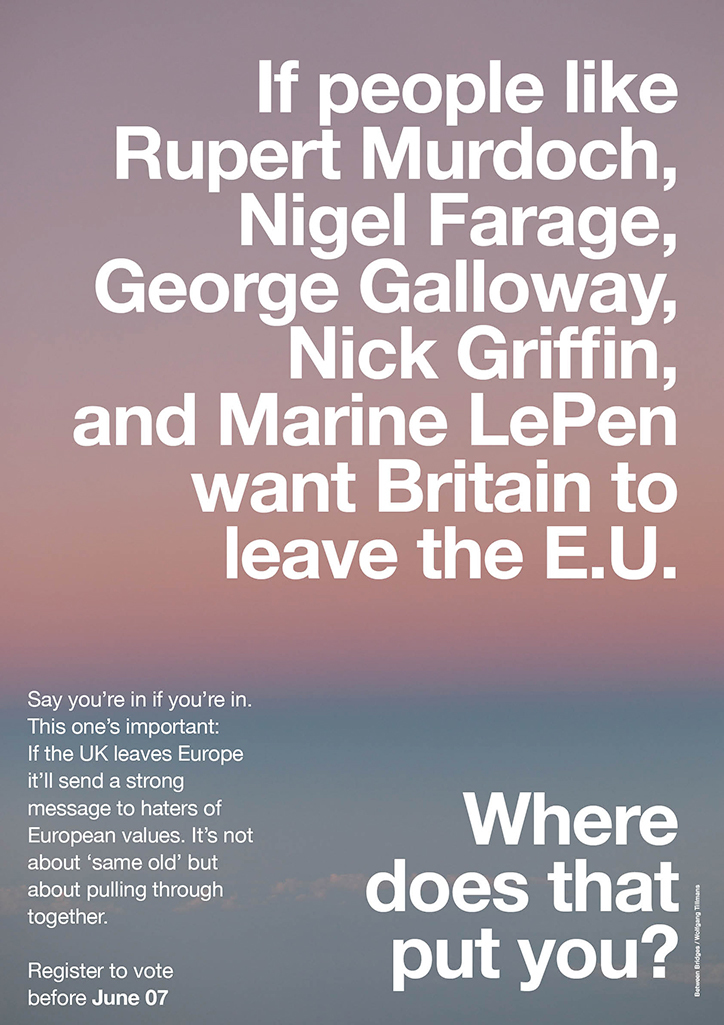 Wolfgang Tillmans, Anti-Brexit Campaign, 2016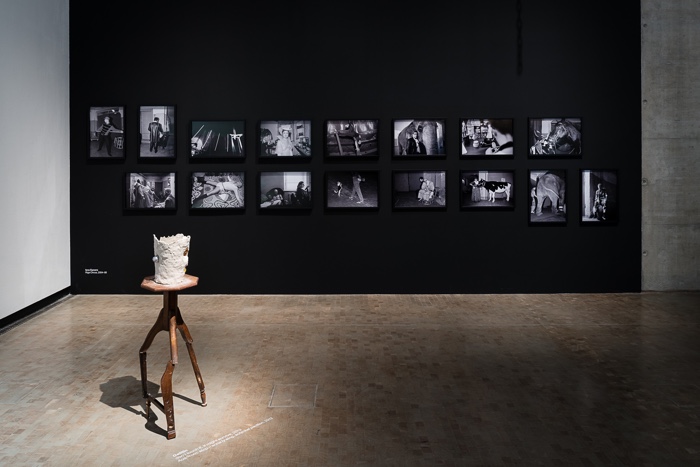 Installation view: How To Live Together, Kunsthalle Wien 2017, Photo: Jorit Aust. Ieva Epnere, Riga Circus, 2004–08/2017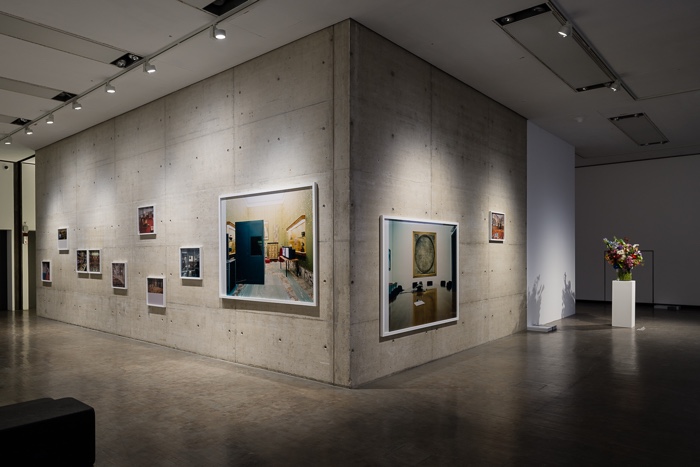 Installation view: How To Live Together, Kunsthalle Wien 2017, Photo: Jorit Aust: Armin Linke, CNR, National Research Council, Fermi conference hall, on the wall the Globe made by Fra' Mauro in 1460, 2007
How To Live Together also attempts to be more than yet another art exhibition for the usual cultural aficionados. The curators set up a "Community College" offering workshops, tours, brunches, courses and lectures until the end of the show. You can find the programme inside the exhibition booklet.
If you want to know more about the show, have a look at HTLT's playlist or download the PDF of the exhibition booklet.
How To Live Together is at Kunsthalle Wien until 15 October 2017. The show was curated by Nicolaus Schafhausen, with curatorial assistant Juliane Bischoff
Previously: How To Live Together. Part 1: the bad news.
Also on view at Kunsthalle Wien (Karlsplatz location): Work it, Feel it! New mechanisms of body discipline.