Boston media company Alt Terrain LLC has a series of original advertising media that "exploit" the street culture.
– The 100% Legal Graffiti Advertising murals are sprayed by graffiti artists on legally leased wall space.
– The Guerilla Media Programs consist of various forms of wild postings, urban market pole posters, sidewalk chalk stencils, static-cling posters, sidewalk decals, etc.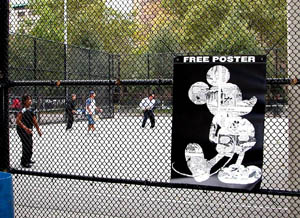 – The Rip-Away Posters are poster pads that encourage passer-bys to rip-down and take it home. The Rip-Away Posters campaigns target mainly suburb locations such as skate parks, beach boardwalks, schoolyards, and shopping districts.
– The Guerilla Video Projections screen images of brands, messages, and TV commercials on outdoor structures during the night.
Talking about graffiti, have a look at the wonderful job of Banksy.