France Cadet 's new work, SweetPad, allows three persons to play Quake 3 Arena in a totaly new way. The game itself has not been modified, you still have to kill your opponents. This time however, fast and aggressive behaviour won't be rewarded: you'll have to use tenderness and slow, gentle touch to kill.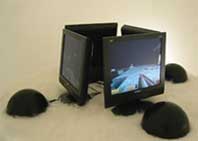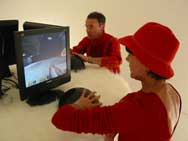 The joysticks have been replaced by SweetPad USB that players have to caress and stroke with delicacy in order to move and shoot. If they get nervous, they won't be able to move and kill "correctly."
Also by France Cadet: DogLab, the radiograde species.