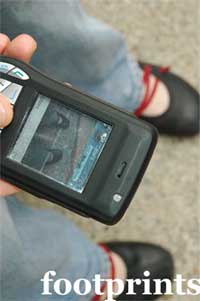 Footprints, a project by Ann Poochareon and Mark Argo, is a camera phone based installation that consists of multiple screens displaying images of different pairs of feet embedded in the floor.
The images are self point-of-view portraits of one's own feet at a particular location, a photographic angle that symbolizes one's own presence in a place: "I was here". The audience are asked to participate by uploading their top-down feet images from their camera phone via MMS, email, the website, or wireless connection at the installation site. The images rotate around the grid to show as many images as there are in the system.
Over time the installation reveals a social portrait of those who have interacted with the installation, displaying a diverse range of feet sizes and shoes, and in turn tell a unique story of the people, time and place.
Feet were chosen because they are a symbol of being mobile (so much for those who suspected that only fetishism motivated the project.) A self point-of-view portrait of one's own feet indicates authorship and the ability to document one self at any time, any place — an ability afforded by the camera phone. Shoes, as fashion, are an indication of class, culture, and generations. The participatory aspect of the installation reveals a portrait of a community, visually representing the connection amongst ourselves made possible by the digital devices.
"Our installation was originally proposed to be a cellphone file-upload type thing (like other CommPose installations where people send images over bluetooth connection)," explains Ann Poochareon, "but most of the Korean phones don't come with bluetooth (the telco wants people to use their network to share files instead) so we had to set up an email where people can send images to.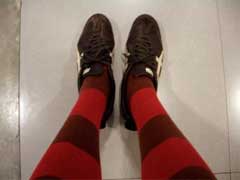 And because of that, we've made it so people can send via email and upload from the website in addition to being able to upload while at the installation."
As the grand prize winning project of the Mobile Asia Competition, Footprints will be installed in the Art Center Nabi in Seoul for Connected, an exhibition curated by Suhjung Hur. Runs from December 7th – 22nd, 2006.