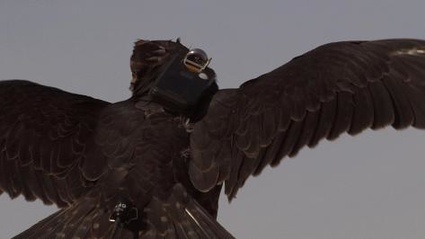 Laurent Grasso, Untitled, 2009. Vidéo, 17 min 30 s © ADAGP
While in Montreal i saw a wonderful video by Laurent Grasso at the Galerie de l"UQAM. The film was part of a group exhibition, Nomos et Physis, in which four artists explore the various types of relationships we might have with political institutions. The title refers to the Greek debate on the bonds that tie two antagonistic forces: Law and order (Nomos) on the one side and Nature (Physis) on the other.
Grasso's movie, shot in 2009 in The United Arab Emirates, looks at traditional hawk hunting. Except that the hawk gets equipped with light and sophisticated surveillance equipment. Once let to roam free above the land, the bird becomes a spying tool constantly tracked by its owner. The camera records every dune and village the hawk flies over. The images are fascinating but they are also threatening. Who is the man tracking the bird with an antenna? What is he trying to uncover?
The movie and its paranoia-inducing music reminds us that a technique to use pigeons for aerial photography of enemy lines during wars was developed as early as 1907. The practice might not have vanished completely. Two years ago, articles reported that Iranian security forces had captured a pair of "spy pigeons," not far from one of the country's nuclear processing plants.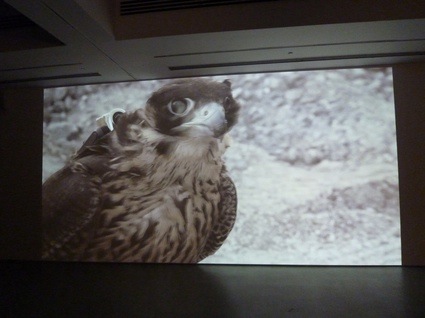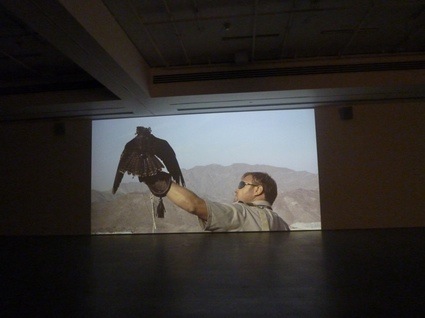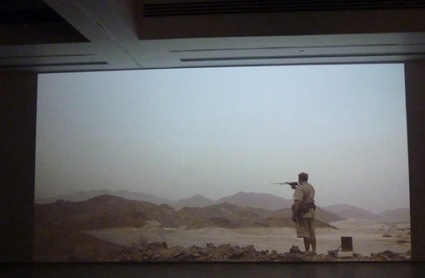 Nomos et Physis until June 5, 2010 at the Galerie de l"UQAM in Montreal.
Previously by Laurent Grasso: Haarp at the GAKONA exhibition in Paris.