I've been to Oslo twice over the past few weeks. That was quite enough to enchant me.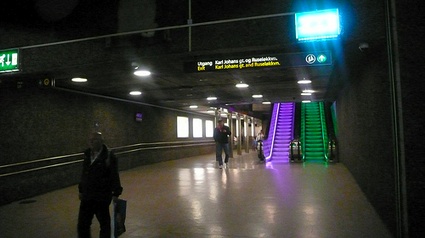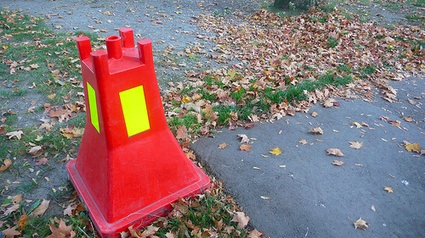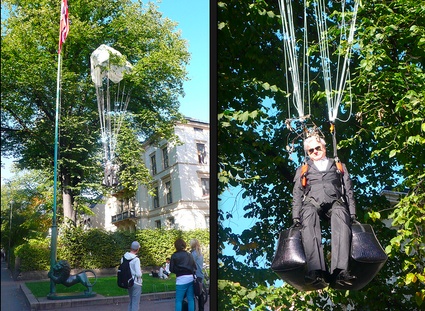 Anyone know what this art work might be?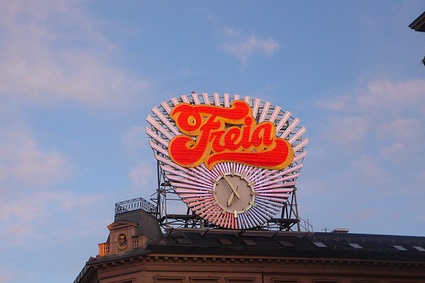 If you happen to be in Oslo this week, don't miss Hans E. Thorsen's re-interpretation of Edens Hage at the 0047 gallery.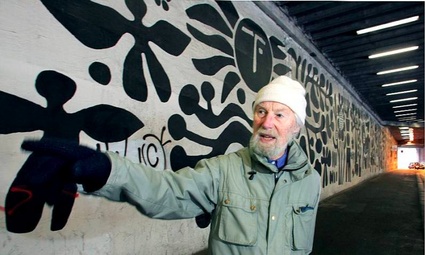 Arne Lindaas in front of the original Edens Hage (image)
Last June one of Oslo's most well known public artworks, Edens Hage (The Garden of Eden) by Arne Lindaas, was removed from the walls of the Hammersborg tunnel in the center of Oslo. It was decided that the artwork, painted in 1972, could not stand pollution, graffiti and the passing of time any longer. Besides, a renovation of the tunnel was due. It has not been decided whether Edens Hage will reappear on the wall one day.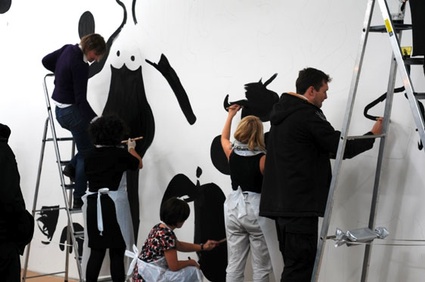 Young artist Hans E. Thorsen paid homage to the iconic public artwork by inviting the public to help him recreate the mystical figures of Edens Hage on the white walls of the 0047 gallery. The artist drew the outlines of the figures and gallery visitors were handed black paint and brushes to fill in the silhouettes.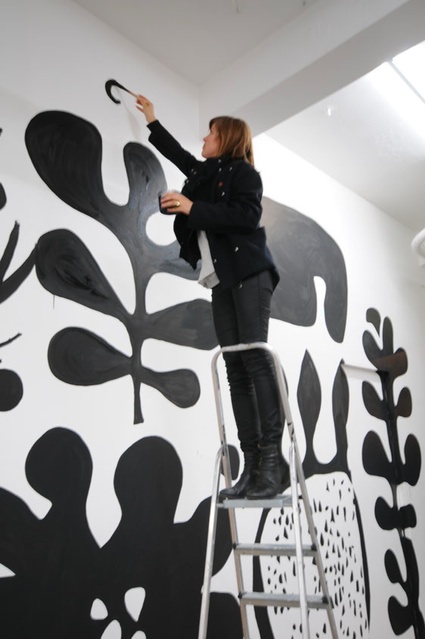 With this project, Thorsen wishes to explore how the reconstruction of another artists work can be worked into ones own production and how the public artwork will transform inside the white cube, with its many corners and structures. Edens Hage – Inspired by Arne Lindaas, is a tribute to the original artwork and looks at the collective affection towards a public artwork.
Besides, the wall painting raises an issue much discussed in architects, artists and restorers circles: Is it better to recreate a building or artwork exactly as it used to be before its destruction or decay or should we instead choose to pay homage to the work in a more creative way?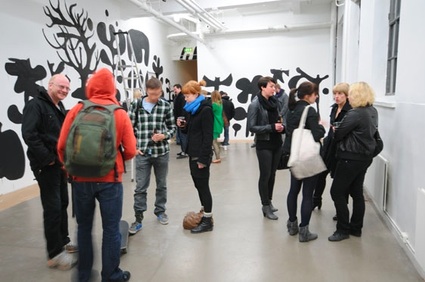 Edens Hage – inspired by Arne Lindaas is on view until October 25, 2009 at the 0047 gallery in Oslo. More images in this lovely flickr set.