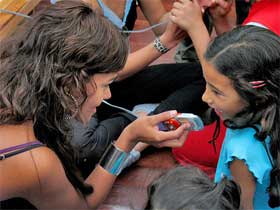 Paving the way for more news about Bogota…
Erik Sandelin and Magnus Torstensson from Unsworn have presented at the Bogotrax festival in Bogotá their new Ophonine Pophorn software.
The Ophonine is the first in an upcoming series of applications that transform your mobile phone into various musical instruments. With the Ophonine you can record and play sound loops with a press of a button.
First you have to download the Ophonine Pophorn software which will be available for free in May 2007. After that it works like this: press and hold the button to record a sound loop, using the microphone of the handset. When you let go of the button the loop is played back repeatedly – through the phone speaker or via an audio cable – until another sound has been recorded. Demo.
The Ophonine Pophorn is based on Unsworn's installation, the Four Ophones.
After Bogotrax (which ends today) Unsworn will continue its Colombian Pophorn Tour with events in Medellin, as part of the Pixelazo festival.
Top image by Bogotrax' photos.
More mobile phone as a musical instrument: musical tones played depending on how far away the hand is from the camera; the HandyDandy, Dialtones, Sinfonietta ringtone concert.