Each time i visited the Salone del Mobile, i snubbed the Swarovsky Crystal Palace extravaganza. But when i saw the name of Hussein Chalayan among the designers invited to rethink the concept of the chandelier, i thought it was high time for me to get a chandelier overload.
Over the past few years, Crystal Palace has launched amazing chandeliers like:
– Ron Arad's Lolita which displays the SMS you send to its number,
– Tokujin Yoshioka's Stardust, its thousands of individually suspended crystals act as pixels to display an image.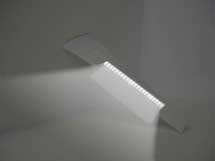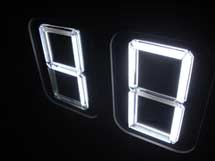 Back to Chalayan who created Repose, a conceptual installation that encompasses the feeling of movement and stillness. An aeroplane wing (that guy he sure loves aeroplanes, remember his aeroplane dress that changes shape by remote control?) balanced against the wall and the large flap of the wing reveals slowly a strip of strass crystals illuminated from behind by LEDs. The movement is linked to a digital clock set on a time loop, indicating speed with the movement of the wing flap.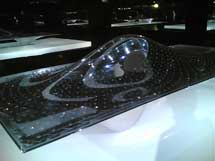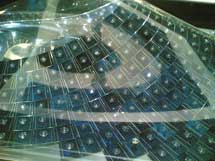 Ross Lovegrove was showing the concept car for future generations he's working on. His Aerospace is a solar powered hybrid concept car that will rely on alternative energy source. Lovegrove is collaborating with Sharp Solar Europe, Swarovski Optical laboratories, General Motors Europe, and Coggiola to bring this car to "life."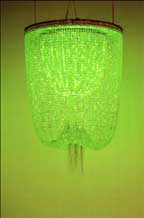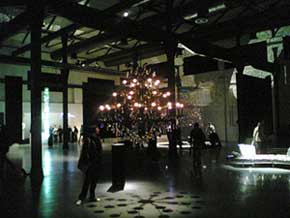 Gaetano Pesce's Mediterraneo was quite impressive (image on the left). It looks okay-ish at first. But watch it for a moment and you can see it changing colour and move like a jellyfish. The press release claims that besides, it exudes scents, but i didn't notice any smell.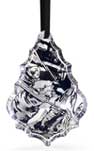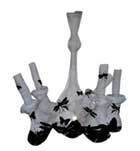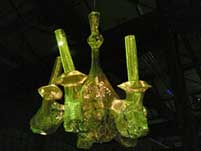 Two last one: Each single glass drop of Science and Fiction, Basso & Brooke's chandelier, is engraved with a different design; When the light is off, Jurgen Bey's chandelier is so light and grey that it is almost non-existent. When the light is on, the crystal sparkles and the gauze around it shine in the light. He made a set of them, they are called Cinderella AM and Cinderella PM.
Some pictures. Image of the Chalayan clock by Mike Kuniavski.