Dugnad (pronounced doog nahd) is a Norwegian word that describes a special way of doing voluntary, communial work. It's also the conceptual basis for the exhibition presented at PROJEKT OO47 and DesignMai.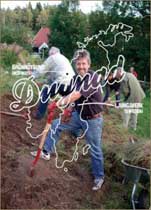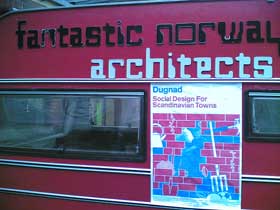 Many smaller Scandinavian cities suffer from a lack of civic pride due to depopulation and the absence of effective planning and development strategies. The exhibition presents two Norwegian practices – artists HåkkiTM and architects Fantastic Norway – devoted to show how art and architecture can play an important role in social development of small towns.
Fantastic Norway has been traveling through the northern part of Norway in a red caravan. They served waffles and coffee wherever they stopped to start the dialogue with the people they met on the road, using these chats as an important design tool. Priming the locals for future collaborations, FN writes articles about the town in the local newspapers to provoke and inspire. Ironically, their first project was not a building, but the prevention of one from being built. Through interviewing the locals and analyzing the town's structure, FN proved that what the citizens of Brønnøysund needed was not the proposed mall, but an open public space in the center of town.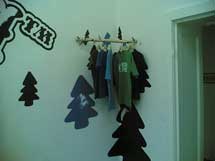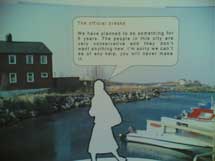 HåkkiTM designs and sells merchandize in aid of the small de-industrialized Swedish town of Ljungaverk – a once profitable center in Sweden's paper industry. Distributing the clothing brand through shops around Norway and Sweden, HåkkiTM makes this Swedish outpost a commercially viable branded commodity.
Both groups use advertising campaigns, temporary events and performative dialogue to make both inhabitants and the outside world aware of the challenges facing these towns. Working with the inhabitants of depopulated towns to design a sense of place and a feeling of pride, they suggest that artistic practices can have a real role as social design.
Current projects include Bring that Super-Mac Back, aiming to raise the necessary money to bring the Scottish football player Kyle McCullum (a.k.a. Super-Mac) to the Ljungaverk Football team in the hope that McCullum will help the team win the championship and bring back the football game as a communal social arena for the Ljungaverk inhabitants.
The show at Projekt 0047 runs until June, 10. Images on flickr.