The Cornerstone Festival of Gardens, near Sonoma (North of San Francisco), showcases the talents of landscape designers.
This gallery-style garden with walk-through installations by artists from all around the world, is made of a series of gardens that will each remain one or two years, like a museum with temporary exhibits.
The ironic "Daisy Border," designed by Ken Smith, features 408 pinwheels arranged in sections of green, blue, lavender and red spanning 122 feet.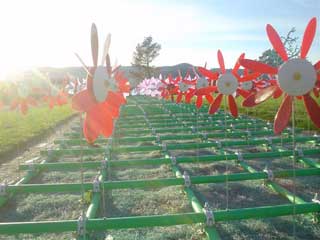 Rios Clement Hales Studios' "Changing Rooms" is a winding path to a curtain covered round space. Along the way are stations where you can write a wish on a translucent disc, and when you enter the inner "room", you can see a changing scuplture built from the words and wishes of visitors.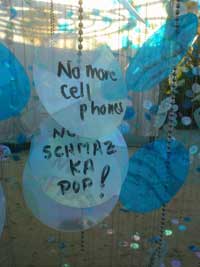 Mexican immigrant working in California agriculture are honored in "Small Tribute to Immigrant Workers," by Mario Schjetnan. Walking among wooden boxes filled with fruit and vegetable plants, visitors are invited to water, prune and weed the plants to get some idea of the effort required to maintain them.
"Blue Tree", by Montreal-based paysagist Claude Cormier, is a living Monterey Pine covered in blue plastic balls.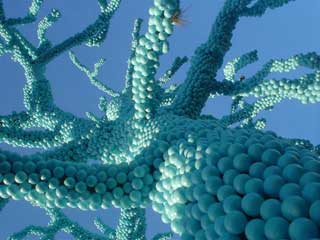 There are much much more. Steve Portigal blogged his visit there in Corante, via Core77.