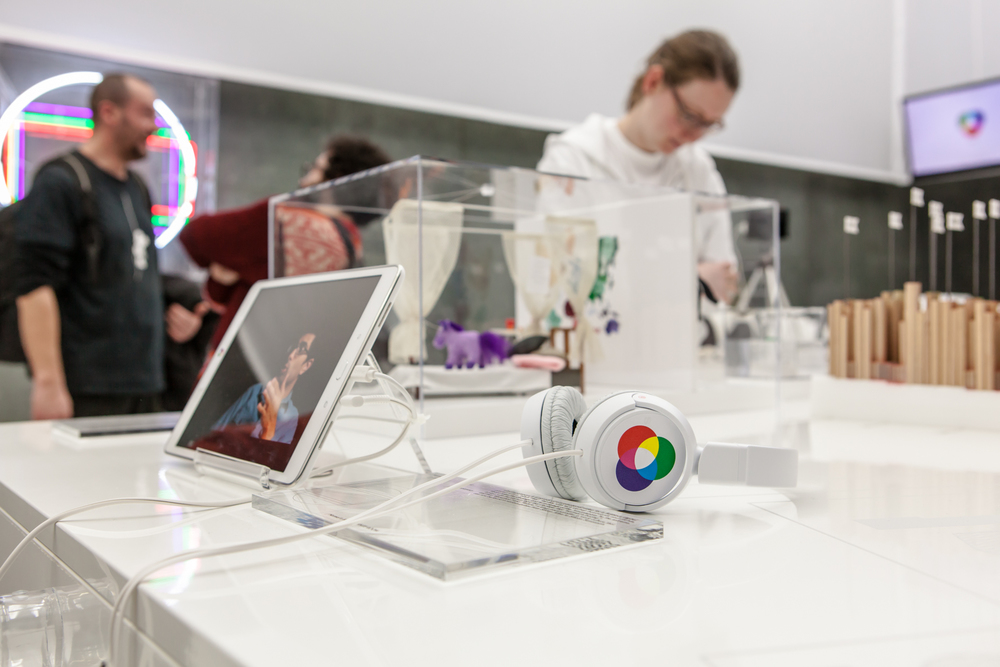 The White Room, Opening of Nervous Systems. Photo: © Laura Fiorio/HKW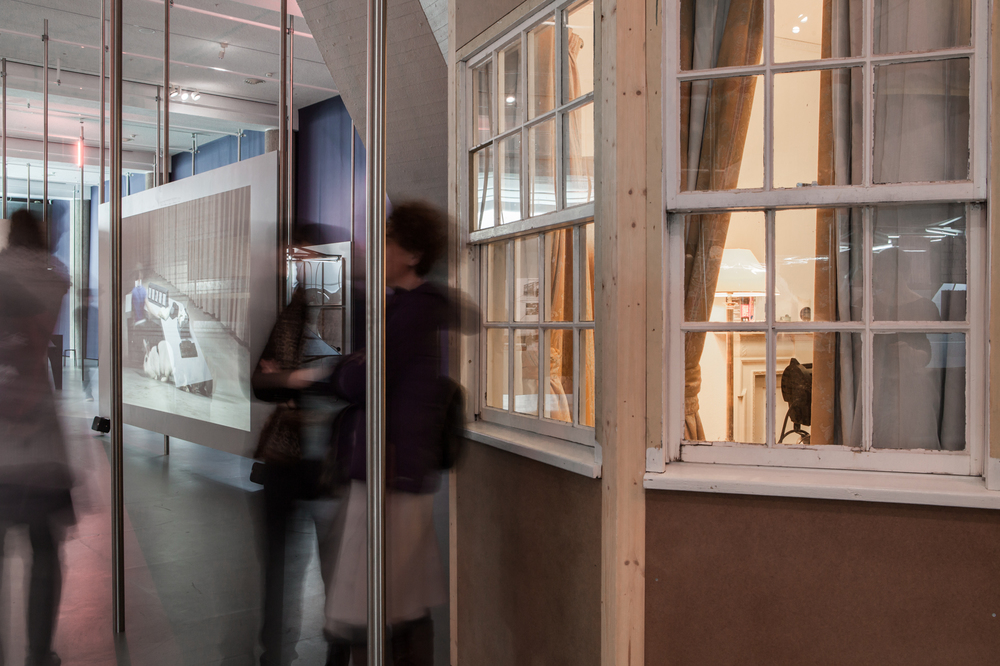 !Mediengruppe Bitnik, Reconstruction of Julian Assange's study room at the Ecuadorian Embassy in London. Opening of Nervous Systems. Photo: © Laura Fiorio/HKW
While in Berlin for the Anthropocene Campus, i visited the one show you shouldn't miss if you happen to be in town this week and next: Nervous Systems. Quantified Life and the Social Question.
The exhibition smartly enrolled artists, media historians and writers to chart the history and current rise of data-technologies and the world they bring about, exploring and exposing our quantified society and the processes of self-quantification. The food for thought that this show provide is overwhelming. Almost as much as this (partial) review of it!
Nervous Systems was co-curated by Anselm Franke and by Stephanie Hankey and Marek Tuszynski from the Tactical Technology Collective but because pretty much every single artwork and historical artifact in that deserves to be mentioned, i thought it would be better for everyone's patience and sanity if i focused on one segment of the exhibition only.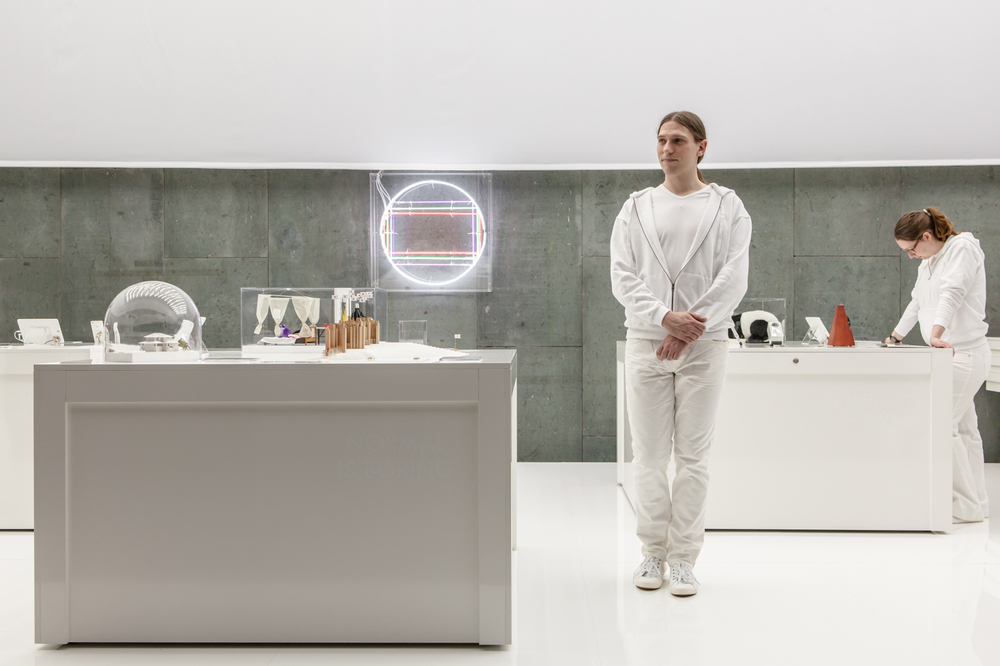 The White Room, Opening of Nervous Systems. Photo: © Laura Fiorio/HKW
I picked up the one called The White Room, for the very arbitrary reason that it was curated by Tactical Technology Collective whose brilliant twitter feed i've been stalking for months. The other strength of The White Room is its combatant, encouraging and engaged attitude towards rampant quantification, loss of autonomy and demise of privacy. It gives visitors the means to understand their data and devices but it also provides them with the tools necessary to gain more control over their digital life.
The White Room opens up the black box of our daily technological environment, brings to light the links between Silicon Valley's most successful start-ups and the military-industrial complex, and even uncover the Big Brother that hides behind the benevolent masks of some philanthropic initiatives.
Perhaps the best introduction to The White Room is actually this video that sums a research that Tactical Technology Collective has made into information brokering services:
Tactical Technology Collective, Confessions of a Data Broker
Inspired by David Ogilvy's book Confessions of an Advertising Man, Confessions of a Data Broker presents results from interviews with and research into data brokers in Europe, North America and Asia, providing insights into how the industry works, who is buying/selling data and what it means for users.
What is worrying is that data brokering is not only unreliable and invasive of your privacy, it is also opaque. It is indeed often very difficult for individuals to find out what data a broker holds on them, how they used it and how long they store it.
Citizen Ex is a browser plugin that makes us better understand data gathering. Once installed on your computer, Citizen Ex shows where the websites you are visiting are located geographically. Over time, Citizen Ex builds a user's algorithmic citizenship based on your browsing habits.
Whether or not you download Bridle's software, you already have an algorithmic citizenship. Every time you click on a link, every time you visit a website, you leave traces behind. Companies collect this data in order to deliver content and ads better targeted to each individual. But that's not all! Data gathering is also used for credit rating, insurance, ID verification, health care and fraud detection. And of course, government surveillance agencies like the NSA and GCHQ monitor your data to decide whether to spy on you.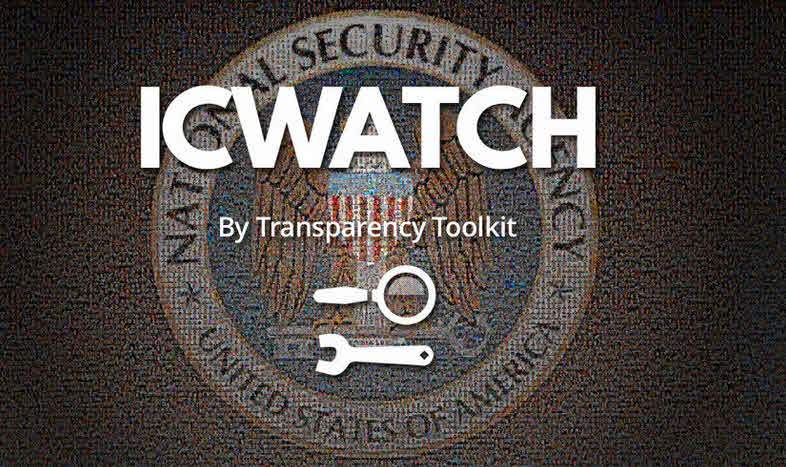 Intelligence Community Watch puts data gathering into the hands of the citizens. ICWatch has mined LinkedIn for résumés posted by people who state that they have worked for the NSA or Intelligence community or for related contractors and programs. ICWatch then compiled these findings into a searchable database of the US intelligence community. Transparency Toolkit, who developed it, say the aim of the site is to "watch the watchers" and better understand surveillance programmes and any human rights abuses associated with them.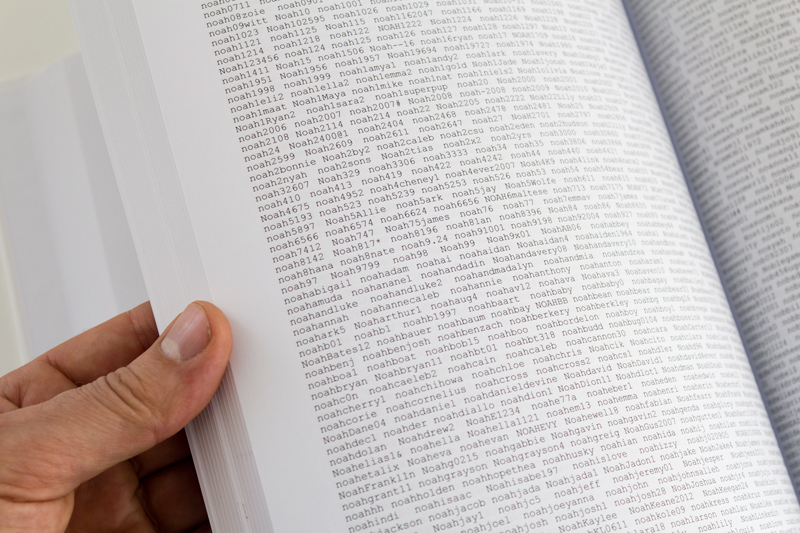 Aram Bartholl, Forgot you Password, 2013
In 2012, LinkedIn.com got hacked and passwords for nearly 6.5 million user accounts were stolen. A few months later parts of the decrypted password list appeared on the Internet. Aram Bartholl printed 8 books that list the 4.7 million passwords leaked in alphabetical order. The work reminds us that the safety of our data can never be guaranteed.
Some of the artistic projects selected in the show are using everyday objects and tech devices to demonstrate that the "I have nothing to hide" dismissal of surveillance is unwise now that we are part of a quantified society: Ai Weiwei and Jacob Appelbaum's stuffed panda (see SAMIZDATA: Evidence of Conspiracy. Talking secrets and pandas with Jacob Appelbaum), Sascha Pohflepp's Button camera, Danja Vasiliev and Julian Oliver's sneaky Newstweek… And Un Fitbits:
Tega Brain and Surya Mattu, Unfit Bits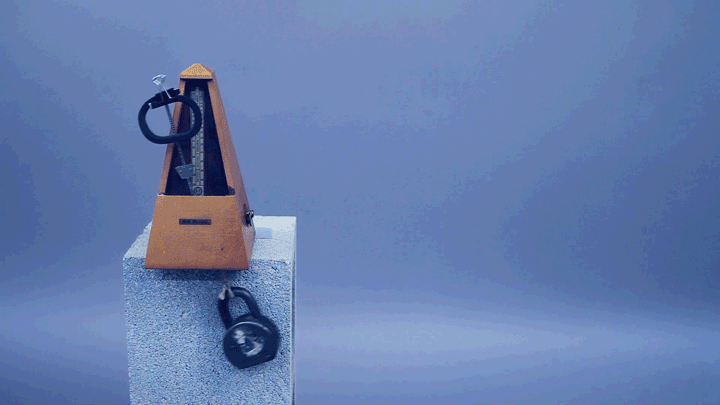 Tega Brain and Surya Mattu, Un Fitbits. GIf via bionymous
Un Fitbits enables you to obfuscate your data traces by generating fake data, while giving you the ability to control and understand your real data. All you have to do is clip the Fitbit bracelet to a metronome, dog, drill, bicycle or pendulum and they'll get fit and active for you.
The artists were interested in FitBit after noticing that insurance companies were giving away Fitbit to their customers. Wearing the device and walking a certain number steps would earn customers discounts. How do companies benefit from your healthy lifestyle? Can your data be considered 'yours' if it can be used against you?
The White Room also presented a series of projects that are decidedly at the most dystopian end of the quantification spectrum: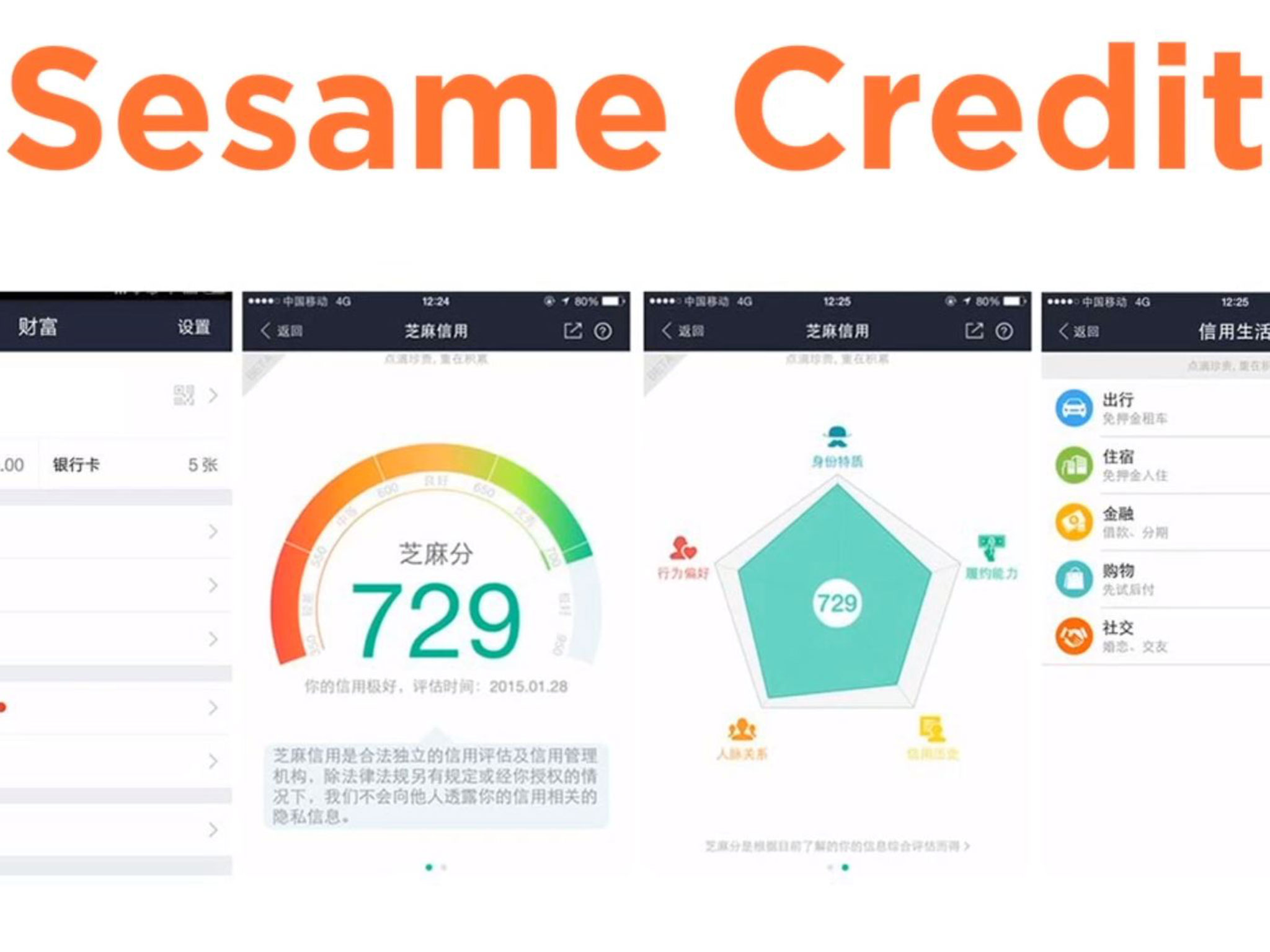 Sesame Credit. Photo via The Independent
Sesame Credit is a credit-rating system that scores Chinese citizens based on both online and offline data: their spending behaviour, habits, minor traffic violations, fiscal and government information, interests and affiliations. A high score will result in a better chance to find a job, get a date, rent a car without paying a deposit and be deemed 'trustworthy' by the government. The project was approved by the Chinese government as a pilot for a future nationwide database, an individual citizen 'social credit-rating' system, planned for nationwide rollout by 2020.
Some projects were labelled "Big Mama" by the curators. Dressed up as care, initiatives such as eye-scanning for refugee aid and facial recognition to monitor attendances in churches look more like Big Mama ("It's for your own good") than Big Brother.

Jordan: Iris Scanning Program In Action
The United Nations High Commissioner for Refugees has introduced an iris-scanning technology to verify the identity of Syrian refugees in Jordan. The pilot program allow refugees to withdraw their benefits from ATM machines but also to buy groceries through looking into an iris scanner.
The project is implemented by tech company Iris Guard which sells the same iris-scanning technology for border control, prisons and national ID. Iris Guard has 3 advisory board members: the CEO of a global merchant bank, the former hear of MI6 and the former Homeland Security Advisor to the President of the US.
Electronic databases of personal information raise privacy but also security concerns. Databases are being hacked all the time, and that's a huge threat to privacy and security. Hacked biometric data is particularly problematic, because unlike credit cards or even social security numbers, the data cannot be modified.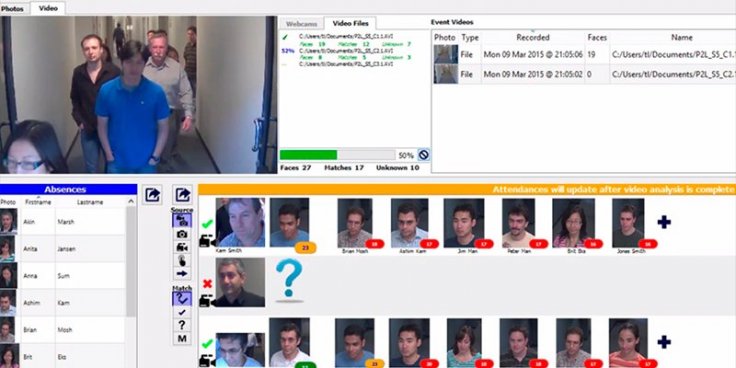 Churchix compares CCTV camera footage of people to a database of congregants of the church. Photo Face-Six via
Churchix is a facial recognition-based 'event-attendance tracking' software designed to help churches easily identify members of their congregation, and record their attendance at church and church-related events. Churchix identifies individuals in 'probe' photos or videos and then matches them with previously uploaded reference photos. Face-Six, the company behind it uses similar software for products used in casinos, airports, shopping malls and at border control posts. Churches in Indonesia, the US, Portugal, Africa and India have already adopted the system.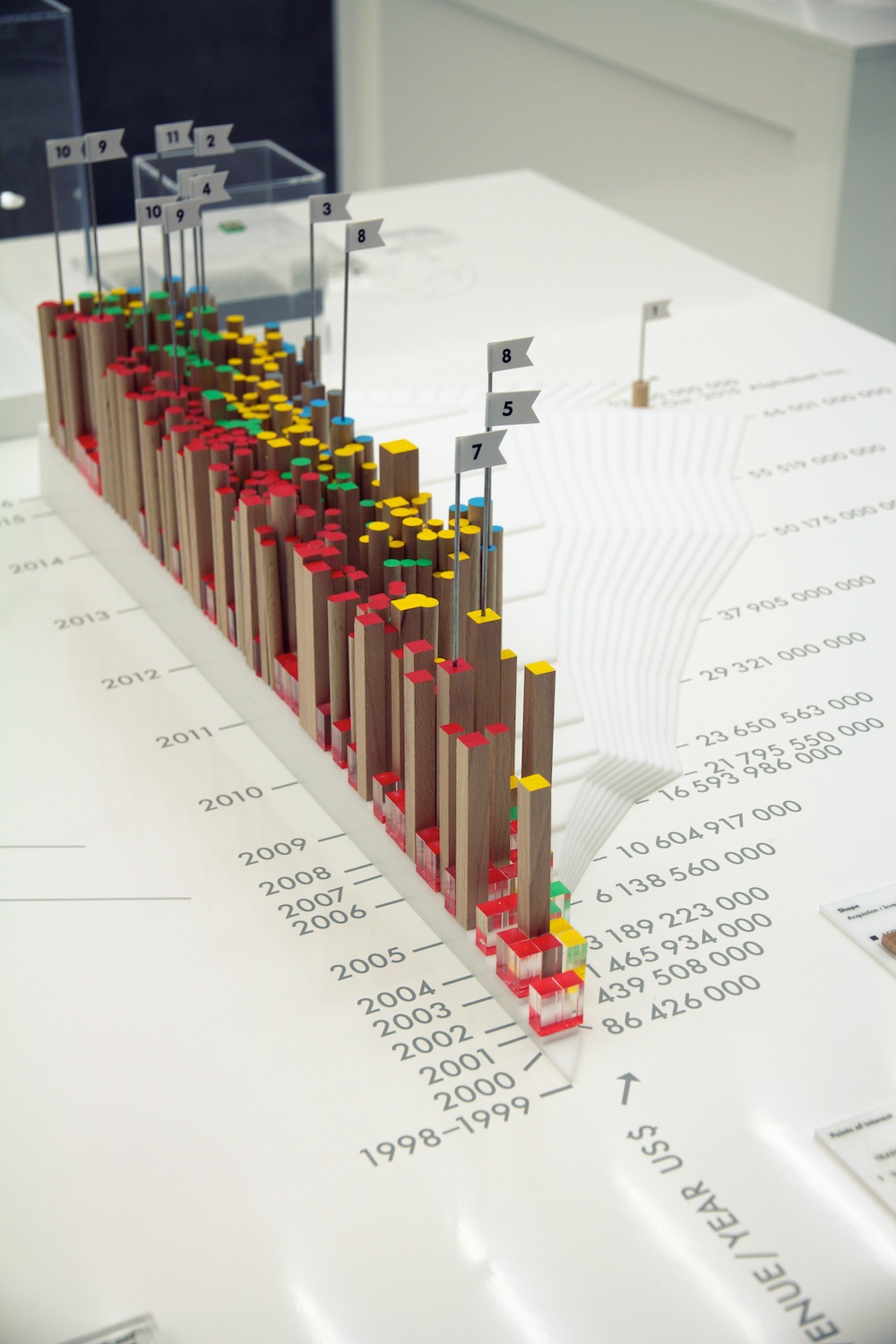 The Google Empire (information graphic / wood and acrylic.) Photo La Loma
A table exposed the presence of marketing departments, Washington D.C. expats, lobbyists and Wall Street analysts behind the sleek facade of some of Silicon Valley's most successful startups. Think of how Google went from the friendly search engine to Alphabet, the owner and developer of self-driving cars, DNA databases, AI and robotics. What used to be a bunch of bespectacled geeks is now a group of powerful companies who have accumulated vast amounts of power, knowledge, and wealth.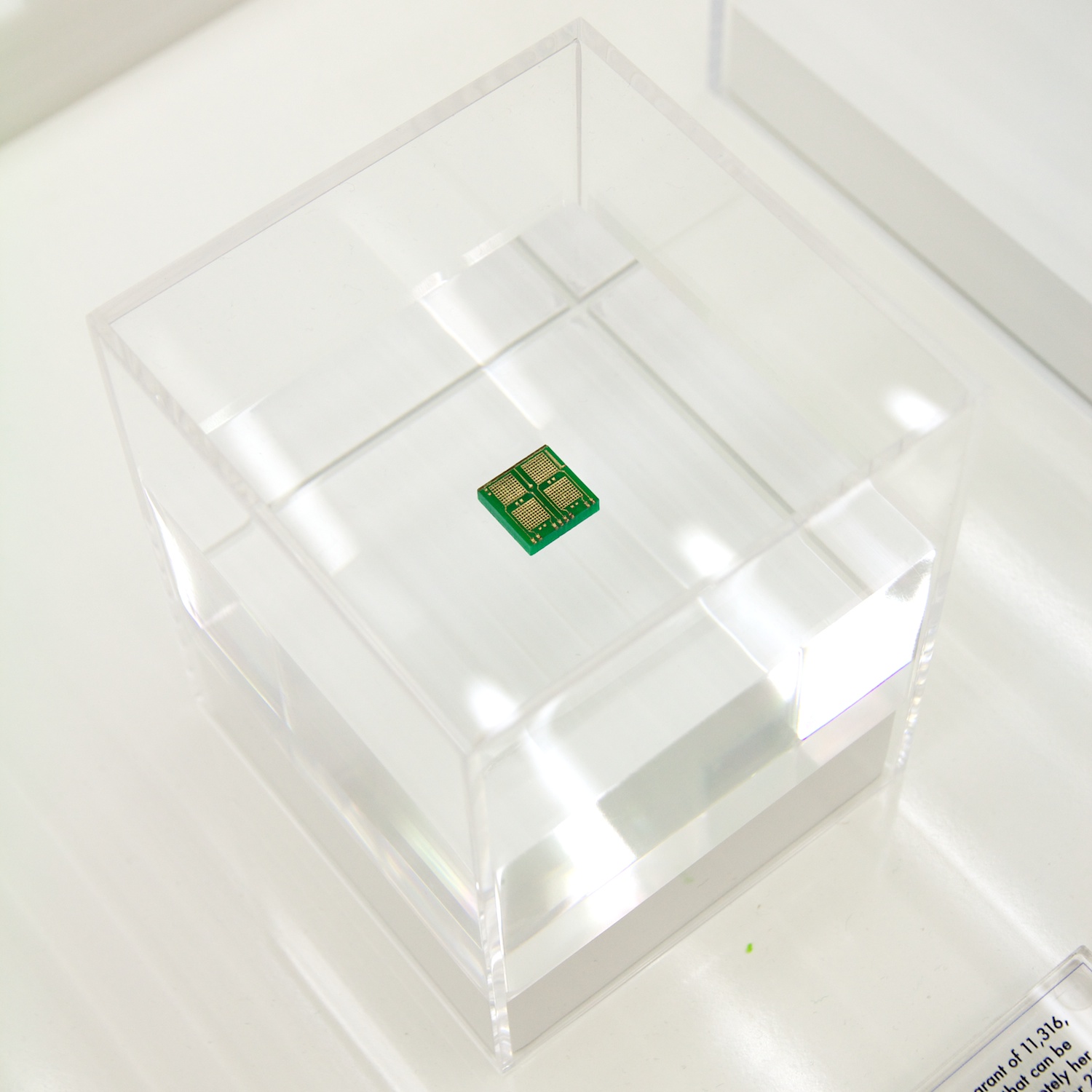 The Fertility Chip (simulation / laser cut and engraving.) Photo La Loma
In 2012, the Bill and Melinda Gates Foundation gave a grant of 11,316,324 US dollars to MicroCHIPS Biotech to develop a contraceptive chip that can be embedded in a woman's body for up to 16 years. The technology would enable a remove control of a woman's hormones, activating her ability to either conceive, or prevent fertilization.
MicroCHIPS hopes to introduce the product in 2018. Note that the technology is intended for women and girls in poorer countries.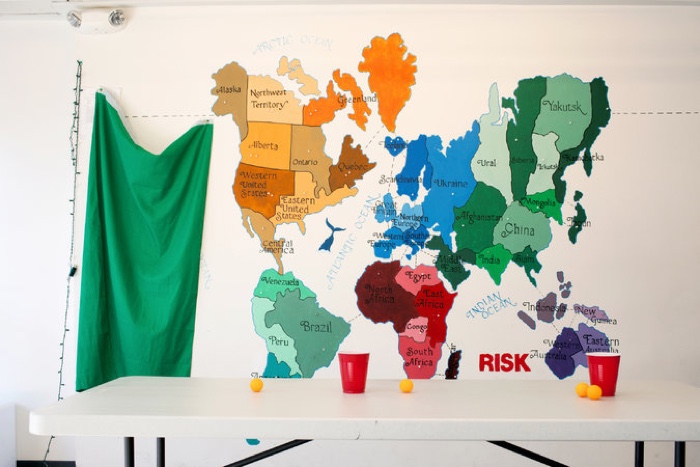 Inside Palantir offices. Credit Peter DaSilva for The New York Times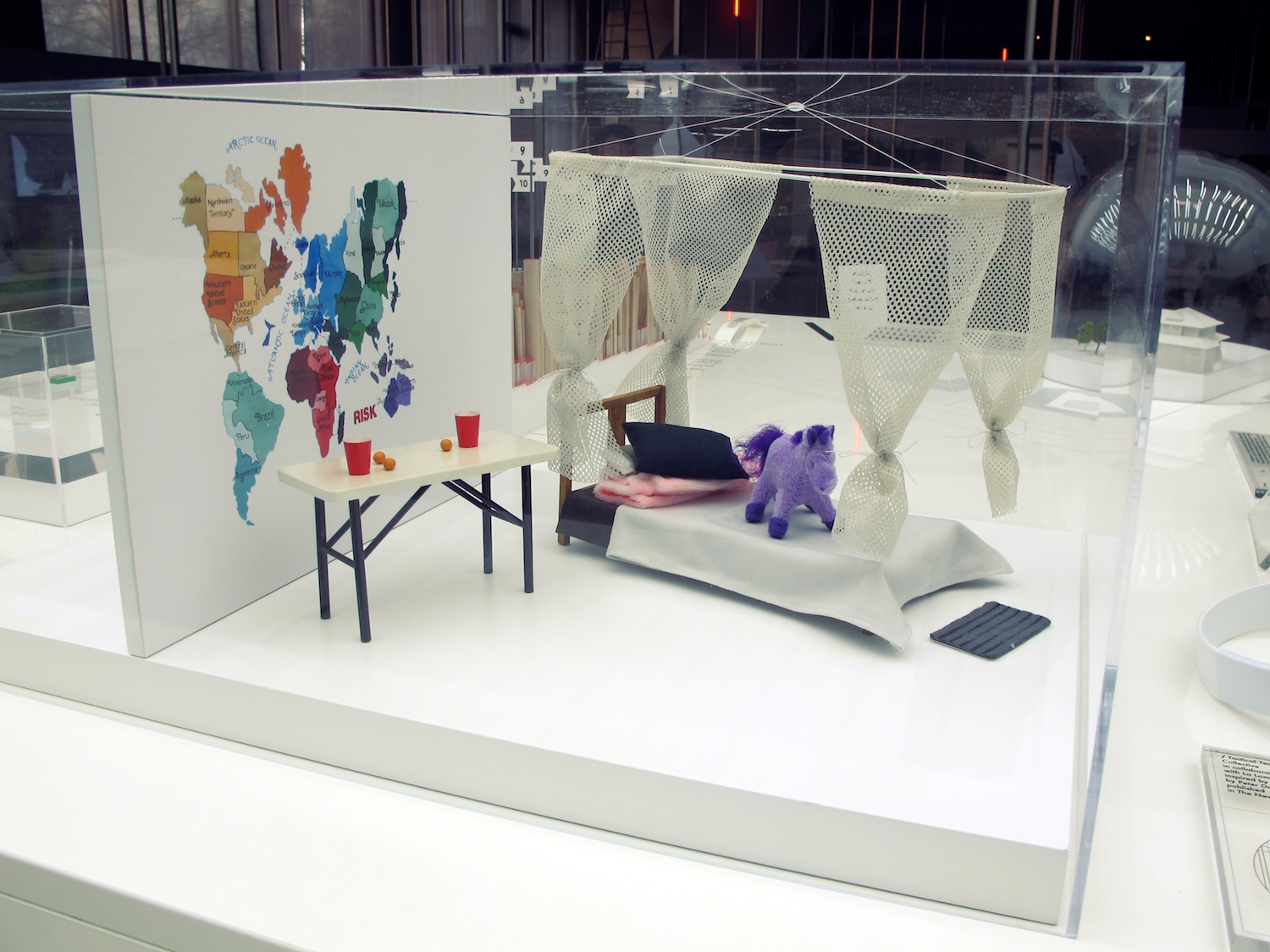 The Shire (model of a office room of the Palantir). Photo La Loma
Data-analysis company Palantir Technologies might keep a lower public profile than Airbnb and Uber but it is one of the Silicon Valleys most powerful start-ups. It has contracts with government groups, including the CIA, NSA, the FBI, the Marine Corps and the Air Force. We know that its software processes huge amounts of disparate data to elaborate predictions and conclusions, enabling fraud detection, data security, consumer behavior study, rapid health care delivery, etc. Rumour has it that it was them who provided the data-analysis skills that located Bin Laden. But little else is known publicly about Palantir.
The exhibition reproduced a model of Palantir's head office, the Shire, based on photographs for a 2014 New York Times article. The world map is based on the strategy board game Risk: The Game of Global Domination.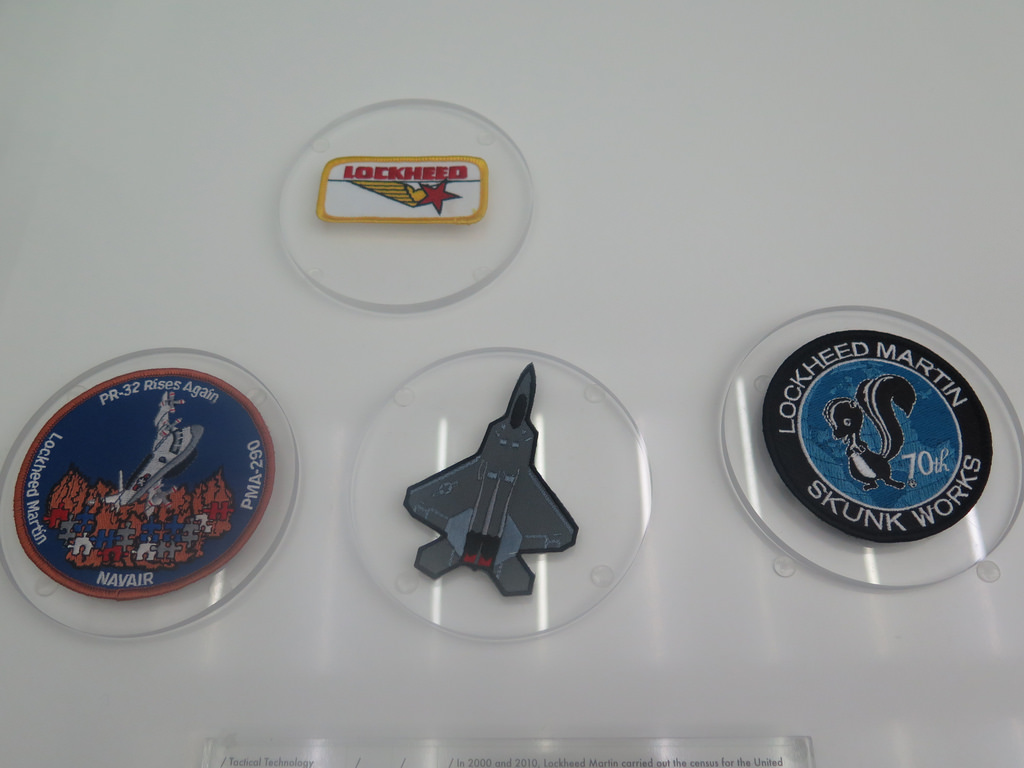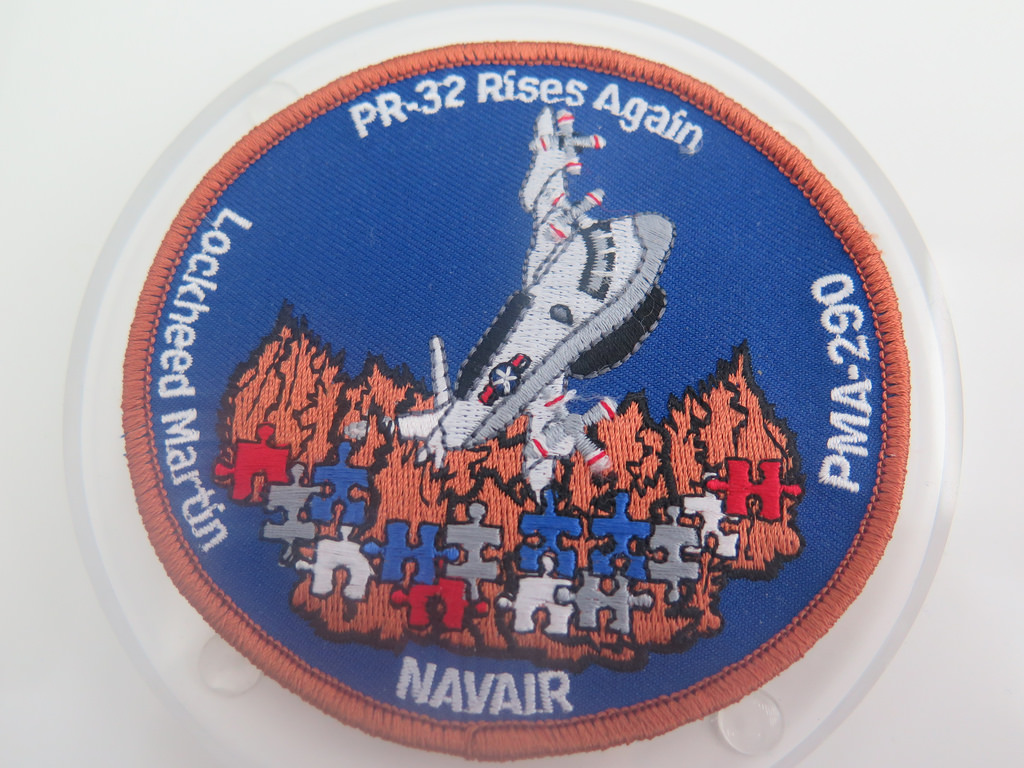 Patches that can be purchased online, along with t-shirts, calendars and coffee mugs from the apparel store off Lockheed Martin, America's largest contractor, making fighter planes, cluster bombs, combat ships and designing nuclear weapons. It is also the largest private intelligence contractor in the world, working in the past on surveillance programs for the Pentagon, CIA, NSA and making biometric identification systems for the FBI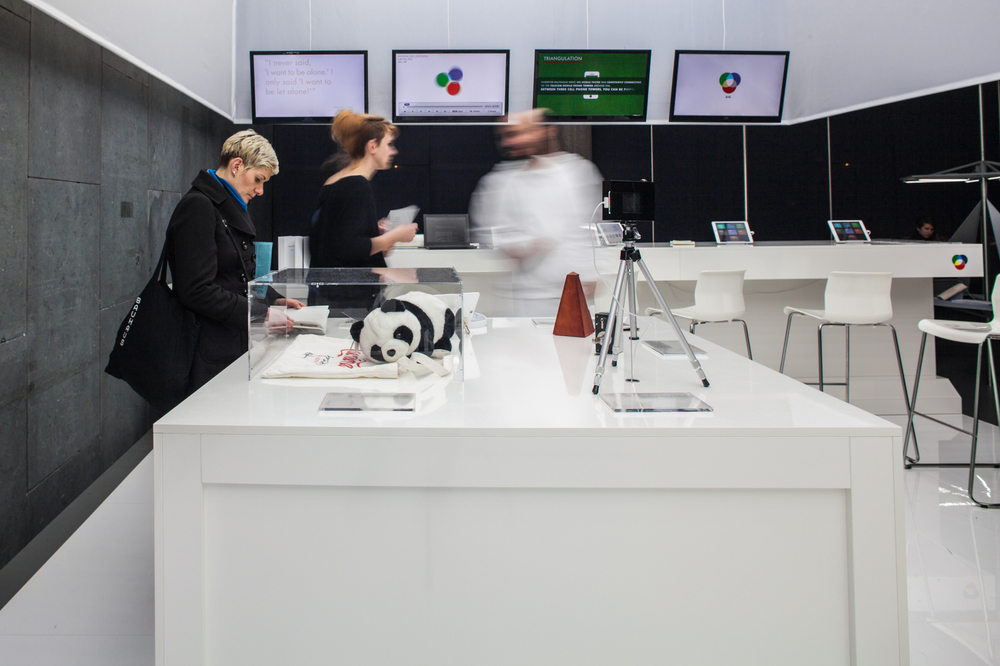 The White Room, Opening of Nervous Systems. Photo: © Laura Fiorio/HKW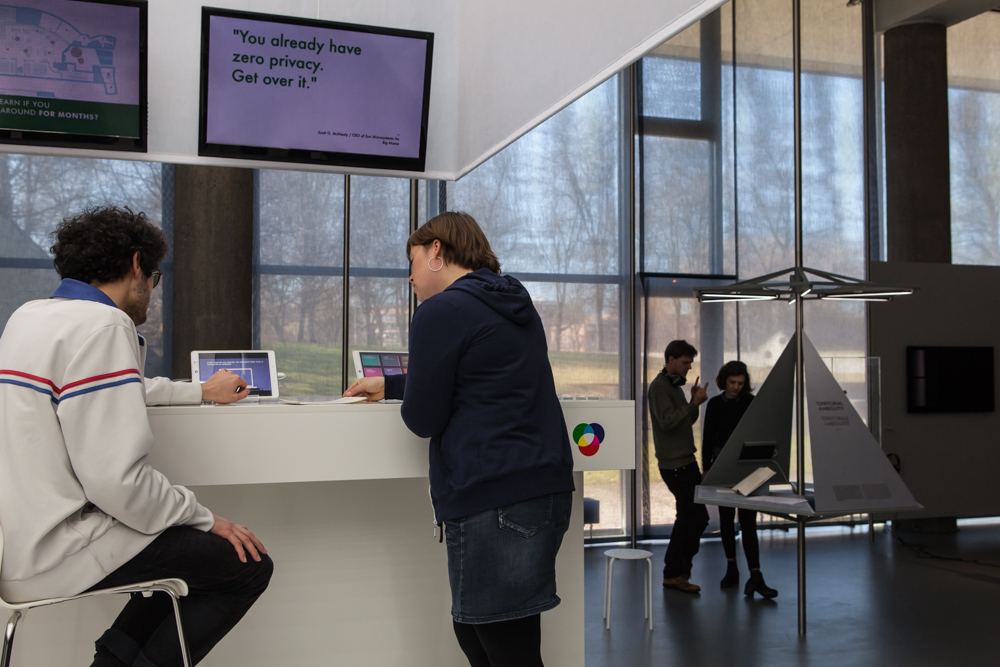 The White Room, Opening of Nervous Systems. Photo: © Laura Fiorio/HKW
On Saturdays, Sundays and Mondays, workshops, demos and discussions help visitors understand the devices and interfaces we use every day. White Room workers are also on hand to help visitors navigate an alternative "App Center" that offers tools to regain control over their data and their tech gadgets.
More views of the exhibition Nervous Systems: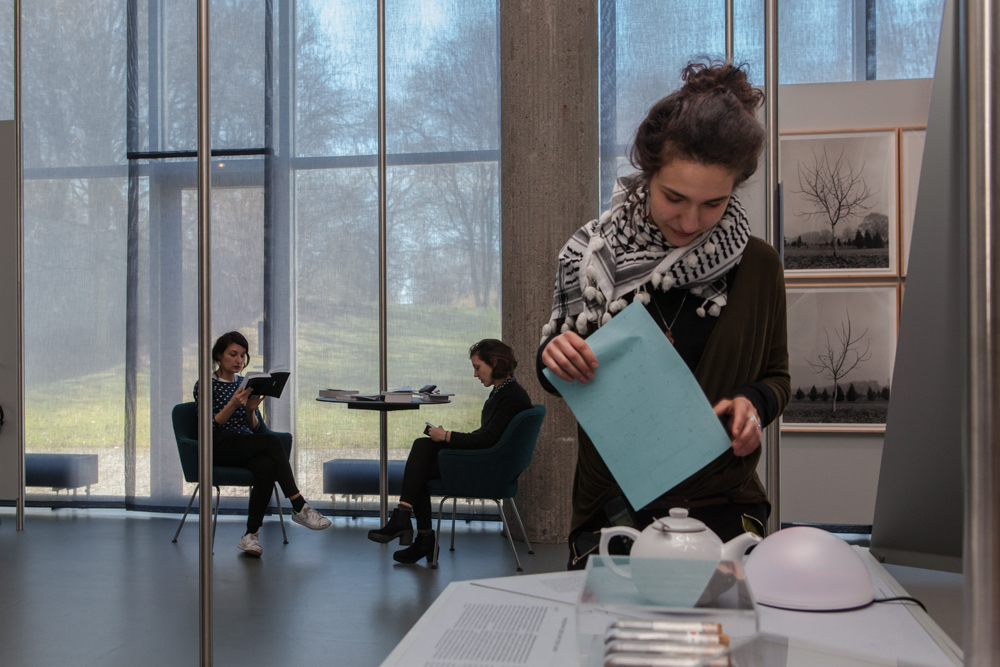 Opening of Nervous Systems. Photo: © Laura Fiorio/HKW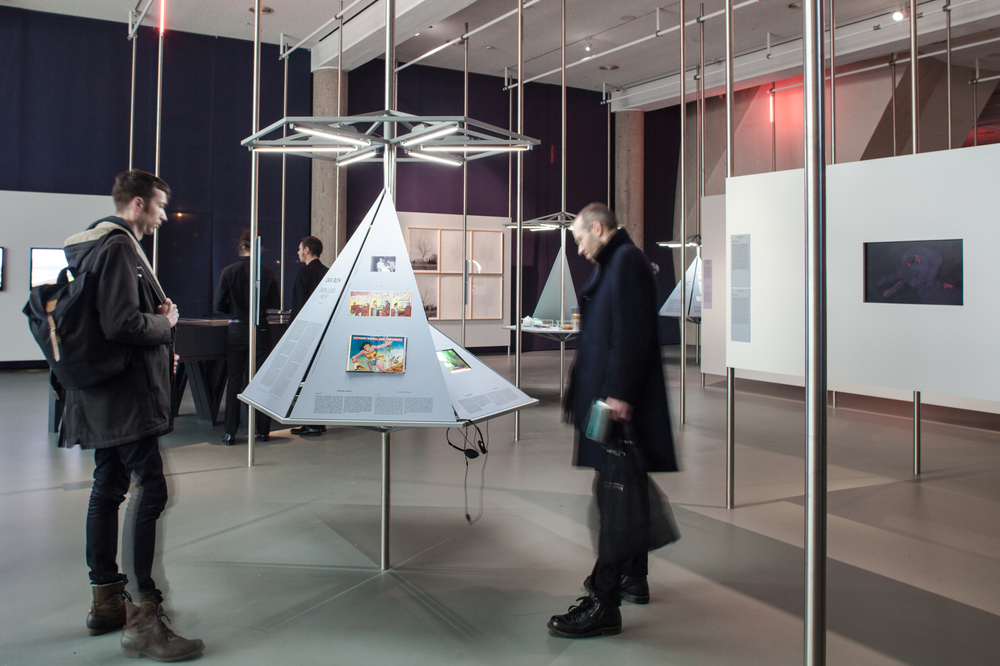 Opening of Nervous Systems. Photo: © Laura Fiorio/HKW
Nervous Systems. Quantified Life and the Social Question was co-curated by Stephanie Hankey and Marek Tuszynski from the Tactical Technology Collective and Anselm Franke. The show is at Haus der Kulturen der Welt in Berlin until 9 May 2016.
Related stories: Obfuscation. A User's Guide for Privacy and Protest, Sheriff Software: the games that allow you to play traffic cop for real, The Influencers: Former MI5 spy Annie Machon on why we live in a dystopia that even Orwell couldn't have envisioned, SAMIZDATA: Evidence of Conspiracy. Talking secrets and pandas with Jacob Appelbaum.