And now for something completely different…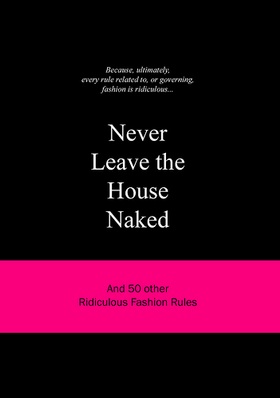 The Medium is the Message and 50 other Ridiculous Advertising Rules (Amazon USA and UK) and from the same series, Never Leave the House Naked and 50 other Ridiculous Fashion Rules (Amazon UK and USA).
The first book in this series, published by BIS Publishers and authored by Anneloes van Gaalen, was dedicated to design, another one is about advertising rules and finally there's the one that got most of my attention, Never Leave the House Naked and 50 other Ridiculous Fashion Rules.
The series tackles the list of precepts that have conditioned the worlds of fashion, advertising and design for decades. Are these rules precious guidelines, sources of inspiration or are they instead tyrannic dogmas that need to be bended or broken altogether?
Rules tend to have a life of their own: over time their meaning changes or the rule is adopted by a whole new group of followers. Take, for instance, the classic "Form Follows Function." It started out life as an architecture guideline but has crept its way into other creative fields. This evolution is reflected in this book by the chronologically placed quotes that accompany each rule and that are courtesy of designers, architects, fashion designers, typographers and other creatives. All rules are also accompanied by an image that either negates or supports the rule. Our aim is not to list all the rules that you need to adhere to. Nor do we take sides in the whole rules debate.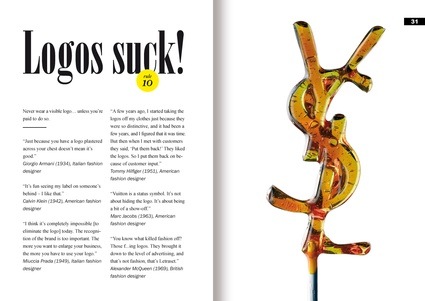 A view inside the book
The book about fashion was the one i was most eager to read. It's hard to ignore fashion. The discipline has after all permeated many aspects of contemporary culture. Last year only, Valentino: The Last Emperor made the shortlist for Hollywood's Academy Award's best documentary category. Another documentary released in 2009, The September Issue, follows Anna Wintour as she and her team were piecing together the 2007 September issue of Vogue Magazine. Plus, there's that movie Coco before Chanel. Museums and galleries now routinely open shows dedicated to fashion designers or to the much-debated relationship between art and fashion. The Museum Boijmans Van Beuningen in Rotterdam will be closing in the next few days The Art of Fashion (see report part 1 and part 2) which investigates the borders between fashion and art. I've now stopped counting the number of books or exhibition catalogs written about the parallels that exist between fashion and architecture. I won't even get you on fashion and technology or fashion and hacking or activism.
Talking from a more personal perspective, i'd add that the fashion world seems to have more sympathy and respect for bloggers than contemporary art. But that's another story. The truth is I love fashion because i'm vain. At least in Winter time. Summer never fails to anger and deride me with its stupid shapes and pastel shades. Rumour has it that the ghastly '90s are back this summer with bum bags, neon colours, kitten heels and cycling shorts.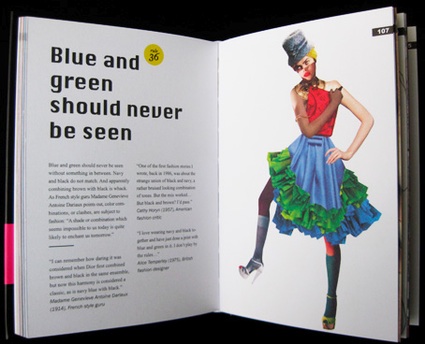 Ridiculous Fashion Rule # 28 Blue and green should never be seen. Illustration and photo by Lizzy Peters
But what about Never Leave the House Naked? Well, given its subject i'll start with its appearance. The book is neatly designed. Small format, great graphics and plenty of illustrations commissioned to talented young graphic designers. There are 51 rules, each of them exemplified by quotes from famous fashion designers or writers with a marked interest in fashion. The quotes either sharply confirm the rule or contradict them with wit and conviction leading you to believe that there is no rule. What remains, however, is the pleasure to discuss, question or embrace these rules. Nothing should ever be taken for granted in the world of fashion (or design, art and advertising.)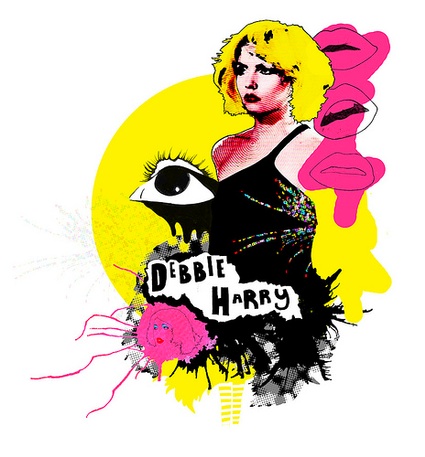 Ridiculous Fashion Rule # 28 A designer is only as good as the star who wears her clothes. Illustration by: Chris Ede
Here are some of my favourite quotes:
"Clothes make the man. Naked people have little or no influence in society." Mark Twain.
"I'm a great believer in copying; there has never been an age in which people have so little respect for the past." Vivienne Westwood.
"Art produces ugly things, which frequently become more beautiful with time. Fashion, on the other hand, produces beautiful things, which always become ugly with time." Jean Cocteau.
"Women dress alike all over the world: they dress to be annoying to other women." Elsa Schiaparelli.
I also read The Medium is the Message and 50 other Ridiculous Advertising Rules which was obviously great fun and thought-provoking but because the ad world has never quite managed to get my pulse racing as fast as a pair of electric blue low boots does, i'll leave you with a couple of illustrations: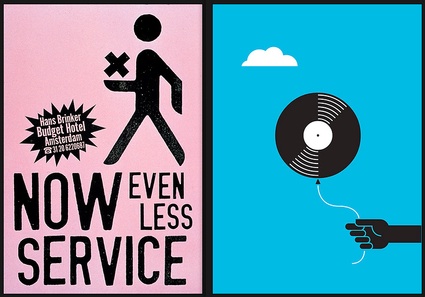 Ridiculous Advertising Rule # 34 If you can't fix it, feature it! Illustration by: KesselsKramer and Ridiculous Advertising Rule # 32 A good jingle does it every time. Illustration by: DTM_Inc
and a view inside this facetious little book: