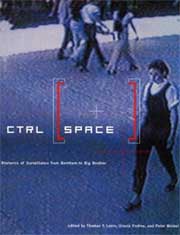 ctrl[space] : Rhetorics of Surveillance from Bentham to Big Brother. Edited by Thomas Y. Levin, Ursula Frohne and Peter Weibel (USA – UK). The book was put together around an exhibition about surveillance organised from October 2001 to February 2002 at the ZKM, Centre for Art and Media in Karlsruhe (Germany).
As the title suggest, there's plenty of information about the history of the phenomenon of panopticism and its representation in art. Various aspects of surveillance are also decorticated and analysed in a book that counts over 650 pages: surveillance and everyday life, surveillance and pleasure, subversions, punishment, etc. A series of art works illustrate each aspect. The projects mentioned are from artists like Bruce Naumann, Rem Koolhaas, the Bureau of Inverse Technology, Julia Scher, Pierre Huyghe, Jenny Marketou, Diller+Scofidio, Sophie Calle, Marko Peljhan, etc. Of course it's always exciting to see a great collection of big names, but it might make you feel uneasy to read that so many artists have been worried by the escalade of surveillance and social control over the past few years. The sensation becomes even more disturbing when you realize how fast reality can catch up with art. For example, the harmless plush toys and house plants of Danish artists Niels Bonde's was working on as early as 1995 have their equivalent on the market.
ctrl[space] : Rhetorics of Surveillance from Bentham to Big Brother is a book i'd recommend to anyone who's interested in surveillance –even if they don't give a damn about art. Mind you the art pieces are treated extremely well with plenty of photos and a text often written by the artists themselves.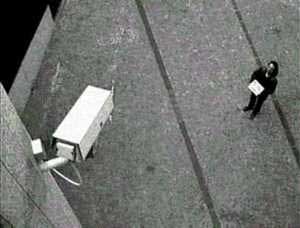 The project i discovered in the book is Denis Beaubois' In the event of Amnesia the city will recall…, performances in Sydney and Cleveland in 1996-1997. Three days in a row the artist positioned himself in front of a surveillance camera in a public space. A cameraman was recording his performances. He stayed there in total immobility while puzzled passersby watched him. Sometimes his stoic presence was tolerated, sometimes he was "escorted" off the public premise under some rather bureaucratic excuse.
On the second day, he came back and held white sheets with printed text, starting with one that indicated his name. On the third day, he'd come back with more sheets that ask questions such as "May I have a copy of the video footage?" "Move the camera up & down to agree" or "Warning – You may be photographed reading this sign". Over time, interaction took place between Beaubois, the camera, the hidden security staff, as well as the pedestrians.
The work inspired the famous New York Surveillance Camera Players.