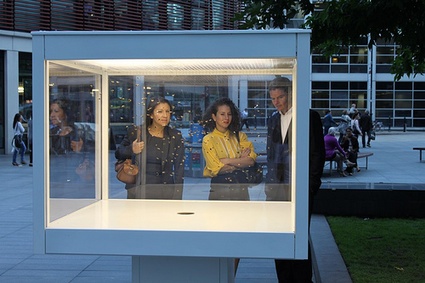 Anne Brodie, 'Bee Box', 2011. Credit C-Lab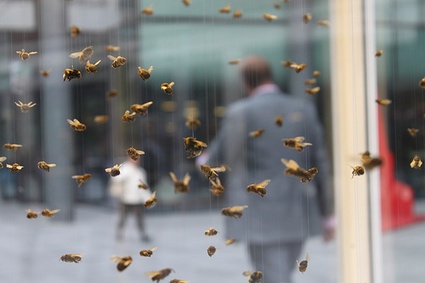 Anne Brodie, 'Bee Box', 2011. Credit C-Lab
Summer is back in London and dozens of bees have now settled in the middle of Spitalfields. Real bees passersby don't try to wave away. They are dead and hang on fishing lines as if they were caught in mid flight inside a giant glass case, surrounded on all sides by office blocks.
The work is called BEE BOX and was created by artist Anne Brodie to remind us of the overlooked disappearance of the pollinators. Bees, like us, form communities of workers capable of generating intelligent social interactions.
"There is also a very strong and perhaps more obvious analogy between both human and bee society's, particularly in the heart of the working city," the artist told me. "Both are fragile systems capable of working harmoniously and productively, but what happens when the balance becomes unstable? It seemed particularly poignant the week before beebox was installed, London had to deal with some of the worst riots in recent history."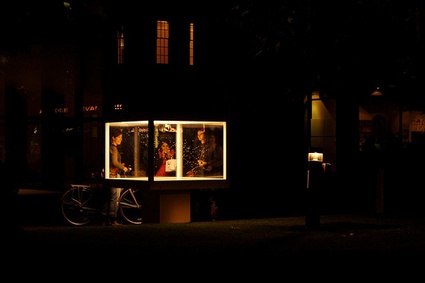 Anne Brodie, 'Bee Box', 2011. Credit C-Lab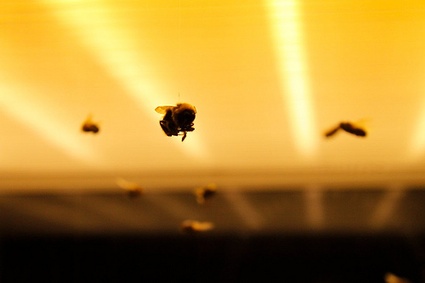 Anne Brodie, 'Bee Box', 2011. Credit C-Lab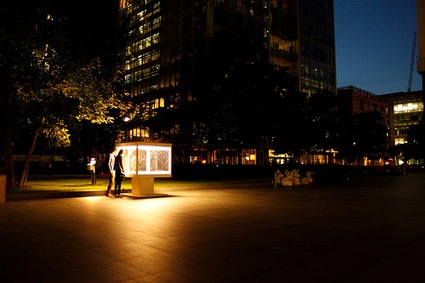 Anne Brodie, 'Bee Box', 2011. Credit C-Lab
BEE BOX was curated by Howard Boland and Laura Cinti of C-LAB with the support of the European Public Art Centre, a collaboration between European organisations to exhibit in public space works that explore relations between art, science and society art-science artworks. The work will remain on view on the square until November 1 and will be recreated in Helsinki in October, using Finnish bees.
More images in the flickr set: European Public Art Centre: in London with C-LAB and Spitalfields – Anne Brodie's Bee Box 2011.