There's a remarkable exhibition running for just a couple more days at the Pratt Manhattan Gallery. Broadcast explores the ways in which artists since the late 1960s have engaged, critiqued, and inserted themselves into official channels of broadcast television and radio. I wish i could find the time to write a more comprehensive post about it. Instead, i'll just mention the piece i found most interesting: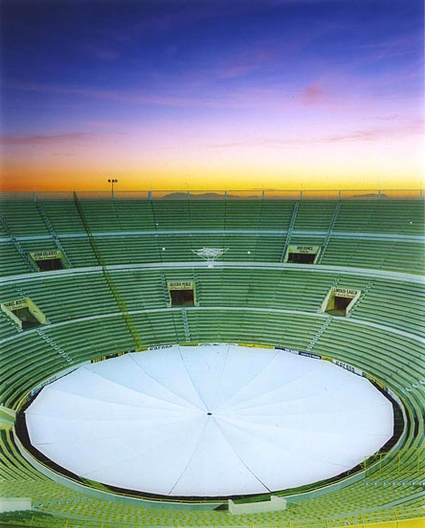 Iñigo Manglano-Ovalle, Search – En Busquedad, 2001
For Search, Iñigo Manglano-Ovalle transformed a monumental bullfight ring in Tijuana into a radio telescope complete with an antenna and a large reflector dish that would search for signs of aliens from outer space. The signals picked up by the telescope created a "white noise" that the artist broadcast to the Tijuana region on pirate FM radio. Realized some 100 feet away from the U.S. border, Search comments also on the constant search along the border for 'aliens' of a more terrestrial kind.
Rhizome has a nice write-up of the exhibition.